Is Porn in a Relationship Healthy?
A Story of Woes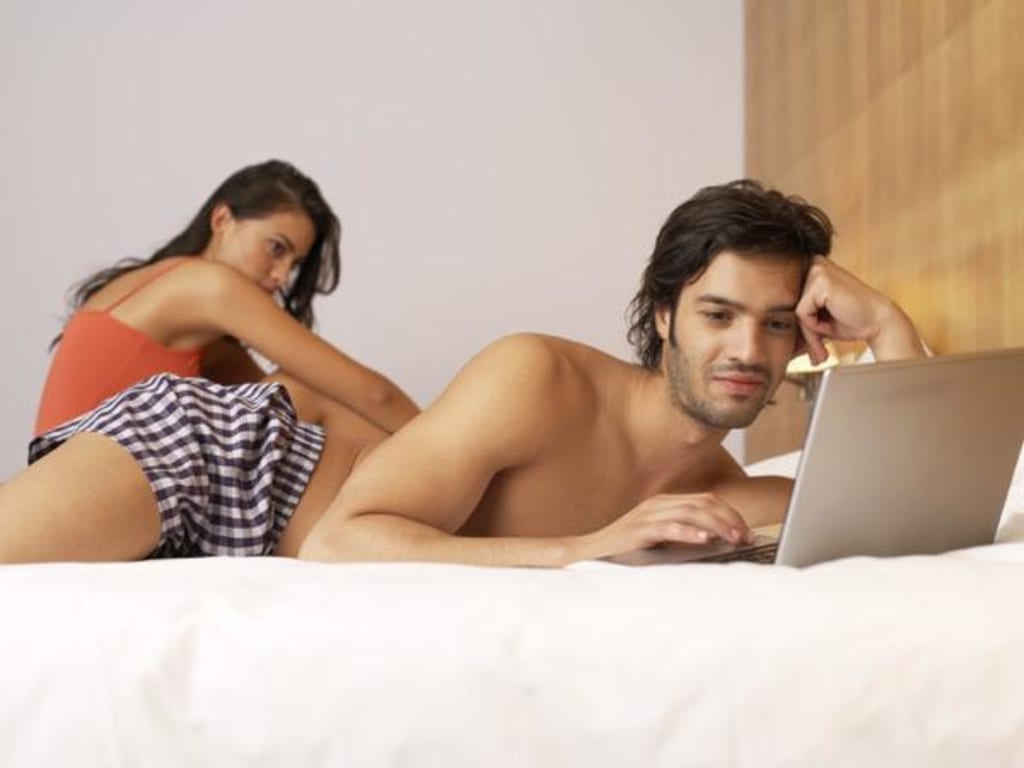 Is porn in a relationship healthy? I am married to a man whose whole life revolved around porn before we got married, and now it's percolated into our lives now. Don't get me wrong. I enjoy the occasional porno and I even have a favorite porn star, but the keyword is occasional. My husband has porn in his computer and porn on his phone and porn on my tablet and on his tablet. My whole house is filled with porn.
He looks at it when he's in the mood and looks at it when he's not in the mood. He has Reddit pages saved just so when he happens to be scrolling on Reddit he can look at it. I am starting to think something is wrong with me. "Why does he need porn when he has me" is the question I ask daily. I'm starting to have major self esteem issues. I mean, am I not enough for him anymore? Maybe I'm thinking about this in the wrong way. Maybe I'm letting myself get worked up about it.
So is porn in a relationship okay? I researched a lot about what porn in a relationship says about said relationship. Some of the articles scared me and a great amount say that it just means he's adventurous and looking for ways to please me. Now the ones that scared me said that 1. he's a porn addict and that I should run away screaming and 2. I'm not enough and I should accept that he's going to cheat on me one day or leave me for someone that will fulfill his needs without saying no. I don't know what energizer bunny he is going to find to do that, but good luck to her and her vagina. I mean, my husband and I have had sex for 12 hours without food, water, medicinal help, or even an energy drink, so whoever steals him must have a battery pack attached to her.
I know I shouldn't be scared because that's what my therapist said when I told her about the whole thing. Oh yeah. I'm in therapy by the way. I have severe depression and suicidal tendencies, and my husband knows this and he continues to beat down my self esteem, with a smile on his face might I add. What can I do? What am I supposed to do? He knows my issues and it seems like he doesn't care. Does he care? I love him but Gods it's hard to live up to a tightly toned porn star that can get railed 50 times a day and not have to worry about her boyfriend or husband leaving her for someone hotter because I mean, she's a porn star, and who leaves a porn star?
Can there just be person to tell me that I'm being a prude and to just join in and deal with it? Every time he finds a hot woman on Reddit, he shoves it in my face and is like, "Look babe! She's hot, right?" Is he trying to tell me that I'm not?
Maybe I'm just being paranoid, as my husband puts it. I'm just scared that he's realizing we're not sexually compatible. We were each others' first. Should we have had sex before we got married? He was my first real boyfriend, and I was his first real girlfriend, so does that mean we're really not meant to be or should I just let him watch all the porn his heart desires and just deal with it? I love my husband but am I really meant to be with my husband or vice versa? Someone please tell me. Is porn in the relationship healthy?