I am a slut. So what!
My views on being an ethical slut.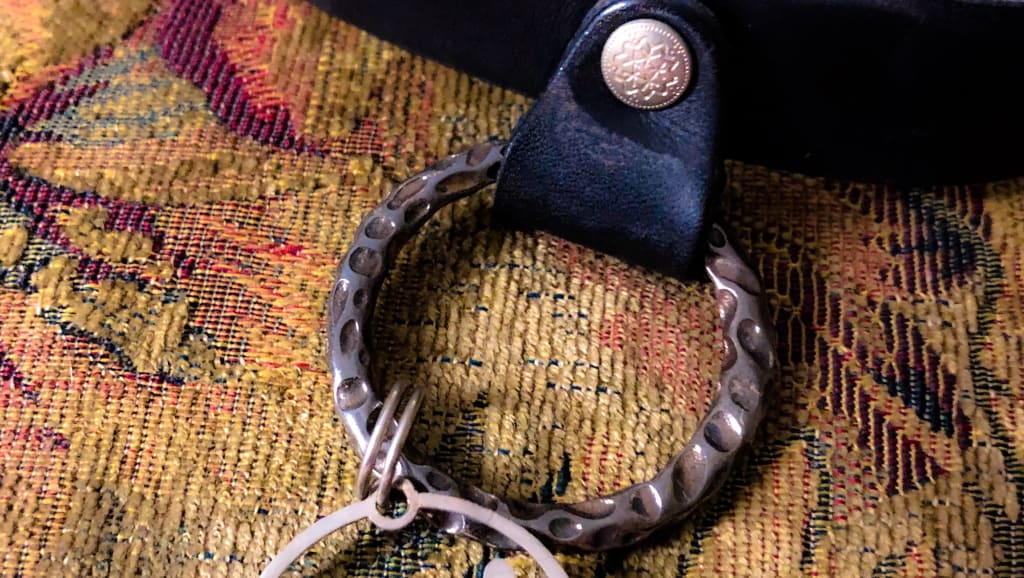 In my 15 years in kink I have learned many things. I think the most important thing is that I enjoy sex. But really I enjoy sex a lot! I like it hot, dirty and messy. For some people it's not an easy place to get to. I am not a skinny Barbie type girl. I have curves and that's just the way that it is. One thing that did help when I entered this lifestyle was to see that there were many different types of bodies and nobody seemed to really care. It didn't take me long before I was naked at events and I never looked back from there. If you fast forward to the last few years after my transition I had to go through it again. I have scars on both my vagina and breasts. I didn't want to people to see that at first. It took my Mistress telling me that she liked my body the way that it is. That helped so much. Now I can take my clothes off in front of people and I fully accept who and what I am. I'm a sexy slut.
Slut, used to be a bad word and for some in the vanilla world it still is. I happen to own the word. I love sex. There is absolutely nothing wrong with that. Once I got to use my vagina for the first time I was completely insatiable. During this time I was with my Mistress and she loves control. I needed to explore a bit so we stopped being Mistress and sub. It was sad but I really to explore my sexuality as a woman and boy did I! But after a while it became hollow and not very fulfilling. For me, I am pansexual and I require a connection with someone. Without that connection it's just not that good. During the time when we halted our D/s relationship, Mistress and I continued to play as friends and eventually it came to a point where I desired to settle into who and what I am. We agreed to restart our relationship with her in full control. We are wonderful communicators and through many discussions we both agreed that we needed male energy in our lives still. Mistress decided that I could have a "boy toy". We are scheduled when I can see him which keeps her in control but during the nights that I do see him those are my nights. Mistress has no control while he is here. It's healthy and my needs are met. Mistress also has a man that she sees occasionally too.
But, this writing is about being a slut. During our time apart I explored and fucked and just let myself be me. I was and still am unapologetic about enjoying sex. Society tells us that sex is bad. It is not. It's pleasure between two consenting adults…or more than two at times. Smile. I would go with a female friend to the local sex club and be social and inevitably end up having sex a few times. My friend and I didn't fuck but we had seen each other have sex. We also had sex right beside each other. We supported one another and took the sex for what it was…pleasure. I believe that you have to get passed the societal view of sex and just teach yourself to enjoy it. I am an ethical slut. I just don't fuck anyone. I hold power over my own body and choose whom I choose to fuck. I try to lose myself in the sex and just be in that moment with that person. I love to look into their eyes and see the pleasure that they are experiencing through connecting with me and my body.
The hard part for me as a transgender woman was accepting that I would be fetishized at times. It did happen and I had to be ok with that. People get fetishized for many things. Size, colour of hair, colour of skin, accents, boobs, ass and the list goes on. I see myself as a hot sexy woman so as long as the other person was being respectful I was ok with it. There are going to be people that disagree with me and that's ok. My body, my choice. I have to admit fucking some men because they had a big cock. So, I did it too. However, I did not disrespect them. Quite the opposite. I got to know them and connected with them. That's important to me. If I don't like you I am not going to fuck you just for the size of your cock. I love sex. I had lots of it. I will probably still have lots of it. Now, it's different.
Today I am a slave to my Mistress. She controls my body and I am on a strict "do not touch" rule for what is now know as "her pussy". I have consented to this and I enjoy it very much. I have discovered that I am "cuck queen". I will write more on this but for now it simply means someone who is turned on by their partner fucking other people while they are denied. I am also required to wear a chastity belt at times. Whether I am or not I am always chaste. I have consented to this and she loves the control that she has. It's perfect.
How do you be a slut when you are chaste? I will always be a slut. In fact, that is what Mistress calls me. I am "slut" to her in all kinky situations. She routinely teases me and reminds me that I can't touch. However, after a while of building up my excitement she may choose to let me masturbate. When she does have orgasmed in a matter of seconds. I love the feeling of being turned on and not being able to touch. So, when the time comes that I am allowed to orgasm it tends to happen fast and hard. Sometimes we video chat so she can watch or sometimes she just orders me to do it. Control is her kink and she ordered it, so she controlled it.
Sometimes Mistress will invite a man to join us. She will tell me what to do to him and when. Sometimes I watch and sometimes I participate. Believe me when I say that when I am ordered to do something I do it with enthusiasm and it makes it that much more hot and slutty because she is watching and guiding me. There are times when my only sexual contact with her is licking and eating her ass. She knows how much I love that. It's taboo for some people but I absolutely love it. It's primal and dirty. She tells me that I am her "dirty ass eating slut" while I am doing it and it just spurs me on. I am her slave and we are kinky so it's not just about penis in vagina sex. It's often hot and dirty. She also does things to me. We have toys and fingers and so much more. I am never disappointed at the end because I am serving her and she loves that I am a slut, her slut. Our worlds are just right.
My suggestion to you is to just explore. Communicate and don't be embarrassed. If someone shames you for being a sexual being you need to get far away from them. Sex is not evil. Sex is pleasure. Enjoy it. Be ethical. Don't cheat on people. Make sure they know what you are doing and consent to that. Non consent is not sexy.