How to Reconnect With Your Lover
Communication is key when you want the spice to continue.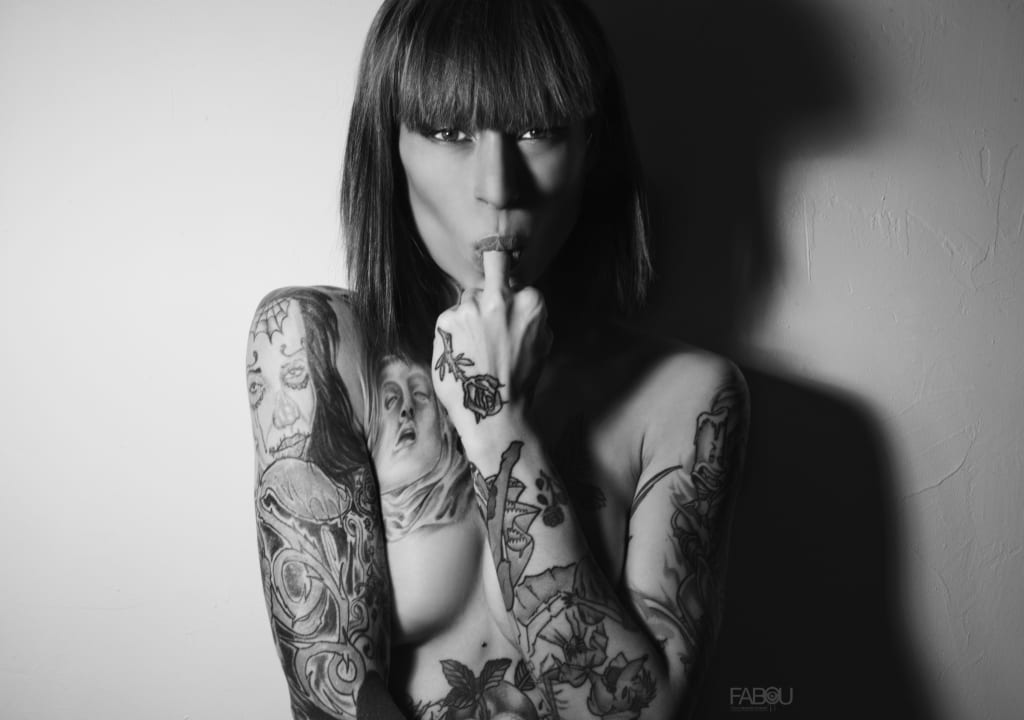 Fuck Haters by #fabouphotographer #lucieclement #lucyheff #tattoomodel #inkedgirl
Do you remember the first time you had sex with your lover and actually communicated on the things you wanted in the bedroom that turn you on the most? Do you feel that sometimes you were shy and that you really can't express yourself, especially being a woman, and you find yourself locked inside your own head with self-doubt that perhaps your lover doesn't see you the same way and the connection between the both of you has gone stagnant? These are the questions I normally ask because there are times that I feel that I have lost the spark in my own relationship and I feel that sometimes communication can be at a standstill because both parties have such strong opinions. So when you find yourself in a slump, you want to bring the spark back into the relationship that you love and adore, you have to find different ways to be spontaneous. You have to find different ways to rekindle the connection that you had sexually with your lover and you have to be open and honest with that person to let them know that you love them deeply, but you have certain ideas or certain demands that you require. It is never wrong to tell your lover that you might want something new in the bedroom to spice up the relationship and to bring both of you together in a more deeper and loving manner. I find it hard to believe that people actually go through the situation that I have been in several different times. Communication is so important because so many wires get crossed and everybody wants to have a fucking titty-fit. So here are some things that can bring the spice back into your relationship. It something that I tried myself and it actually worked. Besides communication, here are some factors that may give you what you truly desire to bring the spark back into your relationship and bring the beast and freak out of both of you.
1.) Talking to Your Significant Other:
Having a simple conversation is not rocket science, but it is important between two people that are in a loving relationship. Communication is the best foundation you can have between two parties, even though both of you have different opinions. Each of you want to be heard honestly and equally. What you do is talk with your lover about how sensual you feel as a person and how you desire certain aspects, how you want to hide in the pleasure between the both of you on all spiritual and philosophical levels. There are different exercises that you both can do to manifest real pleasure, but talking should be the real pleasure between two people. You are both the devoting yourselves to each other. So be kind when you both speak to each other. Don't be so harsh about certain things that you may like or may not like. Allow your partner to speak to you with a clear mind knowing that they will not be judged for whatever ideas or experiences they would like to try with you and only you. The best key factors to have an open mind.
2.) Turn off all cell phones:
Technology can be really boring and it can stop you from actually connecting with people because you are so buried in your phone. It's like the world stopped having conversations with each other and it seems that people love to communicate through all social media and everything always turns into a miscommunication between two parties, whether someone is showing interest or they're already in a relationship. Sometimes it can be romantic to speak to somebody online for the first time and find yourself connecting just by words, but sometimes having a conversation in person makes things so much better. When you are sitting with your partner, turn off your phone and don't even bother picking up any phone calls or texts. Talk and communicate deep in the connection between yourself and your lover because your lover is someone who will always be there for you and who will always see certain parts of you that people may not see. There are two different faces we usually have: one for the world and one that we always wear in private. Don't worry about the outside world, worry about what is in front of you. That is the most important part people seem to forget. Always value what is in front of you. Don't always worry about what is around you, because you may just not notice and it will disappear like a ninja in the night.
3.) Planning Sex:
Planning sex can be really difficult because when you actually try to plan sex, there's always something that is getting in the way—whether it's work or a phone call or an emergency. The world tends to stop the overindulgent desires that you both have, and you always have to go to the outside world to tend to matters that call to your attention and you cannot focus on your sexual need. It seems that there are times when we desire being with our lovers, whether we want space or not, to prove that longing makes the heart grow fonder. Sometimes it is best to plan a time where you both can disappear where nobody can find you and you can just go at it like two animals in the sheets. When you finally take your frustration out on each other, you know that you have been missing that sexual connection and when you connect with your partner, it makes everything better because you know that, after that orgasm, and you have that cheesy smile on your face, you know that you have achieved something. You have achieved the interconnected web of love between you and your partner. So go away somewhere and just escape.
4.) After Mind-Blowing Sex:
Continue the pattern. Try to build a bond between the both of you that you know can work itself out. Talk to your lover about things that you want and the relationship and in the bedroom. Bond in the moment of being naked. When you are naked with someone, they see all the parts of you. They admire you and see the natural beauty. They connect with your soul.
how to
Greetings! I enjoy writing and I hope that one day I can share some of my experiences!
Receive stories by Ashara Armand in

your feed