Her, Her Friend, and Me!
A match made in heaven.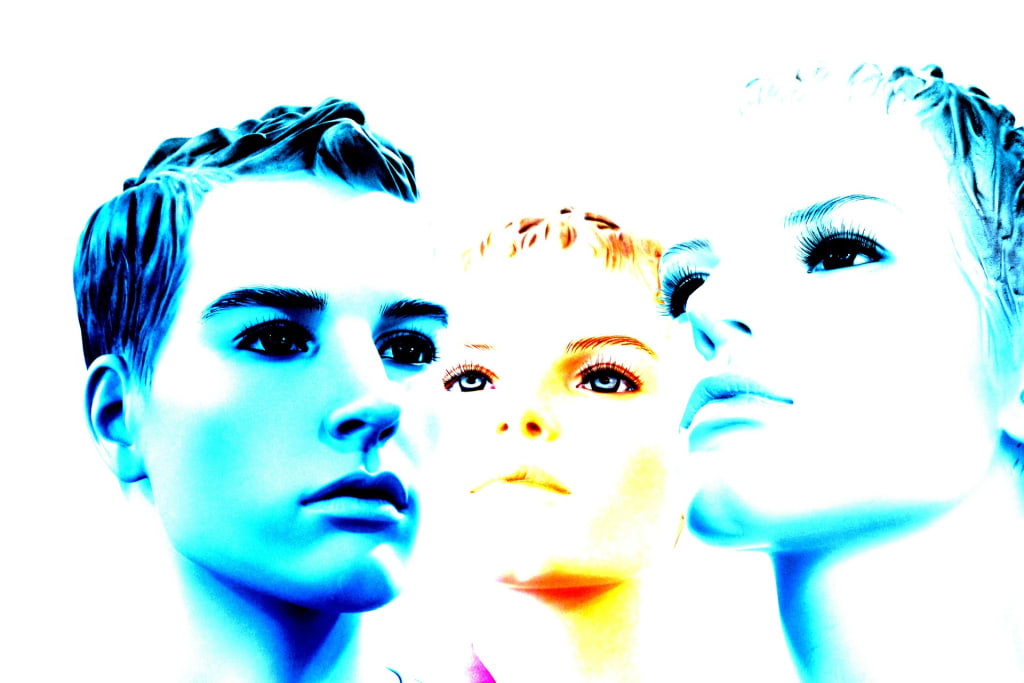 My tongue made its way to her clit, soliciting a gorgeous gasp and shudder through her body. The warmth of being so close to her pussy, and the soft, moistness I could feel on my lips was intoxicating. The weight of her body as it was perched above my face was lovely. This was right where I wanted to be, underneath her, licking her, loving every second of it.
And, as my tongue moved up and down, stimulating her, her friend slid my hard cock into her mouth. It was the first time that we had invited her into our bed, and she was eagerly getting involved. Who knew such a shy wallflower was so into wild sex? But, here she was, with my cock deep inside her mouth. I could feel her moans vibrating on me and I passed it on through my girlfriend with my own noises of satisfaction. My hands had a firm grasp on her hips, and I forced my face harder into her pussy and pushed my own groin harder into her friend. We were really getting into this now.
My girlfriend grabbed my hair and pulled my head in as tight as she could to her pussy as my tongue continued to work hard at satisfying her. It was a challenge to stay focused as her friend's tongue swirled around the head of my cock, which felt out of this world. Where did she learn her techniques? All of the things she was doing just felt amazing! And, to boot, she was a beautiful woman, both inside and out. I couldn't help but wonder why we hadn't done this before? No matter, we were doing this now and that was what was important.
My cock was eventually freed from her mouth, and in the open air. But it was about to be engulfed again, this time inside of her pussy. As my girlfriend straddled my face, her friend positioned herself over my cock, grabbing it with her soft fingers, guiding it into her deliciously moist pussy.
The feeling of soft and luscious thighs against my cheeks and equally mouth watering thighs against my waist was heavenly. I pushed my tongue deep inside of one pussy as my cock went far inside yet another. There was stimulation all around, my whole body feeling absolutely electric with all of the out of this world sensations going on at the same time.
We all got into a rhythm, grinding and moving all at once, like synchronized swimmers focused on nailing a very erotic routine. We all were working our way to an exciting climax.
The two wonderful woman were facing each other and began to kiss, heavy and hard, with full tongues and full lust. It was clear that this wasn't the first time they had done this. I had suspected that they had a history of intimacy, and the way they seemed to mesh together, sexually, confirmed it. They were turning each other on so much that they may not have even noticed if I got up and left, even though, of course, there was NO way I was about to do that. The increased moisture coming from their pussies was making everything slip and slide that much quicker...and hotter.
I wasn't going to last much longer as she rode my cock. I could feel my girlfriends fingers working on her friend's clitoris as my cock slid in and out, which was bringing her even closer as well. And, while all that was going on, my tongue was still doing what it could to get my girlfriend to the brink too.
We were one well oiled machine by the time I could feel the cum rise up the shaft of my cock, ready to explode into the wonderful friend who was riding me, and crying out louder and louder with each thrust. My girlfriend's voice was also in there, not as loud, but she was getting close, and closer and closer by the second.
I came first, with an absolute burst that completely filled her pussy, deep, deep inside of her. My hips rose up with the final burst, pushing me deeper than I had been yet. Then my girlfriend's thighs tightened in on my head and her hand grasped my hair harder than ever and I felt her whole body shake with pleasure as she came. With that her fingers were moving even harder on her girlfriend's pussy, and boom, she was next to go. She screamed out, "OH YES!" and I could feel her pussy suck my cock in, pulsating around it as she began her hard climax.
After our bodies stopped convulsing in ecstasy the two women collapsed down onto the bed next to me, still tangled up, our limbs all twisted and entwined, their soft skin keeping my own skin warm and stimulated. Our faces were flush with contentment, and our eyes were still glazed over from our collective satisfaction.
What a night!