Halloween Carnival Series: The Carousel
Erotic Prompts Series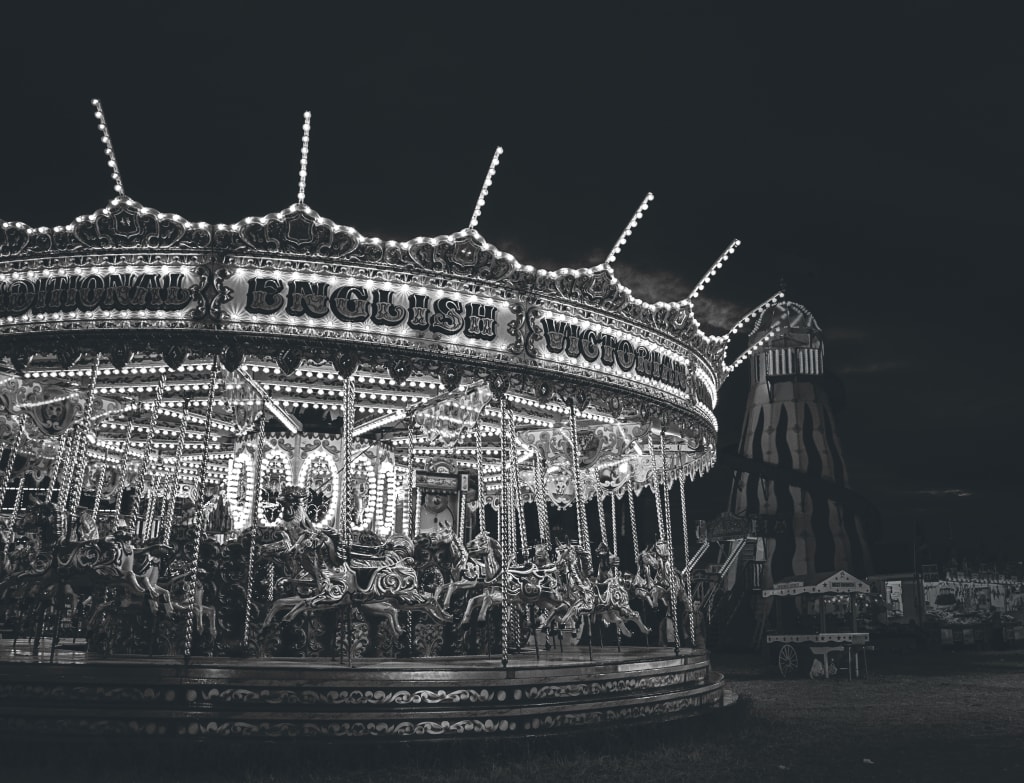 With five minutes until the clock hit one in the morning, she still hadn't shown up. She was the only reason why I kept showing up for work at this stupid amusement park every October. It wasn't for the pay, that was for sure.
The first time I saw her, she'd been wearing faded jeans that hugged her curves and a t-shirt that played tribute to an infamous Hollywood serial killer. It was her contribution to the Halloween festivities this town took too seriously—her words, not mine. I imagined she'd look good wearing anything she wanted to, but it was her blood red hair and her unfinished rose tattoo on her shoulder that caught my eye that night four years ago.
I remember her showing it to me the second year she came to the carnival, pulling down her off-the-shoulder black sweater, her fingertips tracing the tattoo over her dark, caramel-infused, skin. I watched her eyes light up that night as she talked about why the tattoo wasn't finished. I would've remembered her words more if my boss hadn't scolded me for neglecting my cotton candy duties, and if I hadn't been imagining if the Rose Girl would finally tell me her name before I kissed her.
I've seen her all of five times in my life, and she's never mentioned her name. She was a tumbleweed that passed through town once a year, and while she never told me anything personal about herself, I still felt like I knew her. She also didn't know my name, either, so she often called me Cotton Candy Boy. Given I was twenty-five now, the name was slightly embarrassing, but I didn't mind hearing the name coming out of her red lips.
Five past one in the morning, the carnival was winding down, packing up, and ready to shut down until morning. Rose Girl was a no-show tonight. Had something happened to her? Did she decide coming here was too lame? Did she decide I was too lame to visit, too?
"The carousel needs some cleaning before we all go home," Jason, the assistant manager of this carnival and also my boss, mentioned. Of course, he expected me to jump at the opportunity to clean up some vomit from a kid who didn't have the sense not to go on a ride after eating so much caramel popcorn. I was the most compliant one out of the six of us who worked the carnival every year, so I was the obvious choice.
"Who's going to clean up the booth?" I asked him, and he pointed towards himself. I rolled my eyes and grabbed the bucket next to the door, along with a mop and headed towards the restroom section of the carnival. They decided to place it closer to the woods, for obvious reasons. I filled up the bucket with warm water and headed back into the night, following the path that would lead me to the carousel. The popular ride wasn't anything creepy or old, but it did look a bit ominous with the lights off. The shadows on the hardwood carousel floor made the horses and the seats look bigger than they were. The sound of rustling leaves on the ground caused by the chilly wind made me shiver slightly as I headed into the main control room at the center of the carousel so I could turn the lights back on.
When I finally found the switch, I reached for it, but a dark figure standing near one of the horses caught my attention.
"The ride is closed," I informed whoever it was and reached for the switch again.
"Even for me?" The soft familiar voice made me freeze in place and I tried to hide the cheesy smile already itching to form on my face.
"You showed up," I said, trying my best to play it cool and watched her face light up when I flipped the switch and the lights came back on. I noticed she'd given her crimson red hair a trim since the last time I saw her, but she looked amazing in her regular jeans and sweater nonetheless.
"You had doubts?" she asked, a mischievous look in her eyes as she studied me.
"I thought I might've been the only one who enjoyed these rare encounters," I admitted, jumping out of the control room so I could continue cleaning up. So far, I saw no mess that required my cleaning skills and I wondered if Jason had gotten bad intel from one of the other workers.
"Looking for something?" Rose Girl inquired and I laughed nervously, scratching the back of my neck.
"I was told there was a mess that needed some cleaning, but I don't see it," I answered, and I let my eyes wander again towards her. Something about the small smirk forming on her lips told me she had something to do with this mishap.
"You catch on quick. That's what I like about you, Cotton Candy Boy," Rose Girl claimed with a soft chuckle, her gaze starting a trail towards the control room. The lights suddenly went out and I wondered if a fuse had burned out again.
"Leave it. I'm sure it'll come back on soon," she responded before I said anything. I found it odd but pushed suspicious thoughts aside and sat beside her in the couple's booth. She smelled like a coffee shop and something flowery I couldn't pinpoint. I waited all year just to smell that scent again.
"Do you think it's weird I don't know your name?" I asked and the sound of her raspy laughter stirred something inside me, something primal that's been trying to get out.
"It's convenient. No details to worry about, just the pleasure of someone's company." Her sad tone contradicted her words, as if she spent a lot of time alone. A girl like her? Alone? I had my doubts.
"You don't like the silence that comes with solitude?"
"I much prefer the sounds coming out of someone who doesn't know anything about me," she responded, and her eyes gazed up at me, silently pleading for something I'd probably be more than happy to give her. I didn't care what it was.
"Any sounds in particular you want to hear from me?" It was a loaded question and I knew I might've crossed the line here, but I don't think I could survive another year without kissing her. I needed to know her name.
"I have one in mind that's been haunting my dreams," Rose Girl expressed, her tone hushed as if she were trying to whisper.
"You've had dreams about me?"
"Yes. It starts out just like this. With you, with me, on this carousel, talking in the dark..." She started to explain and my hand found hers, causing her to stop. I lifted up her soft hand and kissed it. Her skin smelled like cinnamon and I knew I'd never be able to smell cinnamon again without thinking of her.
Her dark eyes met mine before she leaned in to kiss me, my hand cupping the back of her neck as I pulled her closer to me. Our tongues wrestled to be the cause of a moan to slip out. When I heard it come out of her mouth first as I bit her bottom lip, I smiled in victory.
"Do that again," she ordered, tugging at the hair on the back of my neck. I obeyed her orders and brushed my lips lightly over hers, before taking them in between my teeth and nibbling hard enough to make her moan again. She melted into me, her hands reaching for something underneath my shirt, my hips jerking when her hands found the belt holding my pants together. I looked around, relieved that there was no one else around who could interrupt us, and almost choked on my own saliva when I felt her hand wrap around my cock. My forehead rested against hers as she began to stroke. The moisture dripping out of my tip helped her hand go up and down my shaft. I'd embarrass myself soon if she didn't slow down, so I distracted her with another kiss, taking her cold cheeks in my hands, while I devoured her swollen lips.
My distraction worked long enough to make her stop, but when she decided to sit on my lap and tug down the zipper of her jeans, I almost died with this sudden raw need I had for her. My hands slowly slipped into her jeans and pushed them down low enough to give me access to what I needed.
My shaft ticked at the fact that she wasn't wearing any underwear and that I wouldn't be able to get this image, or this night, out of my mind until the next time I saw her.
It almost made me want to slow down and take my time to touch every inch of her she'd allow me to, but neither of us looked to be in the mood to wait for much, so I pulled her against me, my stiff member poking at her wet opening. Her hands rested on my shoulders, her hips grinding up against me, her desire was obvious, but I wanted to tease her more, hear that sound come out of her mouth once more.
I let my hands wander underneath her sweater until I found her soft and plump breasts, my fingers pinching and tugging at the hard peaks, making her hip movements increase and more whimpers to slip from her lips. I nodded as her cheek met mine, leaning into it as her body responded to my touch. Once the sound of her soft sigh echoed into my ear, I pulled away to look at her, to ask her for permission to bury myself inside her before I lost my mind. The glistening hint of mischief in her eyes had returned and she lifted herself off me, pushing down the jeans off her body then bent herself over the arm rest of the seat, giving me the perfect view of her backside. The sodden trail dripping down slowly in between her legs made my mouth water and my cock just about ready to explode.
My hands gripped at her hips as I stood up, pulling her hard against me, causing her to gasp softly and gradually turn into a moan when I slowly entered her from behind. She felt just right, wrapping neatly over my aching shaft, her clit pulsating as I teased it with my fingertips. I slipped out, then re-entered hard, and she wrapped tighter and tighter around me every time I did, her muscles throbbing and grabbing on as she rocked her hips against me. Her hand replaced my own between her legs, rubbing herself as I continued to pump into her, feeling myself about to erupt inside of her soaked walls.
I swear I could feel the carousel moving, making the high greater as I buried myself as deep as I could inside of her. Hearing her sigh in relief as she milked me only made the feeling of vertigo worse.
"Nora," the Rose Girl said in between heavy breaths as she sat on my lap once again, her arm wrapped around my neck while I held onto her.
"Nora?" I asked in confusion, covering what I could of her just in case she was cold.
"That's my name," she answered, before she gave me another breath-stealing kiss and started to get dressed.
"I wont forget it," I let her know as I fixed myself up as well. "And I wish you could stay," I added, suddenly feeling the same sadness she was harboring earlier, but I knew holding onto hope would make me even more miserable.
"Who knows? Maybe this time I will, Marco," Nora answered, more devilry dancing in her eyes as the lights suddenly turned back on in the carousel.
"You know my name?"
"I've known it since we met. Didn't you hear me say it?" she asked innocently, but I wasn't buying it.
"I would've remembered hearing you say it."
"I hope to give you more memories to keep track of then. See you around, my sweet Cotton Candy Boy," Nora replied with the touch of her cold hand against my cheek, sending a coy smile my way before she walked out of my life once again.
erotic

Sharlene Alba
Full of raw and unfiltered fluid poems, short stories and prompts on love, sex, relationships and life. I also review haircare, skincare and other beauty products. Instagram: grungefirepoetry fleekonabudget Facebook: grungefirepoetry
See all posts by Sharlene Alba →