Guess What My Husband and I Did Last Night?
It was a mutual thing.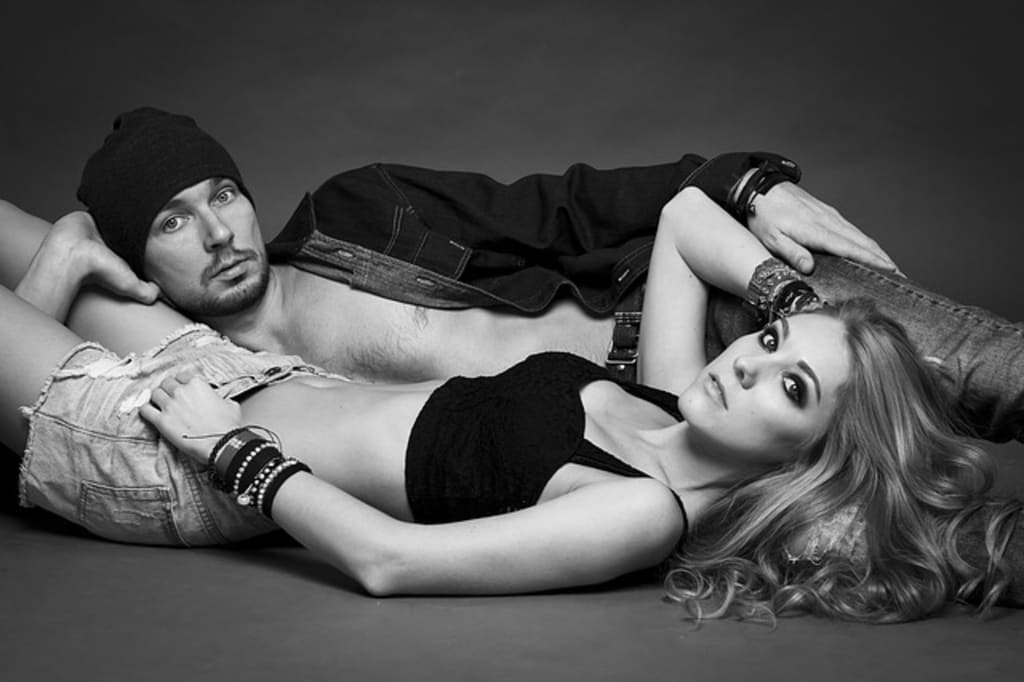 Last night my husband and I had a pretty good time with each other. We did something we hadn't done in quite some time. I am one for mutual masturbation which is so much fun depending on how you're doing it. We started out just flirting with each other before I did some tease and dial with him.
I love teasing his cock and then refusing to let him touch me. Sometimes it makes him so mad and other times it makes him so horny and wanting it even more. I would sit there next to him while watching television and reach over rubbing on it until I can feel the bulge in his jeans get a little harder, then I would quit and go back to watching television.
He would try to reach over and touch me himself, but I wouldn't allow him to. When I think that his cock has gone soft, I would tease it again with my hand rubbing on it. I love making him so hard and then watch him squirm wanting me so bad.
Next, I would unzip his jeans and pull his cock out. I would masturbate it with my hand and then stopping before he would get off. He hates that. Have you ever had a female do that to you? I bet all you men would love to have a woman tease you and then deny you the opportunity to touch her. It would make you want it even more that it would drive you crazy.
Finally, I would lean over and lick just the head of it tasting that pre-juice that forms on the tip of it. Licking my tongue all around it before plunging it deep into my mouth. He loves when I suck on it and hates when I tease the head with my tongue.
I pump it a few times in my mouth getting him nice and hard, but before he could get his hand on my head, I would take my mouth off and sit back up wanting nothing else to do with it. He just looks at me wanting to know why I stopped?
He didn't know that while I have been teasing him it has been arousing me at the same time. I could feel the juices begin to wet my panties. I just keep it from him that I am horny too. So, after sitting there for a few minutes, I finally get up and give him a slow strip tease show getting all the way down to my bare vagina.
I grab my breasts and jiggle them in my hands for him teasing him some more and even bring my breast up to my mouth where I can lick around the nipple for him. He loves watching me suck on my own breasts. They are that big that I can do that.
Then, I reach down and start grabbing at his jeans telling him to take them off. He thinks that I am playing with him again which is not the case. I get him to take off the jeans and boxer shorts and show me that semi hard cock of his. I have him sit back down and then I reach for his hand and have him stroke his own cock for me. I love watching a man stroke it for me.
Now, while he is stroking it I begin rubbing my hairy bush for him. I lay back and play with my vaginal lips and allowing him to see the pinkness inside and the little juices dripping from it. It excites him to watch me stick them inside and then bring them out and placing them in my mouth tasting my own juice.
After that, I usually give him a little taste while he still strokes it for me, and I get to see how hard he can make it. I lay back and my legs are fully spread open while my fingers get to play in all that pink juicy vagina. I pump my vagina a few times with my fingers and begin moaning for him telling him how much I am aroused. He loves to hear that because it arouses him even more.
When I am close to getting off, I climb up over him, standing above him with my wet vagina over his face while I still play with it. My legs begin to quiver, and I gyrate my hips around his face as I come to orgasm and squirt all over his face which makes him climax and he shoots it all over his stomach for me to lick off when we're done.
So, you see how much fun we have without actual penetration and it is a couple's fun to mutually masturbate. Sometimes it is more fun that having sex. It is all about the teasing and playing that can make for one intense orgasm. So, try it for yourself with your partner and experience the intense climax for both of you.
If you like my stories show me by leaving a tip and I will make sure that you enjoy more of my stories. I may even surprise you with a more intense story.