Fucking A Straight Guy
Spencer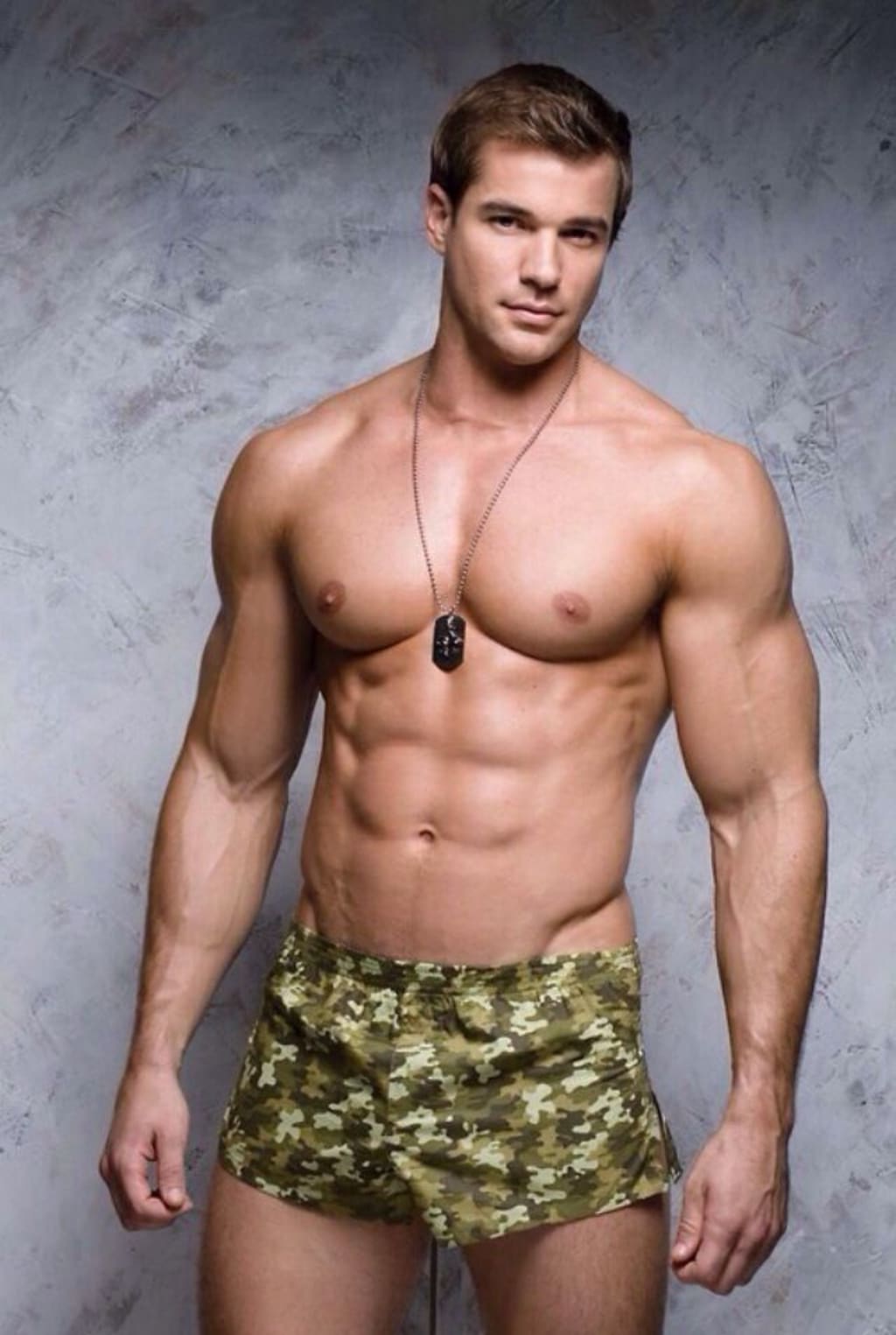 The high school I went to was like a fountain, constantly spewing out hot men. Year after year, hot guys would come from other districts around the county (this is not Hunger Games). When they simply walked around, they would kill me with looks and some kindness (sort of Hunger Games). In my grade, a lot of them walked in a pack, like wolves, but let's be honest, they were really gazelles that were too fast to bend over and eat from behind. While suffering from being love struck, my horniness was a temporary treatment. I was like a lion, an evolved lion in the grass, watching these gazelles, all ass up, tails pointing in the air, arching towards the ground, always eating and staying so fit. That made me wonder what else their mouths are good for (still referring to guys in high school, not actual gazelles). I wait, move up quietly, watch my primary target (which is the waist). Typically, I go for brunettes, but every now and then, I get a craving for blonde.
There were so many newbies during my 12th grade year. There were less that I could consider hot, but it was whatever. I had to take a couple classes over (for being a dumb bitch, but turned out to have ADHD). Taken one of them over wasn't completely bad. I had it with Alec (I'm not telling you who that is, read my other stories and find out yourselves). I sat in the back of the class a lot. I sat in my own head filled with depression and anger. I was still one of the students at the school who only sat in the back, but not also take it in the back, which is how I met Spencer. I didn't really talk to him. Schools like this, white guys don't really stick out, but his hair and beanie always did. I really like men that wear beanies. He pulled it off well. What aggravated me about him was how he constantly looked better than me in camouflage shorts. Like me, he were them occasionally, a lot even. I felt that someone like him should've asked me for permission first. He was quite the guy that had to be put in his place.
Blondes like Spencer just didn't seem real. Spencer wasn't the kind of guy who could be a daddy, but he could be taken care of, owned, and fucked by one. He was practically my height, or at least at the height where I could put my hand over his head and shove him down to his knees. He was adorable, but at the same time, so worthy of being bent over one's lap to have his bare white, pink to red ass spanked by a bare hand (mine of course). Even though his ass didn't show much when he wore the camouflage shorts, I could still see myself taking them off. His legs were hairy enough to be seen, but still enough to lick. I think he'd enjoy it, no matter the gender.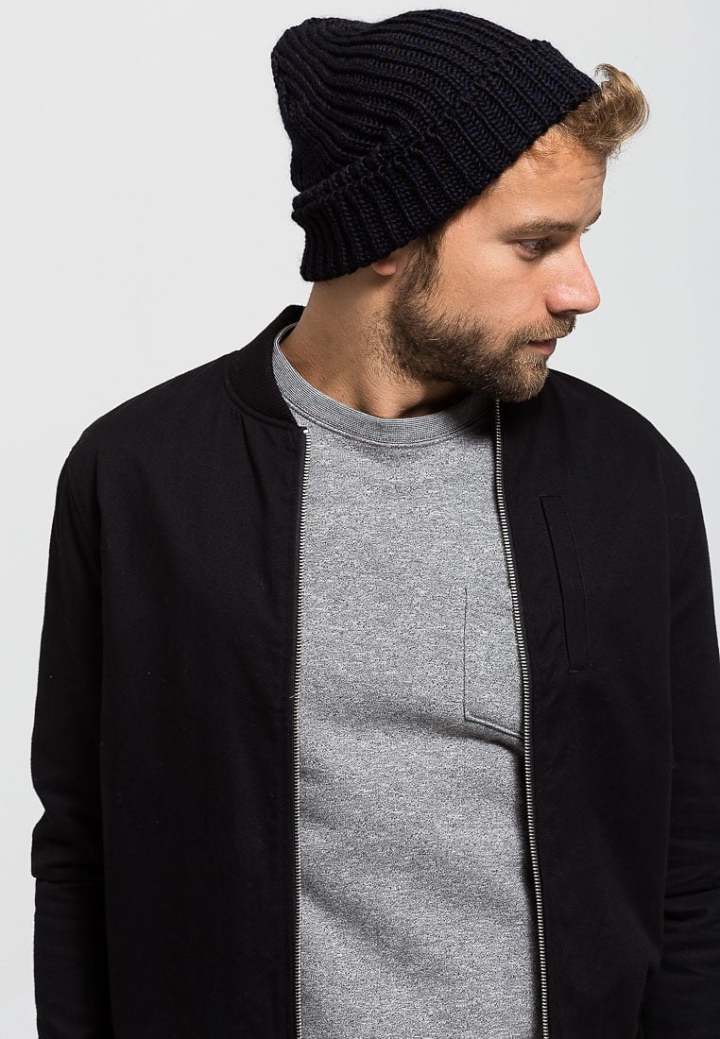 I just don't imagine Spencer being straight. Every time I saw him, I thought I could feel his energy speaking to me. He walks by, I suddenly hear "fuck me, fill my mouth, expand my throat, it hurts daddy, take me to my car and ram me." Something about his blonde hair seemed like something nice to pull on, of course while bending him over solid enough objects. The hair? Flawless! Eyes? Nice! Build? Cute! The beard that grew out from time to time? fucking sexy! It made him look super masculine. I was a little sad when he shaved, but the beard always came back. I never came on it though (if you know what I mean). He had so many features that needed attending to. I still can't believe he had a girlfriend (yes, she was a bitch). I could've done things he'd like. I would've done things she couldn't.
Spencer seemed like the person who'd rather have a daddy than be one. He'd rather scream daddy than have someone scream daddy to him. I bet if we were sitting super close to each other, I could finger him during first hour discreetly, and he wouldn't stop me. I'd sit still with my eyes looking forward as if nothing was happening. Meanwhile, he's next to me trying to keep it together and control his imaginary clitoris. He's liking it so much. He's clenching his fists and toes, sweating uncontrollably, biting his lip, and doing whatever he can to contain himself. I'd stop for a few minutes, then, I'd start again when he's beginning to forget. If it's not clear by now, we're both sitting in the back of the classroom in this fantasy. I watch the clock, and stop seconds before class ends. As everyone packs to leave, I remove my two fingers from his warm and no longer tight cunt (butt hole), and just like that, he's flying out the door, flexing his ass cheeks in hopes that what's between them will hurt less. If he needed a massage, he could've just asked.
I imagine Spencer would at least have some other guy giving him a nice release. Every now and then, he'd need another man to give him what he needs. If so, not even a dildo, or that rude bitch he called his girlfriend could give him full satisfaction. Sometimes, I would see him drive off with this guy, one grade under him. He was cute too. I'd see them drive off in the same direction, always between 11 and 12 (because I took the bus, and they passed me at the bus stop many times). It would be interesting, but not shocking if they left together to help each other out, if you know what I mean. If that's what they did, I bet that guy was all over him, with Spencer under him, massaging his nice back, that soon turns into heavy scratching.
I wonder, would they have done this in the school parking lot? It's a huge campus with multiple parking lots. As long as Spencer had a sweaty, muscular hand covering his mouth, they wouldn't get caught. With no fucks given, Spencer would find his way on top. With his friend sitting down, he climbs onto him, squats down, and lowers himself onto his dick. He lowers himself on it many times, hurting himself and hating it, but then suddenly loving it. He doesn't stop, and his friend doesn't stop lifting Spencer's ass up, and slamming his thighs back down. This friend starts grabbing onto Spencer tightly, taking more of the role, rapidly beating his hips into Spencer's. He's not in control, he's in his ultimate climax. At this point, Spencer can't move, that's not up to Spencer anymore. He has to feel everything all the way through. Finally, Spencer's friend releases; in more ways than one (coming like crazy for those of you who didn't get that). They're both breathing very hard. With sperm making its way around the inside of Spencer's hole, he is able to slip off nicely. They put their clothes back on, and get back just in time for fifth hour. My imagination is wild!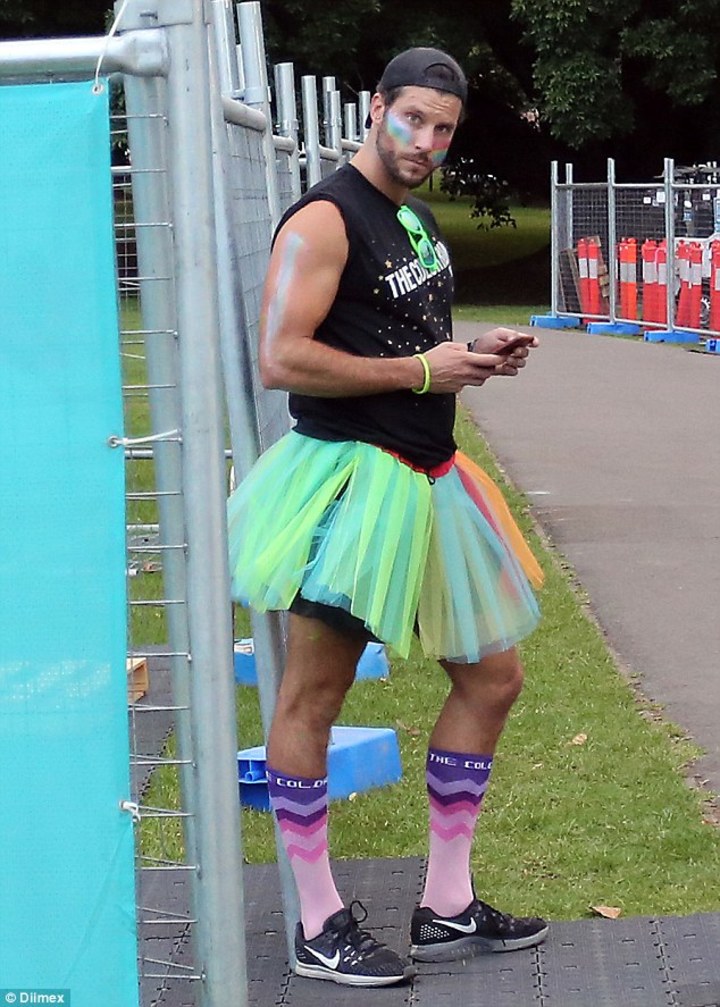 Spencer had done many things that would turn a lot of men on. It was as if he was trying to be a tease. Those people are not always fun. Our school had Spirit Week. One of those days, he comes wearing a tutu. It was cute, but you could see his legs. I don't exactly remember what day this happened, Another time, he came to school dressed as Captain Underpants. Seriously, it was like he was telepathically saying "bend me over, stick something big and dry in me, and I'll make it wet" to every man he walked by. Part of me wanted to force him on a wall and fuck him right there, but I still had some sanity in me, also, there were too many people.
There are a lot of places at this school to hide in. There are single use restrooms, mezzanines that were giant storage attics, stairwells that were barely used, and nature trails with enough trees around for no one to see or know what's happening. When Spencer was wearing those kind of things, I thought about being with him in the tunnel under the school. That sounds creepy, but it was actually a cool place, it was just slightly dark and cool to run around in (horror movie style). It was still a quiet enough place to put Spencer on his back. However, Spencer needed to start in a deep squat position, or on his knees so that his head was aligned with my hips. By that time, his throat would have a black cock clogging it, but I have to lick that tiny, cute, blonde beard first.
As we're making eye contact for five seconds, I caress his face, feeling the little, but noticeable, hair. I move my hand more inward from his ear to his cheek, which begins to near his lips. He just smiles as my thumb moves closer into his lips, and then, on his lips. He finds it funny until I begin to press my thumb into his mouth, letting it move around, soon letting my index and middle fingers join. I get a feel for the saliva covered tongue and walls of it. He breathes harder, for my fingers are disrupting the path of air to his lungs. Breathing through his nose more helps a little, until I take my left hand and plug his nostrils shut. He struggles for a bit, so, I remove my hand from his mouth, replacing them with my tongue, so that the only air he can breathe is coming from me. His heavy breathing makes it hotter.
Spencer struggles a little more, but I'm enjoying the tastes of his short yellow beard. I stop kissing him for a few seconds, and take the time to shove two fingers down his throat. I kiss him again, then shove them down his throat again. The gagging, muscles of his tongue, and throat muscles constantly attempt to crush my fingers makes good exercise for an aspiring cocksucker such as him. With his face red and tears coming out of his eyes, he pushes back with a scared look on his face, but mouth still open. Though he's in shock, he understands that I'm not doing this to hurt him (not that alone at least), he keeps his mouth open so I can continue preparing him for what's next.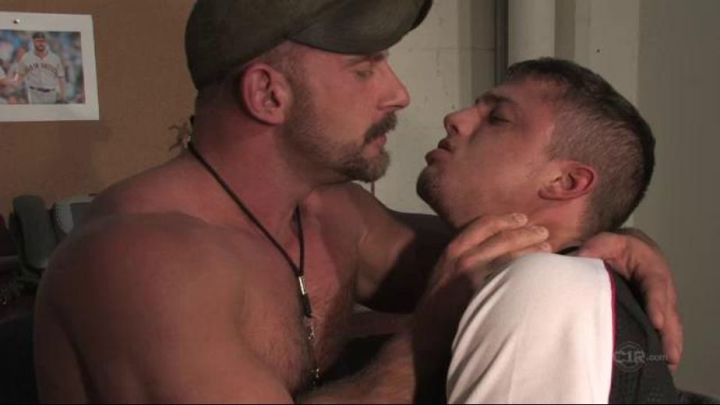 Spencer has steady legs, but after he's put in his place, he knows to kneel down. Although he knows to get on both knees for his new master, it's just more fun to hold him by his head and neck, and force him down instead. I don't tell him what's happening, but there he his, looking up with those green/blue eyes with his mouth open, and tongue already out. He's being such a good boy. He waits patiently, even puts his tongue back in his mouth to keep it from drying out. As I unzip my pants, he plunges forward into it, and sniffs my sweaty underwear (of all the days I don't wear underwear, I am now). He sucks on the stains that are soaked in sweat. He even spits on them, tries to mix it with my sweat, and sucks on them again. I'm so curious I bring him up for a quick two seconds to lick that sample of saliva and sweat off of his tongue to get a taste. I shove him back down.
Spencer looks directly into my pouch, and pulls it out right in his face. He's so eager, he lunges again. He was trying to lick the tip, but the momentum of his body made it so that he continues to lunge forward (something we learned in physics that he probably should've remembered). He let it sit passed his tongue, and let it get bigger in his mouth. I took it out and stuffed it back in. I wasn't giving him any time to relax and get use to it. I was loving the imbalance I was creating in his throat. When he started choking and pushing back, I put myself in a squat, wrapped my arm around the back of his neck, and held him. I watch his face turn red as he's tapping on my thigh. He uses his muscle arms to try to get off, but the mix of pre-cum from my dick, and saliva from his wet mouth made him slip back on. At this point he's coughing a lot of it up as he is also swallowing it.
I release Spencer from my hold and he yanks back quickly, gasping for as much as he can get. I grab him by the back of his head, and we make close eye contact. I ask "do you like it", he says "yes sir." I didn't tell him to say sir, he just knew to. I ask "how does it taste," he says "good sir." I slap him, kiss him passionately, and stuff my tongue in his mouth. I tell him "open your mouth." He opens with tongue out as well. Holding the back and front of his neck, I spit down his throat, watching some of the saliva run down his tongue while the rest made its way down his esophagus. I slap him with my dick, smear the saliva he made all over it on his sexy beard, slap him again (with my hand this time), and spit in his face. We kiss again, and like a well trained blonde bitch with his eyes wide open, he quivers and says "thank you sir."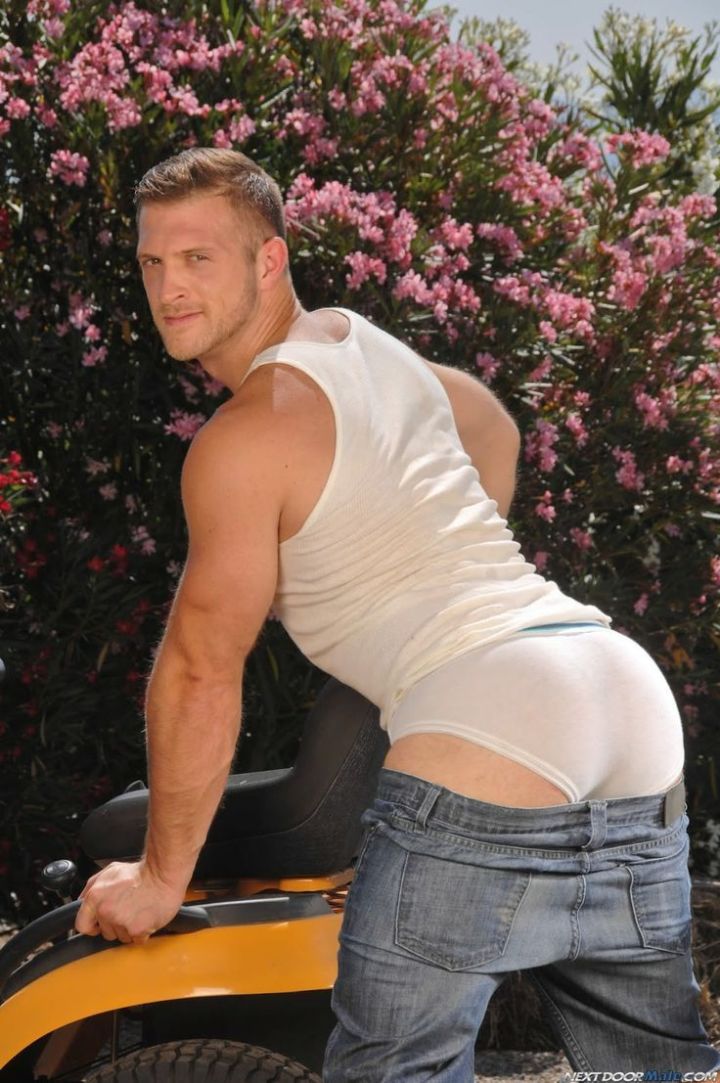 After playing and roughing up Spencer's face, I move to his tight ass. I make him follow my index finger. He watches it go counter clockwise, signaling him to turn around, but he already knew what to do. He knows the position I most want him in. Still in his tutu or cape (because I'll fuck him regardless of what he's wearing), he bends over. I press myself against him, pull his tutu or cape over almost tearing it the way a cheetah tears into an ostrich. I quickly notice the way his butt cheeks individually show themselves through his underwear. I get down to give it a good sniff, it's not bad. I spit on it a lot, smear his underwear against his ass crack to see if that mixture would smell better, it was much better.
I slap each cheek once then have him take off his spit and ass soaked underwear, bring his upper body up for a few seconds, just to hold him by his neck with my arm around it and kiss him over his shoulder; tasting more of his lips and beard. His underwear is put in front of him. I bend him back over so that his faces hits his underwear. He smells everything; my saliva, the sweat from his ass, and the sweat from my ball sack. I shove his head into it while I'm licking his back from his neck down to his crack, then between his cheeks.
I bit his cheeks a little, then, a lot! I even suck his dick a little from the back, and back up to the heated space of his ass, and eat it out the way a lion claws deep in the back of a zebra as it takes it down. I slap his ass so much it turns from pale to red. I want to see his face red again, so I spin him around and get him on his back so he has an upside down view. His head leans back, and my cock goes in. I hold his arms down and happily watch his legs struggle. He can't help but spit up more pre-cum and saliva. His chest expands after I release him, with his face teary and red. Now that my dick is wet and slippery again, I'm ready to plow that blonde, bearded bitch.
I flip Spencer back over into his original bent over position, and force two fingers, then three, then four in his tight hole. I wasn't going to fist him. I forced them in and out repeatedly until Spencer was breathing so hard he couldn't properly cry, then I made him suck on those fingers. "Please, I'm ready sir" he says as my dick lies patiently between his ass cheeks. I enter with no warning, which had him yelling and moving too much. I punch, not hit, punch one his nice bubbles that made his ass (still red by the way) to get him back in line. I push in more while also having my left arm push his back down so he had a better arch. All that is holding Spencer is the side of his head, the hot pecs of his chest, and me. He's got his hands spreading his ass open, like that's what will make it hurt less. He screams moans, sweats uncontrollably, but what I'm most impressed with is the way his ass vibrates as I slam my cock into him.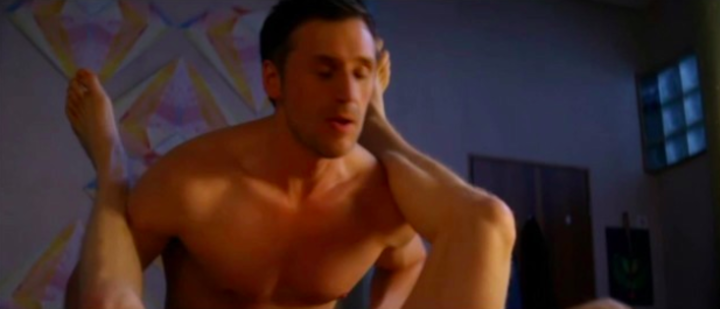 I flip Spencer over again so I can see that pretty face. He's enjoys everything that's happening to him and going into him. He pushes on my thighs, trying to get off. I lean forward and slap that bitch back down. I make a fist around his throat, and he coughs and tries to get my hand off. I slap him again and again, then, I punch both of his tits again and again. He hasn't screamed in a while, so I twist his nipples. He put his arms up and starts twisting mine, which makes me go back to choking his hot ass. Spencer feels so much pressure in his hips that he doesn't notice me jacking his cock. Every muscle throughout his upper body tenses, and he lets out a giant yell that echoes throughout the tunnel. The muscles in his dick move around, and out comes the cum.
Spencer squirts all the way up to his chest, getting some of that cum in his eye. I lick it all of it, start from his abs (lick one by one just in case), then, I continue up to his chest. I bite his nipples to get a little more screaming out of him. He took care of his eye. While all of this is happening, I'm cumming. I can be a dominate master, but I can also be considerate (I put a condom on before we started). I slam him a few more times before pulling out. I didn't cum in his ass, but that cum wasn't going to waste. I throw the condom at his face. Before he can grab it, I grab his face from beneath his chin and command him to "open your mouth", and like a Gogurt, I squeeze my cum out of the condom and into Spencer mouth. Like my good but bad boy, his tongue was out and ready to take whatever tried to dodge his mouth. I bring him up so he's sitting with me standing between his legs. He puts his beanie back on and we make out. I notice how cum filled his beard is. I guess his tongue didn't catch everything. I lick the rest of that up, and we kiss a little, then leave.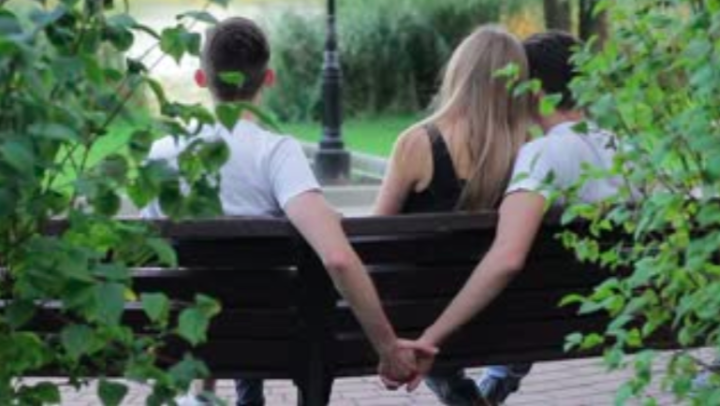 I didn't see Spencer after that one year. He seems to have disappeared. Only a handful of people knew he was leaving. It was a shame that him and his girlfriend both left. It should've just been her. At least now, no one wore camouflage shorts as often as me. I miss that hot fucker. I totally would've dated him. I still would! I've got over very quickly, but if I see him again and we hang out while he comes out, I'm doing all of things in my fantasy and more, all things his bitch girlfriend at the time couldn't do, because he didn't want to be a dad with that bitch. He wants a daddy or man and wants to be a sexy man with or owned by me.
lgbtq

Keisen Sky
Aspiring model and influencer searching for their place in the world while writing stories and poetry. Please help, support me, tip what you like. I do appreciate it, and rely on them. Follow me on Instagram @sky_kei20
See all posts by Keisen Sky →