Erotic Photography Books
Erotic photography books are art in its most raw and human form.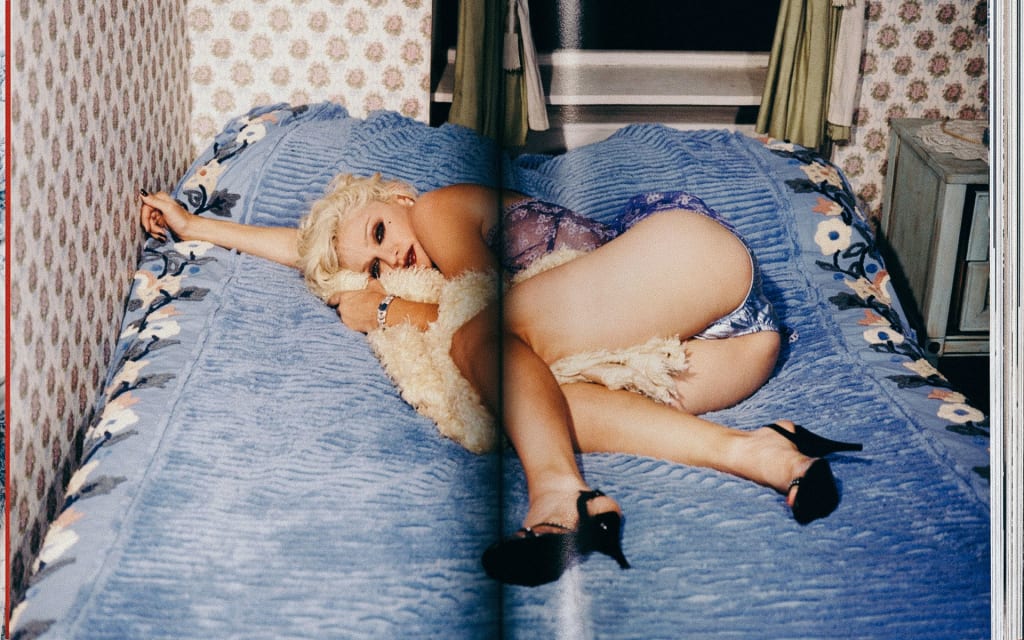 Sight is a powerful sense. We are blessed with the ability to take in light and shadows, color and shape. A truly skilled photographer has the gift of bringing real life into still form, without losing the reality of the subject. Erotic photographers have an even greater ability. They transform the naked image or the subtle implication of sex into an artistic medium. For decades, photographers have been bringing iconic images of all genres to the forefront, teaching us lessons of history, glamour, and seduction. Erotic photographs have caused controversy and prompted discussion of what art truly is. The answer is simple—it is what you desire it to be. Choosing to use a book of photographs as a coffee table decoration is yours, but erotic photography books will serve you better if you look at the pictures and take in the genre and all it has to offer.
South African photographer Henrik Purienne was the founder of the international fashion publication Mirage magazine. Often referred to as a "naked purist," Purienne has the ability to offer high fashion escapism through his lens. Purienne the book is a perfect showcase of this gift. The subjects of his photos are able to transmit their sexuality through his medium and are able to do so through a variety of backdrops. Whether on a beach or in an unmade bed, Purienne's talent is transparent and his job enviable. The erotic book describes his average day well: "Purienne always seems to have his camera pointed away from real life and towards a fantasy of beautiful girls with nothing on their minds but fun, and even less on their bodies." If you can't afford the book, be sure to follow Purienne and others in our favorite NSFW Photographers to Follow on Instagram.
"I love the flesh. I am a photographer of the skin," Rheims once said. And she was really good at it. Rheims began her career by photographing strip-tease artists and acrobats and fell in love with this unique erotic art form. Bettina Rheims is a retrospective of over 500 photographs spanning 35 years of her career. From the beautiful anonymous forms to the more well-known like Madonna and Naomi Campbell, this erotic photography book is a must have for any erotic photography enthusiast.
A student of Surrealist master Man Ray, Bourdin was a French fashion photographer with a penchant for the provocative. Known for his ability to cause shock and awe with his erotic take on his subjects, his work has appeared in both mainstream and cultural outlets. A master of the Polaroid, he used this medium as skillfully as using a more "proper" camera. Polaroids capture a range of subjects and images. From the purely erotic, to the completely ominous. It kind of makes you wonder what Bourdin could have shot with an iPhone.
Once a model on the other side of the camera, Ellen Von Unwerth is now a master of erotic femininity. Finding fame through photographing fellow German Claudia Schiffer, Von Unwerth has also directed short films for various fashion designer. Fräulein is a tribute to some of the most iconic beauties of our time. Ranging from Kate Moss to Dita Von Teese, the visual spectrum of nude photography is tantalizing, desirable, and classy.
You and I is Ryan McGinley's first retrospective monograph. A collection of work based on many subjects, including New York's Lower East Side youth culture. This first edition captures the barriers between public and private spheres of activity. McGinley was one of the youngest artists to have a solo show at the Whitney Museum in New York. His favorite subjects are skateboarders and graffiti artists; allowing them to be who they are, capture their essence and share it with the public. He enjoys "creating specific situations for his subjects to lose themselves in the moment."
Reflections is an erotic photography book that challenges the viewer's perception of what is real and what is not. Guido Argentini is a master of erotic photography. He takes nude photographs and transforms it into a variety of subject matter. In this book, he uses mirrors to achieve is visual goals and unusual perspectives. According to Argentini's website, Reflections is, "A sort of unconscious research about the woman who studies herself, falls in love and gets lost in her own image." This Italian genius is also worth looking at.
The title is self-explanatory. Psychedelic Sex is a pictorial history of the time span between 1967 and 1972 where sex and drugs collided and created a culture. "At its height, psychedelic sex encompassed posters, tabloids, comics and newsstand magazines, but the most far out examples of all were the glossy magazines from California, center of the hippie culture and the budding American porn industry." If any of this interests you, this book is a must have.
In Contact High, Richard Kern wants to you to get a high with a little help from your friends. A master of all that is considered "underground" subject matter, Kern's career has been focused on guilty pleasures. This book is no exception as it is all about naked women smoking weed. If it isn't an erotic photography bestseller, it definitely should be. The only way you will know if you will get a contact high, is if you buy the book.
Araki's Tokyo Lucky Hole is sure to spark a love a nude photography in anyone who reads it. In 1978 word began to spread about waitresses who did not wear undergarments. This transformed into a whole of culture non-panty wearing women in Japan. The erotic photography book is a collection of over 800 photographs documenting the Japanese sex industry. As for the use of "Lucky Hole" in the title, there was a club in Tokyo where the clients and hostess were separated by a plywood partition which has a hole big enough for a part of the male anatomy.
Helmut Newton was a German photographic genius. Known for his nude black and white photos, his work appeared in many well-known fashion magazines. He used the Polaroid camera as a tool to test out the light and backgrounds of his shoots before going forward.
In Polaroids, the viewer is taken on a tour of the tools used in creating his masterpieces. Though most photographers threw out their Polaroid test shots, Newton's were saved and we are glad they were. They offer a one-of-a-kind insight into his thought process and range from the "classic nudes in Milan to latex-clad shots in St. Tropez."
Eric Kroll's Fetish Girls is just what it sounds like. Kroll, the well known fetish photographer from San Francisco, is an expert at using his art form to tantalize his viewers. The erotic book is a visual diary into his mind. He "opens the door on a cabinet of bizarre lust and fantasy, spiced with an unfailing and unmistakable irony."
Vanessa Del Rio explores the career of the legendary Latina porn star through her photographs, coupled with her own words. Entering the adult entertainment business at a time when there were no non-white stars, Del Rio fought far harder than she should have needed to but found her way to the spotlight. This book documents her life and rise to fame through her own archive, and also includes an original 140 minute DVD documentary, to give life to the aspects of her stardom that nude photographs can't quite recreate.