Echo the Escort (Pt. 1)
A Gay Erotic Novella About an Escort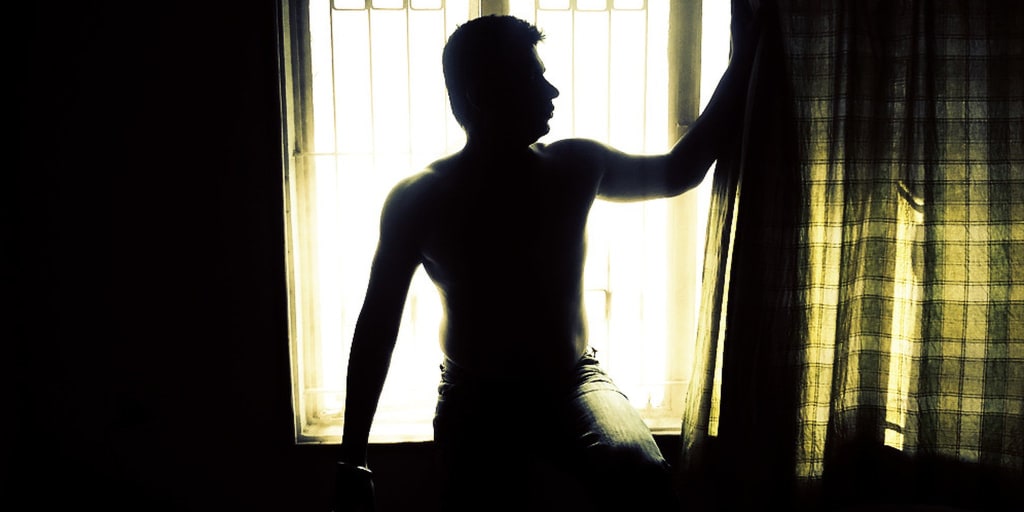 Everyone has a dream. Mine was to be a famous groundbreaking gay journalist for the New York Times or Daily News, but sometimes dreams die.
My name is Echo and being a gay escort isn't as easy as Hollywood makes it seem.
I mean, sure, the pay is amazing! Fuck amazing, it's glamorous!
But what tends to ruin it is the lack of chemistry an escort might have with their client. When that happens, it's a different ballgame.
You never know if your client of the day is going to be too demanding, unhygienic, dull, a terrible sex partner, or just not interesting—until it's too late.
But my job isn't to shape the guys up—unless they're into that—as long as I'm with a paying client, I am whomever he wants me to be… and if the chemistry isn't there? Then that's when my two years of acting class comes in handy.
As long as he is happy with my service, that's all that matters to me because his happiness is how I pay my bills.
Growing up in a diverse city like New York was always an adventure because you never knew what to expect from the many diverse characters that inhabited the city. And being a gay Puerto Rican male, I've dealt with my fair share of characters and heartbreak.
I'm not one to dwell on the past because that's behind us, but I guess it's important for this story and to get to know me, so I'll give the cliff notes.
My parents were 16 years old when they had me. My mother was a drug addict and my father was a drug dealer. My mom gave birth to me on May 3, 1990, and shortly thereafter, she died and my father went missing in action. None of my grandparents wanted me so I was put into foster care.
When I turned 10 years old, I was adopted by a loving Christian couple named Peter and Mary. When I turned 16 years old, I came out the closet and was kicked out of their house.
I met an 18-year-old who I fell deeply in love with named Trevor Natchios. He was tall, dark, and handsome—and honestly, everything I ever wanted in a guy.
He helped me find a place to live and he helped me, not only finish high school, but also helped me financially—but this wasn't a relationship that Walt Disney would write about. Unless he waters down the parts where Trevor would abuse me daily and call me, "Worthless, ugly, and a waste of life!"
On my 18th birthday, I grew tired of the bruises and broken bones, so I decided to leave Trevor and never look back.
I moved to a city just 18 hours out of New York named San New City.
While most high school graduates dove right into college, I decided to take a year off of my studies to focus on working. I was hired at the local movie theatre that summer.
It was in that theatre job that I met a dapping fellow named Noah Fernine. He looked like a caucasian Antonio Banderas.
He ordered three boxes of popcorn, two slushies, and six hot dogs; either he had a huge appetite or he was compensating for something.
"Has any one ever told you how attractive you are?" he asked me as I handed him everything he ordered.
I—being the smart ass I am—laughed at his question because clearly something was wrong with his vision.
I'm a feminine gay male and although Hollywood tends to make the feminine gays campy and overdramatic, that wasn't me. I had a voice that most people called "girly," and while every other boy at my junior high had voices that were deepening overnight, mine never did.
Aside from that, my height is 5'9" and I'm a bit stocky, but that tends to be overlooked when guys see my fat ass.
Not to toot my own horn here, but I always found my bubble butt very appealing and so have the clients who have booked me. But those were qualities not many of the "alpha gay men" were looking for in a mate.
The alpha gay men are the men who post pictures of themselves flexing their muscles and complaining about how "thicc" they're getting…although they were just muscular and not at all thicc.
They're the men who were so vain that they date or marry their doppelgangers so they could fuck themselves daily.
So when Noah gave me that compliment I had to laugh in his face.
But Noah wasn't giving up on his weird venture. "I'm serious." He handed me a black business card that contained his name and email address in gold lettering. "If you ever get tired of sweeping popcorn and cum off the floors, give me a call."
I went home later that night and Googled who he was. He was the CEO and President of Somin Agency, an escorting agency for gay men. I wasn't sure if I was mad or offended that he assumed I was escort material. I mean, don't get me wrong, I do love the aspect of getting paid for sex. I enjoyed watching porn just like most males at that age, and I did have a 12-inch dildo I named 'Mr. Hamm,' so it's not like sex was a taboo subject for me.
I emailed him that I would love to hear more about the opportunity and he replied less than an hour later.
The position was for a part-time escort. I would be getting photographed (nude and clothed pictures) and stored in a virtual catalogue. In that virtual catalogue, many potential clients will go through my profile and statistics to see if I was what they were looking for to fulfill their fantasies.
When a client chooses me, they book an appointment for a future date, I get that alert, make plans accordingly, and then we would meet. When that meeting is over, all financial transactions are made through the Somin Agency database.
It sounded very professional, organized, and much better than cleaning up the bathroom after a midnight screening of the latest 50 Shades of Grey film.
I promised him that I would weigh out the pros and cons and get back to him when my mind was made up.
After reading his email, I received an acceptance email from San New University and I forgot I applied for their journalism degree. Since I didn't want to apply for financial aid—although upon me running away from my last foster family I took my social security card and birth certificate—I just didn't want anything to trace back to me if an emergency arose.
So I decided if I wanted to make thousands of dollars to pay for college that I should find a job willing to pay me that much money… and I decided to email Noah, accepting the job offer.
Thus how I, Echo the escort, was born!
In my first week of escorting, I made $18,000! And most of my clients were rich older men who needed someone to talk to and someone who would listen to them.
I've learned that escorting is 60 percent sex and 40 percent of it is just being emotional support.
Now, here I am 10 years later (I'm 28 years old now), financially better than I was with amazing dental and medical insurance, and although I started this journey for college, I decided to hold off on that until I was ready. Escorting isn't a job to me, it's a career, and one that I love more than anything!
But none of that matters at this moment.
I realize now that everything I've done was for nothing because clearly it didn't fix the situation I'm in now.
It didn't warn me how everything was going to change for the worst.
All I have left now are regrets. Regrets that I didn't see the signs and regrets that I trusted him.
And now, as I lay here on the tiled floor of the Silmont Motel, staring up at the barrel of a loaded gun that he was holding tightly in his hand, I know I don't have much time left.
Today's date is October 11, 2018.
To you, it's just an ordinary Thursday.
To me?
.
.
.
It's the day I died.
erotic
Edwin is a published Author, Poet and Playwright hailing from the Bronx, NY. When he isn't working on stories, he can be found creating homemade lip balms and customizing dolls.
Receive stories by Edwin Betancourt Jr. in

your feed