Darling... Let Me Taste You
A Kylie Scene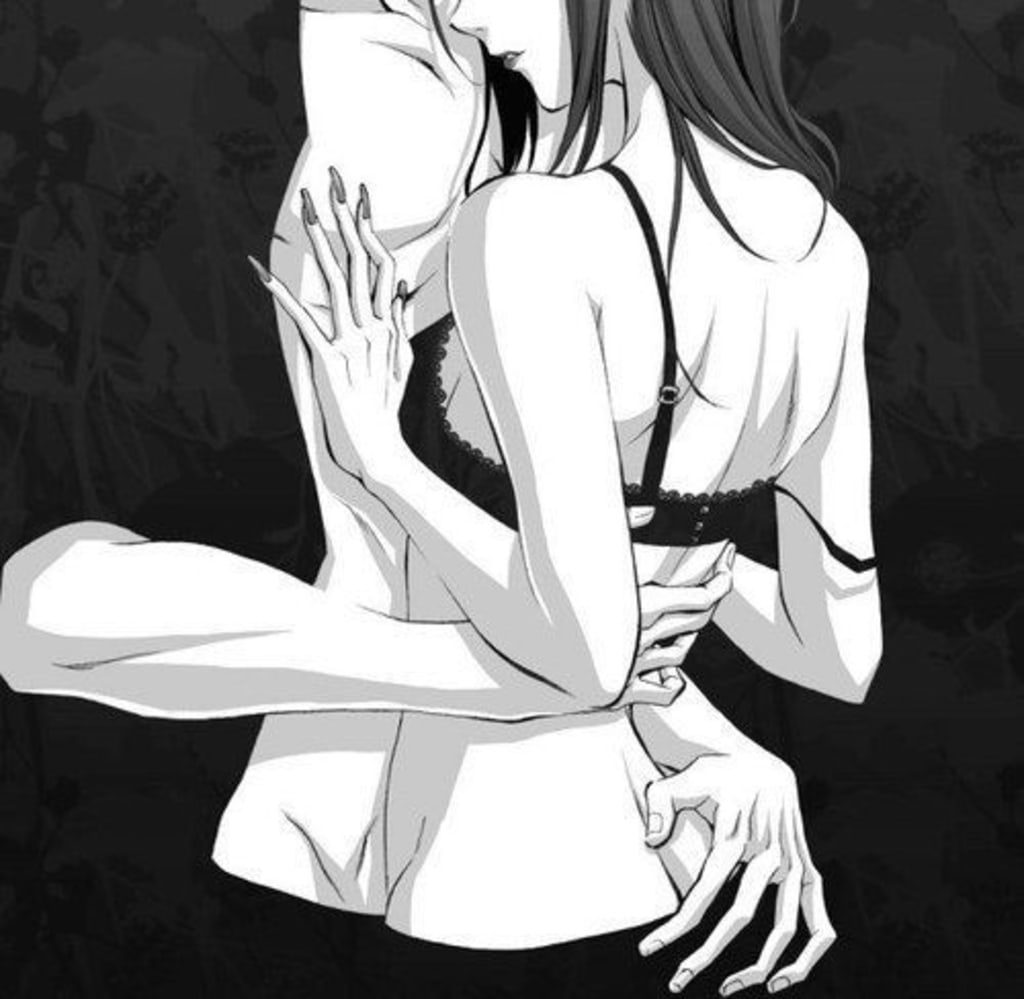 Kylie texted her lover, the one man in her life currently, who satisfied her without exploiting her kinky desires. Derek would always jump at the opportunity to do just that every chance he got. The tall brunette and tattooed man stood at her door, his thin muscular frame and office attire always made her more turned on. She opened the door with a violet fuzzy bathrobe and he stepped inside.
"Are you alright?" Derek asked, hoping she wasn't sick.
When she nodded and pulled him close for a kiss he knew what she needed, picking her up princess style and taking her straight to her room. He loved holding her thick toned body to his own. As far as women he loved them with a little meat on their bones, especially her curvy hips, her nice ass in his hands, and Ds pressed against his chest.
She kissed him and pulled open the robe, showing him the sheer lace nightgown, just barely concealing the view of her body. Derek kissed back, before looking her over in shock at how sexy she had dressed just for him. He blushed and caressed her softly, tonight was going to be special. Kylie let the robe pool around her feet before she guided his hands to the hemline of the lingerie. He smirked and tugged it down just a bit until it fell away from her curves.
Derek moved down to caress and kiss over her hips and stomach, smelling her arousal had him ready to give her a good pounding, but that wasn't what he really wanted to do to her. The brunette man knelt before her and made her sit on the bed, only to have her lay back. After she did she felt his fingers and lips moving lightly over her inner thighs and she let out a soft moan. She knew he was likely hard and she wanted to tease him. She went to sit up and move him away only for him to smirk.
"Derek... you really don't have to do that..."
"Darling, let me taste you..." he said, before taking a good long lick over her.
"Ah! Okay... if you really want..." Kylie shivered, as she grabbed his hair.
At this point he began sucking at her clit, sliding a couple fingers into her to find her g-spot after a bit of work. Her cries happy, if not frantic at the not so familiar pleasure. His tongue lashed at her clit and he would even get his tongue inside her. Soon enough she was aching, yearning for release. Derek felt her getting close and stopped short, with a slyly devious grin that drove her mad. Kylie recovered from the shivers and stepped back from that metaphoric edge.
Derek knew how to tease her, but he knew even better how she loved to feel his rock hard cock inside her. After lining up and pushing in her moans filled the room, he quickly found her g-spot and was ramming into it. Kylie was screaming wildly as pleasure coursed through her nerves, only for them to be crying their orgasms together. She let one hand go to the base of his skull and the other just below. Both Kylie and Derek whimpered happily as they came down panting. Her grey eyes and his hazel ones met and it showed how much this had truly meant to one another.