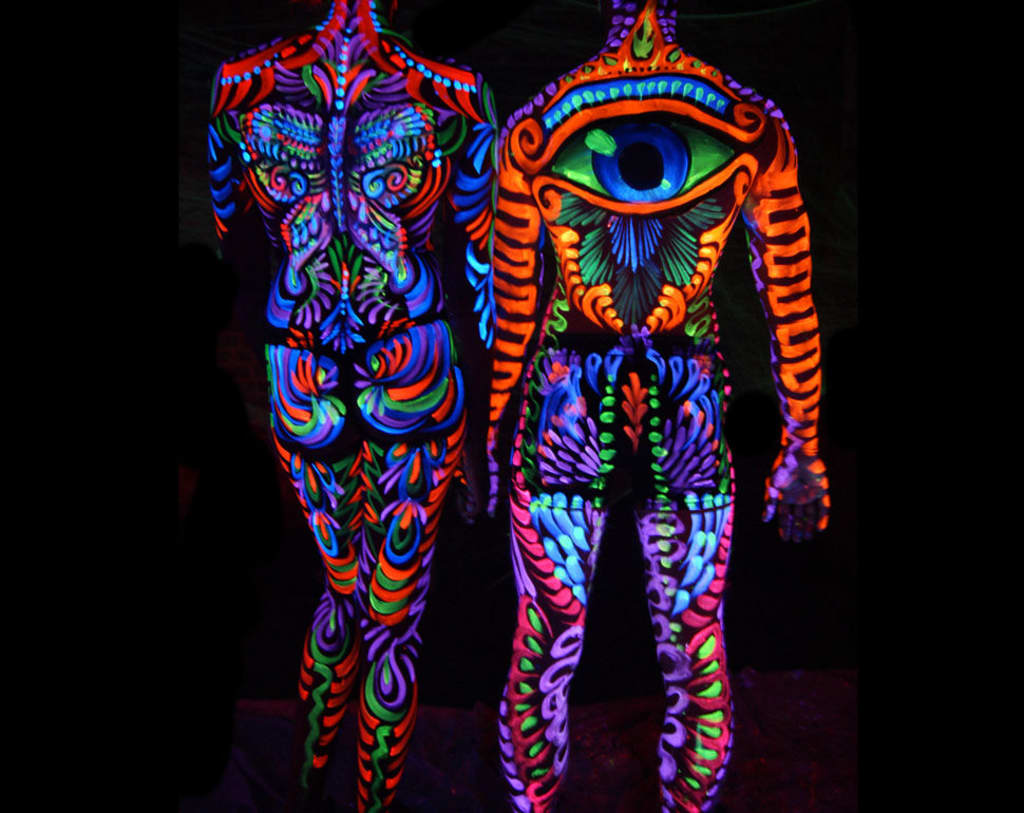 Recently via Instagram, I discovered that I have a newfound love for body paint. Art has always been a secret love and my tattoos are my form of body paint on a more permanent note. I've seen a lot of people rocking henna tattoos which I found very interesting but for me, body painting raises the bar. In the right artist's hand, your body can become a Basquiat piece of some sorts. This new turn on of mine began when I started following this wonderful woman from Texas named Mahala Preudhomme aka Preudhommeart. Her page is chock-full of the most seductive pieces I've ever seen in my life; from wall paintings to portraits, this woman is a true artist and if I had the money and travel time, I would go to Texas to not only meet her in person but to also see what kind of "piece" she would turn my body into. Instead of just letting this idea go into the SHOULD HAVE pile, I decided to do some research to see if I could find a local body painting artist in my area that could make my thoughts possible without getting on a plane.
The first Google search was a winner as it led me to a site called BodyArtFX. Their location was at least a thirty mile drive from my home but my determination to become an art piece was strong enough to take the long bus ride. I set up an appointment that same day with an artist by the name of Loso who seemed really nice over the phone. She told me that her day was pretty open so however long it took me to get to her, she would be available for me and because there wasn't much traffic, I was able to get there within decent time. BodyArtFX's studio was basically a large warehouse in an industrial park so when I walked in the first thing I saw was Loso sitting on a couch in the lounge area looking at her cell phone in disgust. Her expression changed once she saw me. After a brief introduction, she explained that even though she was open for the day as far as appointments she also has a long standing walk-in appointment with a client and he was also on his way over; therefore, her time would be split between the two of us. I didn't mind it as I had all day to make my idea come to life. We spent about twenty minutes discussing the piece she would do on me, the colors she would use on me, and how long it would take when out of the corner of my eye I saw someone entering the studio. The more my eyes took in the vision, the more breath I was losing while staring at the Adonis-type man that walked passed us.
"Loso, baby! How are you? Listen, I need about twenty minutes before we can get started. I have some emails I have to check. The WiFi password is still the same right?" he said as he walked into an open office space.
"You already know that, Tre!" Loso said as she waved him off. "You could say hi to my new client, you know!"
As he dipped his head out of the office quickly to say hi to me, the naughty girl inside said his name in a seductive way in my head as I wondered what his piece would look like. I secretly hoped that I would be there long enough to get a glimpse of it. Loso and I finished up our discussion, I then headed to the back where the changing rooms were and proceeded to get ready for my session. I got undressed, showered, wrapped a long towel around me and put my hair in a bun as per Loso's instructions. I walked into the designated paint area and to my surprise, Loso had already begun painting a design on Tre's body... specifically on his inner thigh. While she was on her knees in complete concentration, he was standing above her naked, muscles everywhere ,and dick hard and bouncing right above her head. Immediately wet and in awe, my mouth dropped to the floor from the first sight. My first thought was to congratulate her for her strength because if it was me I would have kissed it by now... but clearly she was the professional and I wasn't.
My wandering thoughts had me stuck until I heard Tre's question to Loso, "Did you tell her your idea yet?"
Without stopping what she was doing she explained her idea on a compilation piece using the both of us. Elation overcame me as I thought about being close enough to touch him as I walked towards them for further instructions. Loso placed me in front of Tre with my back on him, our naked bodies touching and told Tre to hold me in place by hugging me. His hard wood was pressed against my ass and I could feel it pulsating as she began painting the design on the outside of my leg. Tre's massive arms were right under my breasts therefore my hard nipples could feel his body heat penetrating through them and just when I started to wonder about how long I could lean on this man without attacking him sexually, I heard Loso say to him, "Dip your hands in the paint and spread it on her tits."
Without hesitation or budging from his position, Tre dipped his hands in a bowl filled with bright orange paint that Loso brought to him and slowly massaged it onto my breasts. The circle motions, the nipple pinching, and the strength in his hands made my legs weak. His hands slowly worked their way down my stomach as the paint dripped down. This whole situation was turning into something I didn't ask for yet I was very thankful for what it turned out to be.
"Put your hands up baby... and if you feel it coming... just let it go!" Tre whispered in my ear and his baritone voice must have hit a special note in me because the orgasmic rush that came over me was very real. He felt it and I was sure Loso felt it too. I looked at her face as she concentrated on her strokes.
"That's what's going to bring out the true beauty of this piece I'm doing on you both. All natural, raw, and sexual so please get comfortable, get all the way into it!" Loso said as she brought us more bowls of paint.
She finished the piece on our legs, I flipped over to face Tre and it was on. Both of our hands coated in paint, rubbing and massaging each other, bodies so close that all the colors mix into an erotic rainbow. The color scheme on his dick were psychedelic but those colors disappeared when he raised my leg, dipped down a bit n slid in. I was dripping wet so it was an easy slide home. As Tre and I made art, Loso pulled out her camera and captured the live piece as it was being created.
Don't forget to check out all of my blogs here and here, check out and subscribe to my YouTube channel, and absolutely hit that LEAVE A TIP button and show me some love!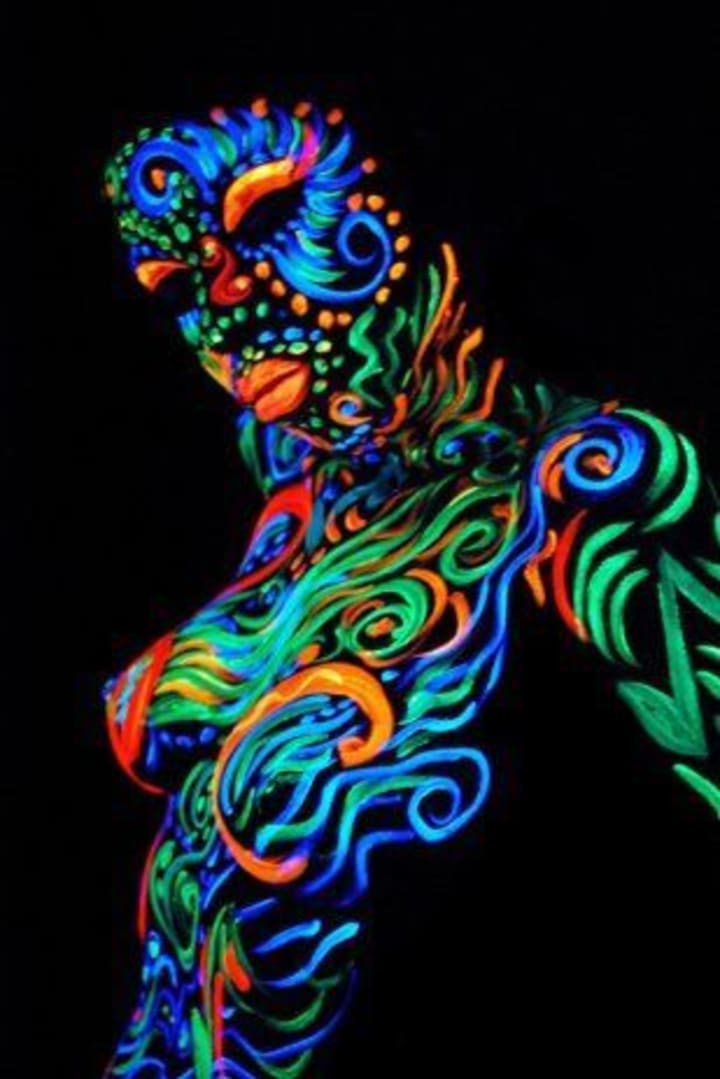 About the Creator
Author, Blogger, Podcaster for Motherhood Sex Marijuana, Writer for Fuego Magazine!
nattiekai.com
nattiekai.wixsite.com/kaih!
motherhoodsexmarijuana.com
Reader insights
Be the first to share your insights about this piece.
Add your insights