A Guide to Some of the Best Male Sex Toys
Here's our thoughts on some of our favourite ever male sex toys!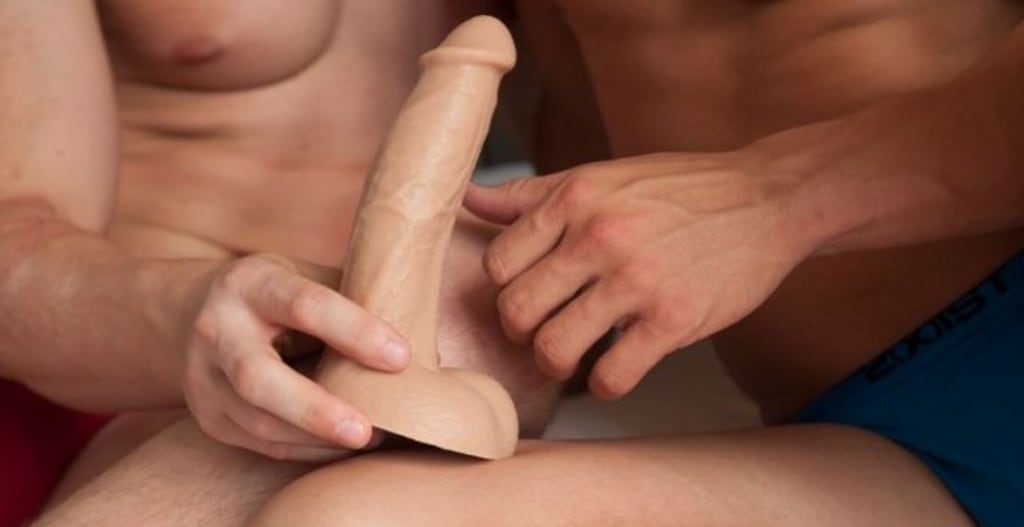 In the past sex toys were mainly thought of as the standard female vibrators, however sex toys have come a long way and are most definitely no longer just for women to enjoy!
There is a whole world of mind blowing, toe tingling sex toys for men available on the market designed to increase, heighten and intensify your pleasure.
Whether it's for masturbation and solo play or for sharing with a partner there are toys for every scenario.
Here's a guide to some of the best and most popular male sex toys for you to try!
Cock Rings
Cock rings are an extremely popular toy that have been around for a long time but have evolved into different types, materials, sizes, shapes and even some 'advanced' cock rings with delightful added extras.
Designed to restrict the blood flow out of the penis a cock ring comfortably allows the wearer to stay erect for longer as well as increasing the firmness and stamina – delaying ejaculation for a longer lasting playtime.
The 'standard' cock ring goes around the base of the penis but there are also other versions of cock toys available. Cock ball rings are designed for those that enjoy the feeling of a ring around their testicles and quick release rings provide fast loosening or removal when needed.
When it comes to choosing the material then a simple soft, stretchy ring is a great place to start if you are new to cock rings and will provide an easy introduction into how it works for you and what you enjoy.
As you get more adventurous there are different types of materials to explore with metals, hard rubber and even glass providing a firmer hold on the penis that some wearers prefer.
Then there are all the added extras and depending on what you like – there's something for everyone. If you enjoy the thrill of vibrations then a vibrating cock ring is great for solo play or to enhance your partner's enjoyment as well. There are rings with perineum stimulators, butt plugs or if your female partner enjoys double penetration then a cock ring attached to a dildo can be a thrilling solution for both parties involved.
It might take experimenting with a few different types to find a cock ring that suits you, but don't worry – you can have plenty of fun testing them out until you find the right one!
Male Masturbators
Another extremely popular sex toy for men created to take masturbation to whole new levels of pleasure.
Male masturbators can be simple and discrete with a donut shape or hole for the entrance or more commonly are designed to look like a realistic mouth, vagina or anus and are often disguised as something else such as a big torch in the case of the most well-known brand 'Fleshlight'. With a soft, real feel texture these toys deliver an amazingly authentic sensation for solo play and provide unrivalled satisfaction time and time again.
For those who enjoy the idea of being deep inside some of their favourite porn stars then that's also a possibility with a wide range of toys that have been cast and moulded from the real male and female stars themselves!
Male masturbators also come with some advanced options – such as varied internal shapes and textures as well as those with internal motors or vibrations that help do the work for you to deliver an intense yet effortless orgasm.
Anal Sex Toys
Most people have a pretty definitive opinion on whether anal stimulation is for them or not but as with everything – how do you know until you try? Anal toys are popular amongst both males and females who are straight, gay and everything in between.
Whether you are considering dipping your toe into the world of anal toys or are an experienced anal pleasure seeker, there are toys to suit everyone for use on your own or with a partner.
For beginners a simple introduction into anal stimulation would be a butt plug. One of the most popular gay sex toys, butt plugs are simple, effective and easy to use, a great way to ease into the exciting world of anal toys.
Prostate massage toys are designed to hit that oh so thrilling male 'P-spot' and stimulate the prostate with powerful vibrations that will leave you buzzing for more.
Anal beads aren't as scary as they can look to those who are new to anal toys and can provide an ideal starting place for those wanting to experiment or try something new. Anal beads come in all shapes and sizes but tend to be a firm string or cord with beads on that are bigger towards the base and smaller at the tip. Suitable for some stimulating alone time, fun foreplay or sex with a partner - anal beads feel amazing when they are in and the pleasure only intensifies if removed during climax.
Anal dildos are a simple and fun way for all those that enjoy anal play to hit those sweet spots whether it's alone, with a partner or attached to a harness for realistic strap on play.
Don't forget for to use plenty of lubrication to get the most enjoyment out of your anal toys!
Cock Cages
For lovers of BDSM, orgasm control and chastity or for those seeking a bit of kink – cock cages can be just what you're looking for.
Silicone is a great place to start for newbies to experiment with or for those wanting a more extreme solution; metal cages provide a hard-core experience.
These are perfect for couples wanting to play around with dominant and submissive rolls and have complete control over their partner or be controlled themselves with different types of cages including adjustable spikes, screws, lock and keys and different enclosed or open birdcage designs.
Using cock cages can provide a powerful play dynamic in the bedroom aiding things like delayed gratification, denial, teasing, training and behaviour correction. They can even be worn when the wearer (submissive) and the dominant that makes the decisions are not together – so they can both enjoy the power play even when they are not physically near each other.
Penis Pumps
These male sex toys are designed to help draw more blood to the penis for a bigger, harder erection that when combined with a cock ring can help users maintain their extra length for longer.
Most standard pumps work on a suction-like method but if you want to really up the ante then there are pumps available with a vibrating tip for sensational added pleasure as you pump.
Sex dolls
No longer just the comical stag night joke – sex dolls are incredibly popular amongst both men and women for use with a partner or alone.
Dolls come in an extremely wide variety and can offer anything from a dolls that's quick to blow up to lifelike luxury sex dolls with realistic features crafted from high quality silicone or TPR for a real feel sensation.
There are so many dolls on the market and there is something for everyone's taste for both males and females, and the more you spend the better quality and the more customisable they are. So you can have a tailor made playmate that fulfils all your desires any time you want!
So whether you're looking to enhance your solo pleasure, treat your partner or spice things up in the bedroom – there's a whole world of sex toys for men out there just waiting for you!