Photo by Author
The mirror showed a reflection that wasn't my own.
Or did it?
Maybe it was a different me–the one that lives in the dark corners of my dreams–the other me that always felt close to the surface, lurking around the edges of reality and waiting.
Standing above the toilet, staring at the strangely compelling reflection, I wondered who the last person to look into this mirror was. It looked like no one had lived in this house for over thirty years. It seemed to be falling down around itself and smelled of rotten wood and mold.
Why did I come here? My life was going fine right up until the nightmares began about a year ago. My shrink had said that he believed something from my past was triggering the dreams. He advised me to look into my family history in an attempt to understand what was happening to me.
Being adopted at a young age, I knew this would be a difficult task but felt somehow compelled to try. At first I got nowhere as the adoption agency refused to tell me anything. I gave up for a little while but the nightmares only got worse. Finally, after one of my worst nights ever, I woke up with the idea to contact one of those online DNA companies and within a few weeks I had an answer that led me here.
My earliest memories are of the only place I've ever called home, Canada's largest city, Toronto. I had no idea that I was actually born on a small island off the coast of Newfoundland called Fogo Island.
Bang! Bang! Bang!
The mirror bounced on the wall, shaking me from my thoughts.
The cold damp breath of the north Atlantic shook the clapboards on the back of the house. It sounded like a playing card in a kid's bicycle spokes. I could hear the wind and rain increasing in intensity as I looked down at the toilet that looked different now. It didn't look like the filthy, unused, piece of garbage that it looked like just a few short minutes ago. It looked almost new but, somehow, not really there.
Reality seemed to be shifting, or moving, as I looked back up into the mirror, trying to understand what was happening. What I saw in that glass shook me to my core.
There were two faces now. Not two distinct faces but two faces that were melding, or morphing into one grotesque caricature of reality. One, which I was sure, was me, exuded confused fear. While the other, which looked like me but not exactly, smiled from ear to ear and looked back at me through cold dark eyes. Chills ran up my spine as I stared into those eyes and sensed him pulling towards me. I could feel him trying to join with me as sure as I could feel the piss exiting my body.
Overwhelming fear overtook my soul as the sensation of being pulled towards the mirror grew stronger with each passing second. As if we were in a tug of war, it felt like there was a rope wrapped around my body and he was using it to pull me in. Fighting for my life, every time he pulled me forward I would pull back. Each time I pulled back the mirror would swell but shrink again when he pulled. Hopelessness set in as I felt I was fighting a losing battle.
My strength depleted, I couldn't fight anymore and with one last pull, from him, the mirror exploded into a thousand pieces. At that exact moment I felt something snap and the connection between us was gone. I felt myself falling backwards into nothingness, almost like a dream, and screamed at the top of my lungs, "Wake up! Wake up! Wake up!"
Thud!
I couldn't breathe–the wind was knocked out of me.
It took a few seconds to catch my breath before opening my eyes to realize I was laying on my back in complete darkness. There was next to no sound, only a faint sound that resembled rain from a long way off. Quickly, I tried to sit up but smashed my forehead on something just above me. Something warm was running into my eyes as I turned side to side only to find that I was completely enclosed in something. My mind tried to lead me to the obvious answer but I didn't want to go there. Slowly I started to smell it. The smell that confirmed my worst fear, was all around me. That smell of damp earth broke something inside me and I started to scream.
"Help me! Please, someone help me."
************
Glass from the broken mirror crushed under his shoes as he walked out of the only home he had ever known and into the cold rain. He didn't feel cold, if anything he felt warm. After thirty years the time was here and he would finally get his revenge. He warned them that night that he would kill them all but they got to him first. They called it an accident as he somehow drove his car into the harbour and drowned. But it was no accident. His only brother had done it, with the help of his three buddies. It was the day after he had confronted his brother about the gang rape of the only girl he had ever loved.
Looking towards the lights of the small fishing village he could see the only pub in town and knew those pieces of shit would be there.
Annie had taken her own life two years after giving his brother's baby up for adoption. She couldn't live with the constant disgusted looks and whispered name calling from everybody in town. After the lies that were told by his brother and everybody else in the bar that night, she was no longer known as Annie.
Slut, Whore, Pig, would be the names she would wear after that night.
A fire of rage burned inside him as he thought of the hell that Annie had endured but a smile crossed his face as he thought of the hell on earth he would bring to them tonight.
Before beginning the walk down the hill and into the village, he turned back to the house and said, "I'm sorry it had to be you, Gerald, but you should never have been born anyway. You see, the only way I could cross back to this side was if someone that carried my family DNA came to me. I thank you for that."
Then he started to laugh before saying, "I guess it's a case of wrong place, wrong time."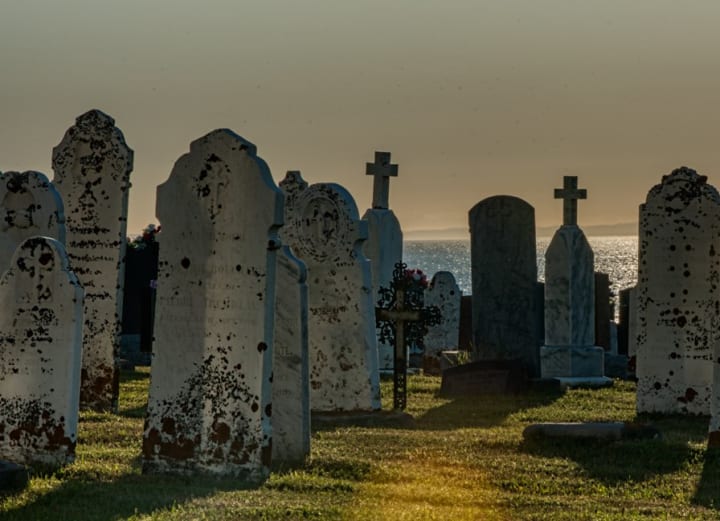 *********
The caretaker, Old Bill, as everybody called him, stood at the gates of the oldest graveyard on the Island trying to gain the courage to do his job. It had been almost two days since he discovered the bodies and he couldn't get the scene out of his mind.
It was early morning when he walked into Murphy's pub, to do his regular cleaning, and discovered a scene straight out of hell. There were bodies everywhere, fifteen to be exact, and they looked to be torn apart by a pack of wolves. Some were decapitated, some were eviscerated and some were, well, hard to describe.
But the worst by far was Billy Holmes. He was naked and it looked like his eyes were gouged out and his hands were cut off at the wrists. There was a pool cue shoved half way up his ass and his manhood was cut off and stuffed in his mouth.
Old Bill was nothing if he wasn't dependable and knew he had to get this job done today. He'd been scheduled to do the, semi-annual, headstone cleaning for two weeks now but the North Atlantic had other ideas. He pushed the gate open and walked inside the graveyard hoping the hard work would free his mind a little. His first stop would be the Holmes family plot that had five graves but would soon have six. They were laid out in a straight line that showed the history of the family from the early 1800's up until the most recent, which was a little over thirty years ago. They had all died natural deaths except for the last one, Gerald, who had died in a tragic accident, at the young age of twenty-two, when his car slid down the embankment and into the harbor.
As Old Bill started to clean the bird shit off of Gerald's name he thought he heard someone calling out. He stood and turned in a circle but couldn't see anyone near him. Just as he got back down on his knees he heard it again. It sounded like someone was saying, "Help." The sound was muffled and weak as if it was coming from a long way off. With fear rising in his throat he placed his head closer to the ground and heard the words again, only this time much clearer.
"Help me! Please, someone help me."
About the Creator
Born on the east coast of Canada. Travelled the world for my job and discovered that kindness is the most attractive feature in any human.
R.I.P. Tom Brad. Please click here to be moved by his stories.
Reader insights
Outstanding
Excellent work. Looking forward to reading more!
Top insights
Excellent storytelling

Original narrative & well developed characters

Eye opening

Niche topic & fresh perspectives

Compelling and original writing

Creative use of language & vocab
Heartfelt and relatable

The story invoked strong personal emotions

On-point and relevant

Writing reflected the title & theme

Expert insights and opinions

Arguments were carefully researched and presented

Easy to read and follow

Well-structured & engaging content
Add your insights