What a Blessing
When Family Grows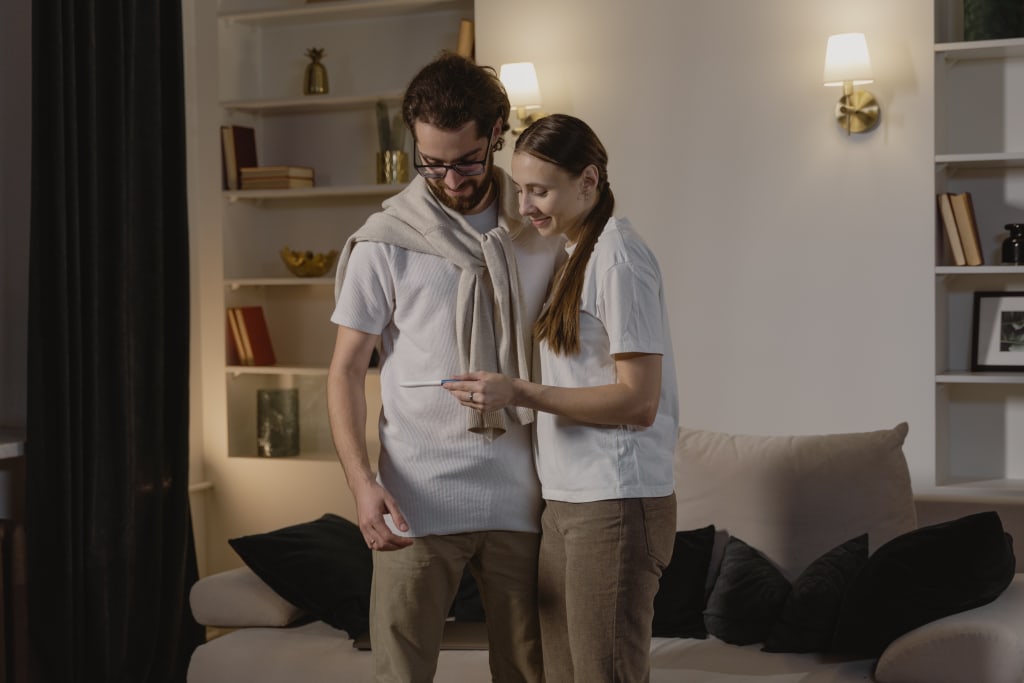 Photo by Tima Miroshnichenko from Pexels
Mark and Mary have been trying to have a baby since they got married 5 years ago. They are now in their early thirties and it's getting harder to watch their friends celebrate this joy of life while they're left standing around waiting for it to happened.
Mary has been taking pregnancy tests every other night, leaving the bathroom with a disappointed look on her face. She believed this night would be different.
Standing in front of her mirror, she kept repeating to herself "this is it". She was trying to speak it into reality. This would be the test that showed she was pregnant.
Her wait would be over, and she would surprise her husband with the test in the morning.
She set a timer to tell her when the test was ready. The box said to wait six minutes for an accurate test. Pacing anxiously, she her heard the timer go off.
She shut it off and took a deep breath. Looking down, she saw one red line. Then she checked the box to see what that meant. She had picked up a new brand thinking it would be good luck.
The instructions read "one line, not pregnant".
Mary dropped the box on the sink and threw the test in the garbage.
Going to bed, Mark saw the look on his wife's face that he'd seen for months now.
"It's OK babe. It will happen for us. And if it doesn't we can always adopt." Mary didn't like that answer. "I want our child to have your eyes, my smile, my hair."
Mark laughed "Why does it have more of you than me?"
"Because I want it to be perfect!"
The two chuckled and fell asleep.in each others arms.
The next morning, Mary woke up before Mark. She got dressed and went to make breakfast. Her sister Sarah rang the door bell.
She was coming over to see how Mary was doing. Sarah knew that not being able to get pregnant was hard on her and wanted to cheer her up.
"Hey, I brought mimosas!"
Mary smiled. "That's just what I need."
The two walked into the kitchen and began reminiscing about the past.
Mark woke to laughter from the kitchen, and decided her should begin his day. "It would be rude of me not to go out and say hi."
Walking into the bathroom he saw the pregnancy test box sitting in the sink. He didn't like that he couldn't help his wife feel better with this, but he was doing all he could. Then something caught his eye…
The girls were catching up when the topic of children came up.
"Babies aren't everything. I mean they ruin you down stairs and after they're born who has the time to take care of them and get your work done?"
Sarah was trying to cheer up her sister.
Mary grabbed her glass "Yea, I guess your right".
She brought the glass to her lips. The scent was always something that she enjoyed, especially in the morning.
Mark came running into the kitchen still in his underwear, slapping the glass out of her hand. It fell to the ground shattering on the floor.
"Mark what the hell!?!?" Mary looked pissed.
"Babe, you don't want to do that!"
He held out the box for the Pregnancy test.
"I don't want to see that right now" Mary said
Then Mark held out the test he found in the trash.
"Two red lines! Read the box, I think this is it!"
Mary grabbed the test from Mark, now holding the box in one hand and the test in the other.
"I don't believe it! I checked it last night and it only said one!"
"How long did you wait?" Sarah asked.
"Six minutes, just like the box said."
Mark smiled. "The box says to wait nine minutes." He pointed to the box.
Mary got up and sprinted out of the kitchen.
"Where are you going?" Sarah yelled.
"To take another test!"
Mark and Sarah waited in the kitchen, the two of them taking turns drinking straight from the champagne bottle. The alarm on Mary's phone went off. They could hear it from the kitchen.
Their hearts beating so fast they could jump right out of their chests. Mark could only imagine how nervous Mary is right now.
She opened the door. Walked out into the kitchen holding the pregnancy test.
"I'm pregnant!" The two went running to her, hugging her as tight as they could. Mark let go first and took the test from Mary. Sarah grabbed her baby sister and vowed to never let go.
Mark leaned against the wall. "I'm going to be a father." His eyes and mouth stayed wide open for a while.
Mary went over and closed his mouth with a kiss. His eyes never changed.
"Congratulations!" Sarah screamed.
"You know I'm going to be this ones favorite aunt right?"
"You're its only aunt." Mary replied.
"Not my fault no one could handle a little competition."
Mark finally blinked. Turned to Mary.
"Are we really ready for this?"
Mary smiled "Doesn't matter. This is happening."