The Night Watch
Entering my access code I watched with relief as a total of 1.3 million Euros appeared on the screen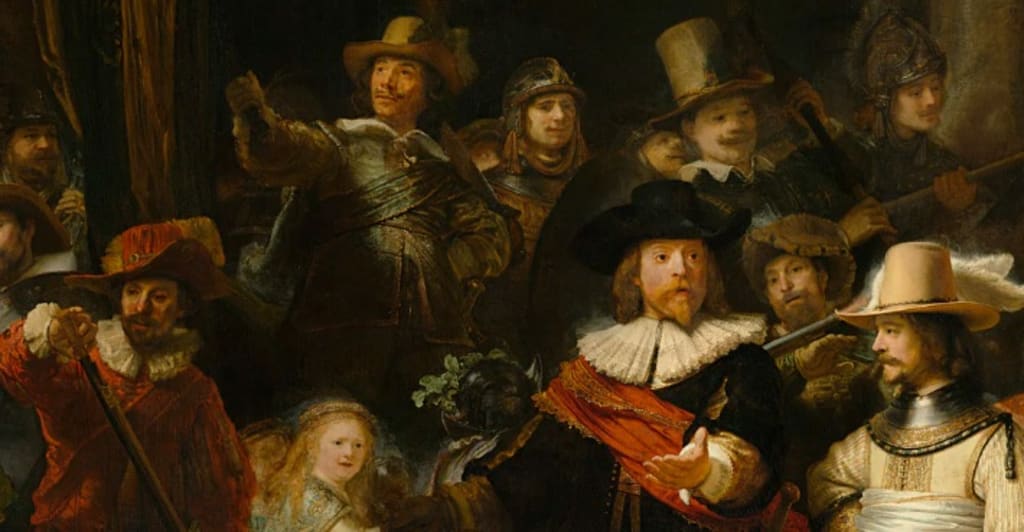 Detail from Rembrandt, The Night Watch: image public domain via Wikimedia Commons
I had plenty of time to think about it during those long night shifts. In the end, I couldn't believe how easy it was. As a security guard at the Rijksmuseum in Amsterdam, I had access to all areas. It took less than twenty minutes during the evening lockup. I slipped into the gallery, carefully razoring the painting out of its frame, before replacing it with a beautifully crafted fake. It would not fool anyone taking a closer look, but it gave me time to get away.
Waiting for the courier, I sat outside the cafe, a short black coffee and a portion of honey cake in front of me. I heard a voice from behind.
"Do you mind if I join you?" he asked in English, giving the agreed code.
"Delighted," I replied. He handed over the laptop. Pulling up the display, I watched the Bitcoin application start. Entering my access code I saw, with relief, the crypto equivalent of 1.3 million Euros appear on the screen.
"Not a bad payment for a day's work," the courier said, smiling. "Shame you won't be able to spend it."
"What?"
"Vincent Parker, I am arresting you for the theft of a painting from the Rijksmuseum."
About the Creator
Author based in Kent, England. A writer of fictional short stories in a wide range of genres, he has been a non-fiction writer since the 1980s. Non-fiction subjects include art, history, technology, business, law, and the human condition.
Reader insights
Be the first to share your insights about this piece.
Add your insights