A great train robber?
Polite as you like, he still stole my wallet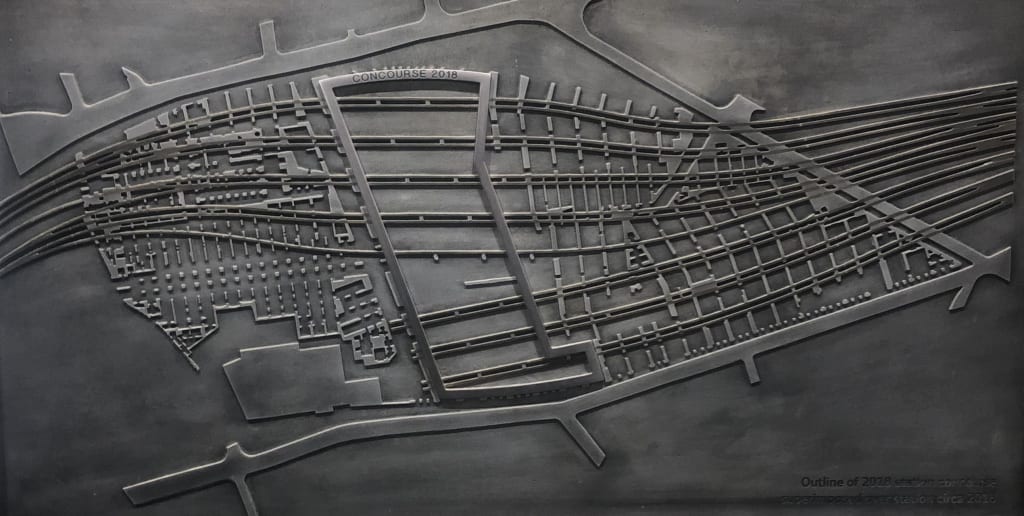 Relief panel showing track layout at London Bridge Station. Photo: RGT
He was the politest thief I ever met.
"Good morning" he said before engaging me in conversation on an early Sunday morning train into London Bridge Station. We had a carriage to ourselves.
When he said "would you mind handing me your wallet," as we pulled into London Bridge, I thought I'd misheard, until my eyes caught sight of gray metal beneath his jacket. Tracing my gaze, he smiled again and nodded.
Shaking, I handed over the wallet with about £30 cash and some assorted cards. Hardly worth an armed hold-up. He looked through the wallet, nodding as if satisfied. Tucking it away, he jumped up and left the train just before it started to pull back out of the station.
I returned home to call the police. There were no cell phones in those days. Just as I was lifting the receiver, I heard a loud banging on the door, with a shout: "Police… Open up!"
After three hours of gruelling interrogation, detectives showed me my wallet. "Is this yours?" It had been found at the scene of an armed raid on a diamond merchant near London Bridge.
Seems my polite thief had used the wallet as a decoy.
About the Creator
Author based in Kent, England. A writer of fictional short stories in a wide range of genres, he has been a non-fiction writer since the 1980s. Non-fiction subjects include art, history, technology, business, law, and the human condition.
Reader insights
Be the first to share your insights about this piece.
Add your insights