The Great Escape
Distracted by distraction by distraction. T.S. Eliot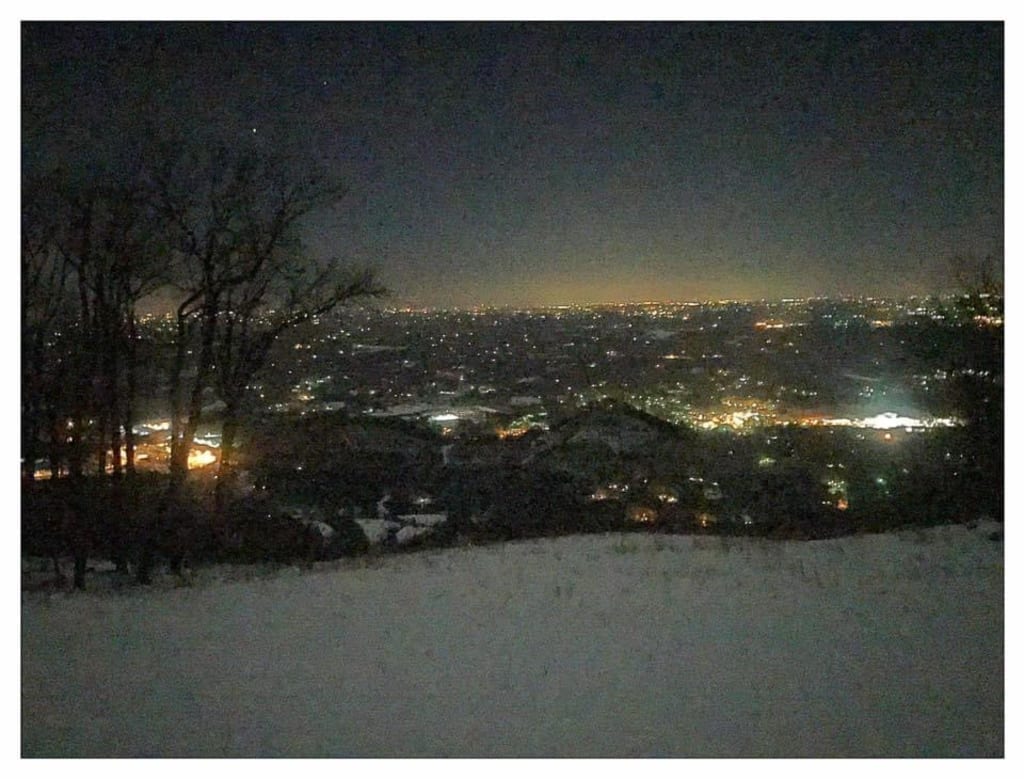 Photo - S Wade
We drove up the snowy, winding road towards the cozy A-frame cabin. Evergreen trees bowed low, capped with mystic ice like royal guardians shielding Brigadoon.
Loretta loathed this kind of moment with Mick. Sweet scents of bourbon mixed with obsolete cologne embedded in his leather jacket of three decades invaded her nose. He insisted on driving to the Airbnb for the weekend getaway gifted by her parents. With a mountain mile left to travel, she considered walking as the luxury sedan's tires slipped and slid through curves.
Thirty degrees Fahrenheit was displayed on the digital dash; she understood escaping wasn't a wise option. Heat seeped from the plush tan leather into her body, a stark contrast to the confused winter mix from the sky. Liquescent droplets ran, stuck, and deflected off the windshield and hood like a winter-themed light show at Disney.
Hypnotic thumps from the wiper blades did battle with the attacking ice, and her cell phone pinged a new message. Illuminated by the cellphone, Loretta escaped into the social media world of her best friend, Maggie.
Maggie -Thinking about you this weekend. I know you don't want to be with your dweeb. Heavenly Cabin? 😂Come on. 🤣 Does it have a heart-shaped bed? Your Friday night wine club girls will miss you tonight. 🍷❤️
Loretta – I didn't agree with this, but I've got to make my parents happy. 🙃 This is their idea of fixing things with Mick and me. 😡 Have fun without me. Miss you too. 🥰
Loretta pressed send, but a red exclamation mark flashed on the screen. Text not sent. Try again. After three attempts, she realized the phone service had failed.
"There's no signal up here? Oh my God. Mick, you didn't tell me there would be no cell service on the mountain," she said.
"You're always on your phone," he said, "A few days without your phone won't kill you."
"Said the man who can't go a day without a drink. Maybe we should just turn around and go home. This whole weekend alone thing is a bad idea," she said.
Loretta saw a blur of white come from the roadside trees. Bam! Their car shuddered with an unknown impact.
Mick yelled, "What the Hell?" and slammed on the brakes.
The Lexus slid across the icy road and slammed into the snow bank under a wooden sign. Steam rose from the hot lamps as one visible headlight pointed into the sky like a World War II search beam.
"I knew you were drunk, you asshole. What did you hit?"
Mick shot back, "You are nuts, I'm not drunk. I didn't hit anything, something hit us!"
They exited the car to survey the damage. The wood sign read,
Heavenly Cabin 200 Yards Ahead
The front quarter panel of the Lexus had been dented like they had been blindsided in a Friday night demolition derby. Loretta walked, and Mick staggered around the car, searching for evidence of what had hit them.
Gusts of wind howled while cascades of moth-sized snowflakes began to fall from the sky. Light from the tail lights shaded the snow-covered road amber as if something or someone had died. Millions of unique white crystals feathered the backdrop of the cobalt-black canvas of the mountaintop, and the flakes fell faster. Mick stared into the artistic void and put his arm around Loretta. In shock at his touch, she jerked away from him.
"This is your fault," she said, "Now, we are stuck here."
Loretta walked from one side of the road to the other and back with her cell phone raised.
"Still no signal, dammit."
"I'm amazed you can speak. You sure you don't want to text that to me," he said.
Mick retrieved their weekend bags and secured the Lexus. Silent, on opposite sides of the road, they slogged the two hundred yards to the Heavenly Cabin.
***
Caked ice broke away from the mailbox latch as Mick forced the door open and retrieved the manila envelope as the owner had instructed. He slid the key into the massive wood door and finagled the lock to turn. Warmer air escaped from the vacuum of the log house when it opened, and they hurried inside.
The rustic pine foyer, guarded by a six-foot-tall Native American sculpture, opened into a great room with two couch sets in front of an oversized stone fireplace. A canoe hung six feet above the mantle from the A-frame tongue and groove ceiling. Inset shelves adjacent to the fireplace held hundreds of volumes of books. Panoramic glass encapsulated the far end above double French doors that opened to a two thousand square foot deck overlooking the valley. Outside, snow accumulated and massed on the deck furniture. Native American memorabilia and portraits adorned the interior walls.
Left of the great room, a patchwork brick floored dining room was adjacent to a professional-level island-centered kitchen. To the right of the foyer, a California King bed centered the room with a round stone fireplace. Behind the bedroom was the master bath. A clawfoot bathtub, walk-in shower, and dual vanities lay bare before a bay window. On a clear night, the view of the valley three thousand feet below would be a wonderful sight.
"I'm tired, cold, and pissed," said Loretta, unimpressed. "I'm taking a hot shower and going to bed. You can sleep in the guest room or on the couch. I don't care."
"This weekend is supposed to be about us spending quality time together. You're going to kick me out of the bedroom?" he said.
"Mick, you manipulated my parents into gifting us this Airbnb weekend. I know you. Maggie agrees with me. I had plans with my girls tonight, yet you forced this on me. I want to be alone tonight. If you're not happy about it, live with it. Why don't you have a drink or two on my parent's tab? The bar in the dining room is well stocked."
"Loretta, I didn't……" as she slammed the bedroom door.
Mick stared at the door for a minute as the grandfather clock in the foyer struck midnight. "What is going on?" He wanted this marriage to work. The plan for the getaway had come out of the blue as a gift from her parents.
At the bar, Hennessy, Beam, Bulliet, and Jameson bourbons lined the top shelf above various rums, vodkas, and gins at the bar. He broke the seal on the Jameson and stopped.
"Is that what she thinks I am? A drunk. I have been consuming more whiskey of late," and conversed with the bottle.
"Sorry Jameson, I care more about my wife than you. What does she care? You say she's more interested in what her girlfriends think or do, than I?"
"Maybe she does. I don't know. If she learns the truth about her dear friend Maggie, she'd be pissed."
"Why don't I tell her?"
"Jameson, do you always ask so many questions?"
"Okay, I will tell you. It would break Loretta's heart to learn how destructive her friend has been to other couples' relationships by hitting on their husbands then trashing them when they reject her. She needs to understand for herself."
***
Howling storm winds and a buzzing like a lawnmower engine awoke Mick in complete darkness. A brutal wind whipped snow against the plate glass window of the great room in a total whiteout. The power had failed, and the Generac generator had kicked in, where only a few lights would function. Mick remembered reading that weather-related issues were not the owner's responsibility.
The propane generator would provide essential power for lights, pumps, and the fan of the central air system, but not heat. The cabin's thermostat displayed the temperature at fifty degrees, then it dropped to forty-nine. Mick shivered and pulled his winter coat on. With a flashlight, he read the instructions on the side of the fireplace and ignited the gas logs. The yellow, blue-hued flames brightened the room, and he spread his blanket on the floor.
Loretta opened the bedroom door wrapped in a quilt.
"Mick, what's going on? No power? It's freezing in here."
She walked to the French doors and viewed the deck.
"There must be two feet of snow on the ground. Why is there a bottle of Jameson on the deck table?"
"Come sit by the fire, you'll warm up," Mick said.
"No, I kicked you out. It's not fair that I take your space now," she said, "I figured you'd be drunk."
"Loretta, my space is your space. It has been and always will be," he said. "I kicked Jameson out. He has a smart mouth, and I choose you over him."
Loretta curled up on the couch facing the fireplace behind Mick on the floor. Hypnotized by the dancing flames, they both fell asleep side by side, yet miles apart. The storm raged, and the fire burned until the sun rose unseen behind ominous clouds. Without electronics, television, the distracting sounds of the city, or polluted air, they slept deeper than they had in years.
***
Mick woke Loretta with a breakfast tray of coffee, oatmeal, and raisin toast.
"What time is it?" she said.
"It's twelve- thirty," he said.
"We slept twelve hours? I haven't slept this long in years."
"You've been stressed of late because your bosses are overworking you while I've been focused on my promotion. Neither of us have been making good choices with our diet," Mick said. Loretta sat on the floor beside Mick and ate her meal.
"This reminds me of the time we went camping. It was the first time we….you know," she said.
"I remember quite well," he said. "I promised you a fresh trout dinner but I couldn't catch a fish."
"Pork and beans with a side of hot dog is a far cry from fresh Trout almandine," she said and laughed. "It was a great weekend. Have you taken a shower yet?"
"No, there's limited hot water left, and I saved it for you," he said. Their hands touched when he lifted the tray, and they paused. For the first time in months, their eyes met.
"Thank you for breakfast or lunch, whatever it was," she said and smiled, "I'm going to use the hot water."
Minutes later, Mick peered out the kitchen window as he finished cleaning the dishes. The snow had stopped falling, and a streak of blue split the gray dome like a sign of better times ahead. The burst of azure seemed reachable by hand.
"Ahem, Mister."
Mick turned around. Loretta stood on the threshold in a white cotton robe.
"I was thinking. There is only enough hot water for one shower, but two people are in need. So, I put my deductive reasoning to work. Two showers for the price of one. If you're interested," she said with a sexy smirk.
***
Sunday morning, the property owner's caretaker, who lived up the next ridge, knocked on the door and brought them the latest news. He had towed their Lexus from the embankment with his tractor and left it in the driveway. The roads were still unsafe to leave the mountain, and they would have to remain another night.
"Hope you are doing okay with the limited power," he said. "About your car, an overloaded sapling dropped a load of ice and snow. You're lucky it didn't send you crashing off the mountain."
"Oh, we are doing fine," Mick said, "We played strip poker and hiked through the snow drifts to the pond down the road. We birthed a snowman and he is monumental."
"Strip poker? Sounds like fun," he said with an embarrassed laugh. "Maybe I can talk my wife into playing some cards."
"Not if you're sitting on the deck in two feet of snow when you lose. I hope my ass isn't frostbitten," Mick said."Loretta came up with the idea after she put on three shirts, two pairs of socks, and three pairs of pants. She cheated."
"Wimp, your ass is just fine, I inspected it myself last night," she said and punched him in the arm.
***
Midafternoon, Loretta lay on the California King and read Jane Eyre from the bookshelf while Mick went for a walk to check out the road. She hadn't read a book in years. The radiant power of the sun worked hard to diminish the snow. Graders worked the road and scraped ice off the pavement.
Mick returned an hour later, hurried into the house, and barred her from the kitchen. Two hours later, he called her to the dining room. Twin candles burned bright, and their flames danced on the pine walls. Mick carried a platter from the kitchen and set it before her.
A four-pound roasted trout filled the plate with carrots and rice pilaf sides.
"Where…?" she said and thought a second, "The trout pond?"
Mick, with a beaming smile, nodded yes.
"You caught a fish. Mick. You caught me a fish in the freezing snow."
"It's called ice fishing. You didn't notice the canoe was missing from the great room. I half floated and half skidded over the ice, cut a hole, and this beauty took the bait. I never knew trout liked bacon," he said.
Loretta jumped up, embraced him, and kissed him.
"I love you Mick," she said.
"I love you, Loretta," he said.
"Do we have wine?" she said.
Mick pointed out the French doors. Loretta witnessed the array of frosted liquor and wine bottles lined up on the deck table.
"I choose you, Loretta, over any obstacle that stands in our way," he said, "Now and forever.
***
Monday came, and the sun shone its pure light to reduce the roads remaining ice to water. Loretta rested her hand on Mick's arm at the view of the valley below. The magical mountain had transformed from a white castle to an evergreen forest. Halfway down the mountain, Loretta's phone service activated as the Lexus handled the switch back turns with ease.
Ping. Ping, Ping, Ping. Ping Ping. Ping Ping Ping signaled delivered texts. Then her cell phone vibrated, stopped, and vibrated ten more times, alerting her voice mails had been received.
Loretta stared at her phone, then glanced at Mick, lowered the car's window, and threw her cell phone off the mountain. Mick handed her his phone, and she let it sail behind hers into the valley below. She took his hand in hers, and they cruised the highway toward home.
"If you agree, when we get home, call the Airbnb from our landline and book the cabin for the same time next year," she said.
"I agree."
About the Creator
Since reading Tolkien in Middle school, I have been fascinated with creating, reading, and hearing art through story's and music. I am a perpetual student of writing and life.
J. S. Wade owns all work contained here.
Reader insights
Outstanding
Excellent work. Looking forward to reading more!
Top insights
Excellent storytelling

Original narrative & well developed characters

Heartfelt and relatable

The story invoked strong personal emotions

Masterful proofreading

Zero grammar & spelling mistakes
Add your insights