Purgatory
The Epic Struggle to Re-Set A Password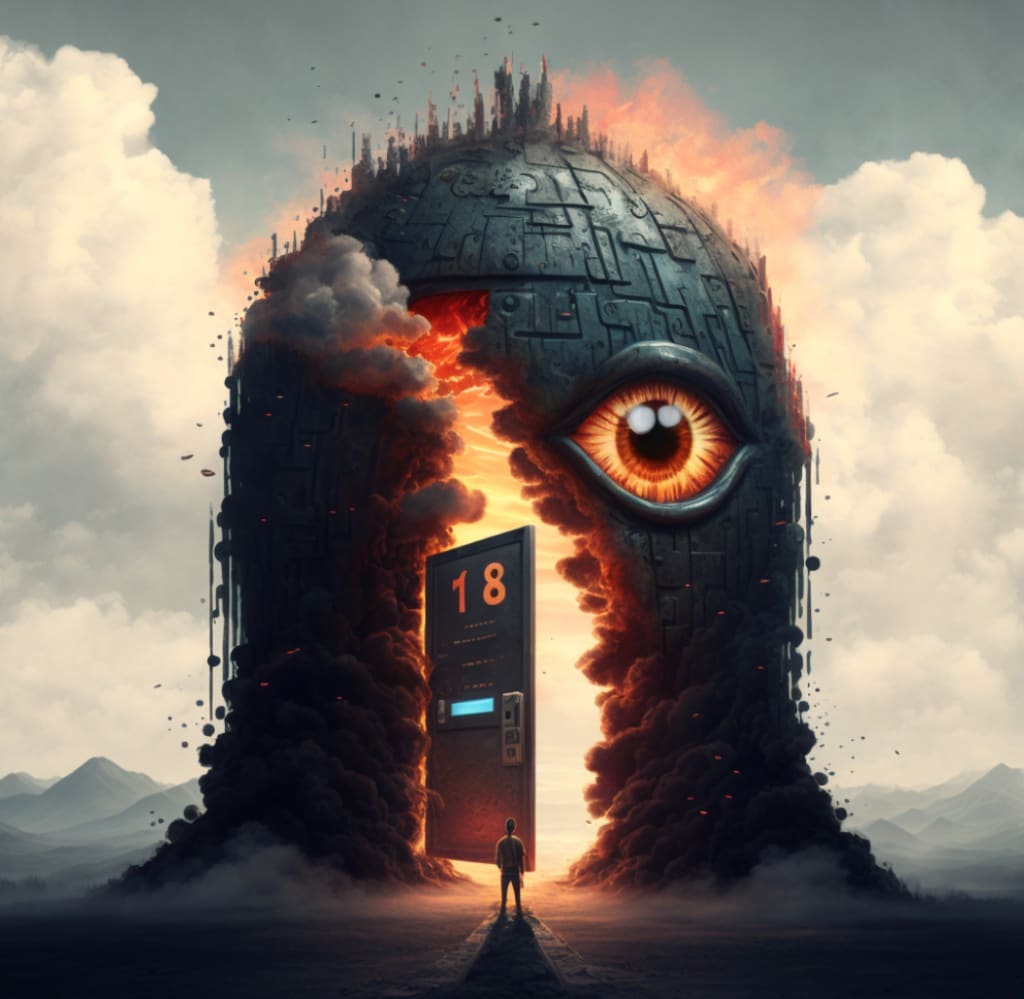 Password expired. Please re-set your password.
How could six little words inspire such fury and dread? I'd been no saint in this life, nor likely in any past lives, if one believed in that sort of thing, but had I truly been so bad as to deserve this?
Perhaps it was a curse, instead.
Yes, that sounded more plausible. I'd managed to annoy someone with a proportionate and petty sense of revenge, and they'd cursed me to a lifetime of password glitches! If I wasn't the one affected, I might applaud them for their finesse and finely-honed malice.
At least it wasn't a lifetime of stepping on LEGO in bare feet, or always catching my little toe on the corner of doorways. I already suffered under the curse of the bobbin running out six inches before the end of a seam.
All right then, it was a minor inconvenience in the grand scheme of things. I'd done things like this in my sleep on IT tickets. Click the link, type in something easy to remember...
You have already used this password. Please enter a password you have not used in the past three (3) years.
That hadn't even been in the terms and conditions for this site!
For the love of gods and saints, I was trying to log into an online game server, not a banking account or government server! The supposedly-simple act of logging into a website should not be this difficult!
Fine, fine, fine. Everything was fine. I would get through this, just like I had every other time the computer I was using decided to throw a tantrum. It was cool. It Was. All. Good.
Same password, plus a few numbers I hadn't used last time.
Your Password requires at least one number and one special character.
I pushed away from the computer and took several deep breaths.
No one batted an eyelid; fits of momentary rage and the need to get yourself under control were a common sight around here. I was not the first, and I would not be the last. As divine retribution went, this was both painful, and very on-point.
It was impulse control, specifically the lack of it, and lashing out without thinking of the consequences, that had landed me here.
Very carefully, I ticked the box to save and auto-fill the password, quadruple-checked it, and hit enter.
Password not saved. Please re-enter your password to save it.
I nearly screamed. No matter how many times I made sure the box was checked, no matter how many times I troubleshot the device itself, or even which device I used... it was always the same. Failure.
Unsaved. Unfilled. Unsuccessful. A very special kind of Hell.
But, I'd only just entered the password. I remembered what it was, and the variations I'd made when I re-set it. Cautious and doubtful, hope reared it's head as I re-entered the password, and the little loading circle appeared.
Invalid Password. You have one attempt remaining.
No, no, no, nononnono!
The brightly coloured spin-wheel of Doom and Connectivity Problems replaced the loading circle. Hope slunk away to the back of my mind, defeated again.
I refreshed the page, knowing that it would be no use, and thumped my head on the desk when the number of password attempts reset to zero.
We worked in silence, me and all the other doomed souls who shared space here. Enforced silence, and internet access came only with a successful password, so that we lacked any real connection. Not even social media.
Thus, it never failed to startle me when I heard a now-familiar voice. Inescapably loud and unbearably soft, soothing and silky and insufferably smug. "Is it finally starting to sink in that doxxing people you don't agree with is wrong?"
In the privacy of my mind, I swore vividly, and knew that my emotions were writ large across my face. There was no such thing as a Poker Face here, unless you were on the wrong end of it.
The spin-wheel of Doom vanished, and the text in the pop-up box changed.
You have exceeded the number of password attempts. Please re-set your password and try again.
A laugh came from nearby, a painfully handsome figure, leaning on a spear with an odd cross-shaft, posed like some Rennaissance or Neo-Classical statue, clearly and thoroughly enjoying my miserable torment.
I glared, knowing that it would do no good. Even if I had something to stab them with, or the strength to lift the computer monitor and bash them over the head with it, assaulting the Deathless did nothing but add a few extra decades of Punishment to my sentence. I'd tried it before, and I wasn't the first to discover it the hard way.
Joe, at the next monitor over, somehow too close and a thousand miles away at the same time, was already going to be drifting in oblivion, still trying to re-set a password, after the heat-death of the universe. If I kept my sanity long enough, I'd be out in a mere two centuries.
Who knew that the Universalists, made popular by Gregory of Nyssa, were the ones to get it right? You suffered proportionate to your crimes, but if you did your time, you got the chance to redeem yourself.
Too bad the religious leaders of the time had condemned that doctrine as Heretical, or Punishment would have been a far less crowded place.
Your password has expired. Please re-set your password...
With a sigh of resignation, I turned back to my computer, and the tiny pop-up screen that was the bane of my existance.
I would get through this. One day.
One day...
The doctrine of Universal Reconciliation: Briefly sumarised, this was a belief that Hell serves more as a place of painful fiery purification where one's sins/heresies are burned away for a length of time reliant on their amount, and all will eventually make it to heaven.
Popularised by Origen of Alexandria and later Gregory of Nyssa, the writings were revolutionary, because they were legitimate. Universalism was espoused by many early prominent church fathers before eventually being decried as heretical, and has a lot of biblical, textual legitimacy (since the Christian proof of eternal hell relies solely on one word which more usually refers simply to a long period of time, but can be used to refer to eternity)
The things you pick up on fandom Discord servers...
If you liked this story, leave a heart, a comment or a tip and share it around, and check out my other work on Medium and Amazon.
About the Creator
I've been writing since I learned how, but those have been lost and will never see daylight (I hope).
I'm an Indie Author, with 30+ books published.
I live in Sydney, Australia
Reader insights
Outstanding
Excellent work. Looking forward to reading more!
Top insights
Easy to read and follow

Well-structured & engaging content

Excellent storytelling

Original narrative & well developed characters

On-point and relevant

Writing reflected the title & theme
Expert insights and opinions

Arguments were carefully researched and presented

Eye opening

Niche topic & fresh perspectives

Heartfelt and relatable

The story invoked strong personal emotions
Add your insights