Purgatory
For the Arid Challenge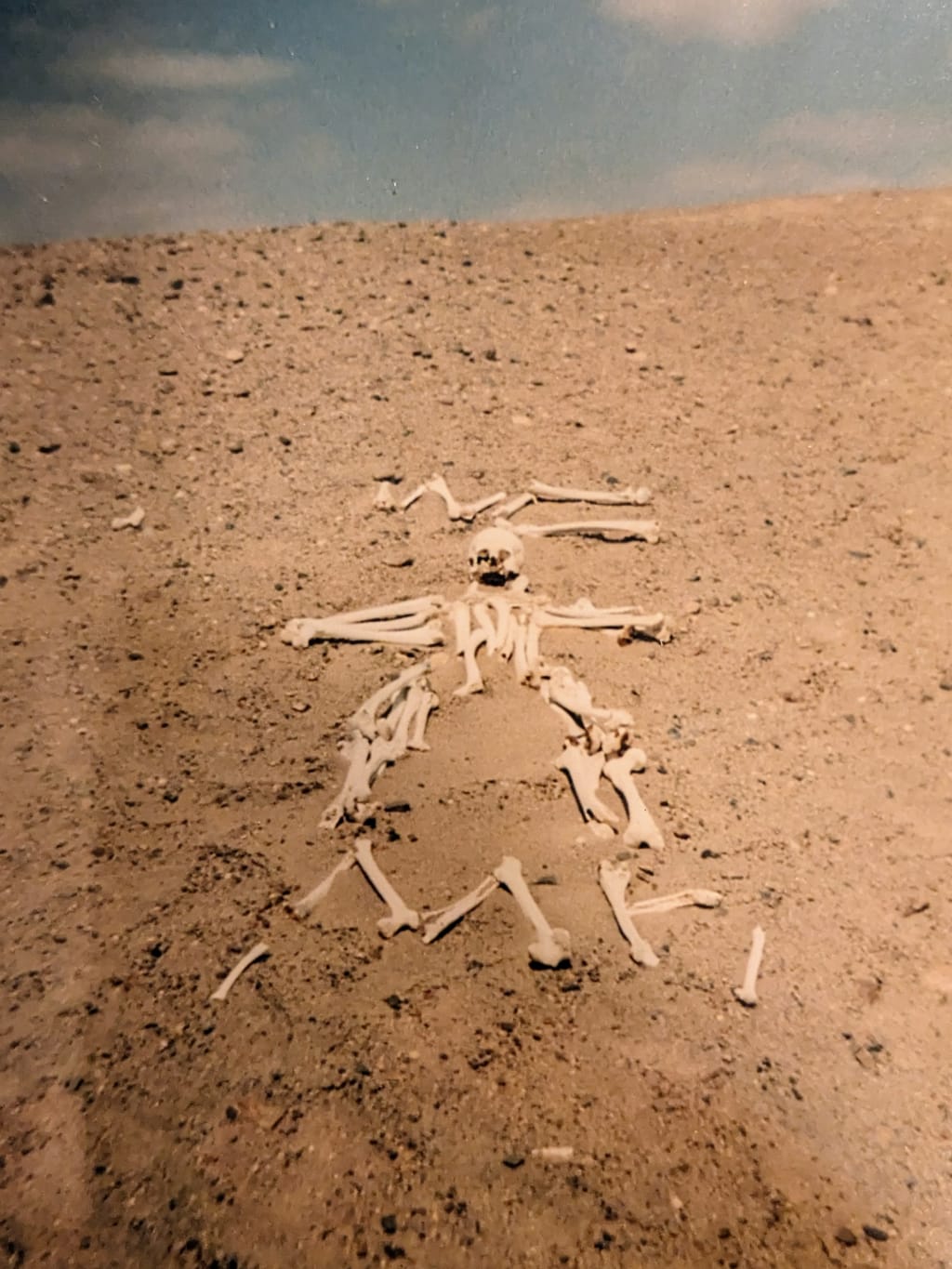 If you're lucky, you might to see the cortege. Black plumed Friesians, all harnessed muscle and gleaming life, drawing the dead in their wake. Or the partygoers, black-clad and not a bad word to say, whole hearted in their commitment, just for the day. You might see the mourning, drizzling, raining, pouring, whilst the earth is thrown down, scattering into earth, the grievances buried to offer handshakes and hugs, sandwiched with platitudes and before it grows boring, they'll be on their way. If you're lucky you might see the furnace, flames hidden from sight behind automated curtains and music you've chosen, where comfort is woven into funeral rites. You might see a parting so love filled, so heartening, that you regret more than ever that didn't leave more in life. If you are lucky.
I chose something different. I deserved to suffer.
Dying was the easy part. I thought the art lay in surrender. The drowner dons weights and the jumper knows he cannot fly, though he pedals his legs as if to try. I slashed my tyres, and walked away, before I took off my shoes and lay, out in the desert, alone. It is easier to find some space if you have no intention of coming home.
It took three days, which surprised me, though the time bends and warps. Pain spread from my head through my shrinking corpse, and blurred the clock of my brain. At first, I thought about all I had done, and the penance I owed. I reaped the harvest of the seeds I once sowed, and gorged on the flesh of my self-flagellation. I replayed my wrongs 'til a rhythm emerged, 'til I framed them in poems and sang them in songs, which followed my heartbeat, first ballads, then waltzes, then racing jigs. But singing grew harder as the sun dried my lips, and my skin burned and the world turned and the first night fell. The desert is louder at night.
In the dark I heard the demons approach.
The dawn came on quickly and I welcomed the light, I wanted to die in the glare of the sun, I wanted to die in the bright. But the heat followed swiftly and where the cool of the night had dulled my pain, the flames of the sun had it searing again and I would have traded that torture for fear. On the second day, thoughts of my sins frayed at the edges, then gave way to thoughts of my needs. My need.
Water.
Water.
Water.
And then came the demons, riding ravens, they swooped, and I curled up in terror and pain. They came at me, grinning, and never quite there, they picked at my skin and tugged at my hair, but never touched me at all, and I was sometimes awake and I was sometimes unconscious, and I was always afraid of the fall into Hell as they beckoned me onwards, each crime haunting me then.
That night brought scant relief. My organs were shrinking, shrivelling, drying out, shutting down. I was no longer thinking of the thorns in my crown, or the cross at my back, or the nails in my hands, I was seizures, and monsters and pain in the sand. By morning the light brought only the heat, and unconsciousness, and death.
And afterwards.
No cortege, no mourners, no laying to rest. My penance was to be paid in slow obliteration.
If you are lucky, you'll go up in flames, and someone who cares will scatter the ashes with tears in their lashes, and letting you go, keep only your name. If you are lucky you'll be chewed on by maggots and rot in the soil, your own mortal coil unwound, unbound, set loose. If you are lucky your soul will fly free.
In the dry of the desert, my organs shrivelled in cavities coated in dust. My skin cured, tight over bones, a hide the colour of rust, then paler and paler as the years went by and the brain in my skull continued to lie in its place, undisturbed, unperturbed, behind my face, now drawn to a perpetual smile, with lips shrunk away and cheeks sunk to lay against molars in sockets of bone. All the while, I watched.
One hundred years passed, and dry wind whistled through a hole in my head, while tattered skin flapped at my ribs. Still, my heart lay like lead in my chest. Purgatory must be served slowly. For half a thousand years I locked my gaze on the sockets of my long passed eyes, each phase of the moon passing, and passing again, and passing again, as my bones bleached at my enduring demise. For half a thousand years I bore witness to my desiccation, my steady ablation, my reduction to nothing.
If you're lucky, you will know, that something will grow from the life that you had. That you mattered.
Earth to earth and dust to dust, how long would have been enough to sate my thirst to punish myself, to render myself without worth. Sterile. I broke the cycle, no return, renewal, rebirth. Half a thousand years it took, to fragment to base mineral, to crumble, to flake. To obliterate myself. But as slowly as time marched by me, it could not hide, could not cover, could not rob me of knowing, the pain of how I had sinned. Engulfed in the desert's parched silence, I was nothing but another grain of sand in the wind.
_
Authors note: The photograph above is one I took when driving through the Atacama Desert with my dad, some time in the late nineties. A short way off the road, in this driest of deserts, was a collection of human bones. I have another photograph of my father, holding a skull, with the hair still in place. The climate is so dry that natural mummification can occur, though this was augmented by mummification practices developed by the people who once eked out a living in this area.
Reader insights
Outstanding
Excellent work. Looking forward to reading more!
Top insights
Compelling and original writing

Creative use of language & vocab

Easy to read and follow

Well-structured & engaging content

Expert insights and opinions

Arguments were carefully researched and presented
Heartfelt and relatable

The story invoked strong personal emotions

Masterful proofreading

Zero grammar & spelling mistakes
Add your insights