The mirror showed a reflection that wasn't my own.
Thank Christ!
Seriously, there were many days when I would wake up in the morning and wonder, why did I get stuck with this ugly mug? I know that life is not fair and all that, but you'd think there'd be at least a little balance. But I woke up that morning, washed my face with too-cold water, and looked up.
And I froze for a moment.
Beautiful eyes, no jowls, less wrinkles…and were those dimples I saw? Yes, indeed, this was what I saw in the mirror.
Now, most people would have lost their minds if they did not see themselves in the mirror, as if they got stuck in some sort of terrible episode of The Twilight Zone. Not really a big fan of the show, but I knew that there was some reference there…
Anyway, I was happy with what I saw. But what would the rest of the world see?
Even then, I knew that there was a chance that this was just a fluke; that I would be the same old miserable pug-faced guy who could not get a date without a plan and a team of wing-men. So, I decided to test things…
The variety store on the corner was my usual first stop on a Monday (best sandwiches and freshly made drinks I could get before commuting anywhere). And there was the other reason why I stopped by.
Rava. Beautiful Rava. That was a real name that I only heard when she shouted back at the idiot boy who brought in the boxes and deliveries on those mornings. She would say, "Rava is not playing with you!" Or even "Rava has a foot to fill your ass with if you don't move it!" And so on with that. Yeah, I was in love. She was friendly, polite and gentle…and nothing else.
So, it would be a good test.
"Morning!"
Rava was right behind the counter, handling a phone call or a set of boxes on the shelf (I can barely remember now), her jangling with bracelets and ringing in that small space. She turned without really thinking about it.
"Oh, yes…"
That should have been the first warning.
"Do you have any of those sandwiches…?"
"The breakfast ones? Hold it." She kept them in a small oven next to the counter and opened it up to grab a silver-foiled treat. "Here."
She finally looked at me. I could hear the buzz of the overhead fluorescent lights and the coolers humming above the quiet of the street.
"Oh, I…" She dropped the sandwich on the lottery tray. "It's…you. I really didn't…" She was smiling right at me and I could not think of a reason to interrupt her. "You did something different, right? A haircut or maybe…"
"No, it is always me. Just me."
"Right. Oh, your sandwich." She passed it to me, grabbing some napkins under the counter and wrapping it up carefully for me. "Do you need a bag?"
"I think I need to pay first."
She laughed loudly at this, surprising me and the boy in the back room who came walking out to see what was happening.
"You are funny! Okay, I will ring it up."
I had to smile, looking for my wallet and taking out some change. It was only when I looked at the boy that I felt really uncomfortable. It was the same idiot boy – maybe that was not fair – who handled the boxes and received Rava's tongue lashings.
He kept staring at me.
It was just a brief moment, but I looked back and he flinched when our eyes met, but he could not look away. It was like he was hypnotized.
"Waste of space!"
A stack of tissues bounced off the boy's head (excellent aim on her part).
"Go back to work or what you call work… Rava has a foot for your…"
The boy was already in the back when she got to her threat, but he looked back one more time. And I realized I had never really looked at the boy before. If I had, I would have noticed the fear there.
Why was he so afraid?
"Thank you."
"Thank you for the sandwich." I think I paid for the sandwich, but I never really checked. And I could feel Rava's eyes on my back.
That was the first sign.
*
I don't really want to talk too much about work. I was a floater at a law firm (sorry, I was one of the people who handled paperwork for all those big shot lawyers who barely showed their heads at the office). I noticed many changes there after one week of coming in to work with the new face. One partner saw me in the hallway with some papers and asked if I was a client. One other paralegal offered to do my work for me if I went out to dinner with her that evening (no thanks; not my type and I knew her husband). There was even a meeting where my opinion was requested on a case involving damages. Pointing out that I was not a lawyer seemed to annoy them at first, but they quickly apologized. I was moved to duties with the partner who founded the firm and things got easy. Maybe too easy…
Maybe? That's a joke.
At the end of that week, I was happy with the new duties and the work was actually easy.
Yeah, I keep using the word "easy".
What do they say about a golden age? It can never last…
After that first week, I slept well on Friday night (I was even allowed to head home early). And then on the Saturday, I thought that I should probably go out for breakfast (I thought I had actually earned it). From the bedroom, I walked to the bathroom without looking at the mirror in the hallway first. I just wanted to relieve myself. And then, I caught a glance of myself.
My face…my new and beautiful face was… How can I say this?
It was changing.
My teeth were becoming more prominent and my eyes moved further apart. The ears grew and the lips grew thinner… And I had a mustache now.
A quick wash in cold water did not make any difference. And I had a quick thought about what my real face felt like (another grave mistake).
From the first touch, it was agony.
I was just trying to figure out if this was now my real face, and that was a problem. I placed a finger on my lips and it burned through my skin and struck my brain like a hammer. Not a drop of water could make a difference.
But I did not learn my lesson…
Brushing my teeth became impossible; combing my hair was truly ridiculous (clumps of hair fell out in the mirror that I could not see); I stopped smiling but my reflection did not care.
And that was when I thought of Rava and her idiot kid.
Maybe it was a terrible mistake, but I had to run to the shop (not something I did on weekends). I had to check one last time.
Rava was there. I could see her through the front of the shop. She was on the phone again, dealing with some problem on the phone (the way I read her body language). I made it to the front after she turned to do something behind the counter, but then I had to stop.
The idiot boy was there.
He was looking right at me through that glass.
It was only a moment of us making some sort of eye contact.
And then he began to scream.
I don't know why I did not notice my reflection in that glass. The shop was just opening up and some of the lights were off, so it was clear as day.
I was turning into something I could barely recognize.
The eyes had grown; the lips spread out and the rest of my face was growing to something that you would see in your worst nightmare.
And then, I screamed.
*
They are coming to get me.
I cannot confirm this, but after I screamed, the police must have ended up at the shop when Rava turned to see what her idiot boy was screaming about. She saw me, but she had to go to the front of the store to be clear. And I was already gone.
The stupid thing was to go back home after making a spectacle of myself. Anyone could have figured out where I lived.
They are coming to get me.
The mirror was giving me the truth. I knew it.
That was why I put my hand in it.
Nothing shattered. I don't know why I knew what to do next with myself, but I could let my hand stretch inside that reflection. And I felt no pain at all as I entered it. It was like dipping into a warm bath by then. And I went in…
They are coming to get me, but they won't find me. It is strange to be on this side of things and to see that there are so many of you out there. I can put myself in all those mirrors, all those places. There are so many reflections and faces.
There are so many of you out there who are going to discover the truth.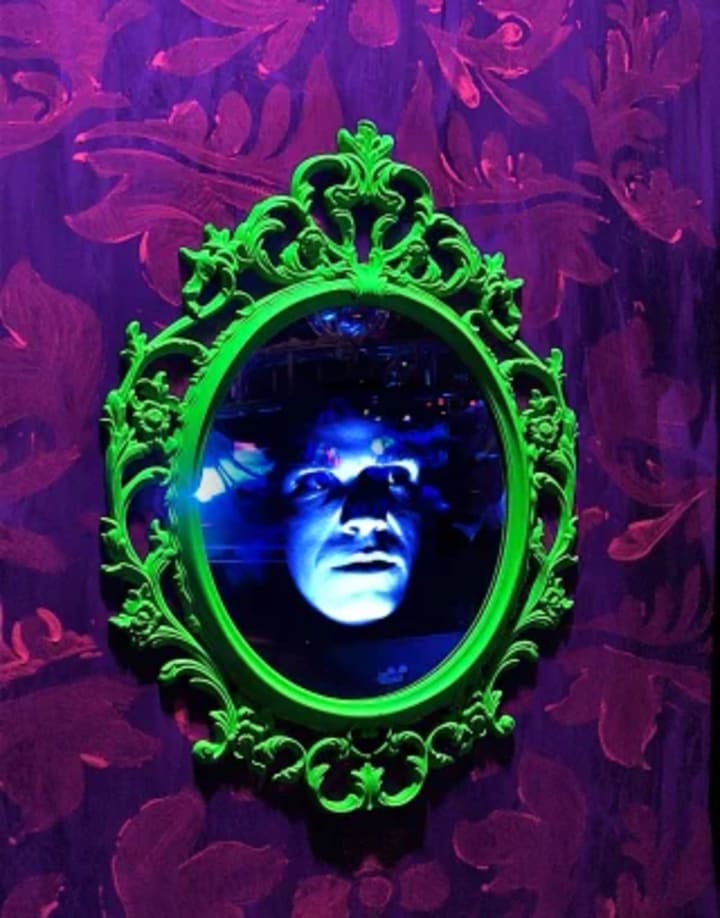 Thank you for reading!
If you liked this, you can add your Insights, Comment, leave a Heart, Tip, Pledge, or Subscribe. I will appreciate any support you have shown for my work.
You can find more poems, stories, and articles by Kendall Defoe on my Vocal profile. I complain, argue, provoke and create...just like everybody else.
Give it a look...
Reader insights
Be the first to share your insights about this piece.
Add your insights