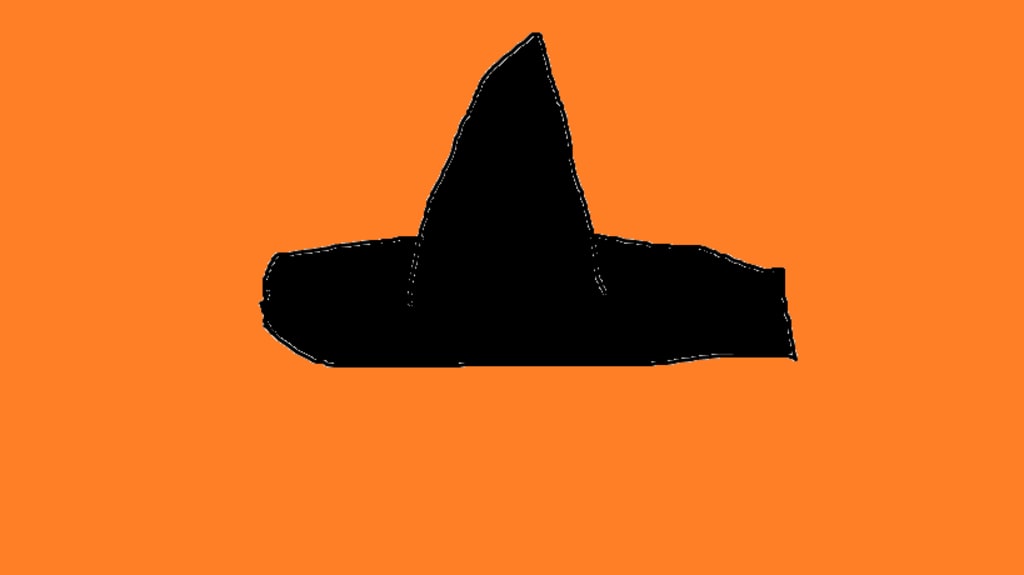 my terrible painting of the sorting hat
Something has made me wonder for a long time in regards to a conversation between Dumbledore and Snape in the Harry Potter stories. I'm a huge fan of the series and Rowling's writing. No, I did not read all the books, but paid careful attention to the movies and to what most people say about Rowling's world. The conversation I'm bringing up took place in Dumbledore's office or quarters. He and Snape were talking about Harry Potter - the boy who lived - the boy was was saved - the boy with the birthmark. As a literature analyst equipped with an education that taught me to consider various details to understand plot and character development, I will state boldly that Harry Potter is the main character, the protagonist, and the Christ-figure of the first series of stories. That being said, I have often wondered why Dumbledore, Harry's favorite elder and the one whom Harry trusts the most, would tell Snape "Harry Potter must die." It seemed to be a very contradictory statement for Dumbledore to confide with Snape about. Even Snape, whose interests were not really about Harry, seemed confused by Dumbledore's theory about Harry.
Fans of Rowling are still analyzing the old stories, even as we get excited about the new stories coming. However, one must think about the difference between the muggle world and the Hogwarts world, even if Rowling describes both in her stories. One character that did die and is hardly mentioned is Cedric Diggory, played by Robert Pattinson in the films. Cedric dies in the series, although Harry ends the series married to Ginny with his son Albus Severus. Dumbledore did not say that Cedric had to die. He said that Harry had to die. But Harry lived, and Cedric died. Do you find this interesting? I do. Cedric wasn't the only one who died. Dobby, Sirius, Bellatrix, Fred Weasley, and Snape all died in the fighting. Notice a difference? Cedric did not die in a fight. He drank a killing curse by Peter Pettigrew, but it's not like he died like Bellatrix, fighting or Sirius, defending. What's more significant to me as I analyze the details is that Cedric died of "poison" in a graveyard after he and Harry were transported completing the third task of the game they were playing.
I suppose that even though Dumbledore told Snape that "Harry must die", Rowling knew the fans, the readers would freak out if their "hero" was killed off before we got the whole "story" - the whole series. We loved Harry, we routed for him, and we wanted him to live and be successful. So why didn't we feel that way about Cedric? Harry cried for Cedric, but he was the only one. Did you cry for Cedric? Or were you glad to see him go because you didn't like Robert as Edward in the Twilight Series written by Stephanie Meyer? Were you grossed out by all that mushy romantical stuff between Bella, Jacob, and Edward? What do you think now that one of our favorite vampires is playing The Batman? Too cliche? Or is it a death of a Christ-like figure in the Harry Potter realm, that helps the muggle world?
Dumbledore said to Snape, "Harry Potter must die." Snape's reply utilized the word "slaughter" --- Fern's pig Wilbur in "Charlotte's Web" was to be slaughtered on the Zuckerman farm. That's normal farm life. Perhaps Dumbledore was relaying to Snape, the natural order of things in the Hogwarts world. Do you know where the name Harry Potter came from? Why wasn't Harry named James Junior or something like that? These are just some questions I have as I think about one of my favorite fictional series - Some questions that I haven't seen the other HP theorists put out yet.
Reader insights
Be the first to share your insights about this piece.
Add your insights