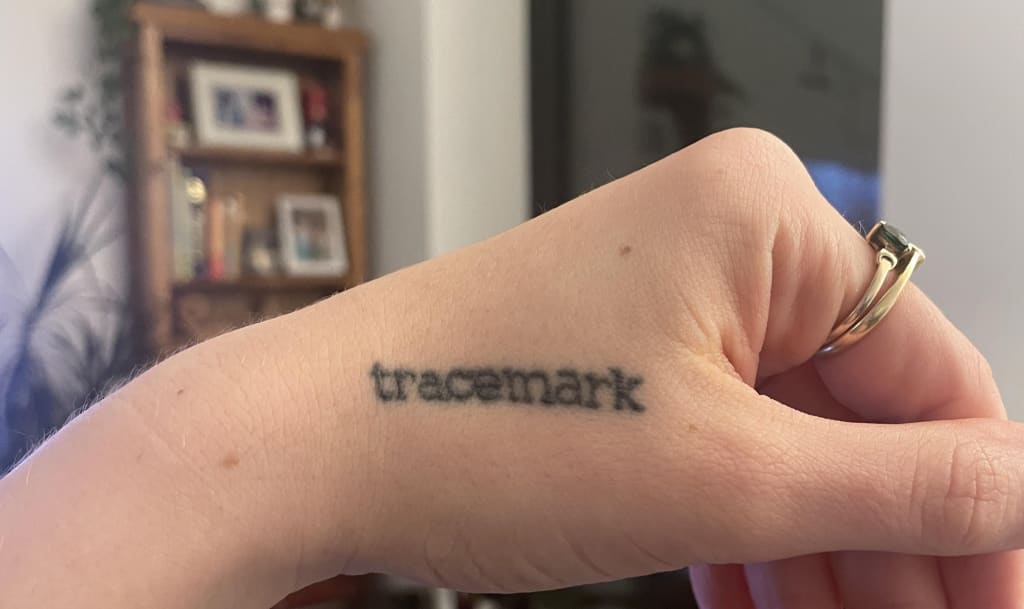 Image by author: my immortalised neologism
Each family is its own brand. Built on morals - just try to make as many people smile as you can - and philosophies - there are two types of people in this world, Smiler. Followers and leaders - and values - 3, 2, 1, love you, bye, love you. When parents come together, CEO's of their own empire, their stamp on the world is not a product, but a person. In ink and blood, in anguish and ambition, their child is trademarked by their genetics, their upbringing an 18 year long marketing campaign. And they cost as much, too.
"I love you more than all of the moons at a moon convention." My mom's name is Tracey.
"You fancy eating 60 chicken nuggets with me?" My dad's, Mark.
"Here's to eating many a nugget surrounded by many a moon." And mine: Em.
Trace Em Mark. Tracemark. I am their fingerprint on this plane of existence, and my ethos, my purpose, it's all them. Thank you mom and dad, for this brand of existence. Here's to leaving our Traces and Marks all over the world.
About the Creator
I'm a writer, a storyteller, a lunatic. I imagine in a parallel universe I might be a caricaturist or a botanist or somewhere asleep on the moon — but here, I am a writer, turning moments into multiverses and making homes out of them.
Reader insights
Be the first to share your insights about this piece.
Add your insights