A Kid From Queens
Neighborhood Bully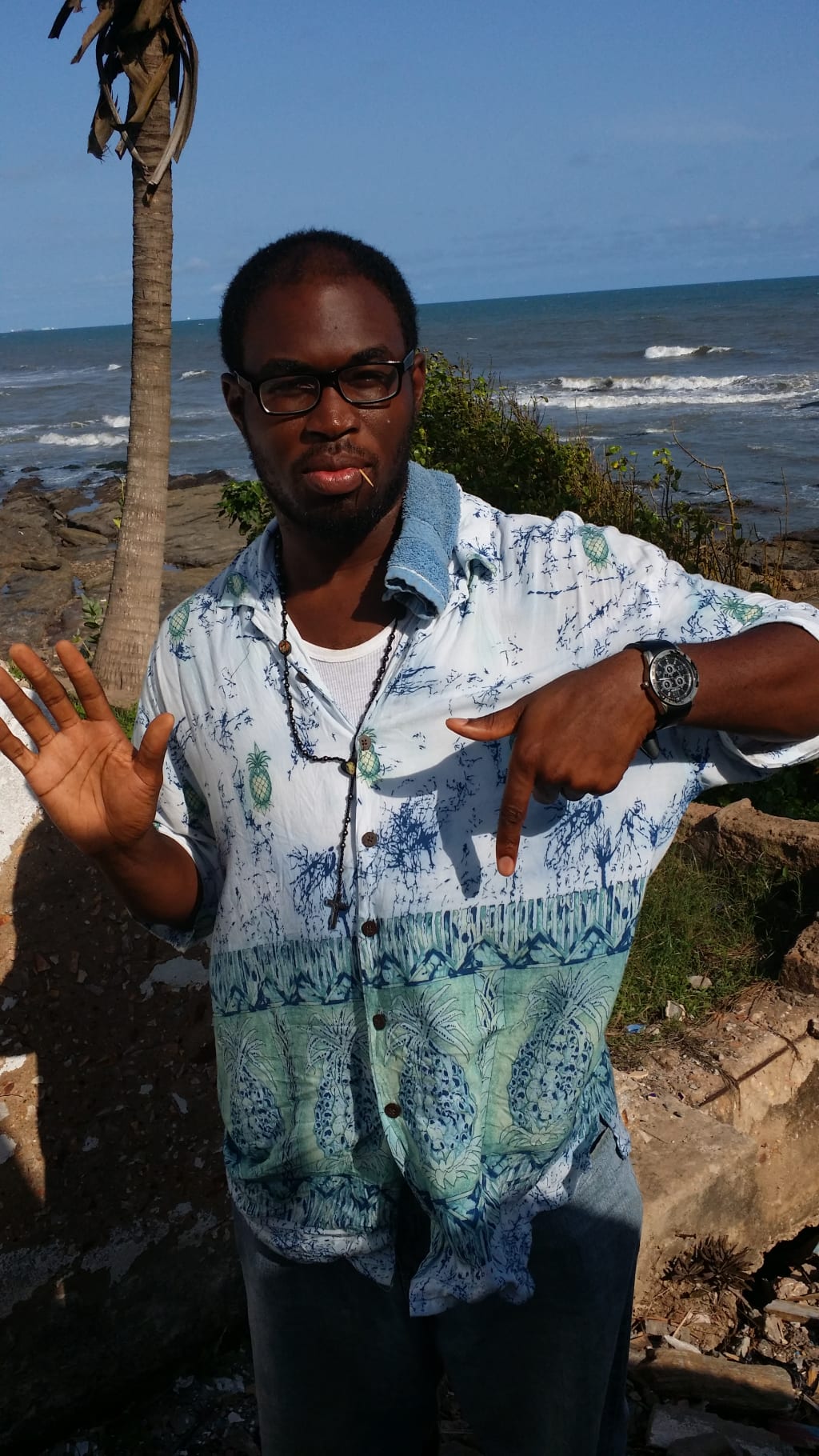 EXT. -- In Front of an Apartment Building in Queens, N.Y. - Afternoon
Two 10-year-old boys are playing outside their building when suddenly they get spotted by their bullies from across the street and are in fear.
Abdou
Yo Stefan, Camell and his gang are coming over. What should we do?
Abdou looks at Stefan and looks like he wants to cry.
Stefan
I don't know. They're so much bigger than us and we're outnumbered. I'm scared.
He stands in place as he trembles. He is trying not to look at them coming.
Camell makes his way over with his clique. He sees Abdou and Stefan, and laughs. Then talks to one of his friends in his clique and then talks to Abdou and Stefan.
Camell
Ha, ha, ha
Yo son, what the hell are these punks doing here? Come on, y'all know better than to play out on the block without my permission. Y'all gonna get it now.
Camell tries to intimidate Abdou and Stefan along with his clique. Abdou and Stefan plead.
Stefan
Camell, we just playing out here, nothing more. We not trying to cause disrespect. Please, be easy. Don't snuff us.
Stefan looks very sorry and afraid. He's very intimated.
Abdou
Camell, we don't want trouble. We just here minding our business. We don't have beef with you. We not trying to go there with you. Please, we're sorry. Forgive us. Just let us go back into the building. We'll go back upstairs.
Abdou is literally about to shed a tear as he pleads to Abdou along with Stefan.
Camell looks at his clique and looks back at Abdou and Stefan. He laughs and speaks.
Camell
Y'all mad pussy. Deadass. I ain't got time for chumps like y'all.
Camell steps back and tries to scare Abdou by leaning into him like he's about to hit him and Abdou flinches. Abdou bursts into tears.
Stefan
Chill, Camell!
Camell pushes Stefan to the floor and Stefan gets hurt. Stefan starts crying.
Abodu tries to defend Stefan with hesitation and talks with fear in his voice.
Abdou
Leave him alone, Camell. Leave Stefan alone! Please. He did nothing to you.
Camell then punches Abdou in the face and speaks his mind.
Camell
Hey, shut up punk. You ain't gonna tell me what I should do. You a sucker and you know it. Ask about me. Anybody can get it.
Feeling pain and intimidation, Abdou and Stefan go into their building and decide to depart to their floors.
INT. -- IN ELEVATOR OF APARTMENT BUILDING IN QUEENS, N.Y. - AFTERNOON
The two boys retreat to their building after getting bullied by Camell and decide to head to their apartments. They go into the elevator and press their floor numbers. Abou lives on the 3rd floor and Stefan lives on the 4th floor.
Abdou
Man, Camell roughed us up pretty bad. He just doesn't know how to leave us alone. I'm so tired of him. (Sigh)......
Stefan
Yeah, I know. He's really making life for us hard when we go outside to play. It makes me not wanna go outside anymore.
Abdou
Yo Stef, is it ok if I go with you to your place instead of heading home?
Stefan
Sure, man. No problem. Let's go watch some Dragon Ball Z. We'll find strength in our favorite characters and how they defeated their enemies.
Abdou
Yeah, you're right. Got lunchables?
Stefan
You already know.
Abdou and Stefan go off the elevator when it gets to the 4th floor. They walk down the hallway to Stefan's apartment. Stefan takes out his keys and opens the door. They say hi to Stefan's Dad and Mom and go to Stefan's room to watch Dragon Ball Z. Stefan goes to the kitchen quickly to get the lunchables to eat.
INT. -- FOLLOWING DAY at ABDOU'S APARTMENT On 3rd floor - afternoon
The next day comes and Stefan heads to Abdou's place to hang out. He decides to go down one flight of stairs instead of taking the elevator. He jets to Abdou's apartment and rings the bell. Abdou opens the door.
Stefan
Hey, Abdou. How are you doing?
Abdou
Good, and you?
Stefan
Same here. Wanna go outside and play?
Feeling down about what happened yesterday, Abdou gives his answer.
Abdou
I don't know, man. Why don't we just go to your place and play videogames instead?
Stefan
But I broke my piggy bank and want us to go buy chips at the store. Then go to the park. I have like $3 dollars.
Abdou
Wow! that's awesome. Ok, let's go.
Stefan
Cool.
Abdou gets ready. Stefan and Abdou jet down the stairs and leave their building. They cross the street to go to the store. They buy chips, juice, and candy. They then head to the park by their building.
Stefan munches on his chips and drinks his juice as he sits on the bench with Abdou.
Stefan
These Doritos are the best. Yummy!
Abdou
Man! Bet it doesn't taste as good as these Onion Rings.
They finish eating their food and drinking their juice. Then start playing. They get on the swings, on the seesaw, and on the slide. Suddenly they see a group of people coming to the park. To their surprise, it's Camell.
Stefan
Oh no, it's him. Abdou look.
Abdou
No, not Camell. Stefan, what do we do?
Stefan
Let's keep cool. Maybe he's not here to bully us today.
Camell and his gang enter the park and look directly at them. They walk up to Stefan and Abdou. Camell has a basketball in his hand.
Camell
So, you pipsqueaks still have the balls to show your faces, huh? Y'all mad butt.
Stefan looks so fearful and starts talking to Camell
Stefan
Camell, we don't want it with you. We're not trying to go there with you, man.
Camell starts dribbling his ball and gets closer to Abdou and Stefan.
Camell
Y'all squares don't have any hood in y'all. Y'all deadass some pushovers. I'm gonna show my mans and them that y'all will always be pussy.
Camell goes up to Abdou and Stefan and makes them both flinch as he leans into them like he wants to hit them.
Camell
See, y'all dead ass some chumps.
Camell's clique
Oh shit, they mad pussy!
Abdou
I'm out of here.
Stefan
Me too.
Camell
Where do y'all think y'all going?
Y'all ain't going no where.
Camell puts his ball down and pushes Abdou and Stefan back.
Camell
Get y'all asses over to the fence.
Abdou and Stefan reluctantly go over to the fence. Camell picks up his basketball and starts hitting them in the head with it.
Abdou
Ouch! Stop it!
Stefan
Ugh!.....
Camell
Y'all super soft yo!
Abdou
Please! You're hurting us!
Stefan
Yeah, please stop!
Camell
I ain't stopping for shit
A custodian from Abdou and Stefan's building that knows them by the name of Steve enters the park and sees what's going on.
Steve (Building Custodian)
Hey! You leave those kids alone! Now!
Camell
Come on, man. We just having fun. Nothing more.
Steve
I said leave those kids alone right now! I ain't playing with you!
Camell
Alright, alright. It ain't that serious B. You got it big bruh. Let's bounce y'all.
Camell stops bouncing the ball against Abdou and Stefan's head and face and leaves the park with his clique.
Abdou
Thanks so much, Steve. Really glad you came.
Stefan
Yeah, me too. Thanks a lot, Steve. We owe you big time.
Steve
No problem. You don't owe me nothing. Just try and toughen up guys. The neighborhood don't do good to nice and soft guys. Y'all need to toughen up. Let these dudes out here that feel they can mess with y'all respect y'all. Don't let anyone make them feel they have the upperhand over you. Stand firm and take no Ls.
Stefan
Alright, Steve. Understood.
Abdou
We'll try and stand up for ourselves from now on. Thanks, Steve.
Abdou and Stefan are determined to never let Camell beat them up or bully them again.
Stefan
Abdou, let's show Camell what we're made of the next time he tries to mess with us.
Abdou
Oh, okay, Stef. Let's do it.
Abdou and Stefan head back into their building with their heads up. They know that next time Camell decides to mess with him, they will teach him a lesson. They will teach Camell not to mess with them ever again.
INT — APARTMENT BUILDING - LATE AFTERNOON
Abdou
Stef, why don't we go check on Jose at his place? It's been a while since we seen em'.
Stefan
Yeah, good idea. Been meaning to see how he's doing anyway. We don't see him outside these days.
Abdou
Yeah, I know.
Abou and Stefan leave their building
EXT. —- OUTSIDE THE APARTMENT BUILDING — EVENING
Abdou and Stefan cross the street and go over to Jose's building. They enter the building and get in the elevator.
INT. — INSIDE JOSE'S APARTMENT BUILDING - EVENING
They get out the elevator and head to his apartment. They ring the bell. Jose opens the door.
Jose
Sup guys?
Abdou
Hey, man.
Stefan
Sup Jose?
Jose
It's good to see you guys. Come in.
Jose
Can I offer y'all something to drink or eat?
Abdou
Nah, I'm good.
Stefan
Me too, I'm good.
Jose
Alright. So what's going on?
Abdou
Just Camell and him always messing with us.
Stefan
Yeah, you know how that go.
Jose
Y'all need to go show em' that y'all ain't scared of him.
Abdou
True, but now we ready for him.
Stefan
Yeah, Steve the custodian from our building told us to stand up to him.
Jose
Oh ok. He's right. Y'all should
Abdou
Well, we will from now on.
Stefan
Yeah, that's right. We're gonna show em'.
Abdou
Jose, why haven't you been coming outside these days?
Jose
I've been grounded.
Stefan
Really? For what?
Abdou
Yeah, for what?
Jose
Remember the day I skipped school
Abdou
Yeah?
Stefan
Uh-huh.
Jose
Well, my mom found out and grounded me as a punishment.
Abdou
Awwww man, sorry to hear that.
Stefan
Yeah, that sucks.
Jose
Yup.
Stefan
So, how long you grounded for?
Jose
Don't know. Probably for a week.
Abdou
Oh ok.
Stefan
Damn.
Jose
Anyway. Let's play some game.
Stefan
Super Mario?
Jose
You already know.
Jose, Stefan and Abdou play Super Mario for some time until Abdou and Stefan decide that they want to go home. After 2 hours, they finally leave.
INT. — P.S.14 ELEMENTARY SCHOOL - MORNING
Abdou and Stefan were finally ready for school the very next day. Summer vacation finally came to an end and it was time to start school. They both went to school that morning and went about their business once they got into school. By the close of the day, Abdou and Stefan finally were done with their classes.
Abdou
Hey Stef
Stefan
Yeah?
Abdou
So did you talk to Marggy today?
Stefan
Nope. Couldn't do it.
Abdou
Why man?
Stefan
I'm still too shy to talk to her
Abdou
Come on. You gotta overcome your fears.
Stefan
I will try harder next time.
Stefan has had a crush on this girl in his classes for a while now. He is simply unable to muster the courage to talk to her and tell her how he feels.
Abdou
Come on man. You got to get over it and just talk to her. She won't bite.
Stefan
I know man. I know. It's just that.......
Abdou
It's just that what?
Stefan
Sigh......I just can't do it ma.
Abdou
Alright man. I hear ya.
Stefan
So how was your first day back?
Abdou
Not bad man. And yours?
Stefan
It was cool. Jose is in my class. You know that, right?
Abdou
Yeah, I noticed that. He saw me in the hallway when I was on my way to the bathroom and told me.
Stefan
Oh ok.
Stefan and Abdou head home from school. They finally get to 99th street right across the street from their building and run into Camell. Abdou taps Stefan on the shoulder as he looks the other way.
Abdou
Uh-oh! Stefan! Look to your right.
Stefan
Why? What's wrong? Oh shit! Nooo!....Not him.
Abdou
Just our luck. He's coming over.
Stefan
Now what?
Abdou
Remember what we agreed on last time? We said we're not get bullied by himself. He said we we'll stand up to him next time he messes with us and that's exactly what we're gonna do.
Stefan
Oh yeah! That's right. Let's show him a thing or two. He can't mess with us and go scott free. No way. We gotta stand up for ourselves.
Abdou
We gotta man. We just gotta.
Camell sees them and makes his way over, but alone. His clique wasn't with him.
Camell
Sup lil homies? What y'all doing on my block?
Come on, y'all suckers can't be here without my permission.
Abdou
This ain't your block, Camell. It's a block for everyone walk through, not only yours.
Stefan
Yeah, Abdou's right.
Camell
What? You dare bark back at me? Y'all chumps getting balls now, huh? Word to mother though, I will lay any one of y'all down. Y'all been gotten your ass whooped by me.
Abdou
Yeah, you right. But we not getting our ass whoop no more B.
Stefan
Yeah, we'll show you
Camell
Hahaha. Y'all funny as hell yo! Y'all wanna kick up dust?
Y'all ain't built like that.
Abdou
Maybe not, but we're done backing down from you, Camell.
Stefan
Exactly.
Abdou
We're not gonna let us bully us no more. Today we put an end to it.
Camell
Yeah, right. Y'all been pussy. Y'all squares and y'all know it. Bet ya just a few steps towards y'all and y'all will wet y'all underwear.
Stefan
We'll see.
Abdou
let's get this going
Abdou immediately charges towards Camell with a fist in the flying. He swings at Camell and Camell gets punched in the face. Camell falls to the ground and feels the impact of Abdou's punch.
Stefan
Whoa! Abdou that was great. You did it.
Abdou
Yeah, I did. That was for all the times he messed with us. We not taking his shit no more.
Stefan
Word!
Camell
Shit!......My son. Now you can fight?
So my lil homie can go head to head with the big homie now.
Abdou
We not ya lil homies. Leave us alone and stop messing with us.
Camell gets up and rushes towards Abdou and tries to punch him. Abdou dodges and kicks Camell in the stomach.
Camell
Oh shit!.....My son. You got skills, huh? Ouch!.....
Stefan
Get him Abdou.
Abdou
You got it.
Camell
You Stefan, I'm gon fuck you up when I'm done with ya mans.
Stefan
I'm not scared of you. Bring it on.
Abdou
You done, Camell. Accept it
Camell
You pussy my dude! You ain't got nothing on me. I ain't getting my ass beat by some suckers. Y'all some suckers. I ain't letting y'all feel y'allselves. Truth is y'all gon get it. It's a wrap for both of y'all. I'm gonna fuck y'all up and feel good about it. Bitch asses.
Abdou
Just bounce, Camell.
Camell is in pain and is surprised by how Abdou is beating him up. He is in pain also and is confused about what he should do.
Stefan
Maybe we should go.
Abdou
Hold on a minute.
Abdou
We're gonna show em what we're made of. Today I'm beating Camell's ass.
Stefan
Hell yeah
Abdou
I've had with em.
Camell
Ah! It's over. You're mine.
Abdou punches Camell again and Camell seems to get knocked out.
Abdou
It's a wrap. We done with you. Face it.
Camell
Aiight son. You got it. You beat me.