Vegan Travels
A flashback to nachos, skylines and yoni steams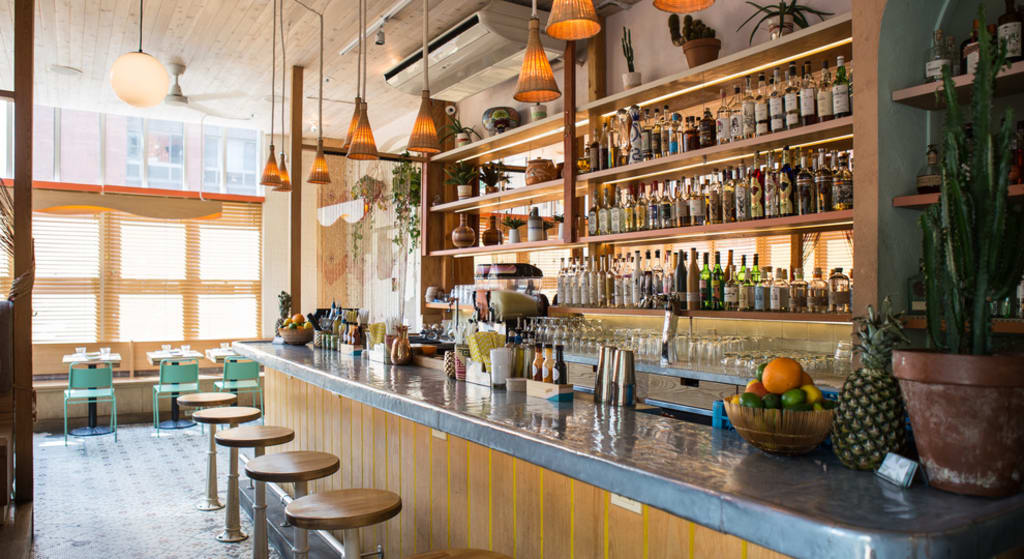 I keep a running list of the places I would travel to. Some dream of historical monuments and natural landscapes.
But what is my motivation for general travel you ask?
Food.
The rest of that stuff comes after.
Maybe it is my Taurus rising. Who knows.
--
My travel list is based on vegan food spots. Junk food mainly if I am being honest. Plant-based burgers, blue milkshakes, cheese fries, and donuts. All of the best, minus the animals! Don't worry, I'll add healthier options to my list as well. I mean, Atlanta does hold the number 1 spot for a kale wrap (and moringa popcorn).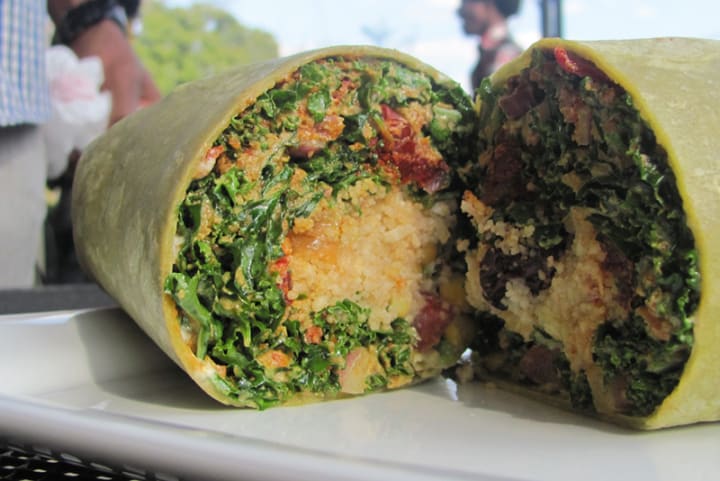 Pre-quarantine:
My goal was to travel to a few new places this year and stuff my face with as much as I could. I figured 5 days would do the trick per trip. I would just need to organize my non-negotiables and allow for some free-flow to happen, just in case I came across a spot that was not on my list. I didn't want to be too full to not appreciate a surprise!
But Earth needed a break.
So we went into isolation.
I personally think she still needs a longer vacation from us, so I will do my part.
First Stop
In another dimension (still manifesting for this timeline), Portland was first on my list.
Oregon. Not Maine.
Portland was actually a full trip, motivated by food but enhanced by Halloweentown and the Lighthouse Farm Sanctuary. I just want to note that I would volunteer at the sanctuary every day of my trip to be besties with Helen and her friends. Just an FYI.
WE. LOVE. HELEN. Moving on.
Seattle was on my list.
Dallas too. Mainly for Bam's Vegan.
Arizona has popped up a lot also on my personal feed.
Los Angeles is obvious-I would need to orchestrate that into a few trips.
Oh and London is on a different level. Just awe-stricken.
In reviewing my notepad app, I saw that I completely forgot about New York City! I have actually been there two times before. Those trips were pre-Vegan days. The third time I went was completely on a whim and I can confidently say that it was the best trip yet! Gearing up the time machine in 3, 2...
Instagram Manifestations
On instagram, I follow a soul named The HoodHealer. She has clairvoyant abilities (I say this flatly as her depths are truly incredible). Sassy, authentic, and accurate may attempt to sum it up.
She helped educate her followers (me of thousands) about Yoni Steams. The Hoodhealer is pretty particular about things/people she connects with and co-signs. So when she introduced Nae to us, I felt it was something and someone to pay attention to.
They were doing a nationwide tour of only a few stops. New York was one of them. I was on a bus going only Spirit remembers where, when I saw the posting. A yoni steam curated by Nae and a collective healing circle/reading with The Hoodhealer. For one hundred bucks (I personally thought that was a steal).
I am who I am. So I thought it about before rushing into the opportunity (well, most of the time). Then there was another post about only a few spots left for New York.
I jumped on it.
Spontaneity hasn't really been my thing in the past. It kind of has to be the last push for something to happen. I am working on it.
I secured my spot and sent the money. All on the bus, again, I can't remember where I was going.
Now at this point, I hadn't prepped for any of the following:
Requested time off (at a new job - would need to leave during the weekday for a full trip of course.)
Figuring out how I would get to NYC (bus, train, plane?)
Where I was staying (the location would be disclosed until later-for ticket holders only, so I was guessing about where I "could" stay)
My spot was already paid for, so I figured I would make it work. Right?
--
Thankfully, my boss let me have the few days I needed off! A kind soul.
And a Scorpio!
Just kidding!
Kind of.
An impromptu weekend trip to New York. I was asking my coworkers where I should stay. I didn't know the boroughs and two of them had some knowledge that was helpful. At the time, I wasn't privy to just asking on Facebook for recommendations (like a normal millennial). Turns out, it wouldn't have mattered anyway.
FATE
I was coming back from a random paint night I went to. My friend called to chat about her engagement party and we continued to talk on about life. I remembered she was in New Jersey. I told her I was making a short trip to NY. I wanted to see if she was able to meet up for lunch.
She paused.
She asked about me staying with her for the trip. Well it wasn't really asking, but more so a declaration in a question format.
Also a Scorpio.
My natural response was to question this gesture as I truly hadn't thought about that being an option. Not that I would have even asked. She noted that she lived right by the border of New York (you can see the skyline). She began to rave about how she could help me get around the city and using a metrocard, etc. etc.
I was still in awe that she was even offering this. I kept asking if she was sure about it. In her natural energy, she asserted that I will be staying with her.
And that was that on that.
Is thankful even a word at this point? Not sure.
--
She went on to inform me about the following items of importance:
Wear comfortable shoes for walking.
The heat. A water bottle and sweat towel were mentioned.
Wearing earphones so people wouldn't speak to me as I got around. I hadn't heard of this one before.
She was even open to trying some vegan places with me!
I booked a greyhound roundtrip for under $60. Now let us go back to the original list of uncertainty:
Time off (check)
Place to stay (check, with a great friend and for free)
Transportation (cheap and check, well cheap enough)
We were all set for New York!
Perspective - Not Cosmic Interference
Sometimes Spirit intervenes, sometimes it doesn't. Sometimes it just takes grounding your fear based mental patterns.
Okay, maybe this one was my fault.
I decided to take the T (train in Mass.) to South Station to catch my greyhound.
…
Don't worry, I didn't miss my bus. But the travels to get there, well, had me questioning if this trip was meant to be. Before I spiralled into a full existential crisis, let's talk about surrender - Lessons from the T.
I got on the T at a reasonable time to get to the station, I believed. The train left and we were off.
Have you ever noticed how sometimes when you take public transportation, you can tell the driver literally had nowhere to be?
Like nowhere.
I first thought that maybe it was me being anxious about being late. Maybe it is my mind believing that the train is moving slower than usual.
Maybe.
But then came the MULTIPLE stops and stand-bys BETWEEN stops. Literally stopping the train before getting to an actual stop for whatever reason. I chuckled at the level to which I was not in control at that moment. I had to give it up and say, you know what, you may not make this bus. Deep sighing ensued. Could have been meditative breathing. But no, it was not that all.
--
We made it to South Station. I didn't realize that it was a bit of a walk to the actual entrance. Or at least the route I took.
As I am power walking against man-made time, weaving through the streets, my bag all of a sudden became oddly heavy and uncomfortable to carry. It felt like a weight was added to slow me down in getting there. Physically hurting my shoulder and side as I am walking. The whole time I am thinking "What the f**k did I pack??? In full annoyance. Like why is this magically more heavier now?
I get to the station. Realized I still needed to eat before this bus ride. I was still in between my veganism, so I caved and ate fish from some spot in the station. Grace people. Grace.
I rush to find the bus.
Interestingly, the bus I needed was in the wrong lane. So I was about to board the wrong bus until I asked someone about the correct number.
You know when you think that a greyhound bus will be empty…
I sat next to this nice man who didn't want the window seat. I finally got settled and realized I needed to reposition my laptop (which was causing the original problem of pain, suffering and expletives). I ate and we were on our way. I saw some angel numbers so I felt better about the situation.
I made it to Penn Station in Newark and connected with my friend and her fiance at the time (now hubby)! I got cozy in their home as we mapped out the next day. I was going to go with her to the city. I figured that was a good way to get reacquainted with New York.
Day 1 - Somewhere in Brooklyn
The first day, I needed to be out because this was the day of the session. I dressed comfortably to prep for the evening. My friend looked at me sideways for wearing pants in that heat. She made sure I had a water bottle and a sweat rag though! I got the address for the spot and it was somewhere in Brooklyn. I wasn't terribly worried about trying to position myself to the space. It would all work out in the end. While her day consisted of self care errands, I ran around the area while she was in meetings. My first unplanned stop was the: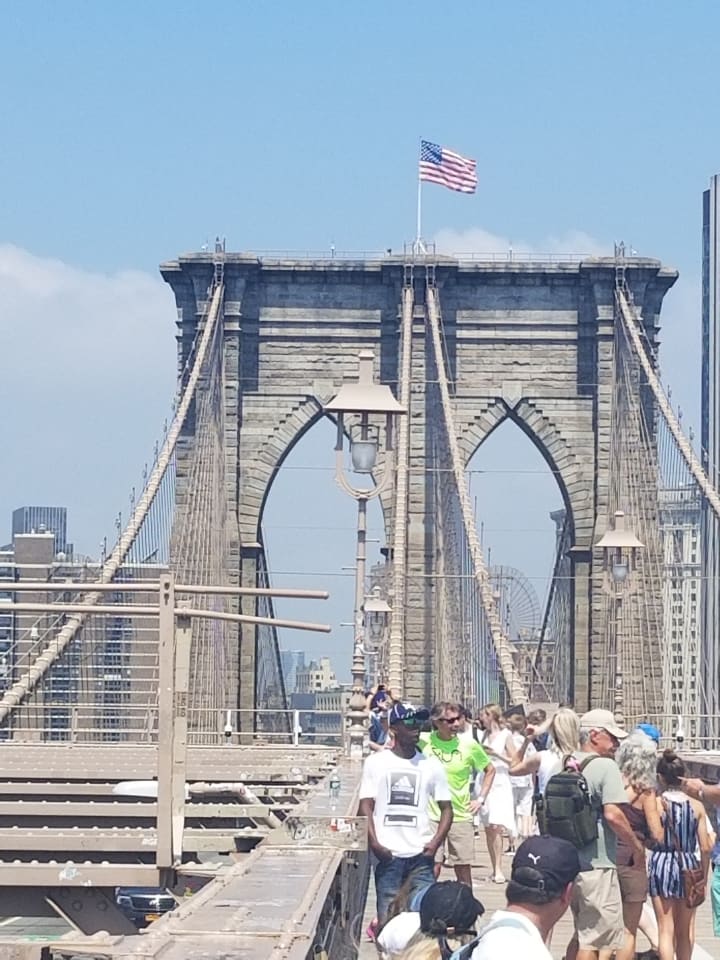 Brooklyn Bridge
She was a beauty. It was packed and I didn't know that you have to walk on one side and the bikes had the other. I saw the Statue of Liberty from the bridge as I walked from each end. It was oddly peaceful watching the river and the flow of traffic go by. Folks taking pictures. I personally enjoyed the commentary documented along the railing. Glistening from the sun, definitely tanned and hot, worth it.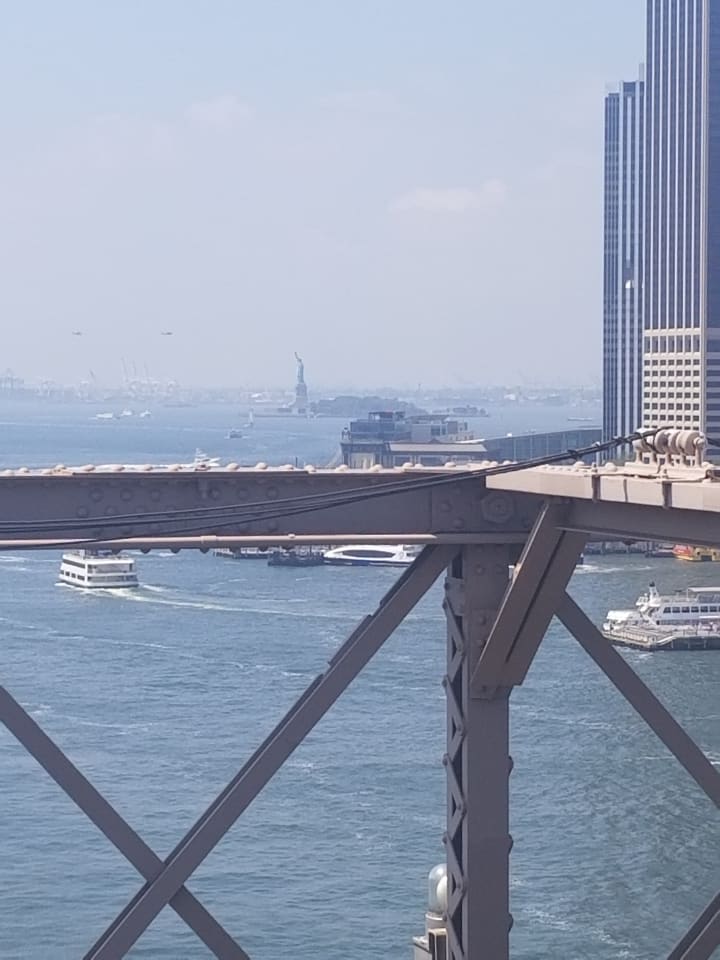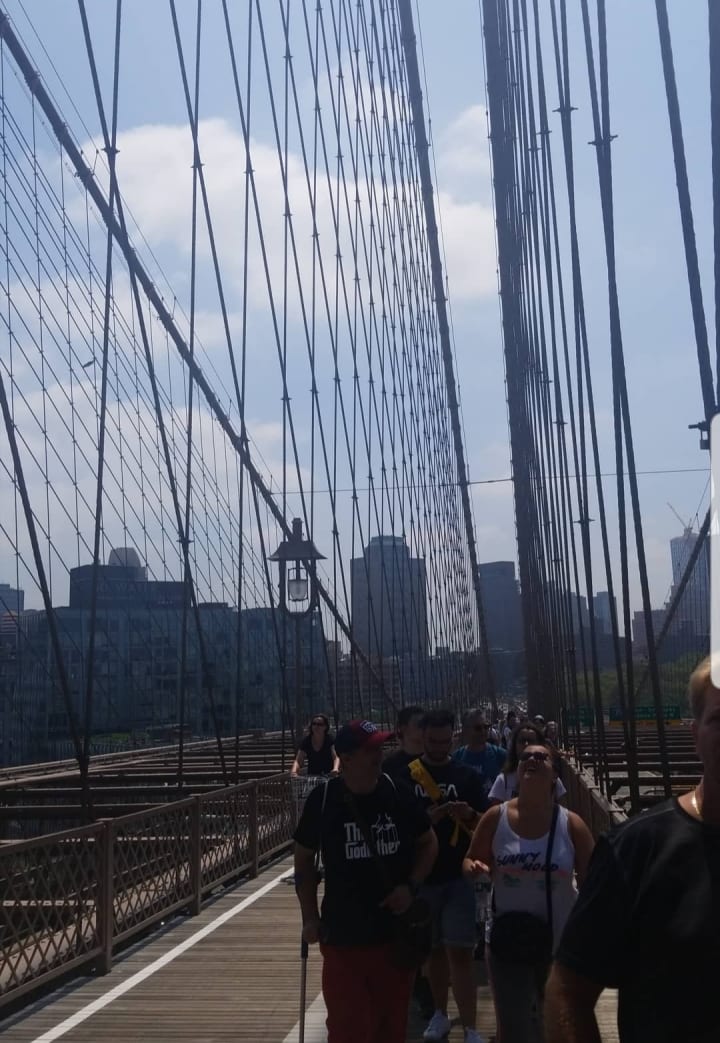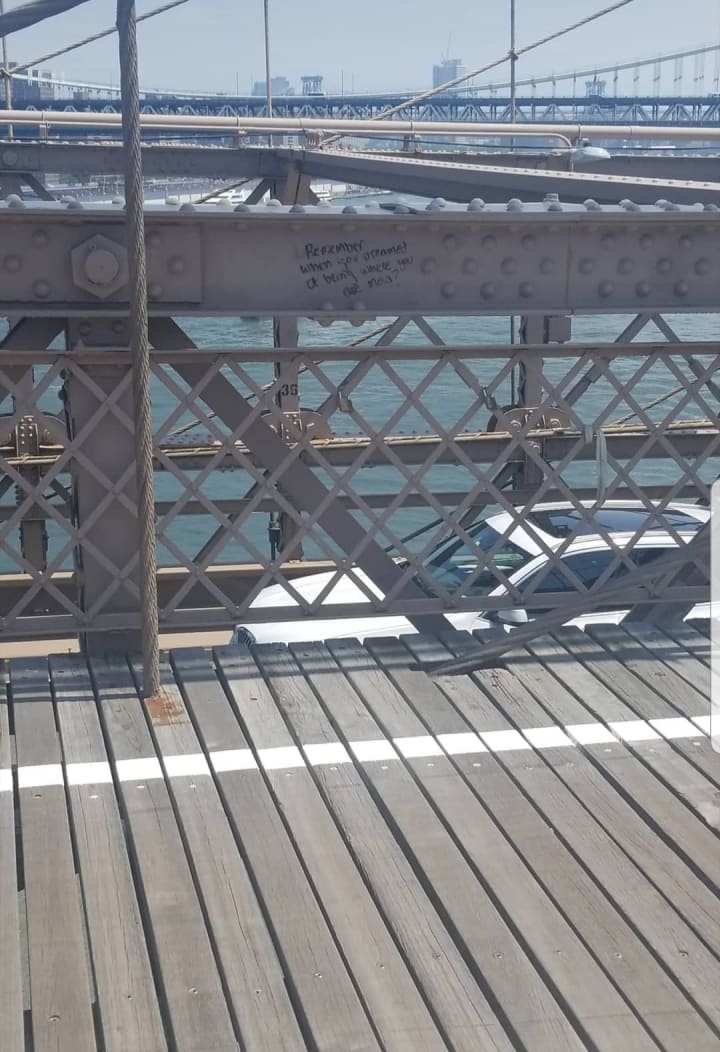 Next was food time! So I caught up with my friend and we headed to:
JAJAJA (Williamsburg)
Not actually called JaJaJa with a hard English J (pronounced HA in spanish).
I went for the nachos. When I ate animals regularly, I always got nachos at a Mexican inspired restaurant. Some type of chicken and melted cheese. My palate was minimal, so I didn't appreciate other flavors at the time (beans, onions, specialty items, etc.).
I missed a solid plate of vegan nachos and I didn't know much about plant-based chorizo, which was a huge draw for me to pick this dish. I was still a little weary about trying some of the other dishes. So this was safe and exploratory at the same time.
Also, I heard that some don't think nachos are an actual meal.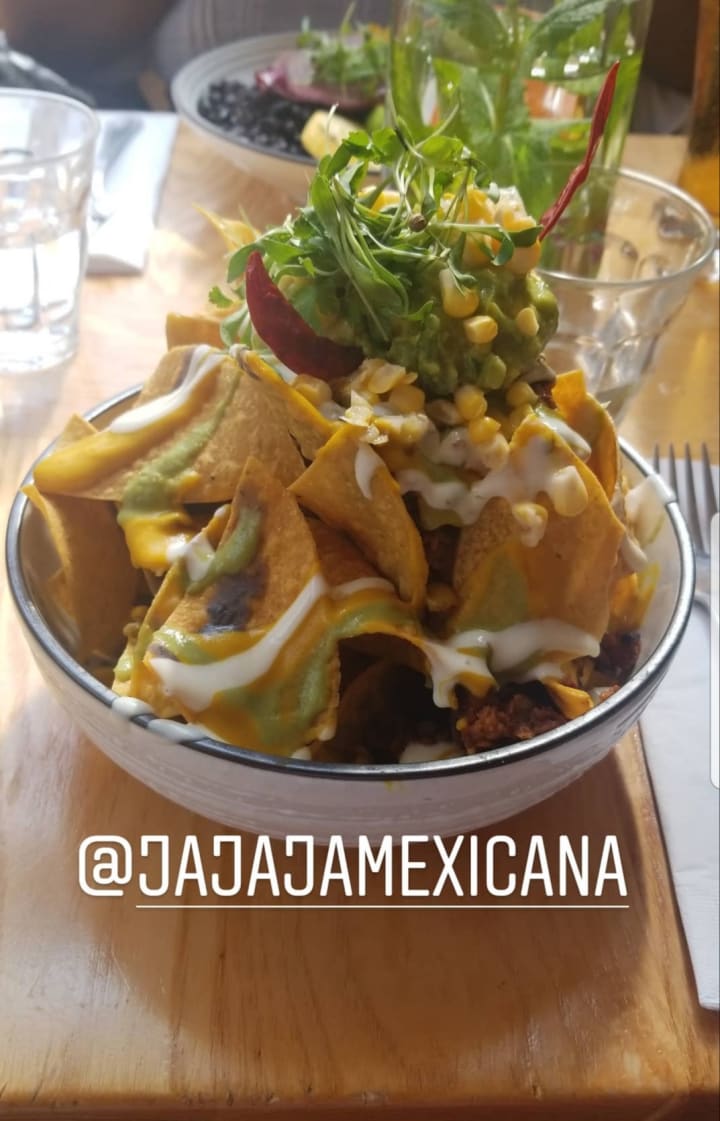 I am here to disagree with you, wholeheartedly.
We hoped for popsicles afterward but they were out. Rightfully so, it was stupidly hot outside.
My friend went on home as her day was winding down. Mine was just getting started. My event got pushed back an hour or so, so I had time to chill before getting over there. I decided to take a pitstop to:
Chinatown
You know, I always feel at home and wonderfully lost in Chinatown. There is a sense of peace being in the midst of everything. I don't know much about what may or may not be happening, but I enjoy the energy. I did have a purpose in heading there though. The endgame was Sunwind.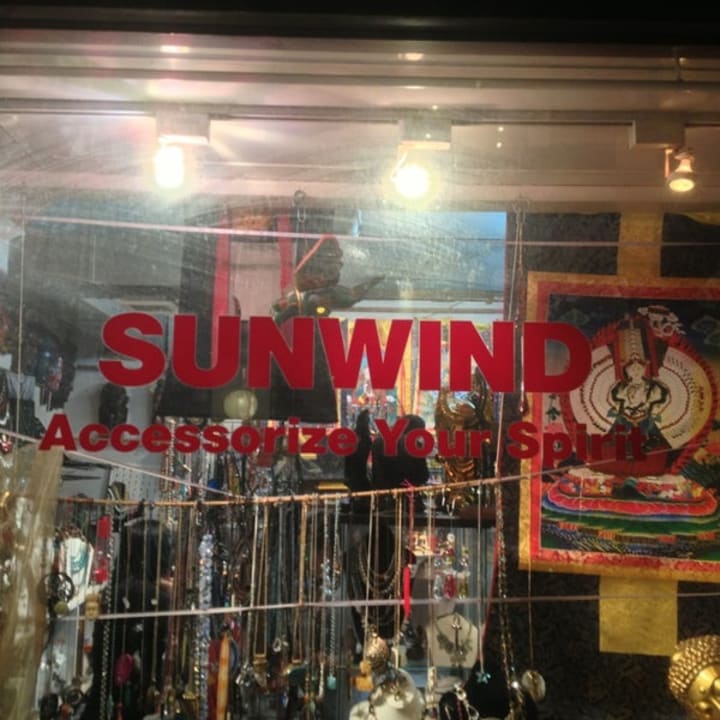 The Hoodhealer was often in Sunwind just chatting it up with Ching, the owner and magic maker. I figured I would see it for myself. Sunwind is a gift shop full of so many trinkets and treats from all around the world. She can customize a piece for you, make recommendations for healing (stones, charms and their placements).
When you are more centered, unlike myself because I was getting nervous about my impending meeting, she tells you stories. It is kind of trance-like. I ended up buying mismatched earrings and got on my way. I wish to go back one day and be able to fully take her in and to get more cool pieces!
Psychics and Yoni Steams
I decided to take a Lyft over to the area. No time to fool around with public transportation.
The abruptness of our human condition is (most of the time) funny to me. My Lyft driver picked me up. In his full New York (I do what I want essence), he was in a full conversation via headphones speaking in Spanish. Enjoying a folded slice of pizza, he had an orange soda as a refresher, sipping intermittently. Seat laid back, window down, minding his whole business.
It was a kind distraction from my anxiety.
I don't think I have ever been that nervous. Did I not want her to see the depths of my soul? Was I scared of the process? My mind was working OVERTIME.
In respect for the experience, I won't go into too much detail about the group reading. Just know as usual, the Hoodhealer was on point and chillingly accurate. She was also sweet, welcoming, and tall. I'm 5'2, so most people are tall to me. I guess it was just one of those things when you see someone you admire in-person, and you can't ground yourself (or at least I couldn't). Just for a taste, we got into some collective meditation, card pulling, and story sharing. That's all you get!
I wish I wasn't so pent up but you learn by living.
I actually got called for my yoni steam before my portion of the group reading. Nae was lovely and attentive. The yoni steam calmed me down on a physical level significantly. She adjusted the heat accordingly and we wore beautiful lengthy skirts to cover ourselves. I was actually in my steam session with another fellow Libra! She was very nervous as well (which is why we both casually let everyone else go first in the session). As the night was leading into the morning, we both went back into the space refreshed and ready to engage.
How late is it?
The experience was cool and I think the folks that stayed were about to party. The HoodHealer asked me if I was staying and I kindly bowed out. I don't know how she had all the energy after connecting with so many folks.
I don't know why I thought this would end at a normal time. Like 10 PM or something. We left the place around 3 AM. I had to catch a Lyft because the port and buses were offline.
Chilling in the passenger seat, I was reminded of how much I love a city at night. Just gliding along with the stars. Seeing all the places illuminate the sky. Empty streets but still somehow full of connectivity. Guess that is just a New York vibe.
Day 2 - 90 something degrees in Harlem
I slept in after my nightly escapades.
My friend's hubby made breakfast and I was encouraged to try, get this, sliced tomatoes with salt. They were raving about them and really wanted me to test them out. I rarely like tomatoes, sliced, on anything. So I was skeptical.
I tried one. It was cool. I would eat one again but I wouldn't ask for it to manifest from Spirit. Again, just not a tomato girl.
After hours of rewatching Key and Peele (realizing the Meegan bit is my favorite, enjoy in your leisure), I went out into the world by myself. I was determined to get to one more vegan spot before my trip was over. So kindly, I was dropped off at the border to catch the bus I needed to get into the city. My friend was worried about the heat but I managed. I made it on the subway and thankfully it wasn't crowded at all. So it's safe to say that I did not have a typical New York experience.
I didn't mind. At all.
I made it to Harlem, New York. The restaurant I wanted to go to was so close to the subway entrance. Harlem was not what I expected but also kind of picturesque in a way. Malcolm X Boulevard, fire hydrant waterfalls, people sitting on the stoop, someone calling out to me, It was a vibe but I was on a mission.
Around the corner was my next stop!
Seasoned Vegan
Seasoned Vegan is a soul food spot. I honestly didn't grow up on soul food (yes, this is a fact, even coming from the South). So whenever I get it, it is a treat. My mommas grew up on soul food, so they weren't interested in eating it all the time when they were able to control the kitchen.
Now. My friend tried to warn me.
New York.
Public places.
NO air conditioning...
Now, the South is hot. Miami was wildly hot in OCTOBER. Boston even gets rather hot. But the reality of eating in a restaurant with no AC. That was new.
At this point, I trekked all the way there. So I did it. I stayed and sat in-house and ate.
Hot food. Hot place. We did it. Now onto the good stuff.
--
Now what did I get??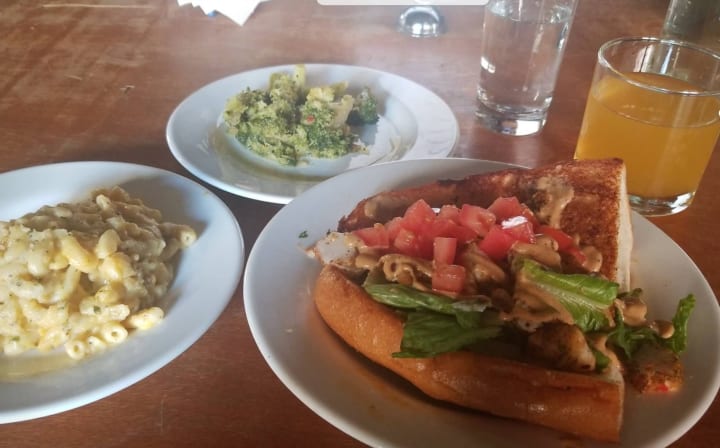 Mac and cheese, sauteed broccoli and a shrimp po'boy.
A quick review:
The Po'boy-
I really enjoyed this one. I could have ordered another truthfully. Best vegan shrimp to date! Buttered bread, flavorful. A+
Mac and Cheese-
To be fair, I was still getting used to vegan mac and cheese. At the time, they used Daiya in the recipe. Daiya is cool but it has a Daiya taste, so I wasn't overly thrilled. The consistency was nice.
Now of course, I currently have Daiya in my fridge, so here we are.
Broccoli-
A nice compliment to the dish and I got some greens in my system.
--
I would have stayed to lounge in the historic site but I couldn't manage. I grabbed some cookies for my friends and headed back to their spot. Overall, I would go back. In autumn.
Skyline Nights and Fireflies
I was a little nervous about the trip back. I basically had to retrace my steps but I made it.
When you are running around, you don't pause and witness what is right in front of you.
The sun was setting, so I chilled by the skyline. It was stunning.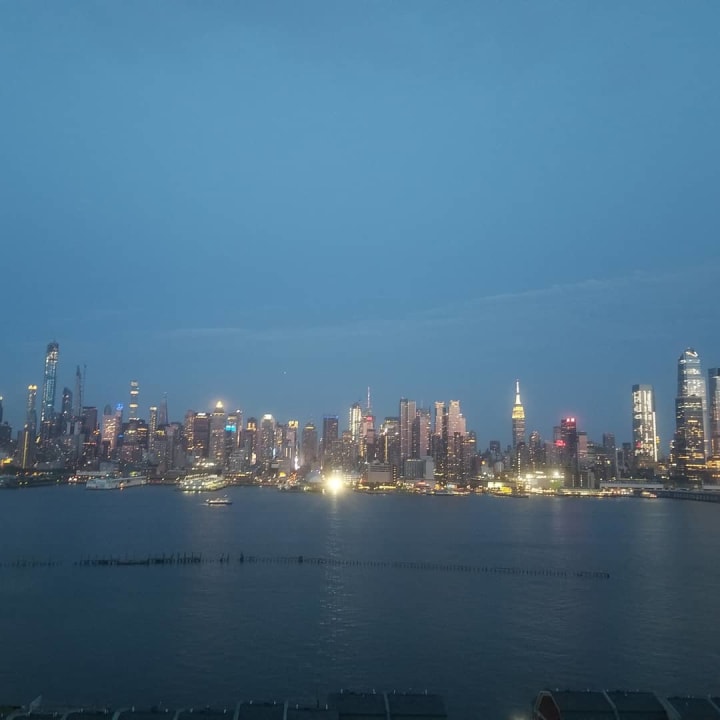 As the night darkened, I headed back to their place on foot. It wasn't that far of a walk.
I had to work to control my nerves - walking in an unknown neighborhood, at night, by myself. You know the story. In heightened moments of fear, I would see a firefly to my right, following me on my way back. It stayed with me until I reached the main streets with more lighting. Made it back safely though. Thanks, Spirit!
We ended the night with my friend sipping on blackberry wine and trying out the cookies. She enjoy them! We had to turn in early because I had a bus to catch.
New York was good to me this round. I think once you get use to the energy and the "ready for anything" mentality, it rubs off on you quite nicely.
--
Here's to more impromptu trips, more time with friends, a more Spirit-led life and of course, more delicious vegan food (even the healthy stuff)!
After quarantine of course.