This Life Will Drive You to Insanity
A Short Story on a Chef's Realization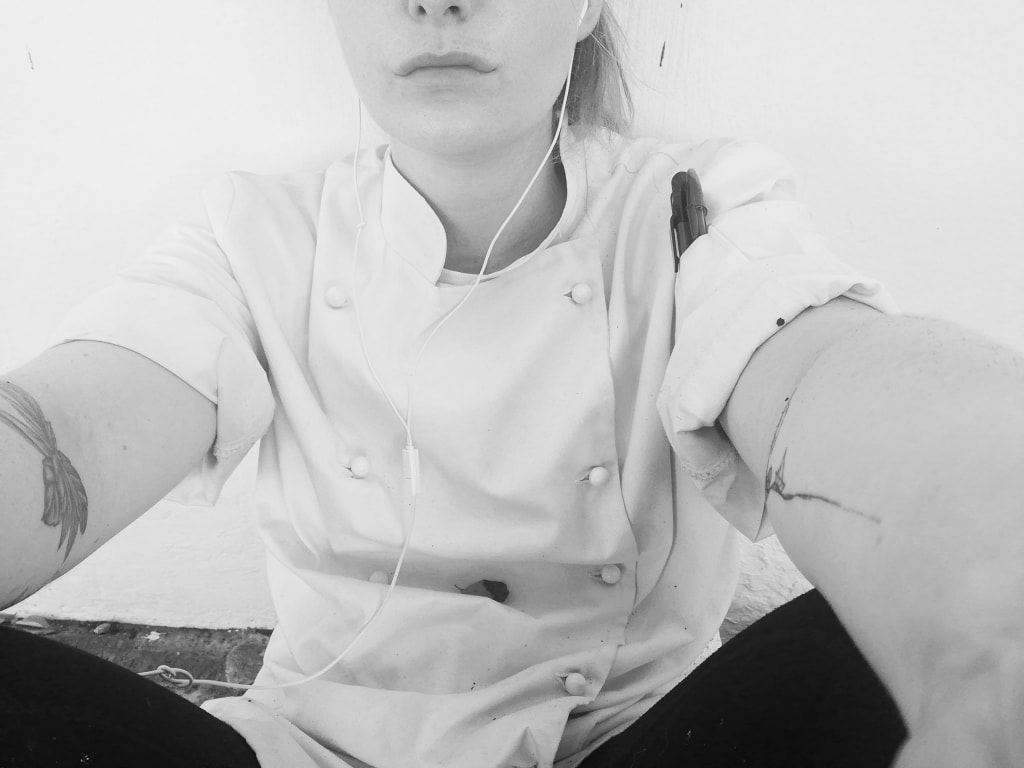 There is a saying that goes, "Being a chef is like being in the army. You have to get stuff done, and fast, and it has to be good." These were very wise words by none other than the great Marco Pierre White.
Now as I sit, on a broken down milk crate outside with a half-burnt cigarette and cold coffee, I really do believe this is a job of extraordinary measures, and that Marco knew what he was saying, not just for himself, but for all the chefs out there.
This career is a true rollercoaster ride, one day I can walk in and kick ass and be fast and fearless and take on any problem within seconds... but what about the days where our humanity is being tested by every single issue that arises, when everything that can go wrong, does? Do we talk about it? Of course not, chefs are made to believe we must be hard, we may not break down, we may not step out of line because if we do we are weak and not able to handle this industry. When you get into an industry as harsh as this one, you have no choice but to back down. If you don't handle your job, or if you cannot handle the immense pressure, then your only option is to quit.
I think a large part played in this is that unless you are or have actually worked more than a year in a kitchen, you cannot understand why this can all become too much. I'd like you to picture a hospital for a second, the bright white lights, the overly hygienic countertops, the lack of windows, nature, music, or normal human communication, and then add to that eight or even 30 people in the space of a large room for 10 to 16 hours. Then add hot fires, sharp knives, and usually (but not always) a short-fused head chef breathing down your neck because if you don't do the job right, he isn't doing his. In most cases, I've been fortunate enough to enjoy a lovely 30-minute lunch break within a day. At worst, no lunch breaks. I always explain it to my family in a way that it gets so busy, you forget to pee the whole day. And the worst part of it all is not any of this, for me it's when people in my life started to understand and accept that I wouldn't be at any important occasions because you know "she's a chef." The idea that we cannot live a normal life simply because we love food is heartbreaking one.
I feel this is wrong, times have and are still changing, and more and more I'd like to believe the changes would not only impact the nine to five job goers, but change the way chefs work 10 to 16 hours a day every day. I'd love to see the culinary world open up more to the idea that depression is deeply rooted within 80 percent of us, to ask why is that? And to actually talk about how we could change that in a way that our industry would become a stronger one, open to people of all kinds. To finally remove the fear that we can't reach out and tell someone we are struggling, to admit we are no longer coping; when, in fact, I've seen hundreds of chefs before my eyes turn to drugs and alcohol to get them to tomorrow, and even one or two who have unfortunately turned to suicide.
So I challenge you, and I challenge fellow chefs. I even challenge food critics and social media influences. Let us talk about this. Let us change this. If we cannot speak up and try to make a difference, then we are standing idly by, accepting our fate and effectively saying "depression is okay."
humanity
I am an influencer, I am a Chef, I am on a very unknown journey.
Instagram @ellinikki
Foodgram @depaysementbia
Receive stories by ChefElli Nikki in

your feed