The Food of Philadelphia
Food and drink that originated in the city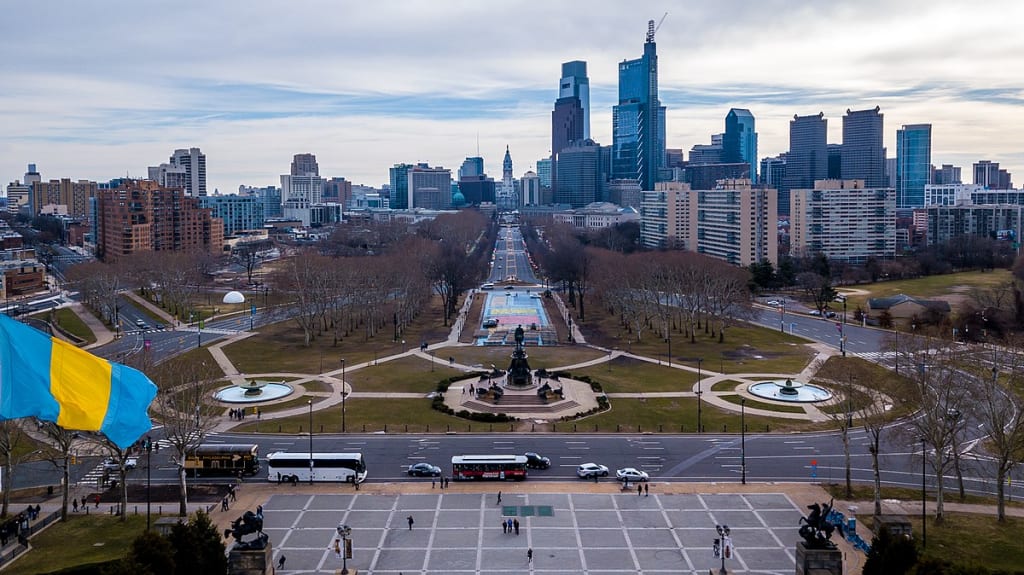 The cuisine of the city of Philadelphia in the US state of Pennsylvania developed through history, the arrival of immigrants and what ingredients were available. In the days gone by, city taverns were the main meeting places for politicians and businessmen in the 18th century, and two Philadelphia landmarks were created in the 19th century. They were the Reading Terminal Market and Italian market.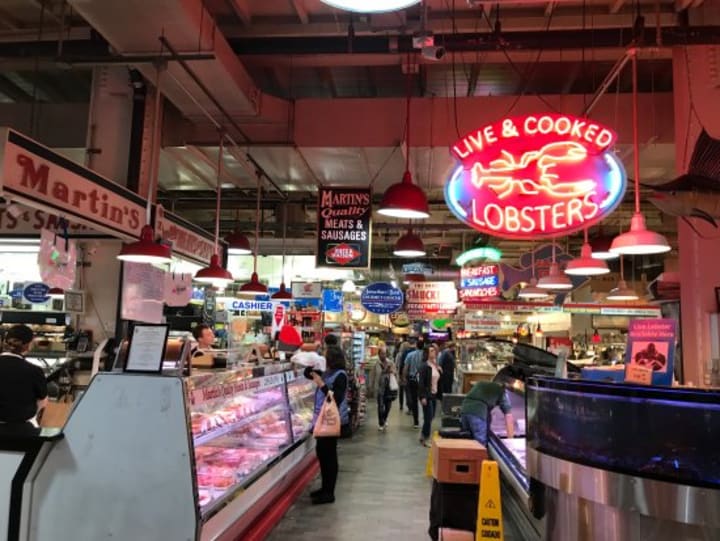 The Reading Terminal Market is an enclosed public market located at 12th and Arch Streets in downtown Philadelphia. Here, vendors sell fresh produce, meat, fish, groceries, ice cream, flowers, baked goods, crafts, books, clothing and specialty and ethnic food.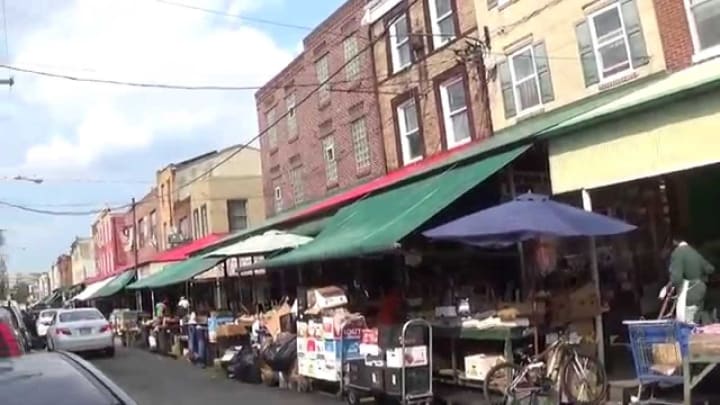 The Italian Market is the popular name for the South 9th Street Curb Market, which is an area of Philadelphia that features many grocery shops, cafes, restaurants, bakeries, cheese shops, butcher shops and so on many of them being of Italian origin. One of the dishes that was invented in Philadelphia in the 1930s was the cheesesteak, which is a well-known icon of the city, and soft pretzels have also become part of Philadelphia culture.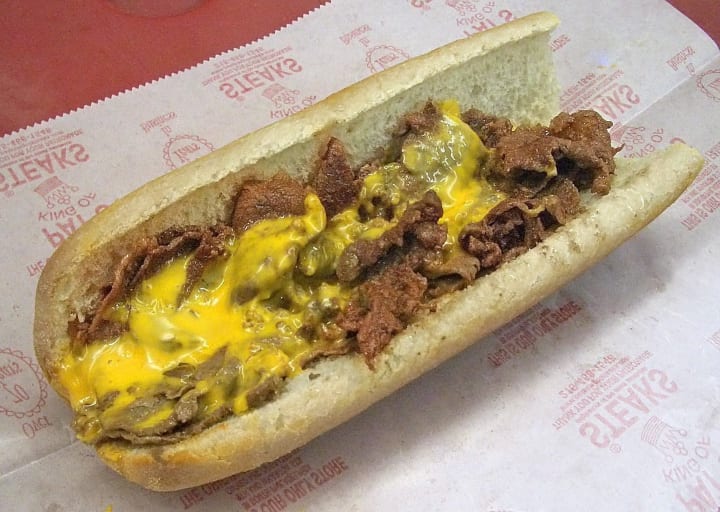 For a Philly cheesesteak, the most popular cheese topping continues to be Cheese Whiz (over American and Provolone cheeses). Cheese Whiz is a thick processed cheese sauce which is sold by Kraft Foods.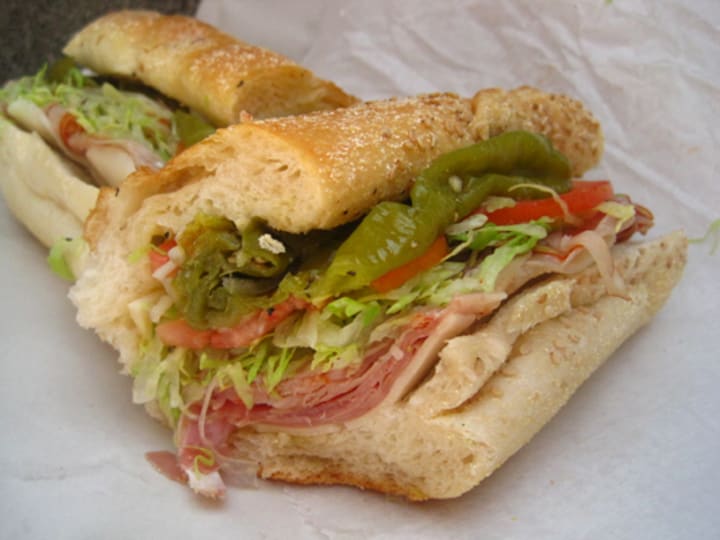 Another sandwich thought to have originated in Philadelphia is the hoagie. In 1992 it was declared the official sandwich of Philadelphia and it consists of meat, cheese, lettuce, tomatoes and onions on an Italian roll. There is also the roast pork Italian, which is made up of sliced roast pork with broccoli rabe or spinach and provolone cheese.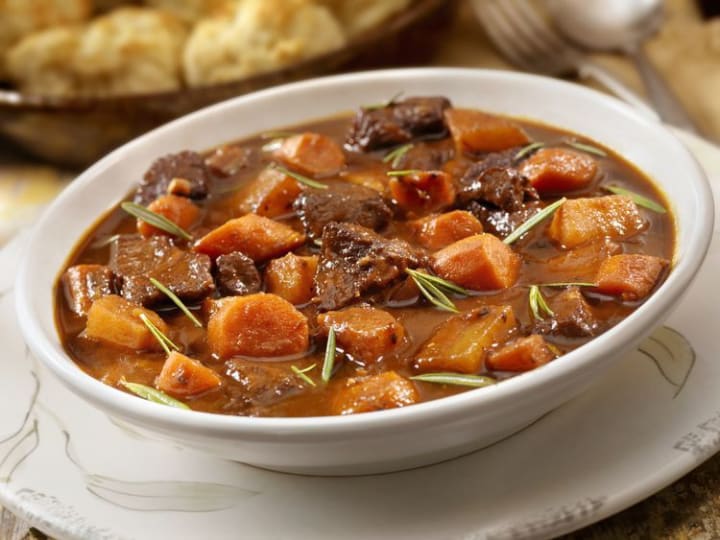 A soup which is said to have been created during the American Revolutionary War is the Philadelphia Pepper Pot. It is a thick, stew-like soup which consists of beef tripe, meat, vegetables, pepper and other seasonings.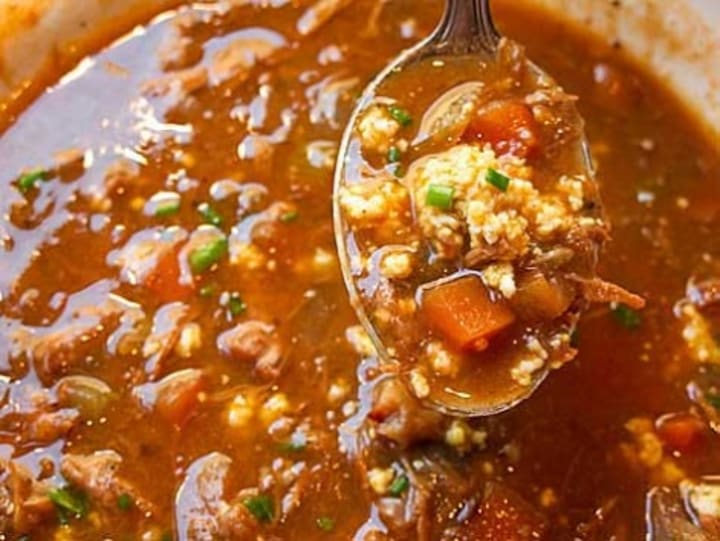 A delicacy of Philadelphia is Snapper Soup, a thick brown turtle soup served with sherry. It can be found in area bars and seafood restaurants. In a lot of places it is served with oyster crackers and horseradish.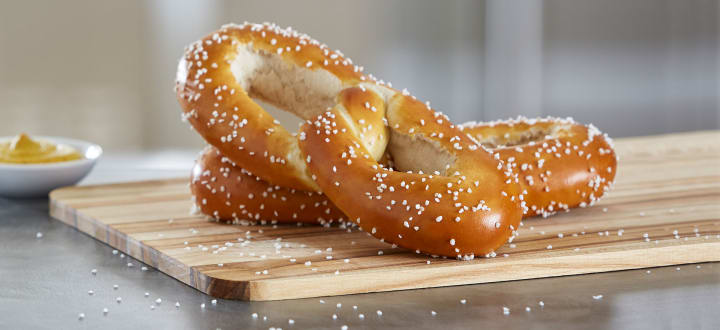 One of the other foods associated with Philadelphia dating back to 7th-century France is the soft pretzel. It was brought to the city by the Pennsylvania Dutch in Lancaster County, Pennsylvania. Vendors would sell it on street corners.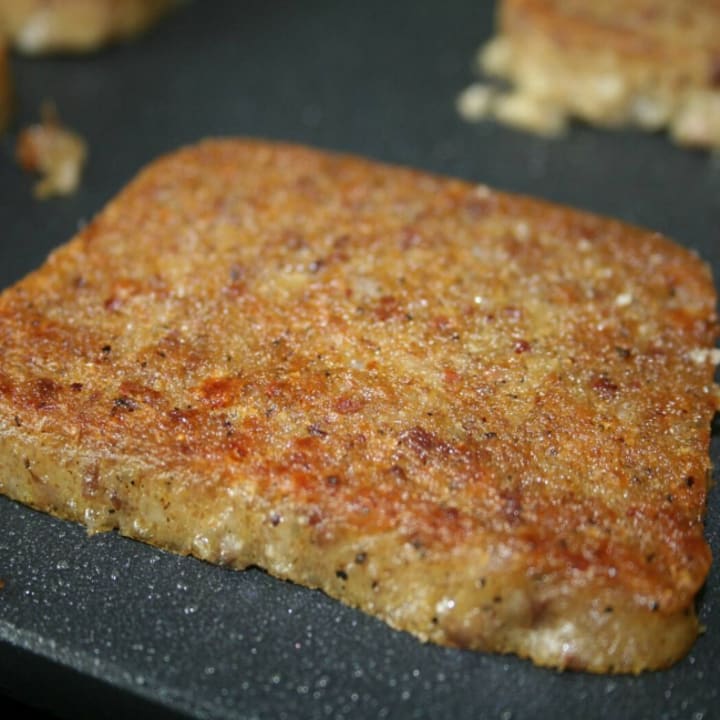 From the Pennsylvania Dutch also comes food such as scrapple. It is also known by the Pennsylvania Dutch name pon haus. Traditionally it is a mush of pork scraps and trimmings which have been combined with cornmeal and flour, often buckwheat flour and spices. It is then formed into a loaf and slices of the scrapple are pan-fried before serving. It is best known as a regional American food from the Mid-Atlantic states. Scrapple may be found in supermarkets in both fresh and frozen form.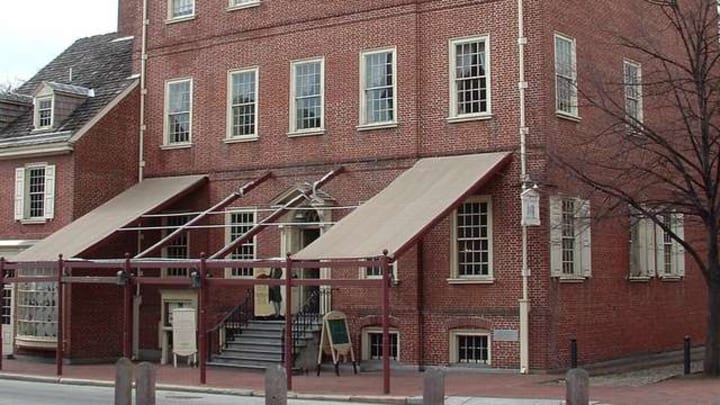 There were 120 licensed taverns and many illegal taverns in Philadelphia by 1752. These taverns ranged from being illegal grog shops which sailors frequented on the waterfront to upper-class taverns which served members of the city government. Some of the taverns that politicians and businessmen frequented were the London Coffee House, the Blue Anchor, Tun Tavern and John Biddle's Indian King. The most notable of these is Tun Tavern, as it is traditionally regarded as the site where the United States Marine Corps held their first recruitment drive. This tavern is also thought to be the "birthplace of Masonic teachings in America."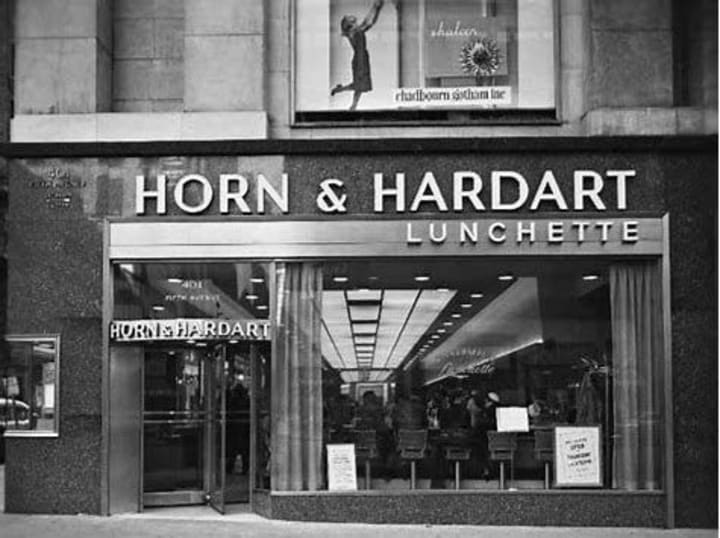 In the early 1880s, M. Latouche was one of the most significant restaurateurs and caterers specializing in French cuisine. Joseph Horn and Frank Hardart opened the first automat (a fast food restaurant where simple food and drink were served by coin-operated and bill operated vending machines) in the United States on Chestnut Street in 1902. The original Automat is now part of the Smithsonian Institution.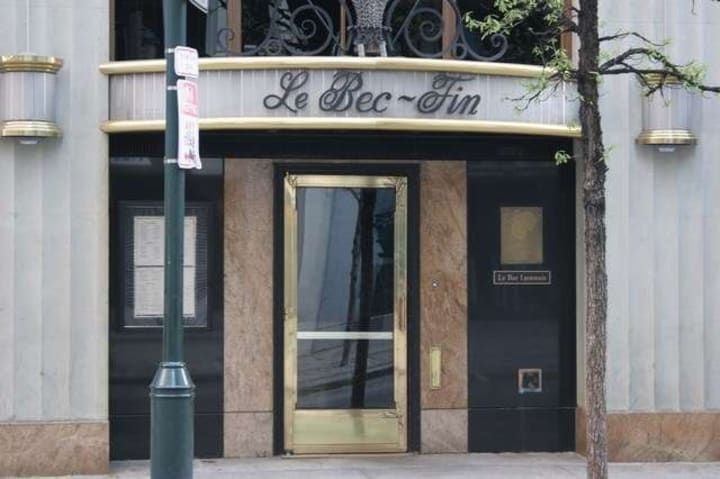 A large part of the residents of Philadelphia began moving to the suburbs in the 1950s and 1960s during which time there was a decline in the restaurant business. The only good dining to be had was in private clubs and at dinner parties. A restaurant renaissance came to Philadelphia in the 1970s. Le Panetiere a French restaurant was founded by George Perrier and Peter Von Starck in 1970. When they broke up their partnership, Von Starck took the Pantiere name to a different location and Perrier opened Le Bec-Fin, which became one of Philadelphia's most renowned restaurants at its original location at 13th and Spruce Streets.
There was also a rise in street vendors in the 1970s who sold a large variety of things including hot dogs, fresh fruit, hats and other clothing accessories. Since then vendors continue to sell their wares on the streets of Philadelphia.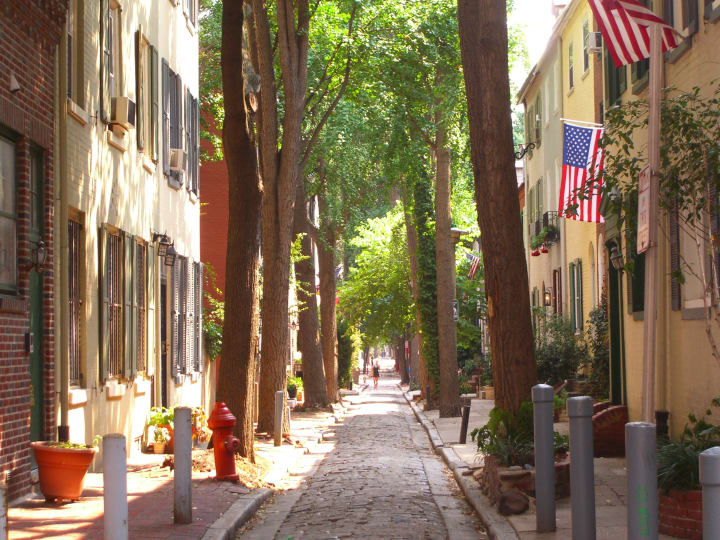 Other dining locations include the Old City, an area near the Delaware River. It is the place which was first settled by William Penn and the Quakers and has many of Philadelphia's historic sites and Chinatown, which has many Asian eateries. Dante and Luigi's, Paradiso, Le Vertu and the Victor Cafe are located in South Philadelphia. All of these restaurants serve Italian cuisine as Philadelphia has numerous Italian restaurants.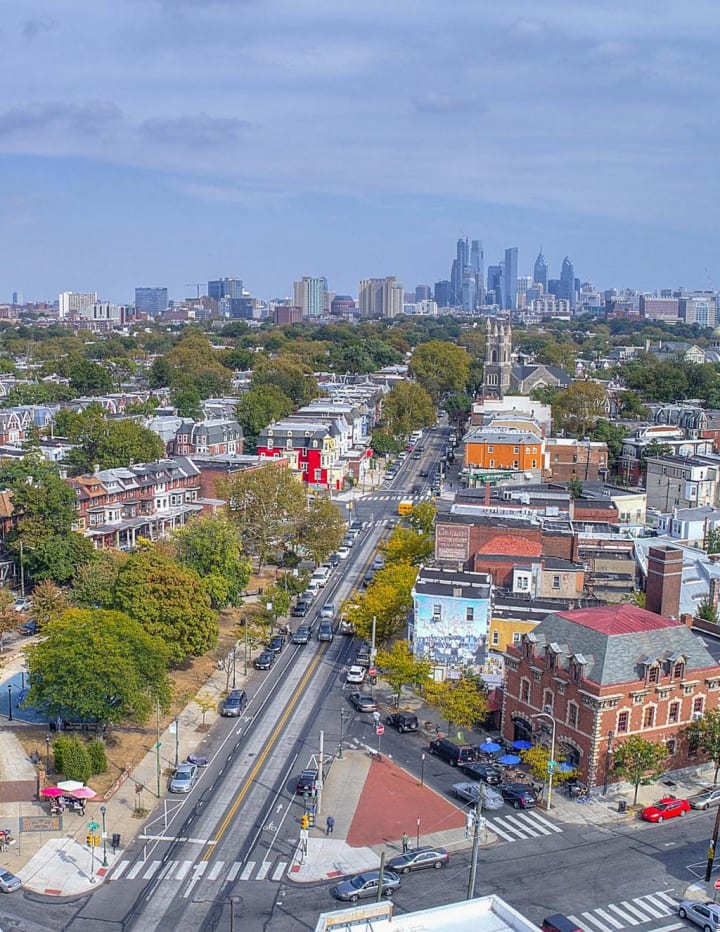 In University City (the easternmost region of West Philadelphia that is home to the University of Pennsylvania, Drexel University and the University of the Sciences in Philadelphia), you will find on Samson Row (a row of historic houses built from 1869 t0 1871) the following restaurants among others: La Terrasse (French), White Dog Cafe (contemporary American cuisine) and Pod (Asian). As of January 2007, Philadelphia has a smoking ban for restaurants and bars, and as of September 2007, a ban on trans fat in restaurants.
Other food and drink associated with Philadelphia: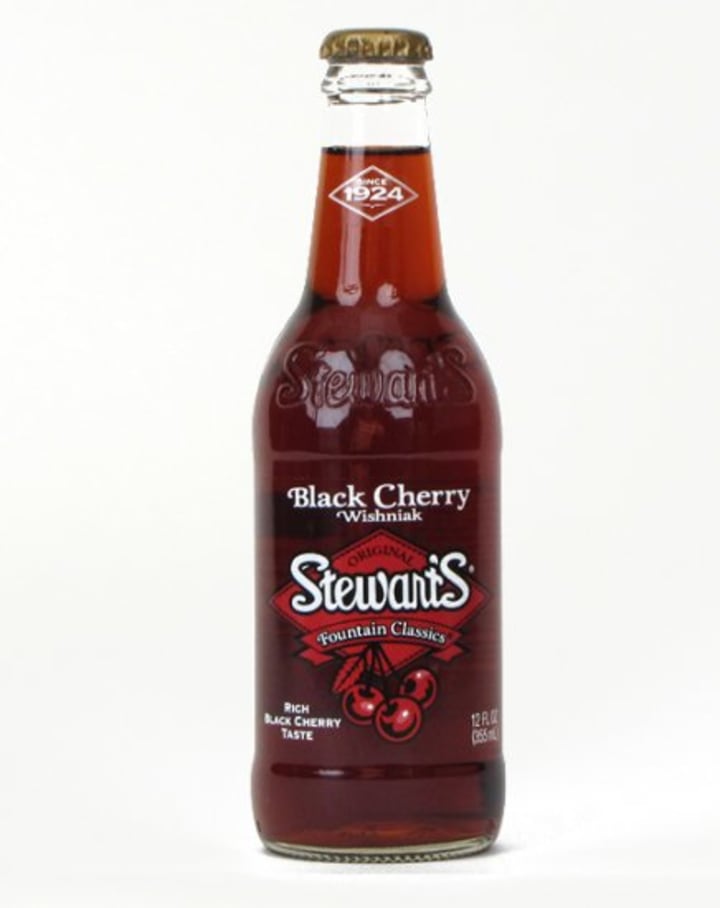 Black Cherry Wishniak—an old fashioned black-cherry soda.
Tastykake—The Tasty Baking Company has been making pre-packaged baked goods in Philadelphia since 1914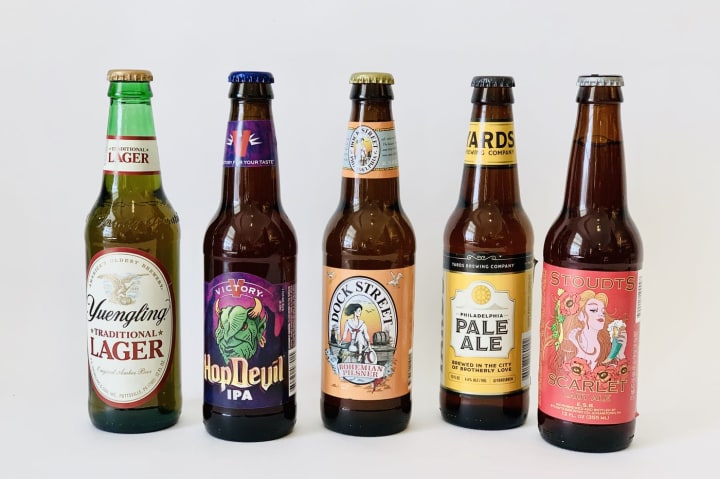 Beer—Colonials in Philadelphia started brewing beer from the very start. Philadelphia-style porter is known throughout the world. In the Northern Liberties section, a lager brewery was established in the 1840s. The beer that is most associated with Philadelphia now is Yuengling (the oldest operating brewing company in the US established in 1829) which is brewed in nearby Pottsville, PA. Some of the micro-breweries operating in and around the city are Yards, the Philadelphia Brewing Company, Sly Fox, Lion Brewery, Manayunk, Red Bell, Victory, Flying Fish and Nodding Head.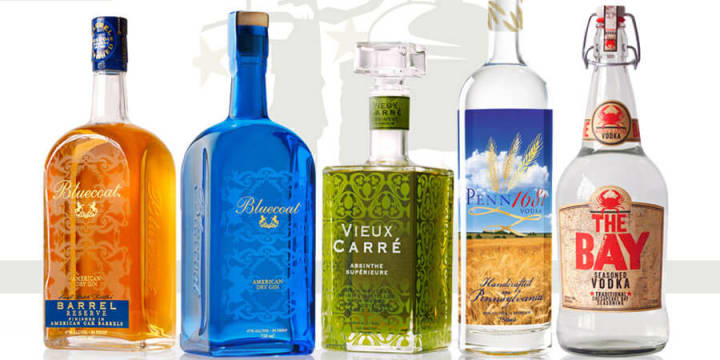 Spirits—Philadelphia Distilling is a distillery in East Falls, PA. which produces Bluecoat Gin (an aromatic gin which is derived from a "secret" blend of all certified organic botanicals including juniper berries, an American citrus peel selection, sweet orange and lemon peel), Penn 1681 Vodka (made from hand-selected organic rye) and Vieux Carre (the first legal absinthe to be distilled, bottled and sold on the east coast of the United States in nearly 100 years).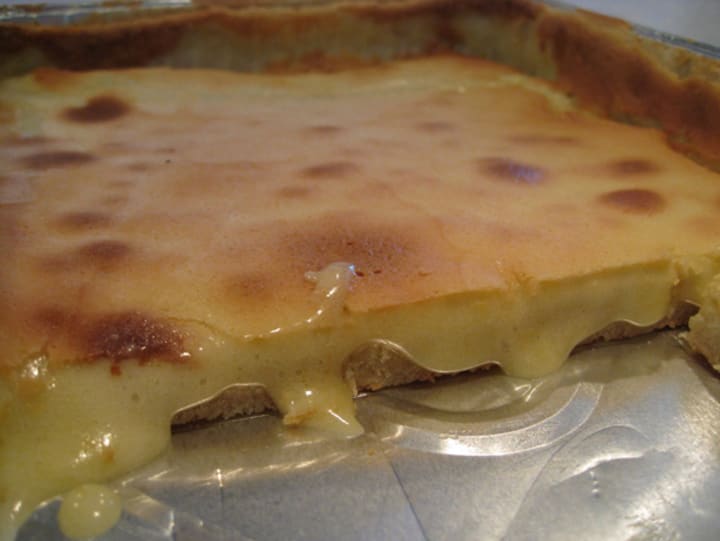 German Butter Cake — A type of pound cake that has a buttery, pudding-like center.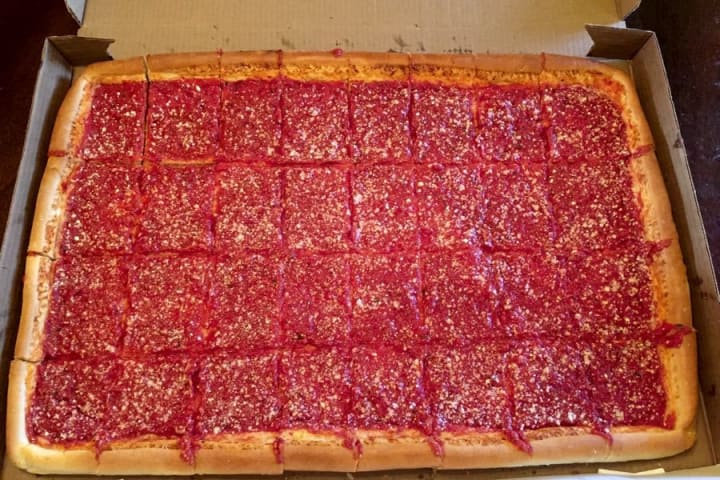 Tomato Pie—this is a cheese-less pizza two feet by three feet in size, with extra oregano. It is usually served cold or at room temperature. It is mostly found in the Northeast section of Philadelphia. The basic recipe the dough is made so that it is like a baked flat Italian bread on which tomato sauce is spread then sprinkled with grated Romano cheese. It is made similarly to Sicilian pizza in a large aluminum pan and served in square slices.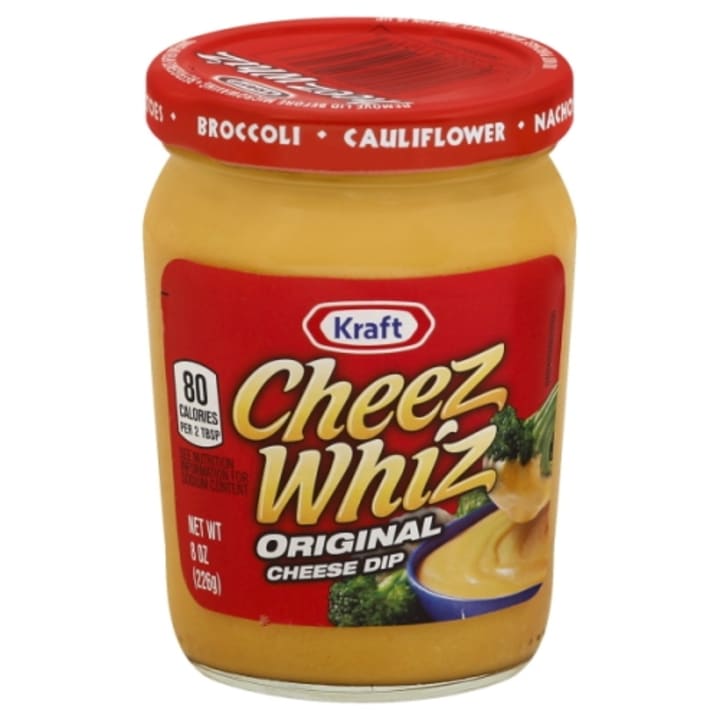 Cheeze Whiz—the cheese sauce Philadelphians put on such food as French fries, hot dogs, pretzels and of course, cheesesteak.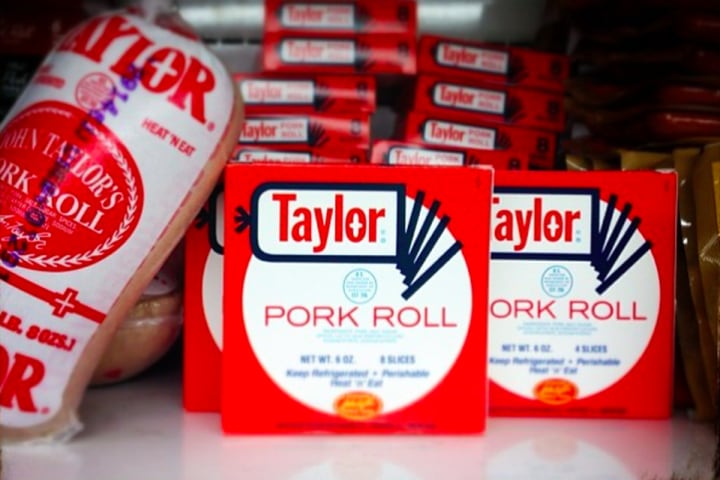 Pork Roll—it was developed in Trenton, New Jersey, but is considered to be a part of the Philadelphia culinary tradition. A sausage-like meat product which is eaten sliced and pan-fried or grilled.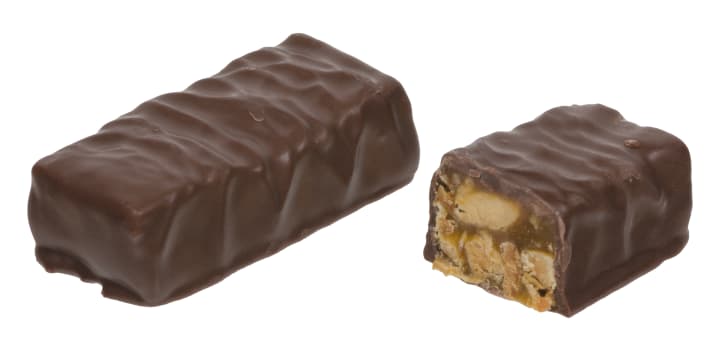 Peanut Chews—a popular candy which has been produced in the city since 1917.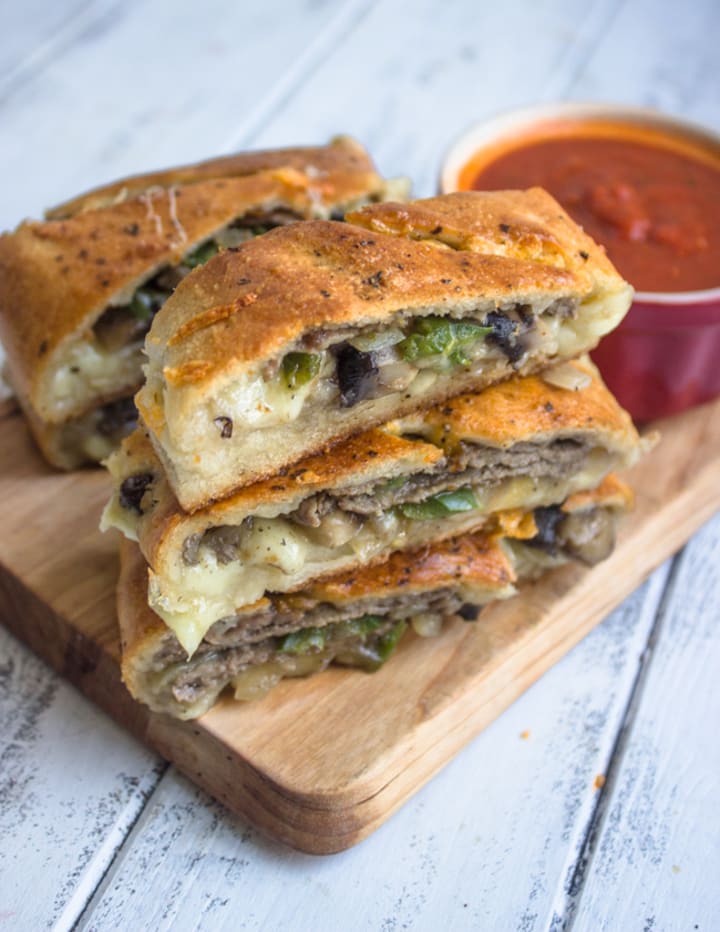 Stromboli—supposedly originated in Essington, Tinicum Township just outside of Philadelphia in 1950. A type of turnover made with Italian bread dough which is then filled with various kinds of cheese, Italian charcuterie or vegetables.