The Best Places for Breakfast, Lunch & Dinner in Calgary!
brought to you by a girl in a relationship always trying to find date ideas.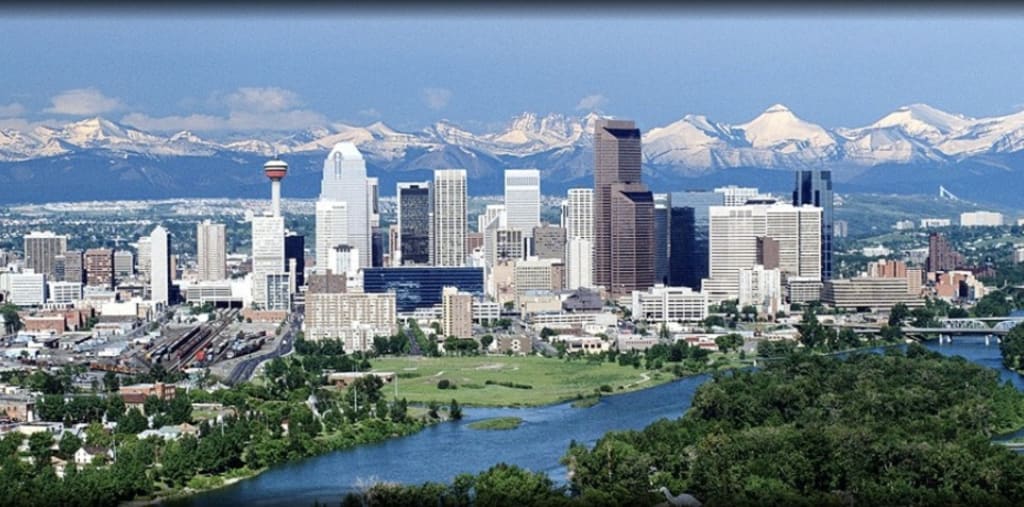 Being in a relationship, 75% of the activities executed, are eating out and finding new places to eat! I live in the country side of Calgary, so venturing in to the city for a new food venue is always an adventure, here are my findings!
I've not been able to put active links in but you can copy and paste the "links" I've included to visit the websites!
THE MOST IMPORTANT MEAL OF THE DAY: BREAKFAST!
1. OEB Breakfast Co
I first tried OEB in Vancouver, just to learn it was actually established in 2009 right here in Calgary! OEB described Calgary as "A Canadian city with big potential and small-town values," and this is just what OEB stands for. They practice farm-to-table classics, bringing you breakfasts that will keep you coming back for more. OEB is family friendly and provides a great, fun vibe for a casual Sunday breakfast, or early morning feul food. Their portions are great in size so you won't leave feeling hungry, and they offer a wide range of dishes. The staff are always friendly and you feel right at home at whichever OEB location you choose.
http://eatoeb.com/locations/calgary/?gclid=CjwKCAiA44LzBRB-EiwA-jJipKH9agLKPNp_H85RWn2B_P6wSo6u8VwTpAFtAasoUIN-fhQlx5VJKxoC62sQAvD_BwE
2. Monki Breakfastclub & Bistro
Located in the heart of Inglewood or Beltline downtown, Monki has such a cool vibe. Though pretty small in building size, their portions are filling and satisfying! With super friendly service, this cute little Bistro "does brunch differently!" putting creative twists on breakfast classics. Personally, I've only visited the Inglewood location but was very impressed with their collection of different hot sauces, labeled with heat intensity! From Chickpea Bowls, to Breakfast Perogies, to my personal favourite: Chocolate Waffles, Monki does not leave you dissapointed. A great date place for you and your spontaneous loved one.
https://www.monkibistro.ca
3. Ladybug and Cafe
One of my favourite cafe's by far. I've been eating at Ladybug since I was little, and their menu changes periodically but continues to get better and better! This French styled Cafe offers a wide variety of crepés as well as eggs benedict, waffles, breakfast burgers and more. The most aesthetically pleasing venue, with fresh flowers or decor in the center of every table. Watch your barista make your latté which always comes with a sweet design on the foam and dig in to the delicious flavours that Ladybug has to offer. With only one location on the South West end of Calgary, Ladybug has a homegrown and local vibe making you feel cozy and right at home.
https://www.facebook.com/ladybugandcafe/
LETS MOVE ON TO LUNCH!
4. Without Papers Pizza
Once again located in Inglewood (Can you tell they have great food?) Without Papers Pizza is an incredibly cool environment located on the top floor of a building, giving a pub like feel with chalk drawn menu's and old films being projected on the walls, PLUS live music! I've had the pleasure of playing a set at this lovely venue located on the "Music Mile" and enjoyed every moment of it! Their thin crust pizza's are great sizes and WPP also offers plates to share such as meatballs and assorted meats and cheese! Coming from someone who doesn't even like pizza, I personally approve every slice I've eaten from this great spot!
https://wopizza.ca
5. Broken Plate kitchen and bar
Broken Plate is a great greek themed restaurant with breakfast, lunch and dinner menus. Offering Mediterranean meals such as Souvlaki, Grilled Octopus, all kinds of pasta, Pilaf, and more, Broken Plate is a great family friendly or personal kind of vibe. Broken Plate offers private parties, catering and to go! Broken plate also has specials such as a daily happy hour, pasta nights, wednesday wine nights, friday + saturday steak nights and thursday date night!
https://www.brokenplate.ca
6. Crazy Weed (located in beautiful Kaninaskis Country)
If you're here in Calgary, whether you live here or are just visiting, a trip to our famous Rocky Mountains is a must. What better way to spend a lunch date than in the middle of Kaninaskis? Crazy Weed is a "fancy, not-so-fancy" dining experience founded in 1997. Their lunch hours are from 11:30am - 3:00pm and are closed on Mondays. Their menu consists of a wide variety including Burgers, Fish, Steak, Soup, Curry, Poke, and more. This is a great stop to make on your way to the mountains with a date, family or friends!
https://crazyweed.ca
SETTLE DOWN WITH DINNER!
7. Buffo Ristorante
Located in the Chinook Mall Shopping Center, attached to SAX 5th AVE, Buffo Ristorante is a beautifully rustic italian restaurant offering timeless dishes from pizza to pasta to homegrown meat. Their menu encourages sharing and provides many plates fit for a full table of friends or family. My personal reccomendation is the Mushroom Bruschetta and Duck Pizza! Have a fun and comfortable evening meal here at Buffo and hit the mall before or after if you'd like, you can also catch a movie just a few steps away at the mall cinema.
https://www.buffocalgary.com
8. Japanese Village
There are many different restaurants like this one around the city, but this is by far the best. A low light and high energy setting with chefs who love to entertain and make your birthday, anniversary, or celebration of any kind - a special and fun experience! You will not leave Japanese Village with an empty stomach, the servings are plentiful and cooked perfectly right in front of you offering different meats and vegtables paired with the most delicious sauces. Bring your friends, go on a date, meet your family, let your kids tag along and have a fun (and stomach) filled dinner at Japanese Village.
http://www.japanese-village.ca
9. Mercato (West)
Mercato and Italian Market is a dim lit industrial space showcasing Italian food. They are famous for their Fiorentina styled steak, Caprese salad and Tagliatelle pasta. Mercato West has two sides to their venue, the other being Pizzevino, the more casual and informal setting! The Pizzevino offers comfort food like pizza, pasta, salads, and a variety of wine choices straight from Italy's greatest wine producers. The servers on both sides of Mercato are so friendly, making you feel welcome and right at home. Better yet, when you fall in love with the perfect pastas, cheeses, olive oil and sauces you're serves, you can head over to their market and buy fresh ingredients for you to recreate your favourite meals at home!
http://www.mercatowest.com
So there you have it folks! 9 Calgary (and area) restaurants for breakfast, lunch and dinner leaving you wanting more. Thanks for stopping by and reading my findings on the taste of Calgary!
- Jennie Harluk