Summer By The Pool
The Best Way To Keep Cool In Summer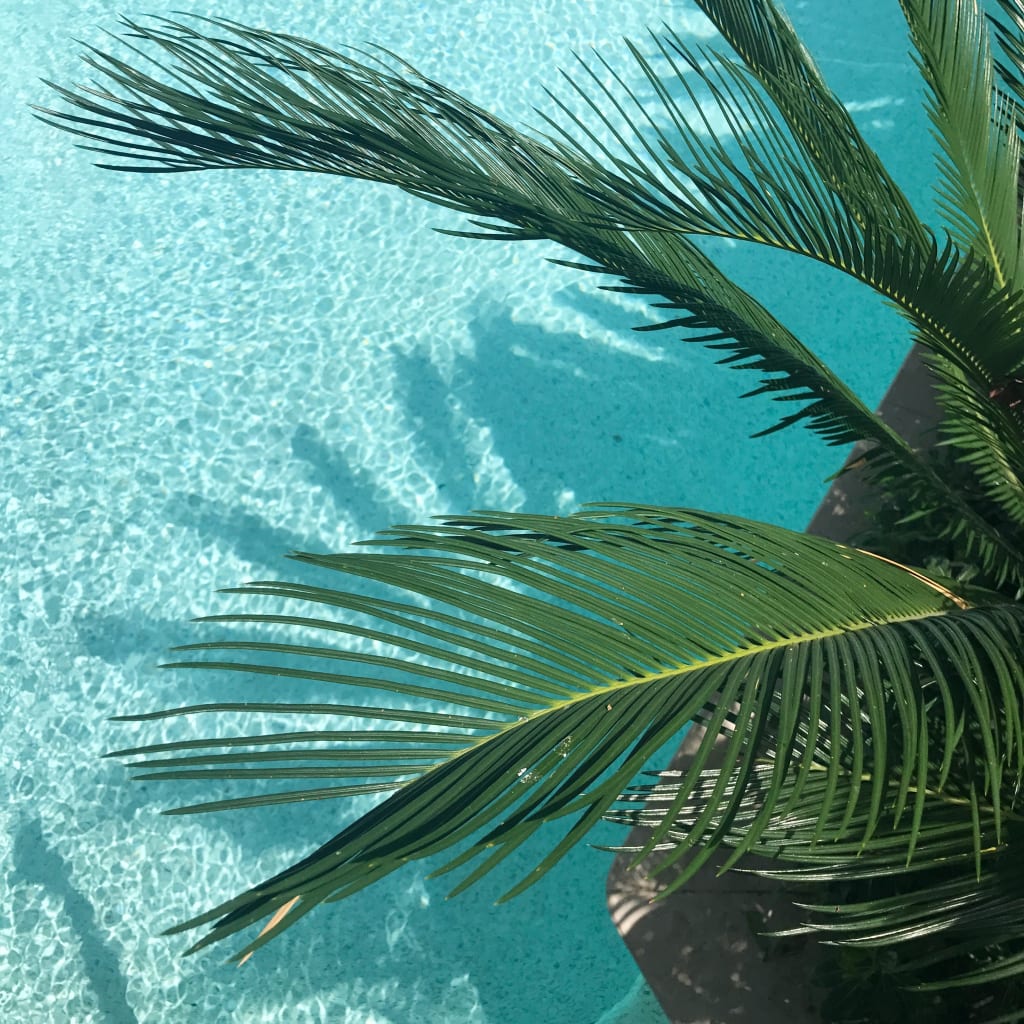 I let out a sigh as my feet dangled in the cool water. The sun was bearing down on me, creating beads of sweat along my forehead. I glanced up at the clear, blue sky and pulled my hat tighter around my head. The sun was strong and there wasn't a cloud in the sky. Perfection.
Summer was the best time of year. Bikinis every day, warm tans and beautiful long sunny days. It was hot but magical. Best of all, there was no school and no obligations. Just sweet summer freedom.
"Anna! The fruit is ready!"
I hurried to my feet as my mother's voice echoed towards the pool. Fruit was always a perfect addition to a hot summer's day. I loved icy poles, but they always melted so fast. Fruit was that refreshing kick you needed to cool you down.
I walked to our patio, hoping that my favourite fruit would be front and centre. My mother always bought it for me, but I always had a slight fear that it wouldn't be there. As I drew closer, a smile graced my face. It was there.
Pineapple
The best summer food. There is no other competition, the best food to eat in summer is pineapple. It's tangy and cold and so very juicy. I grinned as I bit into the pineapple slice, juice running down my fingers.
There was something so good and so refreshing about the juicy bitterness of pineapple. I loved the sweet and bitter taste that exploded in my mouth with each bite, and I adored the refreshing pineapple juice as it rehydrated me.
I was that weirdo that loved pineapple with absolutely everything. Pineapple ice cream, yes, please. Pineapple on burgers, hell yeah. Pineapple on pizza, get in my belly! Yes, yes, controversial opinion, I know. But pineapple definitely belongs on pizza.
My mom always cut the pineapple into large slices. They were perfect for biting and getting a huge chunk of pineapple. I was the only one if the family that loved pineapple so much. Everyone else loved melons. Not me, I'm not the biggest fan of melons. Give me pineapple any day!
I grabbed a small plate from our kitchen and quickly started piling the pineapple on. No one else would eat it, so it wasn't being greedy. Not exactly. My mother watched me in amusement, her eyebrows raised.
"I should have just made you your own plate," she giggled. "Honestly Anna, don't eat all the pineapple!"
"Who else will eat it?" I asked.
"Someone might like a piece if you don't take it all."
"I'll leave one piece," I replied, my voice muffled by the pineapple I'd just stuffed in my face.
She shook her head in disbelief. "Fine, fine. Don't worry about it. Just don't drop any pieces in the pool."
"I wouldn't waste pineapple like that!"
"And yet you dropped a piece in last time. Just be careful."
I nodded and carefully took my plate of pineapple back to the pool. I gently sat down and dangled my feet back in the water, happily devouring the pineapple. The juice continued to run down my arms and some drops fell into the pool. It wasn't pieces so mom wouldn't even know.
There was so much pineapple piled onto the plate. I frowned as the sun seemed to get hotter. It was almost suffocating and the fruit wasn't quite enough to cool me down as the sun smothered me in heat.
I smiled as I sucked the juice off my fingers. Pineapple. It is the best summer food. But, I knew a better way to eat it all. I dived into the water, feeling relief as the cool water washed over me and instantly cooled me down. I grabbed the plate of pineapple and sat down on the lower pool steps. I needed to cool down and there was no better way than sitting in the pool eating juicy, delicious pineapple.
fact or fiction
About the author
I'm studying my Masters in Creative Writing and love to write! My goal is to become a published author someday soon!
I have a blog at emilieturner.com and I'll keep posting here to satisfy my writing needs!
Reader insights
Be the first to share your insights about this piece.
Add your insights