Snoop Dogg Reveals Plans for a Bored Ape Pastry Shop
bored ape can not be stopped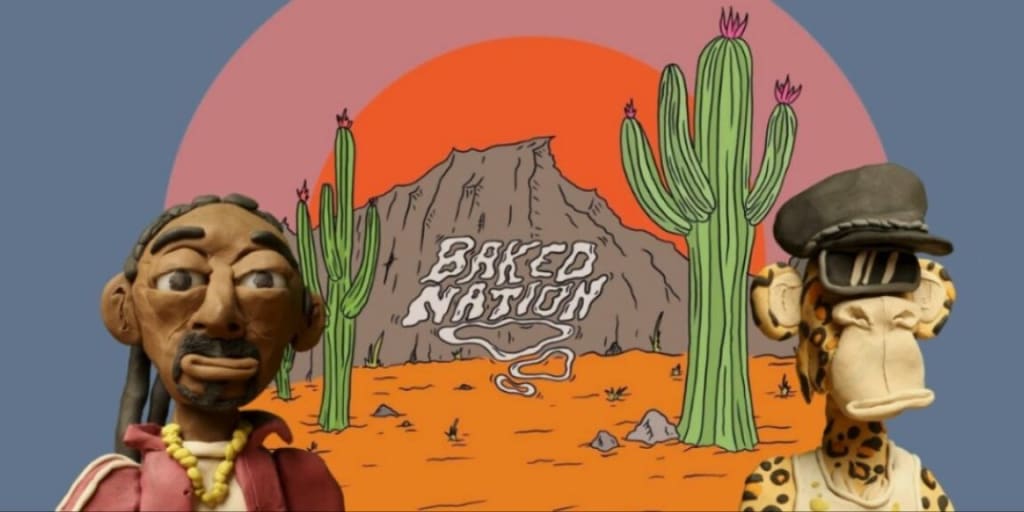 Snoop Dogg announced on June 2nd that his favorite Bored Ape will be front and center in a new LA-based dessert shop.
In collaboration with Food Fighters Universe, "The Doggfather" will create a Bored Ape pastry shop called "Dr.Bombay's Delectable Exploration."
Snoop Dogg formally announced his collaboration on this new BAYC eatery in a recent tweet on Food Fighters Universe's page.
in this new video, he wears a hat and a T-shirt with the words "Bombay" (aka Bored Ape #6723). click here.
Snoop Dogg made no mention of an opening date or menu items in his most recent announcement.
Food Fighters Universe, on the other hand, says it will release special NFTs that may be linked to a rewards program or in-store perks.
Cordell Broadus, Snoop Dogg's son, is also collaborating with Food Fighters Universe to make Dr. Bombay's a reality.
Broadus has stated in recent interviews that he believes Web3 technologies such as NFTs will be the "future of the restaurant industry."
Interestingly, Andy Nguyen from Food Fighters Universe has prior experience building a successful Bored Ape restaurant.
Nguyen opened "Bored & Hungry," a BAYC burger joint, a few months ago. Nguyen paid $267,000 to use Bored Ape #6184 in his store's decor before opening this LA-based restaurant.
Will Yuga Labs be involved in the construction of Dr. Bombay's?
Despite the fact that Yuga Labs created the 10K Bored Ape Yacht Club collection, NFT is granted to owners of full intellectual property rights to their avatars
As a result, Snoop Dogg and Andy Nguyen are free to use their apes in logos, merchandise, and branding.
One of the primary reasons investors and entrepreneurs purchase a Bored Ape NFT is to benefit from its valuable intellectual property.
Because the Bored Ape Yacht Club is the most popular NFT project, using one of these avatars can quickly capture the attention of a customer.
Dozens of other companies have begun to use the BAYC's intellectual property to promote everything from beauty products to beverages. For example, the Miami club E11EVEN spent $400,000 to acquire and market Bored Ape #11.
Universal Music also purchased Bored Ape #5537 for its band "KINGSHIP."
There are also numerous spirits brands that have begun to use a Their official mascot is a bored ape.
In fact, Happy Dad Hard Seltzer executives recently informed Snoop Dogg that they are working on a banana seltzer with Bored Ape #8928.
Bored Apes have also been used in marketing campaigns by Siempre Tequila and Monkey Shoulder.
So, even if Yuga Labs didn't "sign off" on these ventures, it's perfectly legal for an NFT holder to use a Bored Ape to boost their brand.
Bored & Hungry follows in the footsteps of the upcoming dessert shop. It has branding and decor inspired by the restaurant's creators' Bored Ape and Mutant Ape Yacht Club NFTs, as Decrypt discovered when visiting the eatery in April. Food Fighters Universe intends to launch its own NFTs that will provide various benefits in the vicinity of its restaurants.
Snoop Dogg is already well-established in the NFT industry. He is the owner of the Bored Ape Yacht Club NFTs and has worked on projects such as The Sandbox on Ethereum and Clay Nation on Cardano. He also made NFTs based on the popular Nyan Cat meme.
The rapper also claims to be Cozomo de' Medici, a pseudonymous Crypto Twitter personality and NFT collector with a multi-million-dollar collection of CryptoPunks, Art Blocks, and XCOPY pieces. Snoop's son, Cordell Broadus, goes by the Twitter handle Champ Medici and is also involved in the restaurant venture.
"Food Fighters Universe is bridging food and Web3 and blazing a trail with real-life utility for NFTs," Cordell said in a statement. "It's the restaurant industry's future, and my father and I are thrilled to join the team and use their expertise to bring Dr. Bombay to life."
celebrities
About the author
welcome to our page. we feel that we have a ministry for writing stories about wellness, veganism, healthylife style and fitness and hopefully it inspires you.
Thank you and happy reading!
check our linktree
https://linktr.ee/healthysecrets3
Reader insights
Be the first to share your insights about this piece.
Add your insights