SKEP – Fruit Routes Summer 2018
Putting Your Head in a Beehive to Consider Food Production, Consumption, and Climate Change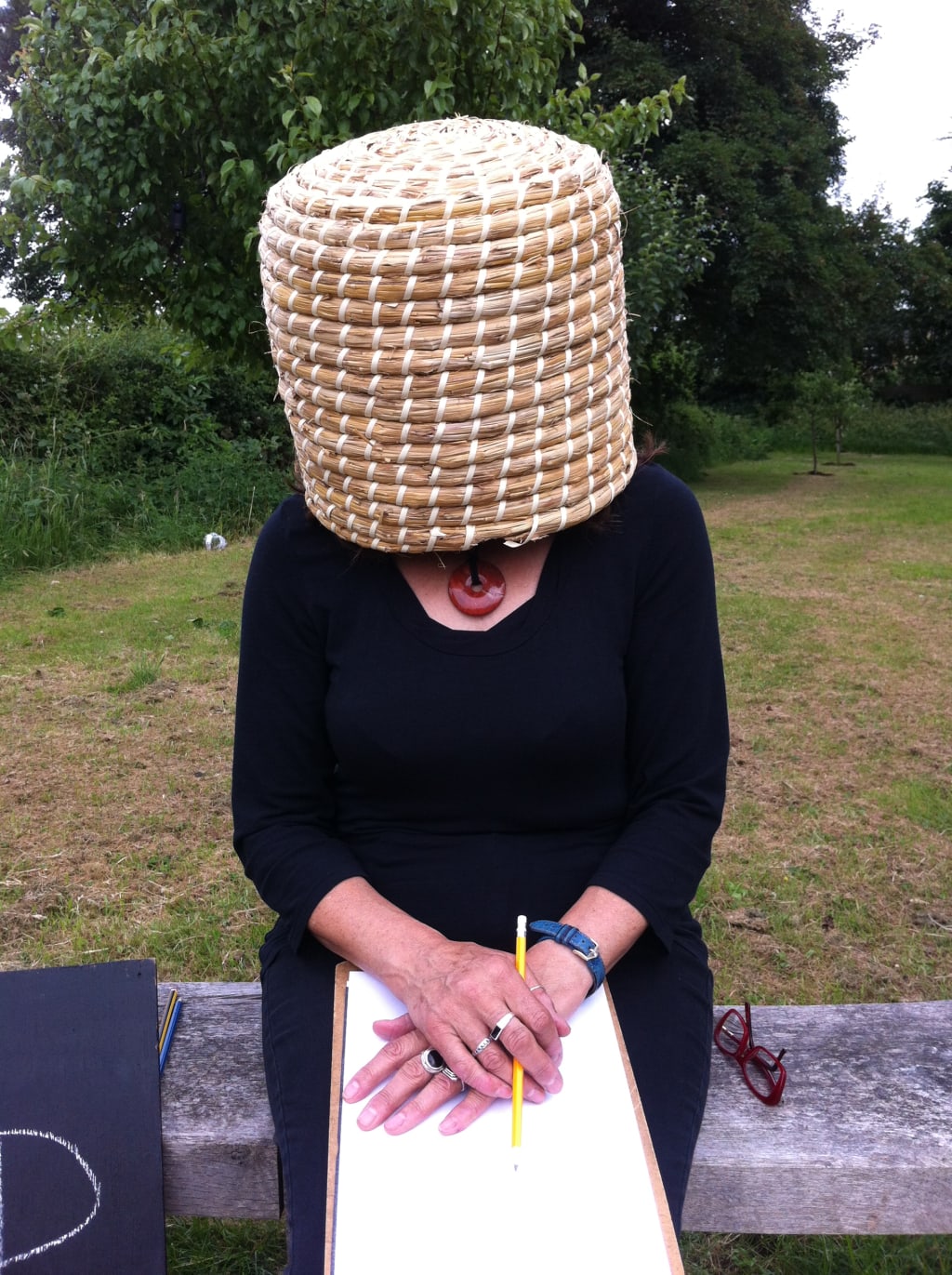 SKEP: Artists Anne-Marie Culhane and Paul Conneally encourage the public to put their heads in a beehive.
Fruit Routes, June 2018 at Loughborough University in the U.K., was three days of events created and curated by artists and food activists Anne-Marie Culhane & Paul Conneally around food systems, food production, eating together, growing, and climate change. Fruit Routes always has a feast built into it, sometimes more than one; this year it was a Wild Tea Party called 'In Your Hands' where foraged nettle and sage tea was drunk followed by tasseography, a reading of the tea leaves.
Fruit Routes was conceived by Anne-Marie Culhane back in 2010. The vision of Fruit Routes is to plant food-bearing trees including apple, pear, cherry, plum, nut trees, and edible plants along footpaths and cycle paths across the university campus creating a spring snowfall of blossoms and an autumnal abundance of fresh fruits and berries for harvesting, foraging, eating, and distributing.
Fruit Routes has a simple slogan or message at its heart, although it addresses many complicated issues around food growing, production, and consumption. The slogan at the heart of Fruit Routes is:
EAT YOUR CAMPUS.
This can be applied to any other space or place: Eat Your Park, Eat Your Street, Eat Your Town...
Different varieties of pears, plums, damsons, greengages, hazels, almonds, apples, and hedgerow species suited to the local environment — and the changing climate — have been planted and are cared for by people who live, work, and pass through these places providing an annual feast celebrated at harvest time.
Fruit Routes provide an enriched habitat for people, plants, insects, and animals, as well as a location for cultural activities and outdoor learning. The project has become a great example of a Living Lab project with partnerships in the University's Design School, School of the Arts, and Architecture Schools. This puts food and consideration of its production, growing, preparation, along with climate change and sustainability, into departments that have not traditionally seen food as part of their core work. More partnerships are currently being explored.
This project is funded by the University Landscape Master Plan in line with the Biodiversity Action Plan and is managed by the Sustainability Manager at Loughborough University working with project founder artist Anne-Marie Culhane. The project began life as a proposal for the university's Building Green season in 2010.
The Guardian Higher Education Sustainability Award was given to the Fruit Routes 'Eat Your Campus' project, and Eat Your Campus was also featured in the 2017 Green Gowns finalist awards and a facilitated workshop at the 2013 EAUC Conference.
This year saw the production of a Fruit Routes recipe book, which has been launched locally in Loughborough, but negotiations are also underway for a national and international launch of the little book which has already gained much praise.
So where does putting your head in a beehive fit in? As part of their artistic practice, Culhane & Conneally are constantly looking for new ways to engage people with the many existing and emerging convoluted issues around food production, food systems, and foraging. Their works encourage people to examine how our actions as consumers, growers and producers of food affect the environment and our subsequent capacity to feed the world whilst at the same time protecting it, making it sustainable for future generations.
A skep is a traditional European beehive. For many hundreds of years, these structures, woven out of corn, willow and other plant materials, were the engines of honey production across the U.K. and Europe. Some are still used, but modern hives predominate. A skep will often still be used by beekeepers to collect swarms from people's gardens or other public places. Honey is now produced along the Fruit Route at Loughborough University and sold to the public.
Conneally explains that their participatory performance art piece, SKEP, reaches back in English folklore to a time when if someone in a village died or when there was conflict people would walk down to the beehives and tell their troubles to the bees. The bees also could help in taking the spirit of the dead from this life into another. The bees helped 'crossovers' take place, including perhaps the mediation of village, or personal and mental conflicts, too. Connecting with the concept of 'hive mind' is also central to SKEP.
During Fruit Routes, members of the public are invited to place a skep on their head and share the thoughts and images that come to them by writing and drawing, almost automatically, on a pieces of paper that they can only feel, not see. They are gently guided by the artists to place the skep on their head and to relax and then consider issues around food production, food systems, and climate change that they've met during their time at Fruit Routes but also any personal issues that rise in their mind, their now 'hive mind', as they sit, head enclosed in the woven straw beehive. They are encouraged to write or draw only when they feel spiritually moved to do so. Their writing and drawings are captured by the artists on a carbon copy of their pencilled scratchings below the paper that they actually write on. This carbon copy becomes overwritten with subsequent visitors to SKEP. The carbon copied overwritten paper becomes a record of the 'hive mind' thoughts and an artwork in itself. Each participant takes home with them their own writing, their thoughts conjured up by time in the hive.
"Being inside the skep is at first strange, but also quietly comforting as the noise from people and surroundings becomes muted and you become aware of your breathing and thoughts," says Conneally.
Of the many people invited to participate in SKEP II by Culhane & Conneally, only a few refused, feeling that they would feel too enclosed or even silly if they did so. Those that took the plunge and put the beehive on their head reported finding the experience disorienting and focussing at the same time, even comforting.
Watch out for new iterations of SKEP in an orchard, allotment, shopping centre, or gallery near you and put your head in the hive; you might just enjoy it!
Fruit Routes Recipe Book
'Climate Change' - Culhane & Conneally 2018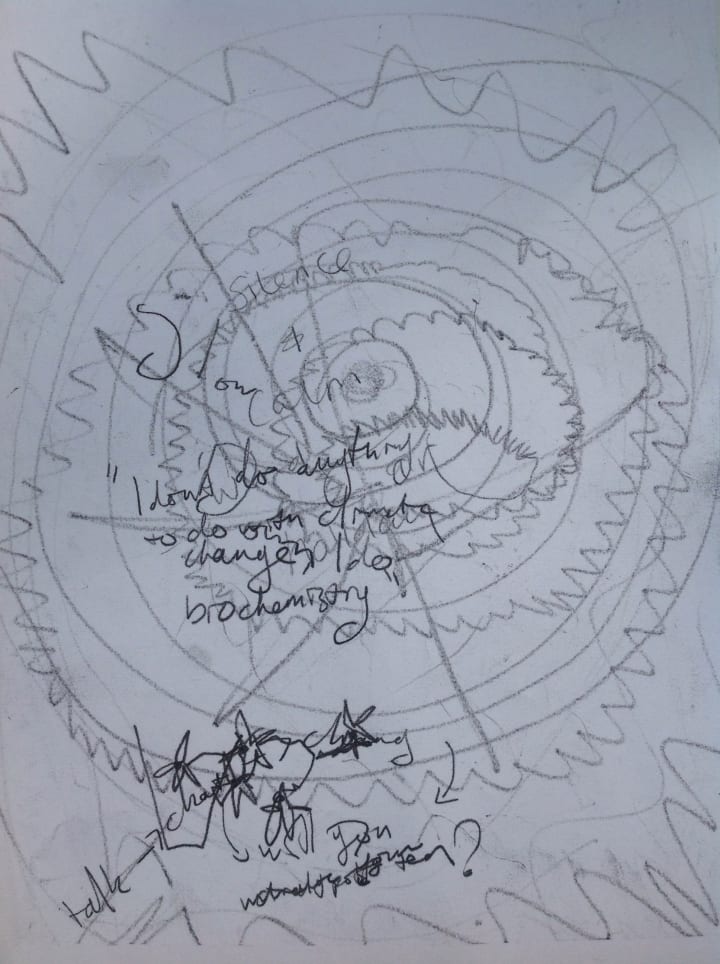 About the Creator
Paul Conneally is a Cultural Forager, poet and artist.
He writes on culture in its widest sense from art to politics, music and science and all points between.
His Twitter handle is @littleonion and on Instagram he is @little___onion
Reader insights
Be the first to share your insights about this piece.
Add your insights