Scones
Thought of and in the oven in 15 minutes!
My grandmother was a wise woman. She had many sayings, among them "if you can't say anything nice, don't say anything at all" and this one:
"scones should be thought of and in the oven in 15 minutes."
Comfort Food
I love a scone. Scones would have to be the most easily prepared and accessible comfort food. They bring to mind afternoon teas around my grandmother's kitchen table. The bowl of thick cream and a dish of raspberry jam would greet my sister and me when we came home from school. Sometimes they would be cheese scones with golden crispy cheese tops and cut chives mixed through them.
They were always hot and fresh and plentiful. They were accompanied by hot milk or milo, making my heart sing.
I lost my mother at the age of 5 and spent some time living with my paternal grandmother, Margey. My mother passed away suddenly, and my father found himself emotionally unable to care for us for a time.
The foods that I was served during this time of loss and mourning are the foods that I remember and associate with love, comfort and warmth. Milk arrowroot biscuits with slabs of butter, homemade ice cream and warm stews served with bread and mashed potatoes. Scones are something that I have carried through to adulthood, motherhood and now grandmother-hood.
When friends say they are dropping by, I will often make a batch of scones. They are easy, and I always have the ingredients on hand.
So just what is a scone?
The humble scone is a baked good usually consisting of flour, butter and milk with a raising agent such as baking powder. There are many items you can add to a scone.
The scone is the basis of a cream tea, sometimes called the Devonshire Tea and is thought to have originated from Scotland as the sgoon as early as 1513. It could also have been derived from the Dutch schoonbrood (Spoonbread), a Dutch quick bread. There was also a German schone which meant fine bread. It is thought that the combination of all these different quick breads culminated into the "scone" that we know today.
Traditionally the scone was a flatbread as round and flat as a dinner plate, cooked on a griddle and served in triangular sections. When baking powder became available to the masses, the scone took on the size and shape we know today.
British scones are slightly sweetened and can include raisins, dates, cheese or currants. In Scotland and Ireland, the scones were also prepared using potato flour, sometimes referred to as "tattie scones". Potato scones are served fried as the basis for a full cooked Scottish breakfast.
Other common varieties include the drop scone and the lemonade scone, made with lemonade and cream instead of milk and butter. The savoury scone can have such additions as cheese, onion and bacon.
Australia has the pumpkin scone, made famous by the premier of Queensland's wife Flo Bjelke-Peterson in the 1980s, A fantastic and New Zealand loves a cheese scone.
Cheese Scones (a favourite with the Kiwis)
Pumpkin Scones
So how do I say it?
There are two pronunciations of the word scone. Scone rhyming with cone. This pronunciation is most common in the Midlands and Southern Ireland. Whereas scone rhyming with gone is more prominent in Northern England and Scotland. This little poem alludes to the different pronunciations of the word.
"I asked the maid in a dulcet tone

To order me a buttered scone;

The silly girl has been and gone

And ordered me a buttered scone."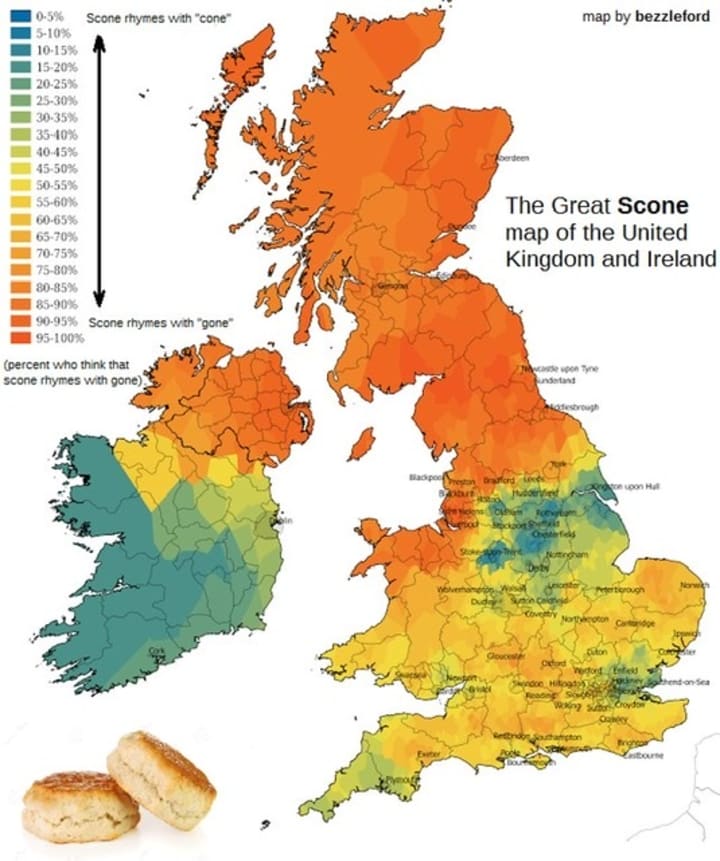 My Scone Recipe
Let's return once again to my grandmother's saying. "Scones should be thought of and in the oven in 15 minutes". Providing you have the ingredients, this is indeed the best way to approach scones.
The ingredients are simple:
3 cups of self-raising flour
80g of butter (chilled and cubed)
1.25 cups of milk
The preparation is quick:
Heat oven to 220 C
Place four in a large bowl
Add the butter cubes and rub into the flour until it resembles bread crumbs
Pour in the milk and bring the mixture together using a bread and butter knife.
Don't handle the mixture too much.
Turn onto a floured surface and roll lightly to a thickness of around 4 cm
Cut roughly into squares of around 5cm square
Place on a floured tray or baking sheet for 10 minutes or until risen and golden on top.
Serve with jam and cream
My grandmother always said that it would be ruined if you handled scone dough too much, hence the stirring or mixing with a bread knife.
I have returned to baking comfort foods such as bread and scones during the current restrictions, and I have also recalled many fond memories of my grandmother and her excellent advice.
There is nothing like the smell of freshly baked scones, and there is nothing like biting into a scone smothered in jam and fresh whipped or clotted cream to make the heart feel warm.
Enjoy!
humanity
About the author
Freelance writer, amateur photographer, occasional performer of personal stories @Barefaced Stories. Lover of nature, music and art. I write content and copy for small businesses and teach part time in Perth, Western Australia
Reader insights
Be the first to share your insights about this piece.
Add your insights