Persimmon Patience
How Hachiya Persimmons "Reinforce" Patience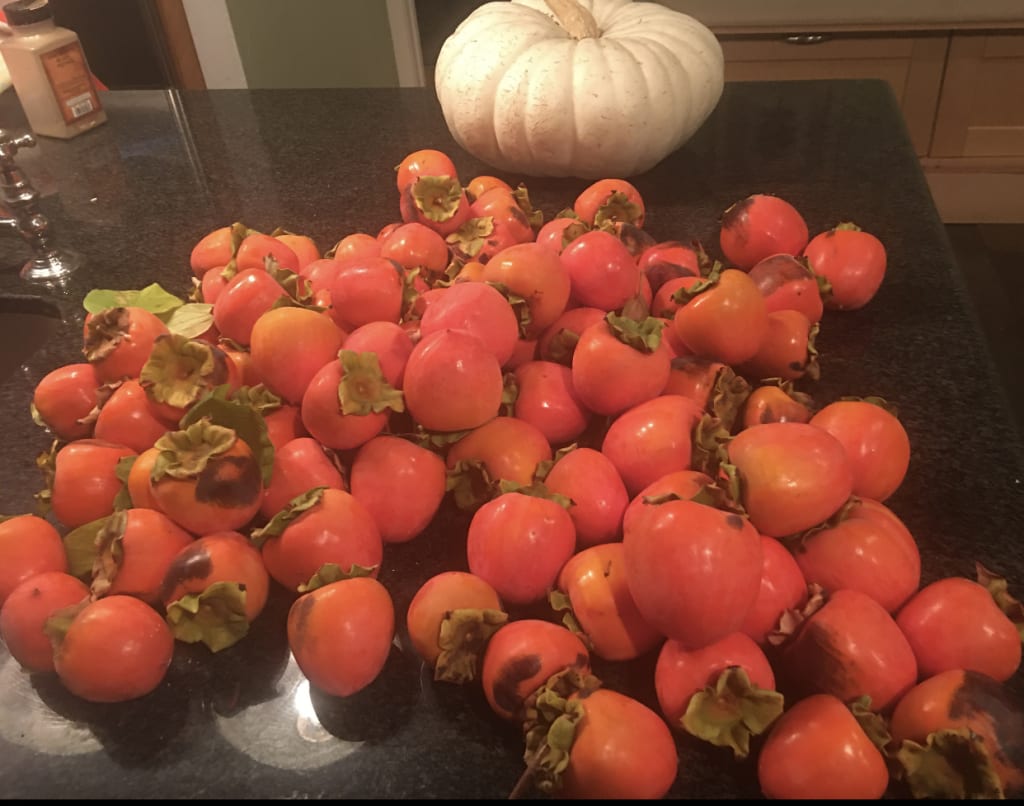 Autumnal Cornucopia
The pandemic put much on hold. However, Ma Nature continued doing her thing with or without humans. In fall, my friend's persimmon tree pumped out a bumper crop.
She dropped off Hachiya persimmons at my doorstep, and this gave me both a crisis and opportunity. What was I going to do with this much fruit? I thought of giving it away to other friends, but then I realized it was a learning moment. I figured it would be a kinder gesture to share the results of my experimentation.
Deprived of face-to-face human interaction, I tried learning about cultures through cuisine. My imaginary travel took me back in time to Japan and back to California.
Originally, the Hoshigaki method was used to preserve the Hachiyas for the lean winter season. It was brought to the US from Japan in the 19th Century. The persimmons took to the California terrain thanks to the nurture and care by diligent Japanese immigrants.
Persimmons are prolific in Japan and now also in the Western US. The two main varieties are the Hachiya and Fuyu.
The pointy- ended one is the Hachiya persimmon. When raw, it's uncomfortably astringent. This is due to high concentration of tannin, but upon ripening, the astringency disappears leaving behind intense sweetness. It seems to have an all or nothing personality!
Personally and going by account of several others, I find it a bit too sweet when ripe. I enjoy it immensely in small amounts. Due to this this reason, the pulp works beautifully as a sugar substitute in desserts.
The Fuyu variety has a rounded tip and a crunchy sweetness. Picked ripe, this variety can easily be eaten with delight immediately.
While I waited for the Hachiyas to soften, I used them to decorate the table. The orange color in fall gave a warmth and sense of abundance. Though inedible at this point, they looked simply gorgeous.
I had time on my hands for ample reflection. The Hachiya persimmon to me conveys the idea that life is both astringent and sweet. Ripening takes time and with it comes sweetness. The astringency disappears completely, and the fruit becomes soft and squishy. At this point, it can be used for baking cookies and cake as a sweetener. It has a very subtle flavor and creates a delicious moisture in the baked items.
The Japanese method of Hoshigaki or naturally drying the astrigent Hachiya persimmons is most intriguing. It takes weeks for the fruit to dehydrate, but the result is a sweet fruit chew. I decided to test my patience with this technique.
It's important to follow these guidelines.
Here's a quick reference.
1. When you pick the fruit, make sure to leave a stem.
2. Wash, trim the tops and peel all over. Remove the leafy calyx but retain stem.
3. Dunk for 10 seconds in hot water to prevent mold.
4. Tie stem with kitchen tie. Use one string for two persimmons.
5. Hang near window (preferable to have ventilation and light now and then).
6. Leave them alone for a few days
7. After 8-10 days, start gently massaging to remove any lumps.
8. Watch for mold, and to prevent this, you could spritz with cider vinegar or vodka and ventilate.
9. Let cure for a few more weeks and enjoy!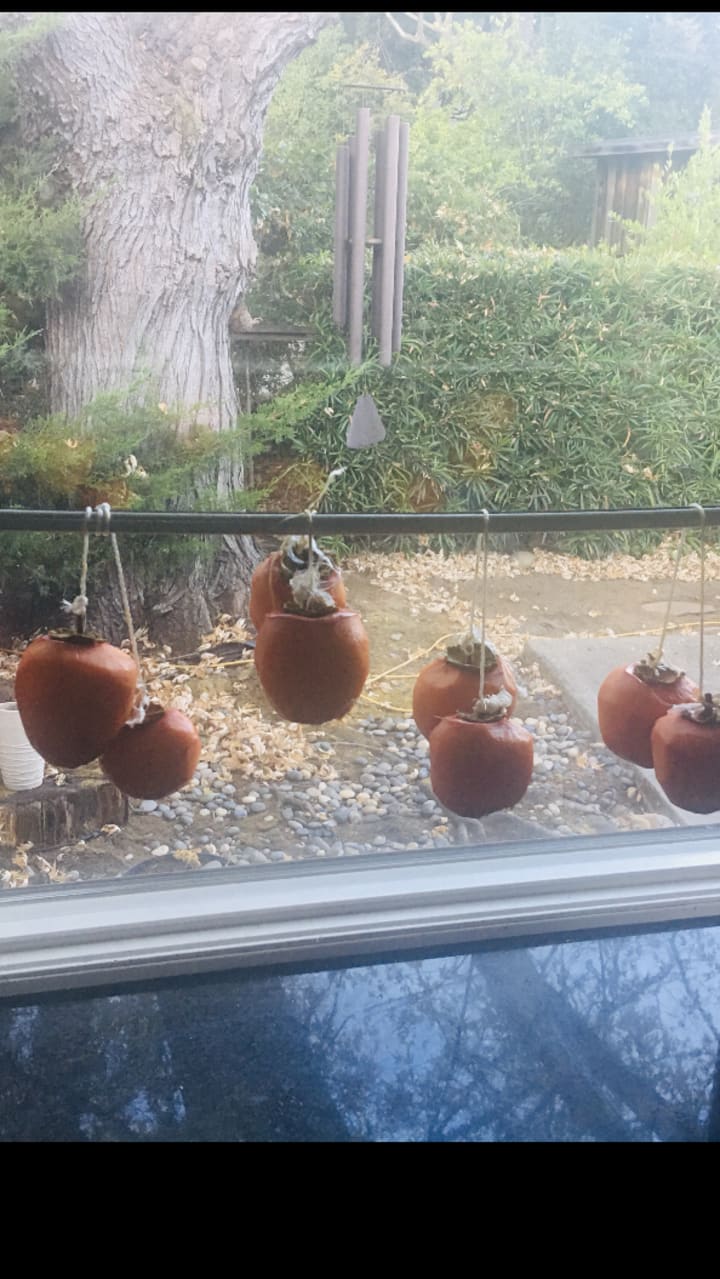 Instead of a bamboo pole, I decided to improvise. I rediscovered my old café curtain tension rod. The reason the Japanese use bamboo pole with a wide diameter is to make sure fruits do not stick together while drying. Although skinny, the rod fits nicely in my large kitchen window, but I had to do some separating now and then.
My experiment had begun. I knew the wait would be long. I selected the fruits and followed the techiniques.
Each day I checked the fruit to massage it with a zen like manner. I opened my window to let in air circulate and watch the sugars bloom. Each time I felt a lump, I massaged it. This technique is important, as air bubbles encourage mold growth. The labor reward will show up in the texture in the end.
To verify the reputation of the much-touted Hoshigaki delicacy, I dehydrated another batch of the fruit with the dehydrator.
With Hachiya persimmons, even short-cuts require patience.
Yes, it is possible to dry the fruit overnight in a dehydrator. This will rid them of astringency. This provided me an opportunity to compare the natural Japanese way of dehydration versus the use of a food dehydrator.
I placed the peeled and sliced in rounds persimmons for six hours at 125 F. Although I peeled my fruit, it's perfectly fine to leave the skin on. An oven would also work if set at 130 F. Leaving it overnight or for about 7 hours will also achieve this result.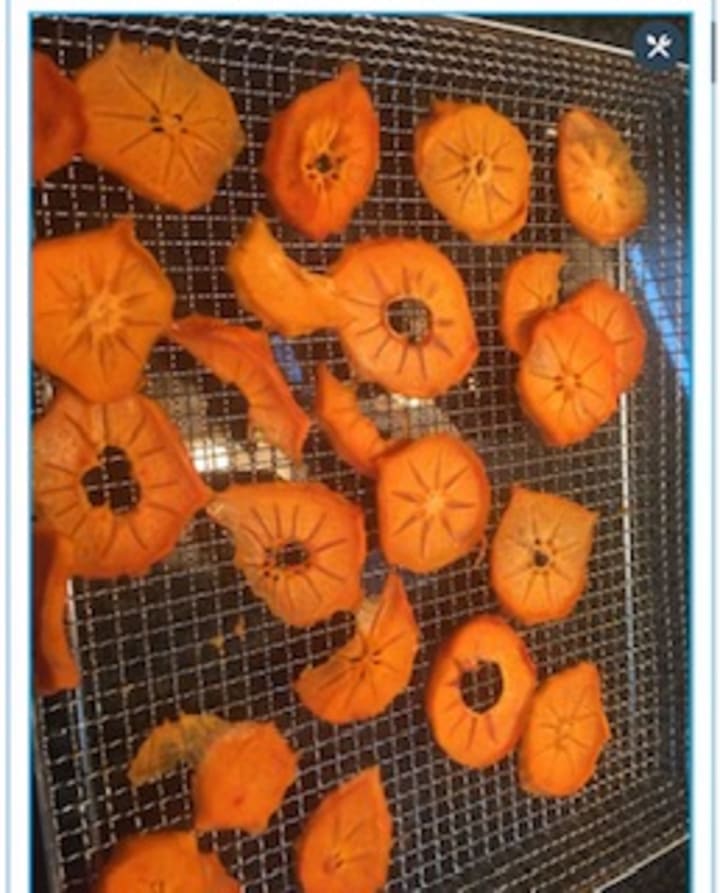 Slow heat dehydration removed the astringency and brought sweetness in full focus. The persimmon tasted like fruit leather. I cut it up to add to salads, cakes, and bakes.
Hoshigaki method continued on the side, and I noticed the persimmons shriveling each day.
Eleven weeks later, the air-dryed persimmons were ready. The fruits had pushed out sugar, and they acquired a crystalline bloom.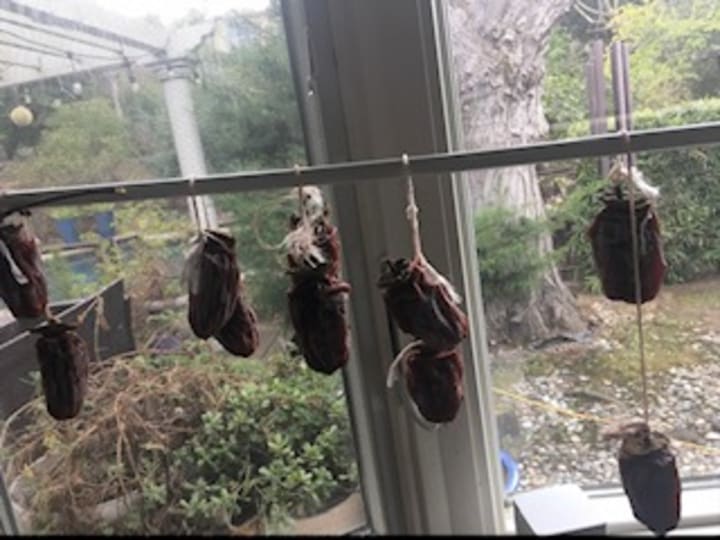 Humidity conditions were ideal for my experiment. If a bloom is not present in 6 weeks, it would be wise to put them in a mason jar to encourage the sugars to activate. It should appear in two to three days.
A light roll with the rolling pin eliminated remaining air bubbles for an even texture.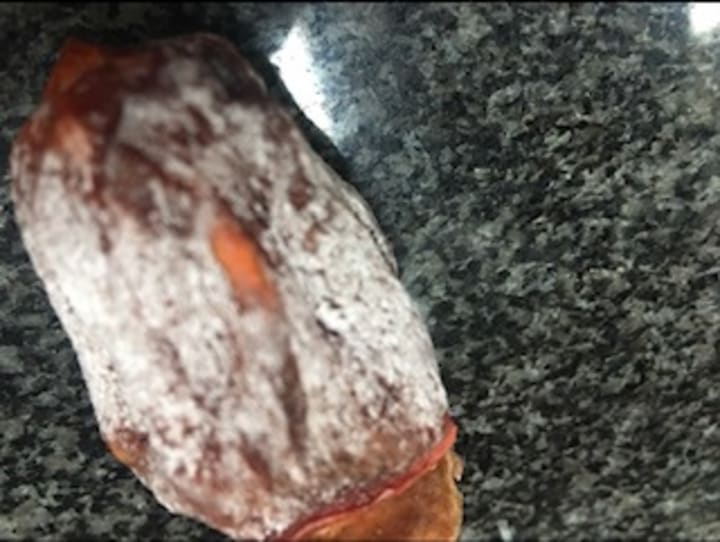 Is there a difference between the dehydrated version and this prolonged labor of love?
I will use the five senses to compare and contrast results of the process.
How do they look?
The dehydrated fruit looks more orange, but the sugars in the slow drying Japanese method darkened the fruit like a date. On top of the dark rests the crystallized sugar bloom.
How do they feel?
There's a leathery feel to oven-dehydrated persimmon. However, the slow air dried fruit has a moist, chewy texture. It's almost gelatinous. The labor and time invested in this process yielded an amazing texture. Its texture is compared to that of pâté de fois gras.
Now I understand why the California chef and restaurateur Suzanne Goin calls the fruit dried in the Hoshigaki way, " the Kobe Beef of the Fruit world,"
How do they sound?
Due to the density of the fruit, the oven-dried fruit sounds more like eating soggy chips, while the dense and moist texture of the Hoshigaki fruit do not cause much sound.
How do they smell?
There's no smell at all in the oven dried fruit, but the air dried persimmon has a subtle and delicate fragrance. Somehow it has cinnamon and gingerbread notes, and that feels just right for the season.
Finally, how do they taste?
While I enjoyed the oven-dried fruit, but I got a bit tired of the dry chew. The Hoshigaki on the other hand, tastes like divine honey with a plush sweetness. It's a great dessert choice. It's highly addictive, but I decided to find more sweetness in the treats by sharing.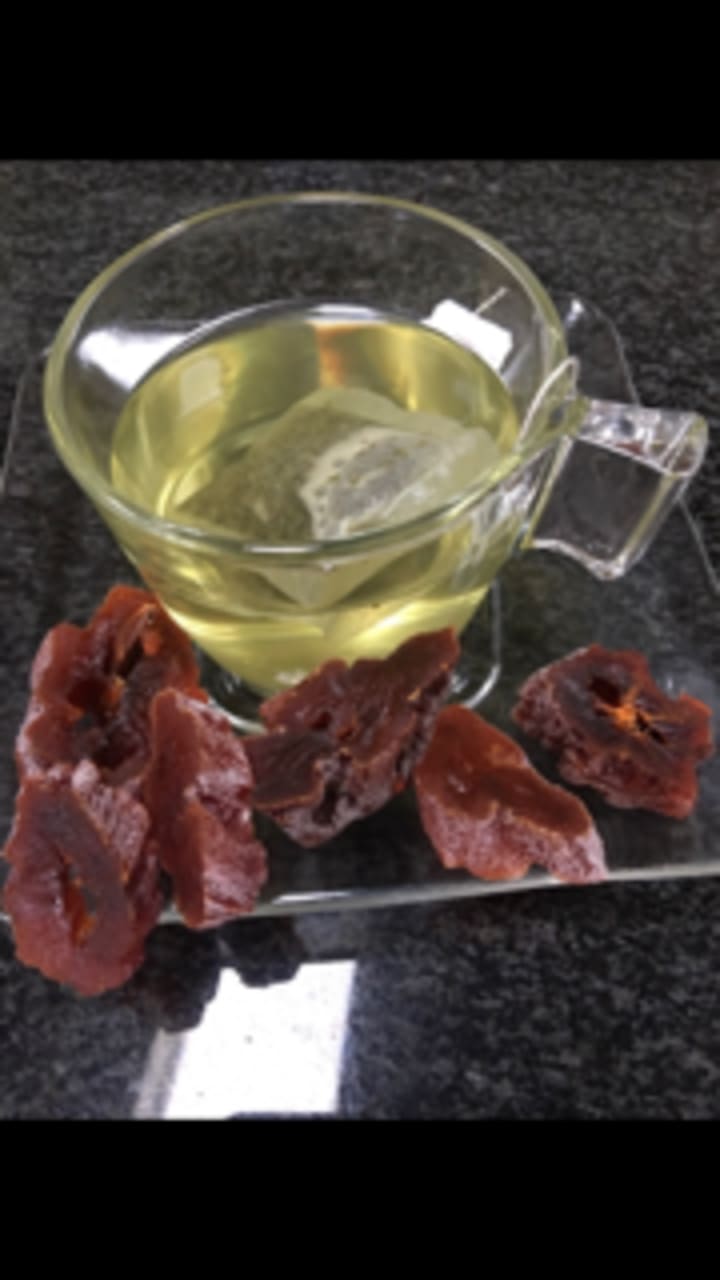 The product keeps like most dry fruit for several months. After three months outside, I recommend freezer storage only if there are left-overs. (slim chance of that!)
This treat pairs beautifully with a delicate tea. I have my share waiting.
Friends, did you see the "Do Not Disturb!" sign I just put on? I'm ready to sip and savor with delight. Sayonara for now!