My Seattle Favorites Volume 1
Breakfast of Champions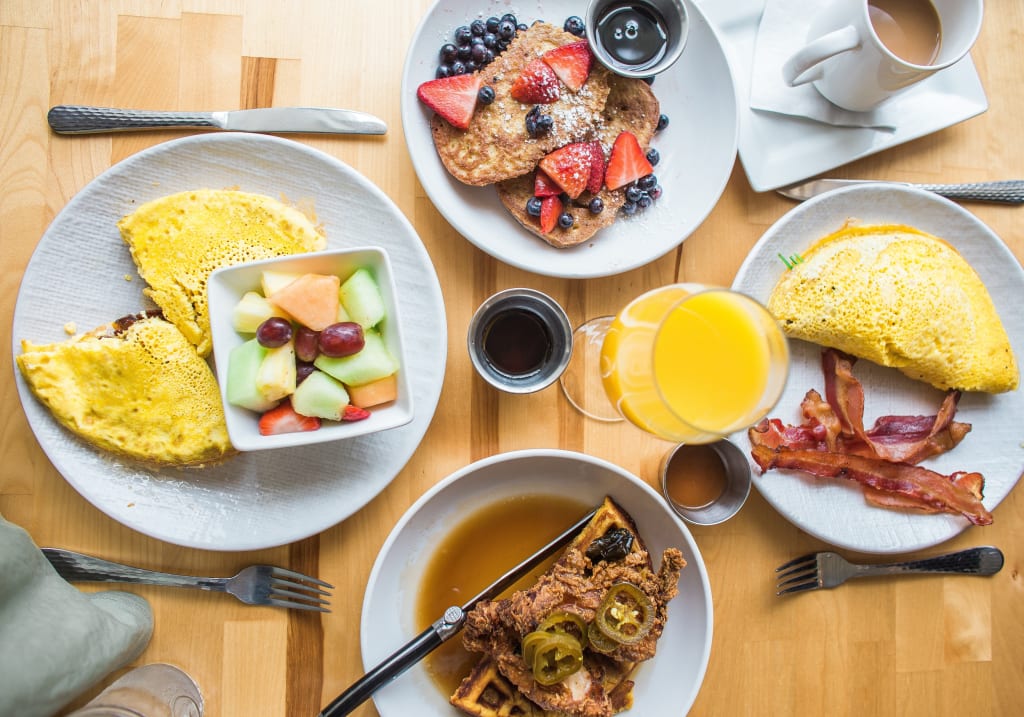 Photo by Heather Ford on Unsplash
I have been living in Seattle for a good chunk of time now, and I have had so much fun exploring the city. I love it when people visit here and I get to show them and take them to all the cool things to see and do and eat and experience around the city. Even the super touristy stuff like the Space Needle and Pike Place Market have their charms when you live here. While I don't think I will be going to the top of the Space Needle ever again in my life (I mean really, who wants to pay 30 dollars to ride an elevator?), that doesn't mean it isn't beautiful. I really do get a sense of joy when I see it on my morning commute.
Because I like a variety of places, I thought I would do a quick series, split into several different categories, so this will be the first in that series. What better way to start a series than with my personal favorite meal, breakfast! There are all kinds of places to get really excellent breakfast around the greater Seattle area, but for the purpose of this list, I am limiting them to Seattle city limits. So without further ado, here are my top 5 favorite breakfast spots in Seattle, in no particular order:
1. Beth's Cafe
Beth's is kind of a cop out on this list because it is a Seattle institution. Everyone has gone to Beth's at some point; no matter what time of day, Beth's is always there with subpar coffee that is somehow still perfect, alternative waitstaff and cooks, customer art plastered all over the walls, menus, and an omelet so big it has to be served on a pizza pan. In addition to the food being consistently what you ask for, it's usually delicious, albeit a little greasy. The jukebox is a crapshoot of filthy punk rock, 90's grunge, or hip hop; I heard Cher in there more than once. The staff and customers battle for control of the tunes, and the bathroom is the most oddly and inconveniently shaped room that has ever existed. This place is not for the faint of heart, for sure, but it is still so near and dear to my heart. I truly adore it, and I never turn down an opportunity to go there. Besides, they have homemade freezer jam and the best biscuit on the west coast (yes, that includes the Biscuit Bitch). This is not the place for specialized diets or vegan options, be warned. They are militantly anti-health food, everything is cross contaminated, and they are loudly anti-avocado. Beth's Café is located in Phinney Ridge.
2. Wild Mountain Café
This place is also one of my favorites, added to the fact that it is walking distance from the house I lived in for years. Their menu is smaller than most of the other places on this list, but that doesn't mean it isn't still a top contender. It is located in a converted craftsman house, so the layout can be intimidating to people who are not familiar with it. It looks a lot smaller than it is, and there are several dining rooms and a small bar. Their mimosas and bloody marys are pretty excellent, and their coffee is great and comes in a myriad of secondhand mugs that never fail to delight me to no end. My favorite thing here is the garlic mashed potato cakes they do instead of home fries or hash browns. They are amazing, and the servers are always friendly and personable. Plus, they have a lot of gluten free and vegan friendly options. The Wild Mountain Café is located in Crown Hill.
3. FAT'S Chicken & Waffles
Move over Roscoe's! FAT'S is where it's at! I grew up below the Mason Dixon Line, and sometimes, even though I also adore a lot of foods from all over the place, sometimes you really just need to return to good old-fashioned southern comfort food. This is the place to do that. They have everything from the chicken and waffles that their name implies to shrimp and grits, fried okra, and my personal favorite, deep fried fruit pies with melty vanilla ice cream. In addition to all this, they have a drink menu that serves those looking to turn up, as well as those who got too turnt the night before. You can have a glass of their deeply spiked G & G (Gin and Grape Kool-Aid), or if you are recovering, you can have a glass of Pedialyte, and for a few extra bucks, they will even throw in a shot of vodka for you. Their food is so good, you wouldn't hesitate to slap your own mother for the chance to eat there again. Beware, the central district location is small, and there is often a wait, so bring a book and be prepared to wait for a while to get in there and eat your heart out! FAT'S Chicken and Waffles is located in the Central District.
4. The Fat Hen
This place has some of the best food I have ever had. Their menu is very small, and as such, they don't have a huge selection of gluten free or vegan options, but they do have some. This place gets top marks for presentation and taste, the service is good, and the place itself is adorable. However, there are some downsides. There are maybe six tables in there, so this is the place to go to with one friend or a maximum party of three, as there is literally no space. Because it is a single room with very limited space, there is often a wait, and there is no comfortable place to wait. Outside or inside, it ends up being very crowded. In addition, it is a little pricier than the rest of this list. While none of these places are cheap by Midwest standards, they are mostly on the affordable side; this is not the case for The Fat Hen. Expect to pay upwards of $50 for breakfast or brunch for two. Definitely worth it, but maybe save it for a special occasion, or when you want to show your parent's how successful you are in your new Seattle life. The Fat Hen is located in Ballard.
5. The Hi-Life
I am vaguely aware that the Hi-Life does food for other meals, but honestly, I have never been there for anything but breakfast/brunch and I am not sure that I ever will. This place is so perfect that I don't ever want to sully it as a breakfast place, although I do hear that their Sunday Fried Chicken Dinners are to die for. This place has some staples that are around all year, and they also have a rotating menu that depends on the season. They follow the seasonal fruits and vegetables of the region and come up with some of the best recipes and combinations of flavors I have ever had. Plus they serve mimosas, "manmosas," and bloody marys by the pitcher, if that's your thing. Their coffee is pretty excellent, and I have never had food cooked incorrectly there ever. The service is always prompt and friendly, and they are willing to joke around with you and have a great time if you are. Sitting at the bar or at a table, it literally never disappoints. Again, this one is on the slightly pricier side with meals averaging about $15 bucks per person, unless you get something wild, but it's well worth it. If you are going on Saturday or Sunday morning between 8 and 11, expect a wait, as they have a "Not-So-Early-Bird" happy hour that brings the prices down a bit and draws the people in. The Hi-Life is located in Ballard.
I always want to hear what your favorite places in Seattle are! If you're a local, let me know what you think of the first part of my list, and tell me where you go for breakfast! If you don't live in Seattle, I still want to hear about your favorite places! I love to travel, and I love having local recommended favorites to turn to.