My life with baking
How sourdough saved me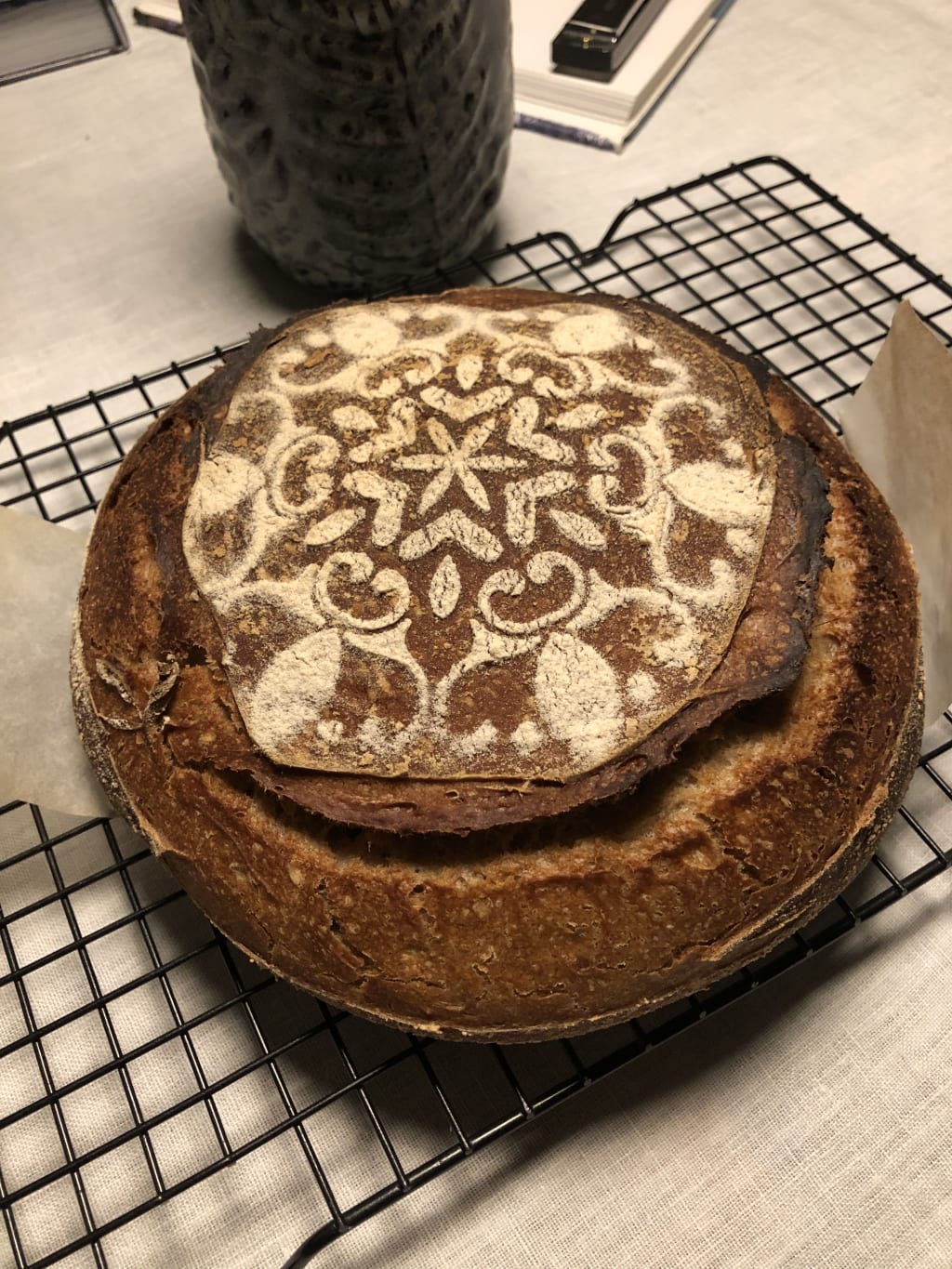 My sourdough
I think the story is more about life than bread but baking sourdough saved my life.
The year was 1993. I had found myself caught up in a whirlwind romance resulting in a four month dating phase with my husband to be who was living in another City which meant that I had a total of 12 dates prior to walking down the aisle.
Getting married in one's thirties can be a double edged sword...on one side, my female biological clock was ticking loudly and I knew I had to find a husband who would be a father to the children I wanted so badly. But on the other side, I had no idea how much of my independence, identity and freedom I eventually relinquished to achieve this.
In hindsight it wasn't a great match but that's not my story..
It's about bread.
So, there I was, six weeks into a new marriage and having (delightfully) discovered I was pregnant.
This caused me to embark on an entirely new quest of internal and external health.
I was raised on a self sustaining dairy farm and wasn't exposed to processed foods until I left home which in my mind led to many allergies and other general maladies. Anyway I'm no medical genius but I never felt right.
So, when I became pregnant I developed a steely eyed focus on ensuring that anything I consumed was as close to the original as possible.
We were living abroad due to my husbands work in a country that prided itself on fast food. I have to say I was shocked when I first met to a supermarket and tried to find bread that didn't contain additives...impossible. Remember this was the early 1990's, the healthy eating revolution hadn't really hit then.
So I searched and found a health food store which was a series of large tubs of organic foods but not much else except a healthy library of vegan, vegetarian and organic baking books.
I knew I'd have to start from scratch but wanted to compound what my mother had taught me and morph to an extremely clean way of life.
One day I was there and I stumbled across a new book about sourdough bread.
The writer had spent extensive time in Europe travelling to visit bakers and the book was a collection of the recipes he had garnered together with how to bake sourdough bread, starters, levain etc.
I literally could not put the book down partially because the guy was such a great story teller weaving the art of sourdough into the rediscovery of an ancient method of baking.
So I set about researching what flour I would need and learned about natural yeasts, fermentation and levain. What dough should look like, how it behaves, what is the best temperature to create sourdough, different methods, proofing times and so on. I started making my starter and five days later had my fruity, bubbly mixture ready to go.
What happened next still astounds me to thsi day.
From just flour, water and sea salt, the most delicious loaves of bread began to appear in my kitchen. It's impossible to describe the feeling that one gets when baking sourdough.. triumph, success, a sense of providing, pride. I don't really know.
But sourdough did something else to me.
I was spending a lot of time alone as my husband was travelling a lot and I knew practically no one. I was pregnant, in another country and alone and at times felt very remorseful that perhaps I had bene too hasty in marrying.
When I found sourdough, the feelings of home came flooding back to me and I began to immerse myself in baking and sharing my loaves with my neighbours. I began to feel happy again; regaining a sense of control over my life and how I approached the challenges ahead.
I boned my baking skills over time and in the 27 years since have never really been without my starter. It always sits there in my fridge, I feed it once a week and when I feel like it.. I bake.
Nothing replaces the feeling of baking. In some small way I feel I'm making a difference..