My Late American Grandma Appeared to Me in a Bowl of Feijoada in Rio
A Story of Food, Fond Memories, and Family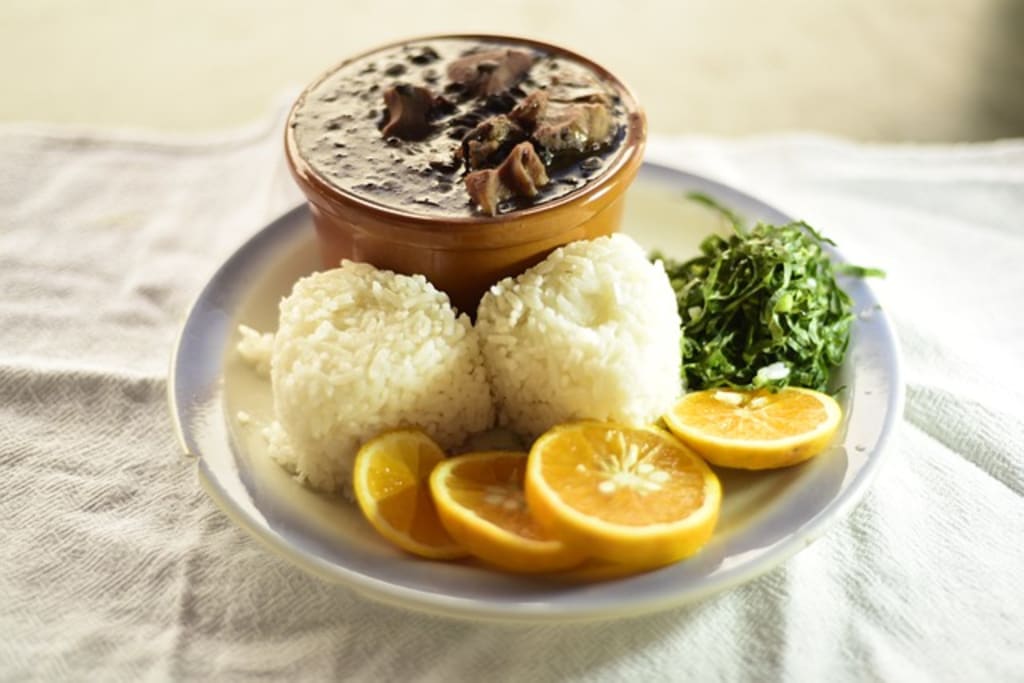 Feijoada
There is an old saying that food bridges the gap between people, culture, and time. I have never found it to be more true than during my first trip to Rio de Janeiro and after my very first taste of feijoada. Feijoada can easily be considered as the history of Brazil in a bowl. I would soon come to realize how much of that history mirrored my own personal Coastal South Carolina culinary history.
On my last day in Rio, I visited the small neighborhood of Santa Teresa – the quaint artsy, bohemian district of the city. There I found painters, sculptors, jewelers, and others selling their works along old narrow cobblestone roads lined with restaurants and small neighborhood gastrobars known as botequims filled with group circles of musicians better known as "rodas de pagode" music - a sound different from samba but still very Brazilian – a more intimate setting, more communal, more personal. It was a draw.
My Brazilian guide suggested a small bar that overlooked the famous Guanabara Bay with Christ the Redeemer's outstretched arms off in the distance. The view was breathtaking. Once we were seated, my guide suggested Feijoada for lunch. I had no idea what that was but from the few words I could understand, I was able to put together that it was some sort of "bean stew." When it arrived at our table, I was in awe at what I saw – a bowl of familiar items that I ate as a child at my late grandma's table.
The bowl of "bean stew" was filled with black beans that had been cooked for hours along with the "slave cuts" of meat - neck bones, hocks, spareribs, linguica, and a few other items. It was served with two familiar staples of Coastal South Carolina cuisine – rice and to my surprise, finely chopped collard greens sautéed in garlic and two unfamiliar pairings of farofa (a toasted manioc flour dish) and orange slices - which I thought was strange but later learned were included to help with digestion after the meal.
As I tasted my Feijoada, I felt as though I was instantly transported back to my grandma's kitchen table with each bite. I remembered Sundays where she made a similar dish. Her's didn't have such an interesting name as Feijoada and she used different types of beans but her's delivered the EXACT same flavor. At that moment, everything felt so familiar. I began to reminisce on the many Sunday dinners I spent at her house, standing by her side as she gave me cooking lessons. Teaching me how to season properly without measuring - you know, "until the ancestors say it's enough." Stressing how important patience is to marrying flavors in every slow-simmering pot. Showing me that cooking is an art and act of love. I could feel her spirit around me at that little table in Rio as a whirlwind of happy memories rushed through my head.
I was overwhelmed by how emotional that bowl of "Brazilian bean stew" made me although I did not outwardly display it. Even though I had never been to Brazil before, that day I felt as though I connected with a part of my unknown ancestral history. That day I realized the vast power and perseverance of The African Diaspora. That day I realized that my African American grandmother and those Afro Brazilian cooks in that small botequim "spoke" a common language through food that I never knew existed. Thousands of miles and two continents away, the same language. That day a part of my spirit realized it was home. My ancestors smiled upon me and said "Welcome!" and I have traveled back to Brazil every year since 2011 to break bread with them and they receive me with open arms.