How to find the best dishes in Quy Nhon
Best Dishes in Quy Nhon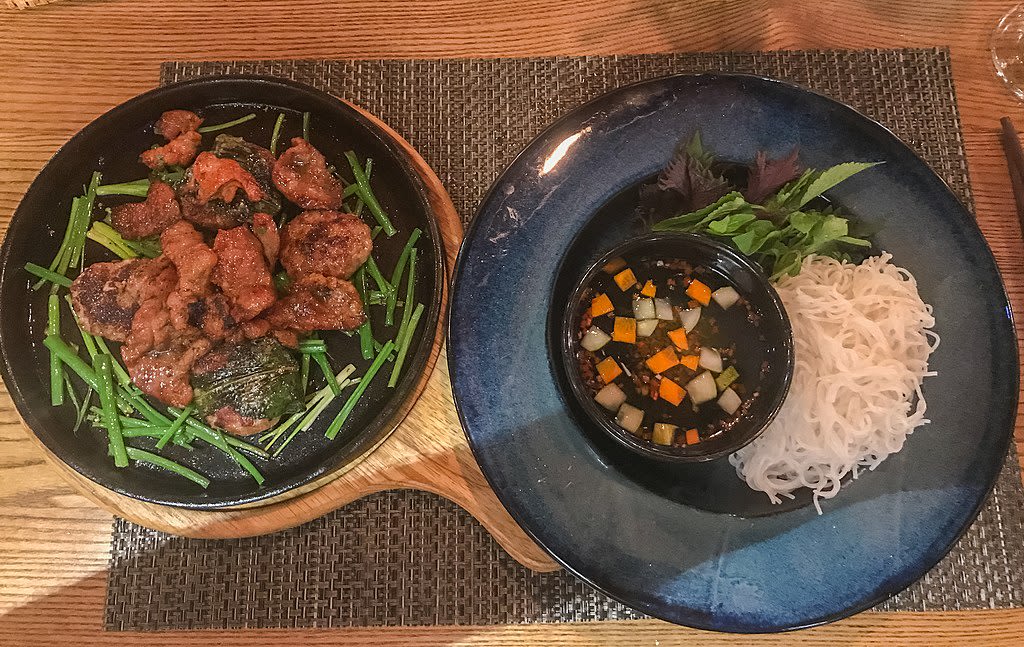 dronepicr, Vietnamese cuisine food (38834614444), CC BY 2.0
A charming coastal city in Central Vietnam, Quy Nhon is the capital of the country's Binh Dinh Province. It isn't much of a surprise when you hear that most of the city's dishes are inspired by seafood due to its close proximity to the sea. However, you can also find local food that includes meat and other fresh produce. Here's a simple guide to finding some of the best dishes in Quy Nhon.
Bun Ca and Bun Sua (Fish Rice Noodle Soup and Jellyfish Noodles)
Since there's an abundance of seafood in Quy Nhon, the locals use them as ingredients when preparing noodle dishes. Fish Rice Noodle Soup and Jellyfish Noodles are some of the favourites of the locals in Quy Nhon. Most of them enjoy a bowl of these noodle varieties before going to the sea in the morning. The pieces of fish in Bun Ca is marinated using a mixture that includes minced garlic and ginger, ground black pepper, sugar, paprika, and fish sauce. These pieces are stir-fried over a wok that is over medium-high heat. The soup is based on chicken or fish stock, and the pieces of fish are boiled in it along with tomatoes, onion stems, and onions. A generous amount of rice vermicelli is placed in a bowl, onto which the stock, pieces of fish, and tomatoes are ladled. You can find this delicious dish at restaurants in Quy Nhon City, such as Quan Thuy Bun Ram Bun Cha Ca, for less than 3 USD. Bun Sua is prepared similarly using jellyfish.
Banh Xeo Tom Nhay (Shrimp Pancake)
Probably, you've heard about Banh Xeo, a pancake dish that is just as much popular as the country's famous national dish, Pho. In Quy Nhon, however, you'd find Banh Xeo is prepared a bit different than its popular variety. Nevertheless, the only difference between these two varieties is the topping, the size, and the names of the dishes. The Quy Nhon variety is called Banh Xeo Tom Nhay, and several seafood ingredients such as "jumping shrimp," squid, crab, and sometimes beef are used for its topping. The pancake size in Quy Nhon is much smaller than the pancakes used in other regions in Vietnam and is rather crispy. The Banh Xeo Tom Nhay can be enjoyed along with bean sprouts and other greens and sweet fish sauce. The seafood flavours, combined with pancake and other herbs, produce bursts of flavours on one's taste buds. You can look forward to tasting Shrimp Pancake, or Banh Xeo Tom Nhay at restaurants like Rau Mam in Quy Nhon City. You can purchase this dish for as low as 2 USD at these places.
Seafood in Quy Nhon
One of the highlights of holidaying in Quy Nhon is going to the beach, exploring a fishing village, and enjoying a delicious dish of seafood. The seafood dishes in Vietnam are quite diverse and incorporates a lot of seafood varieties such as crabs, prawns, clams, scallops, jellyfish, and fish. Buying these from the market or directly from fishermen will get you the best prices. In Vietnam, seafood can be cooked employing an array of methods. To leave the original flavours of seafood intact, they are usually steamed or boiled. You can look forward to indulging in some of the best flavours of seafood cuisine in this city when you opt to dine at one of the Quy Nhon restaurants located inside one of the major hotels or resorts the likes of Anantara Quy Nhon Villas.
Nem Nuong (Grilled Meat with Herb)
A dish of meatballs made with grilled pork and herbs, Nem Nuong, is considered a special appetiser or junk food, usually served with either rice vermicelli or rice as the main course. It is a speciality of the Khanh Hoa Province in Nha Trang. You can buy this Quy Nhon delicacy from many properties such as An Vat Ba Be – Nem Nuong & Muc Rim in Quy Nhon City, for less than 1 USD.