How Bali Taught Me to Love Tempe
Tempeh has a long and flavourful history in Indonesia, the country that invented this healthy, fermented food
Before I moved to Bali, I didn't really care for tempe (or tempeh, as it's spelled in the West). The few times I'd ordered it in vegetarian restaurants, it was cooked in a stew or grilled as a whole cake, and tasted soggy or bland. But that's not the best way to eat this unique fermented food made from soybeans. Indonesia is full of a range of delicious recipes made from tempe, and the people here have been cooking with it for hundreds of years. After all, they invented tempe.
Indonesian food historian, Murdijati Gardjito, wrote that royal and wealthy families on the island of Java, where the food originated, almost never ate tempe as it was a staple food of the lower classes. Rich people ate tofu, which was more expensive to make, and required imported white soybeans. Tempe is still a cheap meat alternative and millions of Indonesians get their daily protein needs met eating it. Traditionally, every Indonesian family knew how to make tempe. During times of war and famine, tempe has kept people alive, and it's an essential part of the sambako (or food boxes) that are being given out weekly by village councils and charities to many families across Bali during the pandemic.
No one is sure just when tempe was invented. People in Java had been eating cooked soybeans as early as the 12th century. They may have wrapped these cooked beans in teakwood leaves, which are covered in wild mold spores, and the beans accidently fermented and formed a solid mass. From Java, tempe spread out across the hundreds of islands that make up Indonesia. The name may come from the Javanese word "tapai" or fermentation. Mary Astututi, an Indonesian food historian, believes that Javanese were making tempe with local black soybeans as early as the 16th century.
Naturally, in the wake of tempe spreading, came a range of delicious dishes, often using chili, garlic and soy sauce, that spread with it.
I first tried Indonesian-made tempe dishes at the many weddings and funerals I was invited to when I came to Bali. The host family cooks up a massive feast for guests, sometimes hundreds of people. It's considered good manners to eat at least a little something and actually rude not to. I was trying to go meat-free for climate change reasons, and pork is usually the main dish at any ceremony, so that left me with tempe. But this wasn't the bland, soggy tempeh I'd had before. I found myself eating dishes that were crispy, spicy and flavorful.
When I ate out at a restaurant or warung (tiny Balinese cafe) I'd never tried before, I'd sample their tempe dish. If I really liked the meal, I'd ask the staff to write down the name so I could order it again. At the same time, I also learned the Indonesian words for chili, garlic, frying, cooking, spicy, salty, sour, hot, warm and so on. Balinese love their food with lots of chili!
What Makes Tempe Special?
Tempe is a fermented whole soybean food, usually formed in square, flat cakes. It has a nutty, mushroomy flavor and a texture similar to meat. When you first see raw tempe, it looks like something you forgot about at the bottom of your vegetable crisper. It's covered in white mold (Rhizopus oligosporus) which magically turns soybeans into tempe. To make it, you first soak the beans overnight and then boil them. After they're cooled, you mix the boiled beans with some old tempe (for the mold) and then ferment in cakes for one or two days so the mold spreads to all the beans and forms a solid mass. The fermentation process makes the soy beans easy to digest and reduces their natural phytic acid levels so the stomach can absorb the minerals. Tempe is an excellent source of B vitamins, including B12 from the mold, which is hard to find in non-animal sources. Traditionally, tempe in Bali is fermented in banana leaves, which often contain wild mold spores and add flavor.
The digestibility and B-vitamin content was good news for me. I'm fairly active and train in silat, the traditional martial art of Indonesia. I needed to be sure that I was getting enough protein in my diet, and the more I learned about tempe, the more I was convinced I'd found my meat-replacement. And I really loved eating it now, so win-win!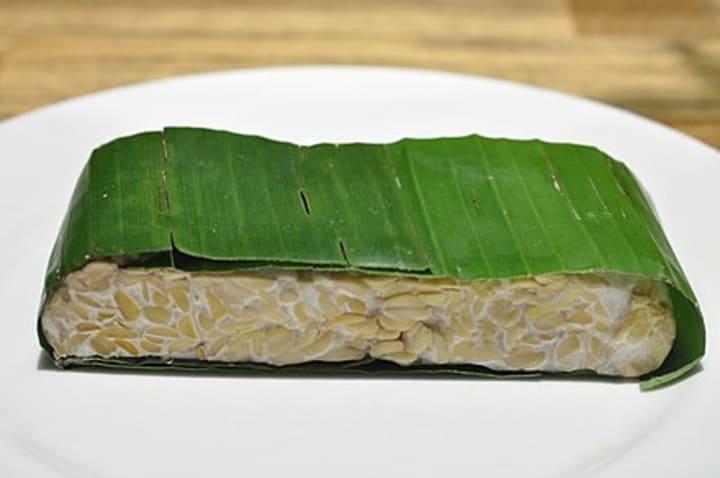 Indonesian Tempe Dishes
Kering Tempe Kacang (Spicy Sweet Fried Tempe with Peanuts) or Tempe Manis (Spicy Sweet Tempe) are the most popular and widely available dishes you'll find in Bali and usually included in the popular Nasi Campur (Mixed Rice), the Balinese version of dim sum. Traditionally Nasi Campur is a mix of leftover dishes, from that morning, or the day before, served with an egg and rice. It's a great way to be introduced to a number of different Balinese foods.
I fell in love with dishes like Sambal Goreng Tempe, with its fiery tomato and chili sauce, and Tempe Kecap, with its grilled sweet soy sauce flavor. Sweet soy sauce is a popular condiment across Indonesia - it's just what it sounds like: soy sauce sweetened with sugar.
Indonesians usually fry tempe first before adding spices and other ingredients. This way, tempe retains a crisp, crunchy or chewy texture, without getting soggy.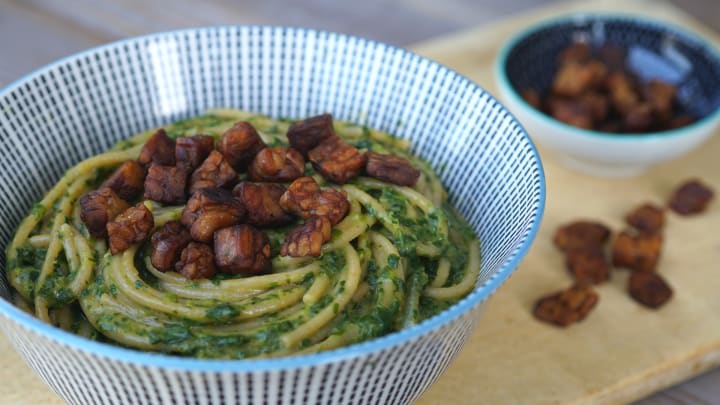 Then one day, I walked into a new cafe in our village, Warung Pojak, run by Made and his wife Putu, and discovered my absolute favorite recipe. Called Tempe Lada Hitam (Black Pepper Tempe) this dish is made with chilis and a generous portion of black pepper, which gives it a spicy bite and warms you all the way down your throat to your tummy. If I have a cold, or am feeling low, it's my go-to comfort food now. I don't know if it's the B-vitamins or the chili. Any time I got back to Bali from a trip overseas (pre-pandemic), I headed straight to Warung Pojok and Putu's cooking.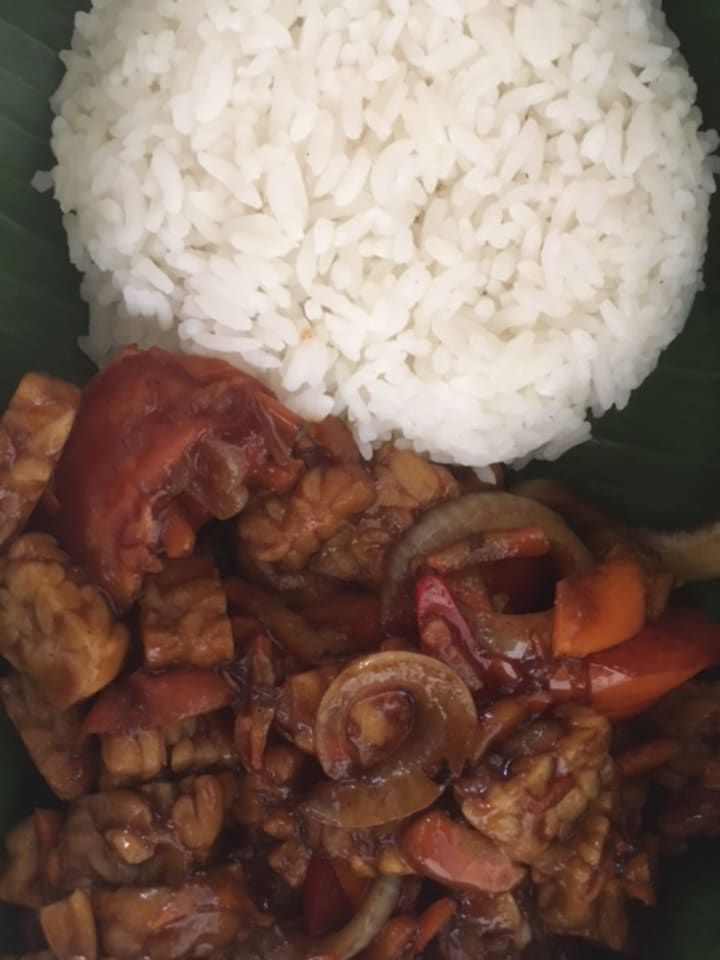 The Tempe Seller
Any traditional market you visit across the archipelago will have numerous tempe sellers. These days, most families don't have time to make it anymore and buy it in the market. I had become a big fan of tempe and wanted to try cooking it at home.
That's how I met Benny Santoso.
Benny is a foodpreneur who has a small business making and selling tempe at the organic market in Ubud.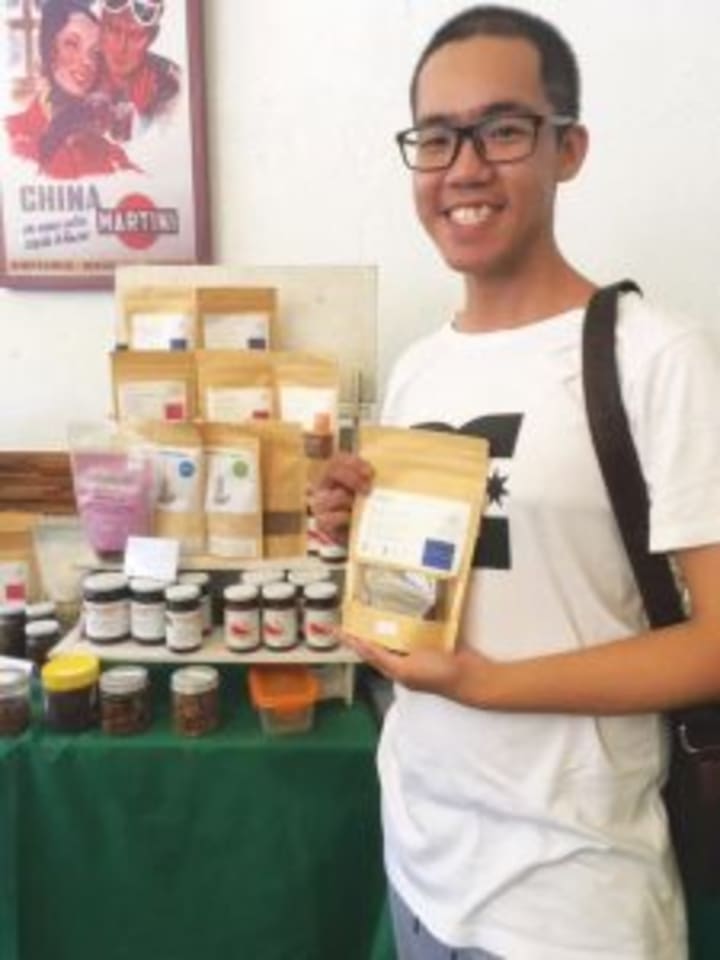 He grew up in Solo, Central Java, where his family runs a food distribution business. His high school science teacher demonstrated tempe-making in class and Benny was fascinated. He went to culinary school and worked in some high-end restaurants in Bali, but felt that young Indonesians were learning to cook Western dishes for tourists and ignoring their own food heritage.
He told me that most Indonesians don't even know how to make tempe anymore.
Benny started to think about alternative food careers and remembered his high school science class. He tried making tempe himself, and after some trial and error, succeeded. Benny started selling directly to restaurants in Bali and then set up a stall at the local organic market. He branched out to make chips, sambal (chili sauce) and cookies, all from tempe. He used his regular customers as guinea pigs to test out new products and we were always happy to oblige. I adore Benny's gluten-free coffee tempe biscuits. I love the way he is re-inventing tempe for modern tastes. Benny teaches a tempe-making course at the Bali Food Festival every year and stocks his products in shops all over the island. He also experiments with adding other healthy ingredients to his tempe, like spirulina, pumpkin seeds and black sesame.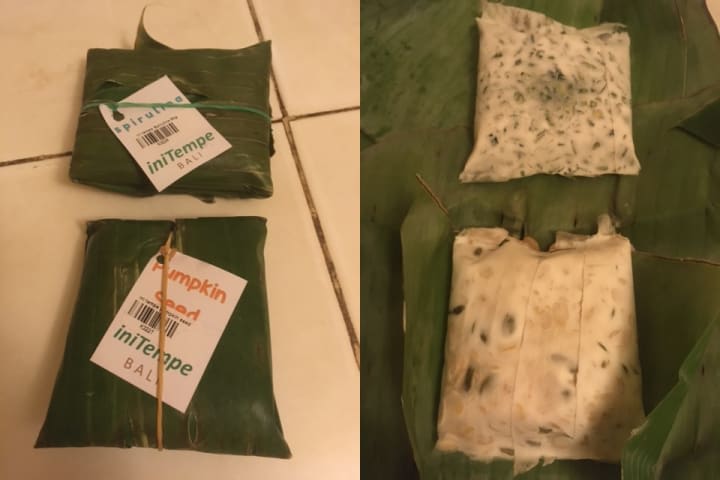 Benny's passion is to promote tempe, with its long history in Indonesia. "For me, it's about food diplomacy," he said. "I'm passionate about explaining my culture to foreigners. It's my heritage and and I'm really proud of it." He formed a Whats App group to send (us) his customers new tempe recipes to try each week. Inspired by Benny's energy and enthusiasm for tempe, I would try one of his recipes each month. Most, if not all, were pretty easy and always delicious!
Tempe's Life-Saving History
It was from Benny that I learned about the role that tempe played in helping prisoners in Indonesia survive during World War Two. Two Dutch microbiologists, Van Veen and Roelofson, who had been studying tempe-making in Java before the war, were interned in different Japanese prisoner of war camps, along with other Europeans and Indonesians. The prisoners weren't given meat, so they were protein deficient, but they were given soy beans. The Dutchmen were skilled at making tempe and this ensured that prisoners got enough protein and B-vitamins. They found that even people who were sick with intestinal disease, like dystentery, could eat tempe and recover. In fact, Roelofson actually used dried, ground tempe as medicine! Van Veen wrote later that he believed that the prisoners owed their lives to tempe and might not have survived otherwise.
After hearing Benny's stories, I started eating tempe daily. To my amazement, I went from having one daily bowel movement to two. So, these little packages of fermented soybeans and healthy mold really seem to have made a big difference to my gut microbiome as well! (This is not medical advice, simply my own personal experience.)
Cooking at Home with Tempe
I make my own adapted, faster version of Tempe Lada Hitam for breakfast at home. (I've got a teenager so mornings can be hectic.) Every Indonesian cook has their own slightly different take on this dish.
I start with (1) Benny's tempe stir-fried in olive oil, (2) add capsicum, onion and garlic, (3) put in pepper, sambal (chili sauce) and soy sauce, stir in greens (usually kale) and eat. I usually serve it up with quiche, sliced cherry tomatoes with a drizzle of olive oil and balsemic, and carrot-ginger slaw. Lots of color, lots of veggies, lots of Vitamin C and good quality plant and non-meat protein. But you don't have to be vegetarian to enjoy this dish!

I went back to Warung Pojok and asked Putu for her recipe for Tempe Lada Hitam. Her directions were clearly from someone who grew up cooking this dish: "a pinch of this, a bit of that, add this to taste." The best way to enjoy this dish is to play around with the balance of ingredients to suit your own tastebuds. Be creative and experiment! Every cook in Indonesia has their own version of this spicy, peppery, slightly sweet classic.
Putu's Tempe Lada Hitam
Preparation time: 15-30 minutes, Cooking time: 30 minutes
Ingredients:
A small cake of tempe (about 3 ½ x 4 inches or 8 x 10 cm)
1 carrot, cut into small sticks
½ onion, cut into thin strips
¼ red bell pepper, chopped
¼ green bell pepper, chopped
1 small tomato, chopped
1 chili, finely sliced (de-seeded if you prefer less spicy)
1 clove garlic , diced
Black pepper, soya sauce, salt and brown sugar to taste
Oil
Water
Preparation:
Cut the tempe into small squares and fry in a little oil until lightly brown. Remove.
Saute garlic, onion and chili in a little oil until soft and add a tiny amount of water.
Add the rest of the vegetables and cook until they soften.
Add the tempe and continue cooking.
Add seasonings to taste.
Serve with rice. Makes two portions. Putu also serves it with sauted bayam (spinach) on the side.
Note: Some cooks add sambal, or chili paste, and corn starch to thicken the sauce as the last step in cooking.
References:
https://en.wikipedia.org/wiki/Tempeh
https://www.sciencedirect.com/topics/food-science/tempeh
https://www.wikiwand.com/en/Tempeh
https://www.soyinfocenter.com/HSS/tempeh1.php
travel
I write about travel, work and money. Sometimes fiction.
First Place in Travel Cuisine Challenge.
Vocal had a truly special writer, Tom Bradbury whom we lost. Please read & enjoy his work and keep his words alive.