Guide for influencers: how to promote a product on Instagram
how to promote a product on Instagram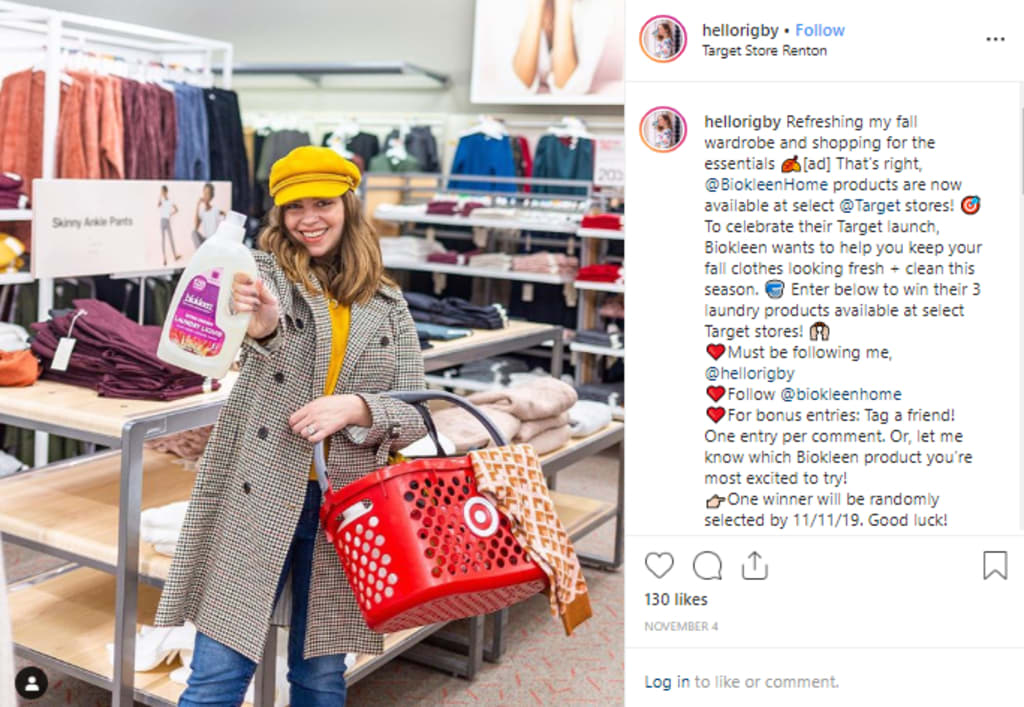 Guide for influencers: how to promote a product on Instagram
Instagram is a powerful tool to connect with people, build a loyal audience base, promote and sell products. And nobody does it better than digital influencers !
If you are starting out in this "market" as an influencer and want to know how to stand out and gain credibility with your follower base, these tips on how to promote a product on Instagram are for you.
Oh, and if you work for a brand closing partnerships with content creators, this text is also for you! You are already saving in the favorites tab that our tips can serve as a briefing for various types of products and brand partnerships.
Keep reading that there are ideas, insights and examples of content for you to be inspired.
The influence of the digital influencer
In addition to being a more human and closer point of contact that brands can use to take their products to potential consumers, the opinion of influencers weighs heavily when users make a purchase decision.
Check out this data from the Qualibest Institute , in a survey published in 2019:
82% of people prefer influencers who master the topics they cover;
79% increase confidence in an influencer when they review products based on real experiences ;
76% have already bought something advertised by digital influencers;
68% follow at least one digital influencer
63% like digital influencers to recommend products;
61% access the pages of companies tagged in sponsored posts.
55% think recommendations made by influencers are less intrusive than internet and TV ads;
50% usually research the opinion of digital influencers before buying products and services;
Bearing this data in mind, you can better understand the perception and expectations that consumers have of influencers, right? So, based on that and an analysis of successful content on Instagram, check out our tips on how to promote a product on Instagram:
Show how the product is used
So as not to leave doubts about how to use it, take advantage of its content to show the product in practice being applied in the routine. This way people can have a better idea of ​​how the product works and you can also reinforce the practicality and benefits or take the opportunity to make a cool tutorial, in the case of products that require more instructions.
Examples:
If it's a kitchen item, make a recipe video showing when the product enters that process and showing how it makes all the difference (in flavor, consistency, practicality, whatever)
If it's a garment with a lot of ties, for example, show the different ways of tying and how your followers can reproduce it at home
If it's a cosmetic, how about a video with your beauty routine including that product and showing the step-by-step use?
Contextualize the product
Often what prevents people from buying a product is the doubt whether they really need it or whether the item will be useful in their lives.
Whether the product is clothing, electronics, a household item, or absolutely anything else, showcase that product in an everyday context that your followers can relate to and see the need to buy that item too.
Include in your content the "pain" points that that product solves. Does it facilitate cleaning for those who can no longer spend hours on it? Does it improve the skin in a few days and will it really help that follower who wants to get rid of pimples as soon as possible? Will it reduce the bureaucracy of some complicated process? And so on. Just don't make false promises, if it can't be left for you.
Present in a creative way
Think outside the box in creative ways to present the product that will hook users until the end of that content. It's worth using references that you know your audience will understand, creating different scripts and using a lot of humor (if it makes sense for the brand, of course) to present that item to your audience.
Look at this example from content creator Camila Reich, who used a humorous reportage video to talk about her "obsession" for the product she was promoting:
Unbox with followers
You can take advantage of Stories to create anticipation among followers and let them know that new products have arrived for you. Start with a teaser, showing the box and the brand and say that, if you want, you can unbox them.
This will make people feel part of your routine and part of the same community that is waiting to see your product tips, which brings you and your audience closer together.
For the moment of unboxing, you can either do it spontaneously in Stories or take the opportunity to create content for Feed or Reels! Extra tip if you have a lot of products to show: divide the unboxing into parts and create expectations in users to see the next ones. That famous " like here to see part 2 " or " comment here if you want a part 2 " always works!
Review the product
To build a loyal following that actually cares about your recommendations, prove that they can trust your opinion.
A good idea is to give honest reviews about products and show your opinion about them. Just be careful not to be 8 or 80. You don't have to defect everything to be honest, okay?
Look at this example from influencer Carol Moleiro, who gave a good view of the products in the video and even gave her brief opinion on size and material without discrediting the brand, even when she didn't find an ideal bag:
If possible, vary the ways you use the product
Make sure no one is going to have that kind of insecurity of: "wow, but I have nowhere to use this or where to put it".
Show that there are several ways to use the same product to please different tastes and make your followers identify with at least one of them! In addition to users realizing that that product can indeed be useful for them, they can still discover more than one way to use it.
Invest in quality images
A well edited video, a quality photo, a differentiated edition. All of this can help to highlight the product even more and attract interest to it!
Aesthetics are very important to attract attention on Instagram and attract people, so invest in a nice or organized setting (even if it's just a plain color background that makes the product stand out) and pay attention to the angles and editing!
Look at the example of the sisters on the @twolostkids profile, who created a creative image that catches the eye of those scrolling through the feed without initially looking like a mere publipost. The disclosure of the product was more like a caption .
Extra tip:
Even before agreeing to promote a product or decide to show something to your followers, it is important that, as an influencer, you assume certain responsibilities since people trust your word and see you as an authority on the subject.
So be very careful with the brands you promote. Make sure they are brands aligned with your values ​​and that they deliver what they promise, so you don't lose credibility with your audience. Don't accept any proposal just because they offered you legal money. The consequences may not pay off.
In addition, it is essential that you also think about the experience of your followers when making a public post or even a simple spontaneous recommendation: does the product have anything to do with your target audience? will they understand your content?
About the Creator
Get good Health is an innovative health platform that helps people make healthier lifestyle choices. It uses a combination of AI and machine learning to provide personalized health advice and recommendations tailored to individual users.
Reader insights
Outstanding
Excellent work. Looking forward to reading more!
Top insight
Heartfelt and relatable

The story invoked strong personal emotions
Add your insights