Food, Family, and Traditions
A story about how food joins us all together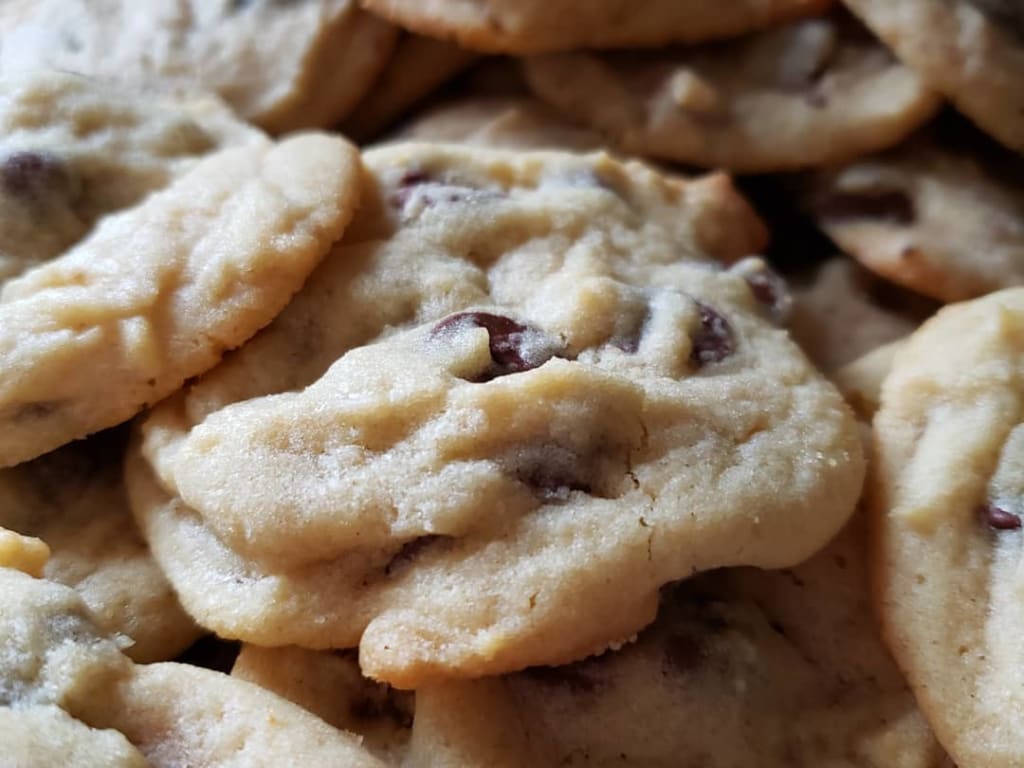 chocolate chip cookies
Baking sweets has always been a big part of my life. Thinking back to when I was a child...baking with my mom and family provides happy memories for me. I do not remember most of my childhood, from the age of 4 until I was 12. BUT, I do recall Christmas Eve gatherings with my family and all of the cooking and baking we did together.
I always say that baking soothes my soul and brings peace to my spirit. Since the happy memories I have as a child revolve around food, I can understand why baking makes me feel this way.
Those happy memories and family traditions are always present in my mind. Each time I bake with my daughter, who is seven years old, and every time all 4 of us (myself, my husband, my son, and my daughter) have a cookie decorating night for each Holiday, I am reminded that I am creating happy, peaceful, and fun memories for my children.
My mom passed away when I was nineteen years old. Thankfully, mom taught me how to bake up a mean cheesecake when she was here with us. Mom made her cheesecake without a crust. It was a thick, rich, creamy, New York-style cheesecake. I was born and raised in New Jersey, and let me tell you, northern Italian women know how to cook and bake! Mom fit right into that mold.
Because of the skills, my mom and my Aunt (her sister) taught me, I entered into a Taste of Italy contest with Taste of Home Magazine several years ago, with my Mascarpone Cheesecake recipe; and I won 2nd place! Thanks, mom and Aunt Jeannie!
The love of food has brought me where I am today. I have this food blog, a home bakery, and have written baking-themed cookbooks. I have been featured in several Gooseberry Patch cookbooks, Taste of Home Best Of cookbooks, Taste of Home Magazines, and online with Womansday.com.
I have written three novels ad three novellas, and at the back of each one, I share recipes that were made in the book (they are all my personal recipes).
Food is universal and brings people together no matter what their background or culture. We can all relate to the sights, smells, and tastes of food in some way or another.
Think about this: You are walking down the street, and all of a sudden, you are hit with a familiar smell of food that takes you back to your childhood. Doesn't it bring back fond and happy memories?
Let's take this one step further. What is that one food scent you smell that brings you back to a happy time with your family or friends? You know exactly what it is, don't you?
See, food equates to love and happiness. If you care about a person, would it be accurate to say that you want to prepare for them a delicious meal or dessert to show you care?
We all love food!
I am the administrator of several pages and groups on Facebook: all food-related!
I would be honored if you followed my foodie pages and joined my groups.
Comfort Foods, Family Recipes & More with The Fiery Whisk
Food Blogger and Foodies Sharing Recipes and Posts
The Fiery Whisk Bakery
Easy Dessert Recipes
Easy Recipes
Christmas & Holiday Baking
Thanksgiving, Halloween, Autumn Recipes & More
Cookie and Cake Recipes
Coffee: All Things Coffee
Alcoholic Drinks
Recipes: Christmas Cookies & Sweet Treats
Do you agree with me when I say that I have a passion for food and recipes?
You can also find me:
Instagram: The Fiery Whisk Baking
YouTube: The Fiery Whisk Recipes & Tutorials
Podcast: The Foodie Project
Amazon author page ...Where you can find my cookbooks and novels!
About the Creator
I am an author, blogger, foodie / baker, copy editor, photographer, and social media manager. When I am not writing I enjoy running, watching the Food Network, sleeping, coffee, chocolate, and hugs.
You can find my books on Amazon!
Reader insights
Be the first to share your insights about this piece.
Add your insights