Eating One of the Most Dangerous Foods in the World — Live Octopus
Trying a death defying local delicacy in South Korea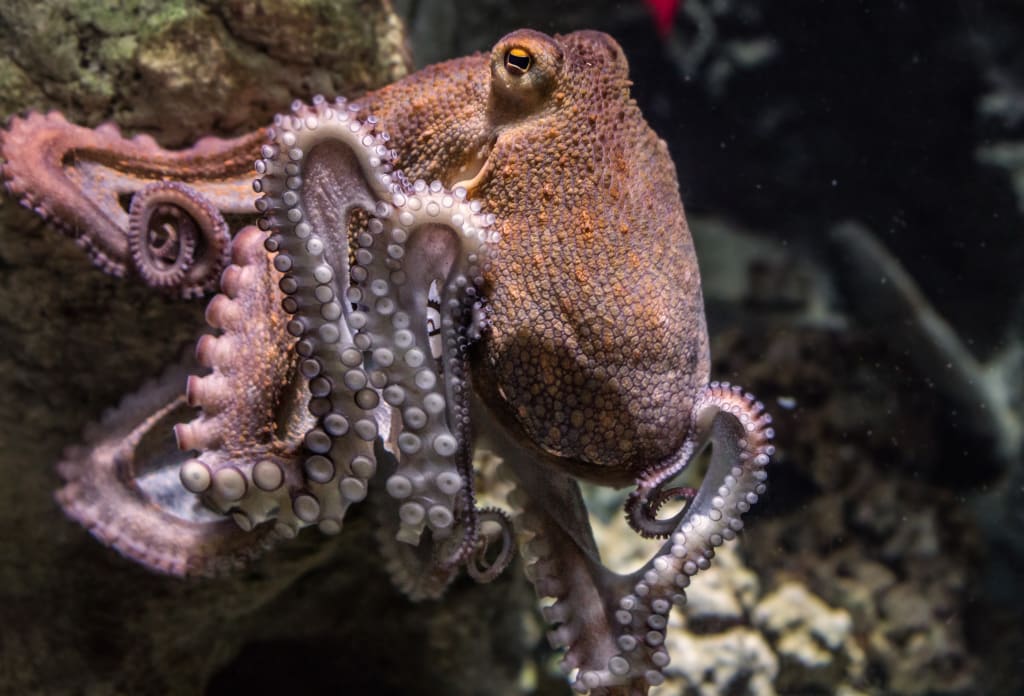 Image by edmondlafoto from Pixabay
Intro
As a conversation starter, my bumble profile had a two truths and a lie section, as did my (now) partners. Our first conversation went something like this:
Me: Oh, I really hope that you saved a pigmy elephant. That's too cute!

Him: Of course I did. ;) I really hope that you didn't eat a live octopus!

Me: Erm….about that…
Yup, that's a truth, I did that. Why I thought that was cool, posing as an adventurous eater rather than an actual psychopath is beyond me. It's a miracle we ended up going on a date!
Why would I eat a live octopus? Well, in my case I thought, why not?! (Although there's a pretty big why not, it's one of the most dangerous foods in the world!). I live by the simple "When in Rome." kind of mentality. Or, in this case, "When in South Korea."
This coupled with being a huge foodie, having somewhat of a morbid fascination with strange local delicacies, and taking a small delight in freaking out my picky eater sister. Well, it was bound to happen.
What is it?
San-naki is a raw octopus dish made from naki in Korean or Octopus minor in English, a small-sized octopus. While this can be eaten while still alive, whole, it is most commonly eaten straight after it has been killed, cut into small pieces, and served with sesame oil and toasted sesame seeds.
Why is it still referred to as live octopus? Because, octopuses have a complex nervous system, with reflexes that continue to fire even without input from the brain. This posthumous wriggling makes it more like a zombie octopus!
Why can it be dangerous?
Because the suction cups on the tentacles are still active, if not chewed properly or swallowed in haste, there is a risk of them sticking to the inside of your throat and choking you to death. As if the zombie octopus wasn't scary enough already.
What was it like?
We went to a Jagalchi Fish Market in Nampo Port in Busan, South Korea, a famous market and for a good reason. It's enormous and vibrant with every species of fish and seafood that you could imagine. If you ever visit Busan, this is a must-visit. It's so fascinating.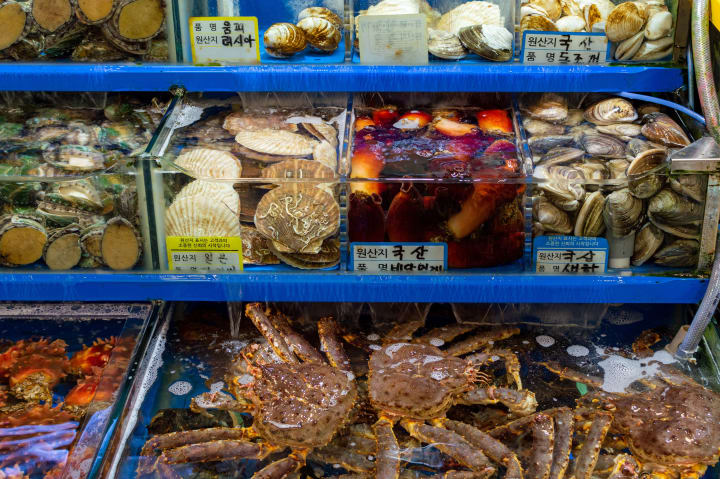 You will say more times than you can imagine, "What the hell is that?". Wandering along with tanks of eels, baskets of sea cucumbers, and bowls of Urechis unicinctus, otherwise known as penis fish because…well, I think you can guess why.
The indoor market resembles an aquarium more than a market. You have to stomach the smell, but it's worth it for the sightseeing experience.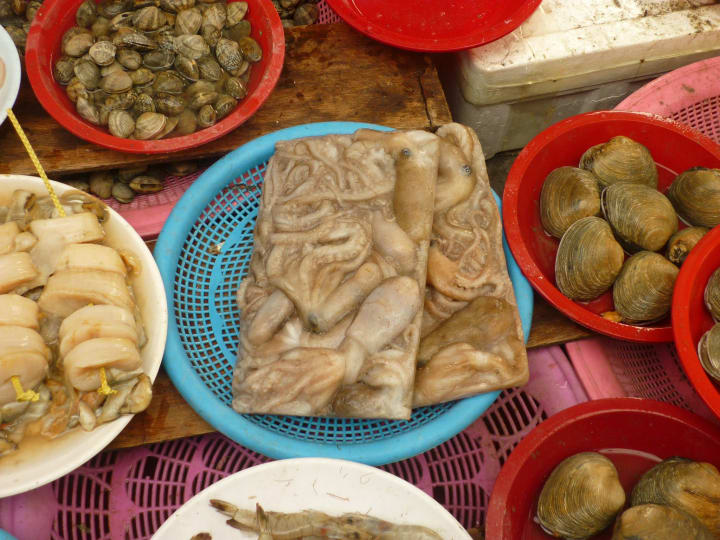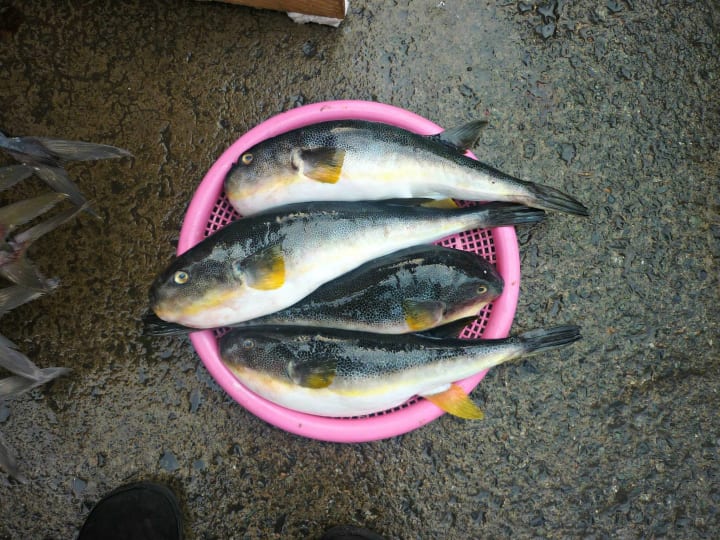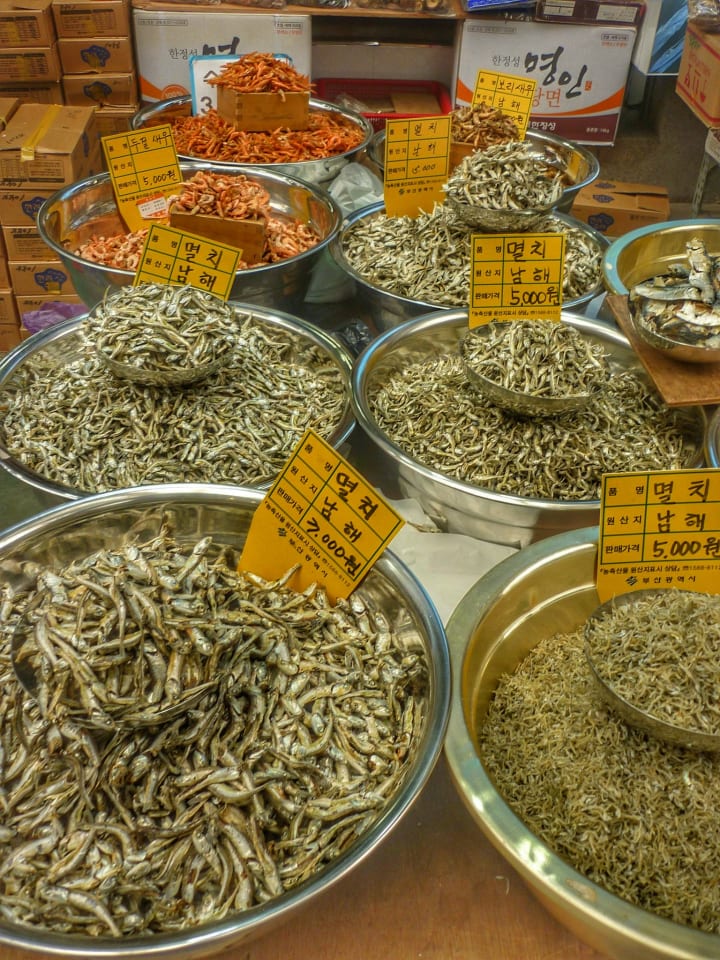 Be careful acting total tourist and taking pictures though, one of the stallholders didn't like me taking pictures of her wares, so she shouted at me and threw a bucket of fish water at me! I jumped out the way and only narrowly escaped it!
Many of the stalls are coupled with small restaurants that cook and serve the freshest fresh seafood for you at plastic tables and chairs.
We headed to the indoor section to the area where we had been told the local delicacy at the end of the rainbow was. The lady who served the octopus was a lot more friendly and delighted to have us try her San-naki. She even insisted on having her picture taken with my ex, and the poor octopus pulled from the tank by its tentacles. (God, I wish I had that photo!)
We sat eagerly at our table and waited while she prepared it, drumming our fingers on the table top and shooting nervous smiles at one another. She beamed as she presented us with a massive plate of wriggling tentacles and a chili soy dipping sauce. Here goes!
Live octopus on a plate (Video credit to the author)
It's hard to use chopsticks at the best of times but even harder when your food sticks to the plate and wriggles to escape you. I finally managed to get one and to try it.
It's a bizarre sensation, but there's little taste. The taste mainly came from the dipping sauce. It just tasted like incredibly fresh sushi. After the initial shock and a lot of chewing to make sure there was no possibility of dying when I swallowed, I realised that it's actually quite nice. Surprisingly nice.
This time "When in Korea do as the Koreans do" was fun, tasty, and gave me a great story to freak people out with!
My first bite! (Video credit to the author)
How can I do it myself?
If you want to go to Jagalchi Fish Market, you can take the subway to Jagalchi Station (Busan Subway Line 1), Exit 10. Turn right onto Jagalchi 3(sam)-gil Street and walk for approx. 5 min.
Entry is free, and you don't have to buy anything but take some cash with you just in case you want to try something at a restaurant or buy some fresh fish to take home. Be aware that the prices at the eateries are higher than usual for Korean restaurants.
Suppose you want to try San-naki, head to the indoor market, and look for a tank with a small octopus in it. If you try it, make sure that you chew it thoroughly before swallowing for safety reasons.
If you would like to make a day of it, I recommend taking a stroll along Yeongdodaegyo Bridge and heading up Busan Tower for fantastic views.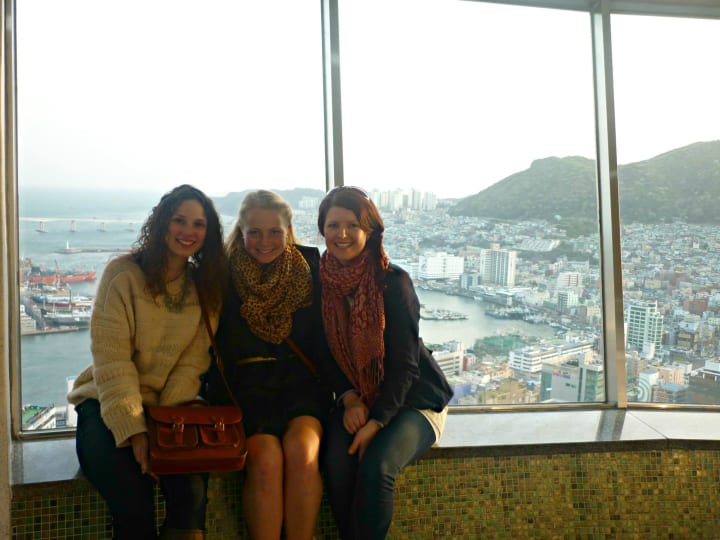 When I visited, it also had this adorable section of the wall covered in magnets of people's photographs doing very Korean hand symbols and hangul.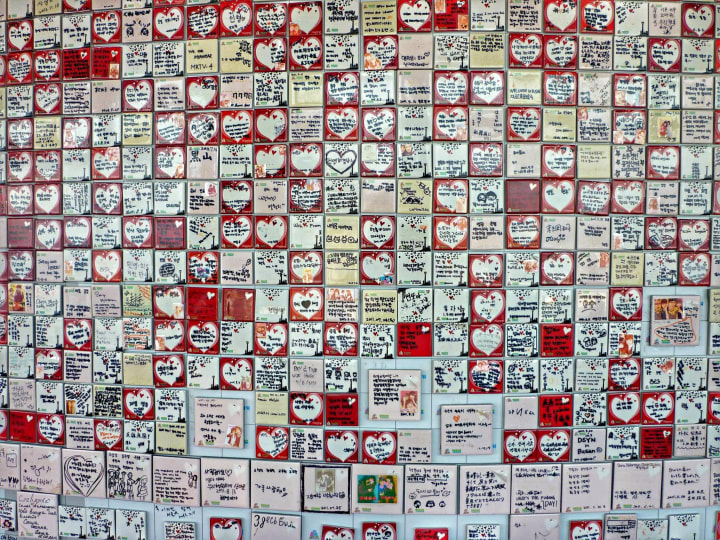 I hope you enjoyed trying this death-defying local delicacy vicariously through me, even if you don't fancy it yourself.
When in Korea!
Thank you for reading! Hearts and tips are always welcome and your support is very much appreciated.
If you enjoyed this, you may also like 👇
Georgina Nelson. Traveller. Writer. Photographer. Yoga teacher.
Sh*t Happens - because the things that go wrong make the funniest stories.
travel
Hi! I'm Georgie and I share travel stories of when sh*t happens. I think that sometimes the worst things that happen to you traveling, are often the funniest
Follow me on Instagram! https://www.instagram.com/sh.t_happens_lost_girl_travel/
Receive stories by Sh*t Happens - Lost Girl Travel in

your feed