Connecting with Great Food, People and Places, Provence
Toujours Provence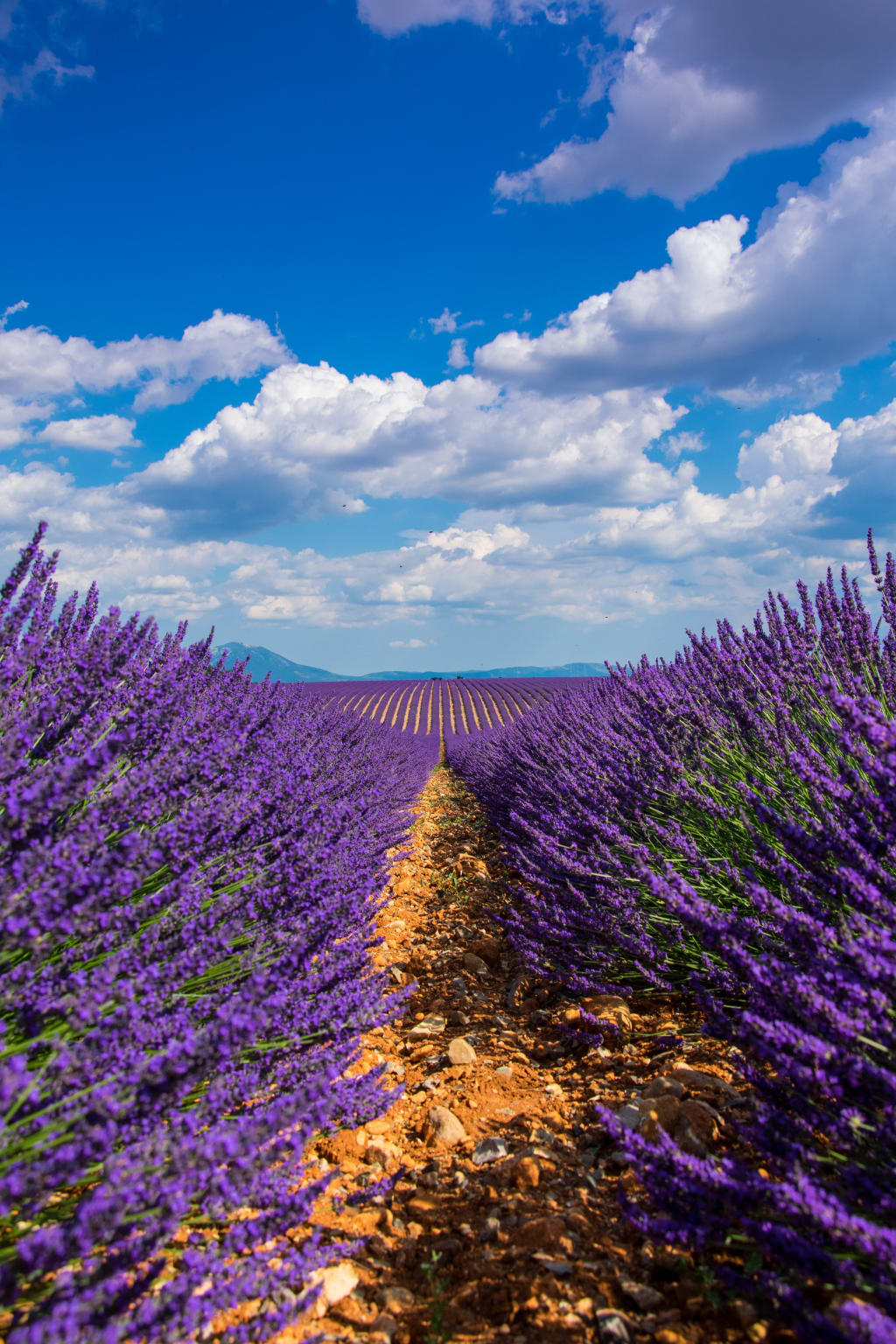 View across lavender fields in the Luberon, Photo by Remi Antunes
On a glorious New England summer day I prepare a French meal I will soon serve to a group of close friends on my well-worn tablecloth that sports sunflowers and lavender. As I lay out this precious keepsake, I'm immediately transported back to Provence.
Some years ago, our family and French friends rented a modern, yet beautifully constructed stone house just outside of Gordes. From afar the town of Gordes seems to fall off the mountainside like a cubist waterfall, and includes a machicolated corner tower as its centerpiece dating back to the twelfth century. The whole village was razed to the ground by the Germans in 1944 in retaliation for the local peasants' stalwart resistance, and has since been restored stone by stone.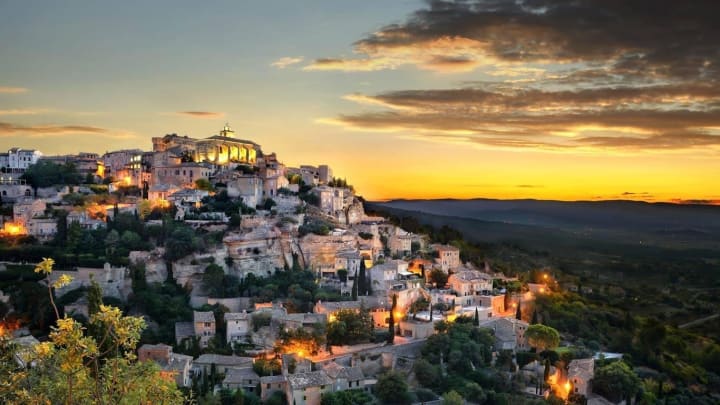 Our house was impeccably true to Provençal style with tiled floors and gray shutters that kept out the midday heat, and opened in the mornings and evenings to panoramic views of the Petit Luberon, and the far-off purple outline of the Alpes-De-Haute-Provence. The yard was full of lavender and olive trees that surrounded a beautiful oval swimming pool, with a poplar tree carefully landscaped into its stone surroundings. The smell from the lavendar and loud buzzing of the nectar-crazed bees was often overwhelming at times.
Nearby an informal outdoor dining area with a woodfired grill, provided a shady spot in which to sit and read at all times of the day. In fact, this outdoor dining area provided our family with some of the most charming and picturesque meals I have had the pleasure of experiencing anywhere.
At breakfast time the three kids would roll out of bed, like sleepy puppies, and set off into town to one of the two wonderful bakeries there. Arriving back at the house around eight o'clock they produced scores of butter soft croissants and baguettes. They were crisp on the outside and once we had ripped them apart with our hands, were light and soft and still steaming on the inside, immediately releasing their sweet, piquant smell. These delicious baked goods went well with the steaming aromatic cups of noisette, consisting of one shot of espresso with a drop or two of milk or cream.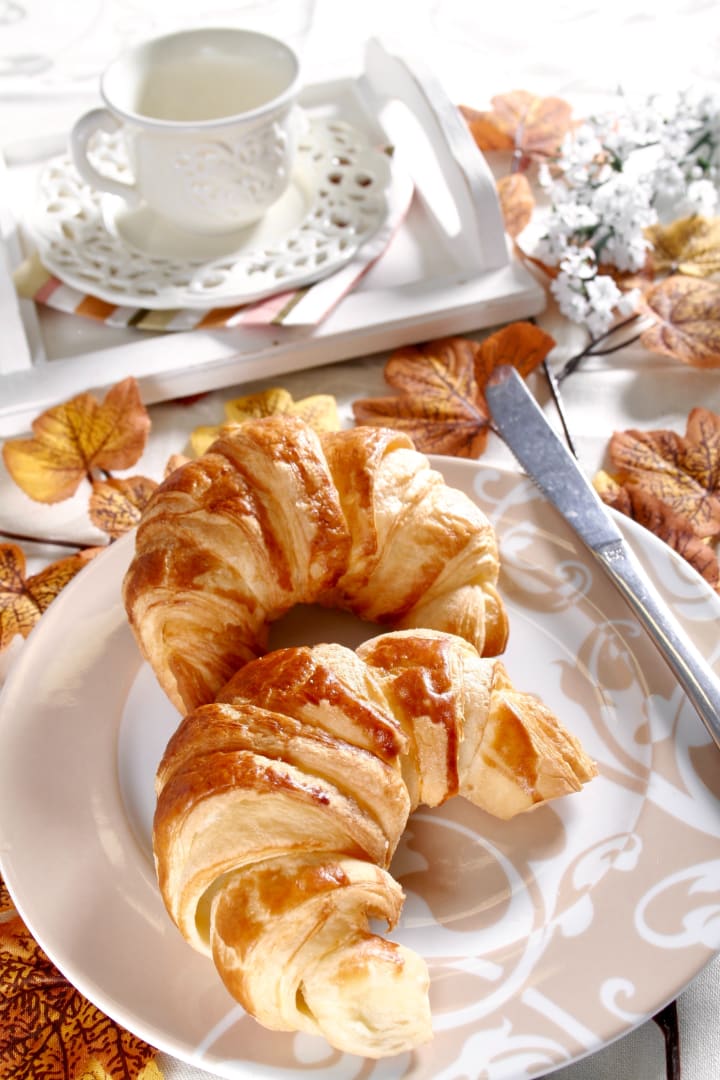 On the Sunday following our arrival we went to the Marche Paysan at Coustellet. What a truly sensual experience that was. My French friend, Maude Glazman Palmer, whisked me from one stall to the other where we purchased baskets of small sweet white peaches, sun ripened figs, golden yellow plums, armfuls of lavender, and dozens of petit morseau du fromage, including a plateful of exquisite thimble-sized sheep cheeses, decorated with translucent red, green and black seeds. The earthy sweet smell of the fruits and vegetables was an olifactory experience I will never forget. The sound of French all around us reminded me how from time to time I like to surround myself with languages I do not understand. My ears take over from my brain and words becomes a strange, exotic music.
After we had visited the market, we picked up several bottles of red wine and rosé produced by a local winery, Chappelle Saint Heyries.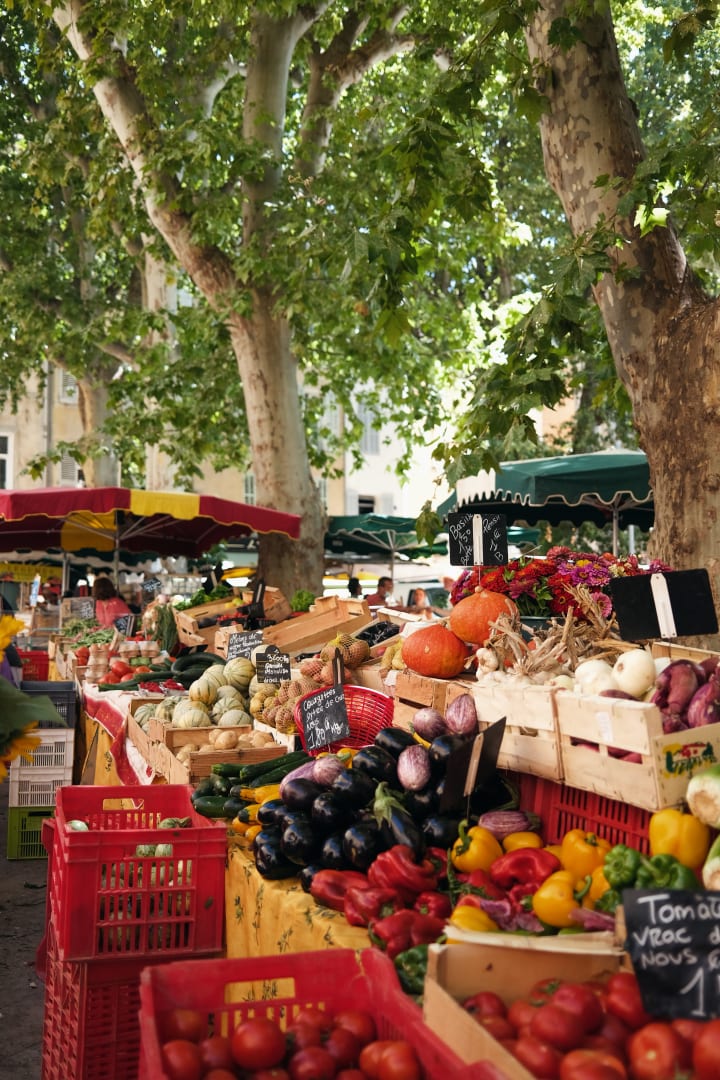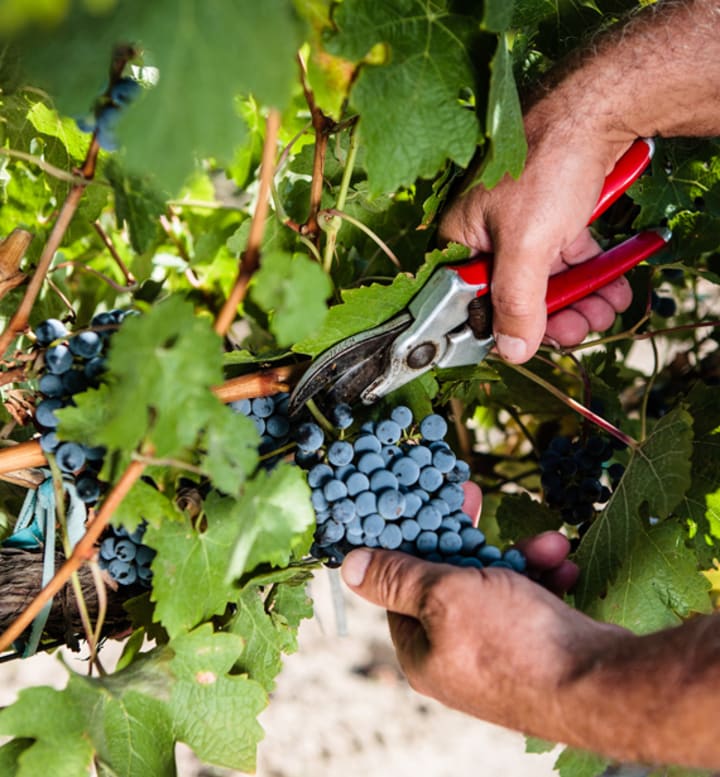 Unlike the Americans, the French rarely drink white wine in their homes, preferring instead the robust reds or really dry, heavy rosés that are less expensive, and of a very high quality. The rosés of Provence are full-bodied and taste of red fruit, flowers, citrus, and melon, often with a pleasant crunchy green flavor in the finish similar to celery or rhubarb.
The French also drink champagne frequently and one of our favorites was the Brut champagne from Palmer & Company in Reims. Maude's father, who escaped from the Nazis by going into hiding during the Occupation, is a respected connoisseur of fine wines, and has put together an exceptional cellar. He has taught her to understand how to find and know a good French wine. She does this through smell and taste, although having visited Provence often she can easily find an excellent wine.
Other delicacies that were unique and came from the region were the many kinds of saucisson - a kind of homemade salami. It comes in all varieties including donkey meat. My daughter wrinkled her nose in disgust when a farmer offered her a taste, however, her companion Maude's son Maxime, re-assured her in a friendly fashion that while he thought donkey meat was quite good, he found horse to be much better. I learned, after having selected a delicious looking pork sausage with hazel nuts embedded all down the center that in order to sample these saucisson at their best, they must be hung up in the kitchen till they ripen and dry out. Only then are they ready to be eaten.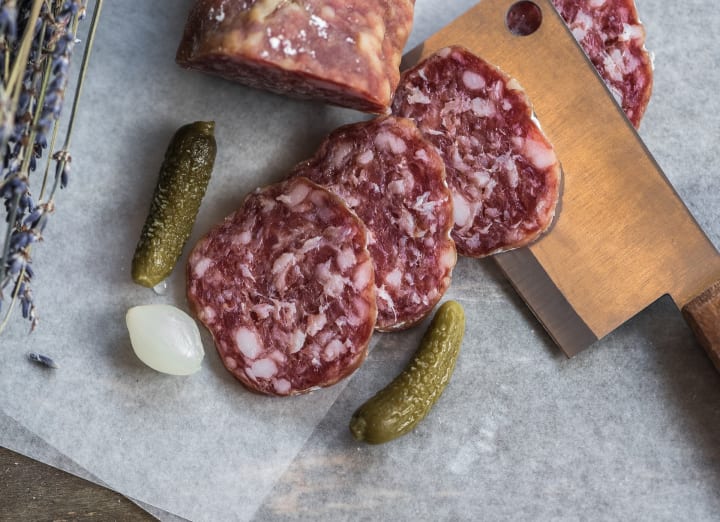 One of the most delicious treats that Provence has to offer is its tapenades and we gorged on this daily, often with a glass of Henri Bardouin, one of the best pastis Provence has to offer. Tapenade is a kind of paste which is made with a variety of black and green olives, eggplant or red peppers to which garlic, olive oil and anchovies are added. In the market at Coustellet we were lucky to find tapenade from "Les Delices du Luberon", a store in L'Isle sur la Sorgue, where one of the legendary tapenade makers of Provence resides.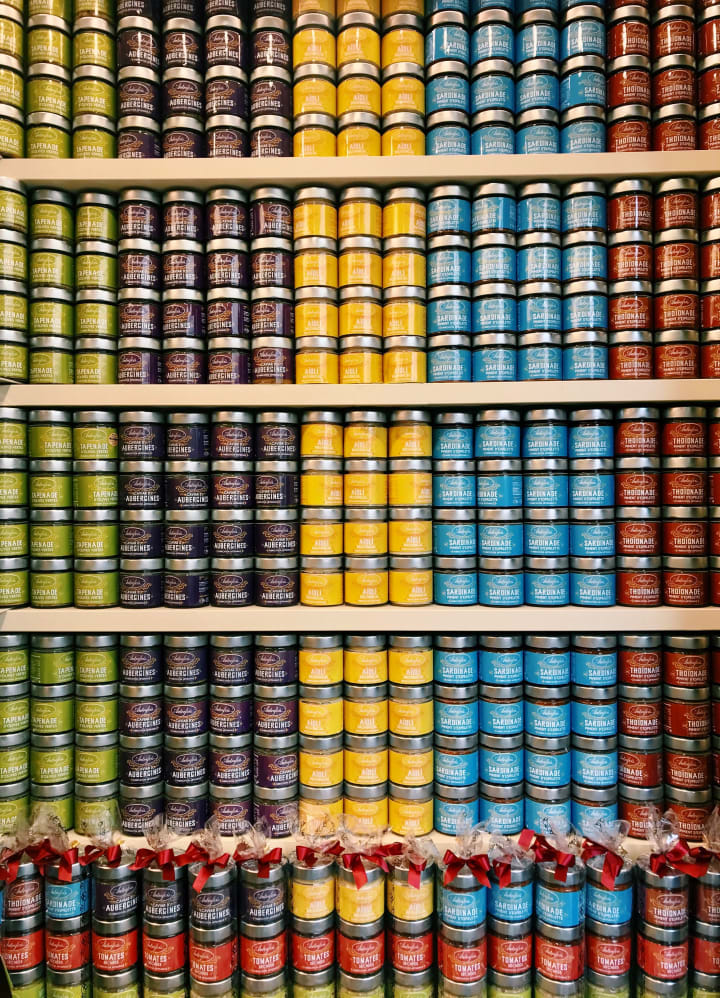 We did not buy our meat from the local markets, but instead we found an affable butcher in Gordes, located off the main square, below a cafe that has tables and chairs nestled around a fountain at the entrance to its Renaissance Castle. Each morning after drinking a petit café there with Maude, and discussing the many aspects of French haute cuisine practiced in her kitchen, we would buy our groceries and our selection of meats and pâté for the day. These included luscious cuts of steak that are much thicker than ours here, almost like a roast; legs and shoulders of lamb that have the bones partially removed to facilitate cooking and carving; and rabbit, quail and duck. The Gordes Bon Marche, with its birds-eye view of the Vaucluse, would provide us with a wonderful selection of fresh cheeses including a dense, oily blue cheese. It smelled earthy to me as if it had spent years underground ripening in dark cellars.
After we had made our purchases for the day, we would return home, where we seasoned the meats with garlic, dried Herbes du Provence and fresh basil, in preparation for the evening's meal. Our dinners would often consist of a barbecue, hearty stews, or a roast nestled into a bed of thinly sliced potatoes. At the same time, we would prepare bowls of fresh vegetables including aromatic wood mushrooms of many different varieties and kinds to garnish the meal, our choices depending on the menu for the day.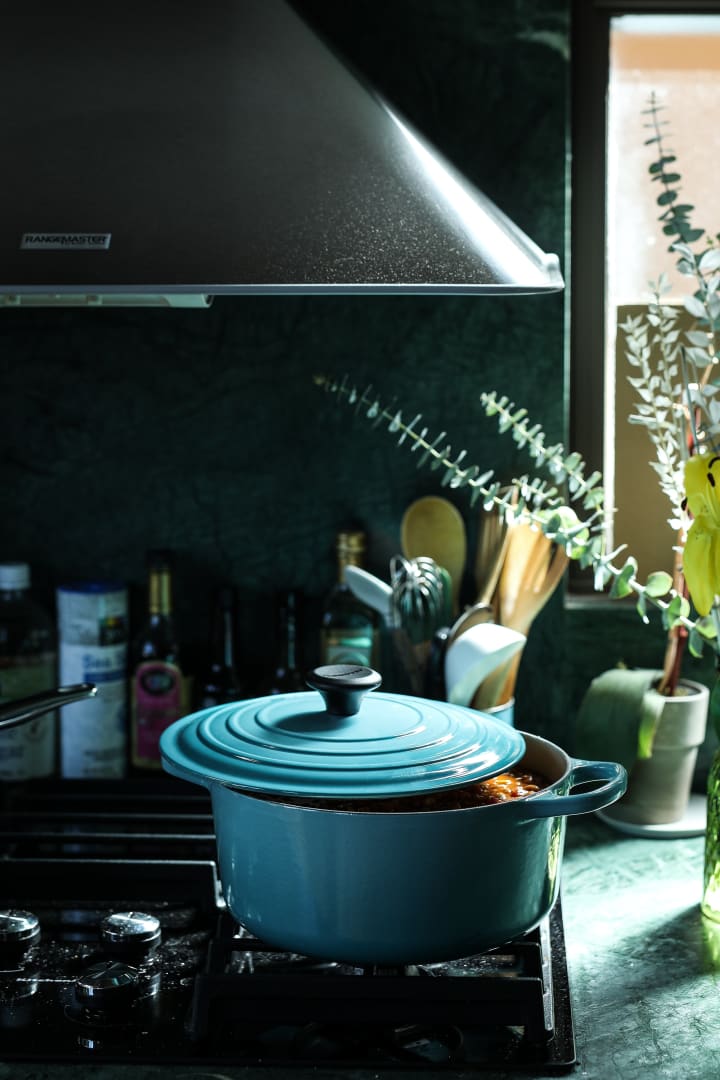 For our lunches Maude prepared traditional onion and tomato tarts. These are pies made with a buttery pastry and then layered with fresh tomatoes or onions, sprinkled with herbs and lightly baked in the oven. In addition, I learned how to prepare radishes the French way, cutting off most of the tops, leaving a green handle to hold onto after scraping them down so that a small red portion is left for its decorative effect. These were then placed on the table in a bowl and eaten individually, after being dipped in butter and salt.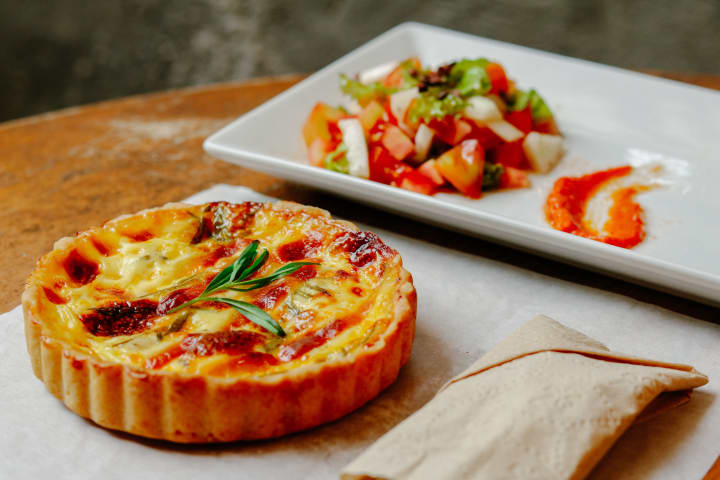 One of the most important seasonings in a French kitchen I learned is goose fat. This delicious and probably highly dangerous to the arteries substance, is used to fry vegetables, and to season meat. Maude spends a whole weekend making hers. About twenty men and women who are her friends, gather together in the spring, after they purchase several geese which have been force-fed so the liver is enormous. They all line up around a wooden kitchen table to make foie de Gras and jars of rendered goose fat. Then in the evening have a ceremonial feast with their families where they devour what is left of the birds. Although I don't think I have the stomach for what is done to the geese, or the arteries for this delicious substance, I can attest to the fact that as a seasoning it is out of this world.
For the French eating, like many things, has been elevated to a fine art and I was lucky enough to be in the company of someone, who despite her busy professional life has kept it as such. We ate a series of carefully prepared meals during our stay that overflowed with the goodness of the region - its meats, its cheeses, its olives, its fruits and vegetables. Our meals were long affairs served with exceptional wines, and accompanied by much laughter with our large group of children of all ages, and the many friends who joined us.
In between this series of gastronomic meals and the warm renewals of long-standing friendships, we spent the afternoons traveling around the Luberon. We visited many of its beautiful old villages of which the most outstanding were Menerbes, Opped -le-Vieux, Roussillon and Viens. In Viens, which happily is not overrun by tourists, we were taken to an ancient olive mill that lies deep underneath the village, which is surrounded by archeological traces of Gallic and Roman settlements. As seen today, without significant restoration, the village dates back to 990AD, and the first recorded reference to its present name of Vegnis dates from 1005 AD.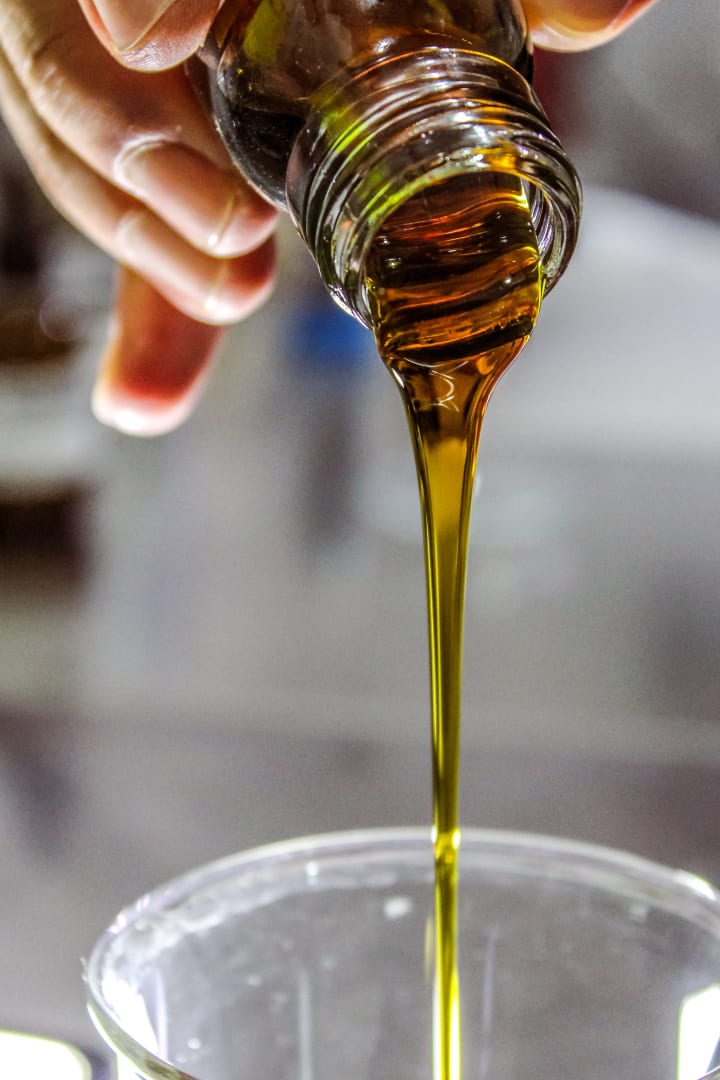 The olive oil mill "Moulin a huile du Puy" was opened in 1573 and operated each year from January to May. It ground all the olives gathered in the region. These were poured down a stone shoot from above the ground, where they were taken to a wooden table crushed, and then put into round straw containers to be pressed underneath a wheel that was turned by both donkeys and men. Finally, the oil was stored in large stone barrels in caves that labyrinth the village. I learned for the first time about the first cold pressed olive oil that is the best, and the only oil that does not contain water. After the first press, water is added to the crushed olives and this happens until the very last press, which produces the lightest and weakest of all oils. Golden first-pressed olive oil with its sweet yet slightly bitter taste, poured onto a baguette torn apart with the fingers, is truly the best.
We ate out three times and each meal was excellent. The first time was in Saint Tropez where we spent the day. Having survived the traffic to get there, we had a wonderful time meandering around the old, colorful, sun-drenched town. After doing that we swam in the Mediterranean on a family beach with unshamedly bare-breasted daughters, mothers and grandmothers. Many of the boats were bigger than our house in the US, and on one block alone we saw a Rolls Royce, a Ferrari and a Lambergini.
Our three-course midday meal cost $9.00 per person and was eaten on one of the quiet back streets in a small and inconsequential restaurant. It consisted of a delicious Mediterranean fish soup served with croutons covered with red pepper paste and a soft Swiss cheese that were floated on top. I also had Creme brûlée with the thinnest layer of spun sugar that hid a light, rich, creamy interior.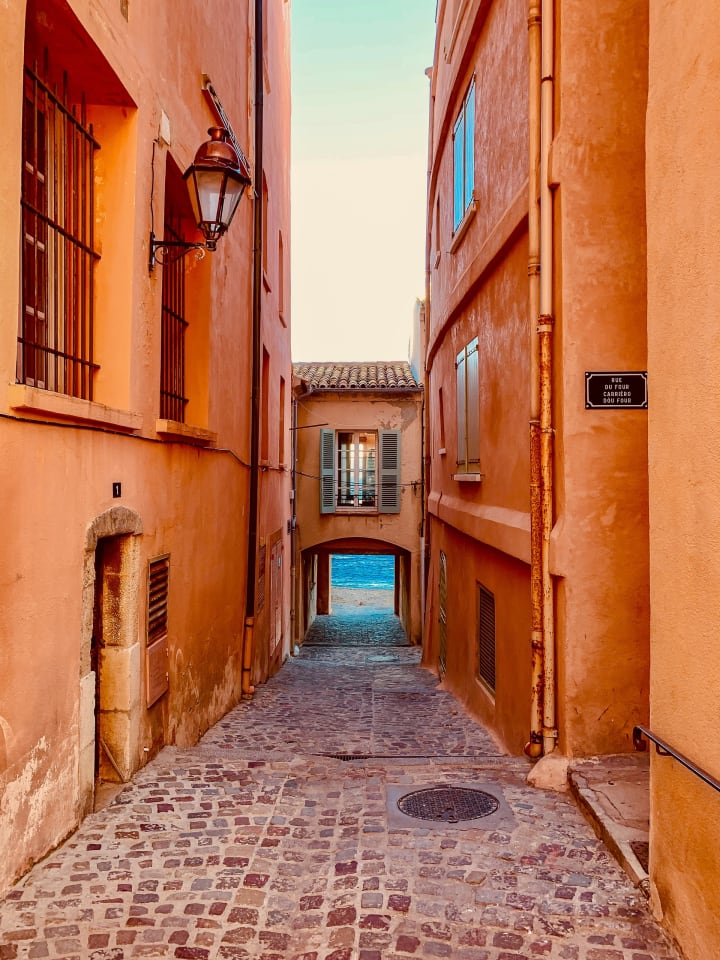 Our second culinary adventure was in Apt, a beautiful old Roman town that caters almost entirely to local residents, many of whom work at the French army base which is located on the outskirts. The town is full of shops that sell reasonably priced carved olive wood, Provençal pottery, hand-woven linen and the brightly colored fabric that is irresistible. Its perfect for homes in the New England area since, many of its designs include mustard yellow, burgundy, federal blue and green.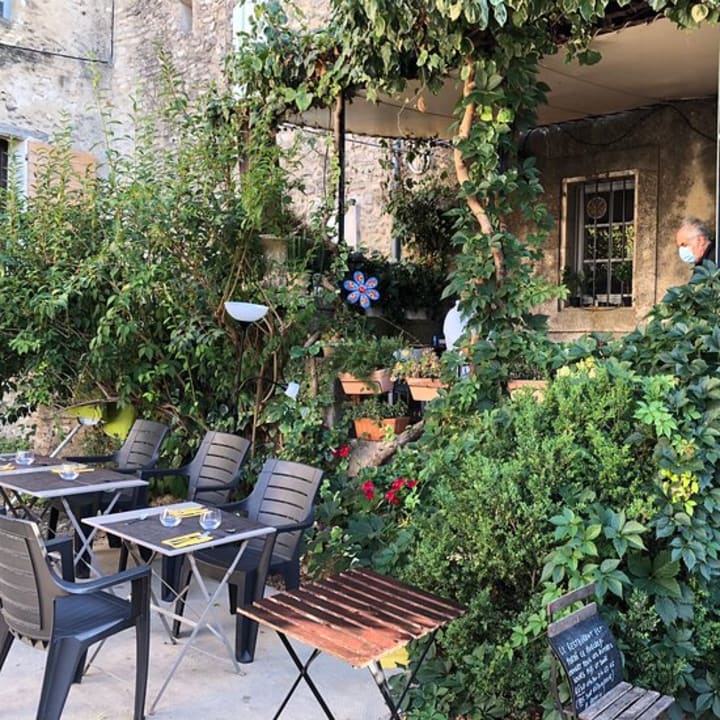 In Apt we ate at a typical family restaurant called La Table de Nos Grandmères, which unfortunately does not still seem to be there. I did however find the restaurant Au Comptoir de Balthazar shown above, which seems comparable.
The "Table of our Grandmothers" was located in one of the charming, tree-lined squares of the town, and served a lunch with a selection of salad plates that represent the four different regions of France. We were presented with a visually beautiful meal that was enhanced by the water that came to the table in large stone pitchers and tasted and smelt like flowers of the earth. This water came from a spring on the family farm in the Bordeaux region.
I had a platter of smoked trout, smoked trout pâté and a dish of large red trout eggs that was fresh and delicious. I topped off the meal with a thyme and citroen sorbet that was organic and had been handmade at a farm outside of town. My companions had a selection of other herbal sorbets that were light, cool and expanded in subtle flavors against the palate.
The most memorable meal of all was in Viens in the home of one of Maude's close friends. This family was local to the area, and specialized in Provençal cooking with an emphasis on "des poissons et gibiers" (fish and game).
We reached their home after a beautiful sunset drive across the vine-covered plateau of the Vaucluse, and along the edges of the Petit Luberon mountains that revealed one breathtaking view after another. As we drove along slowly, we savored its smell of wild sage and thyme, coming through our open car windows on the warm air that brushed frequently across our faces. We finished up our drive by threading our way through the town of Viens, where we passed through its square and saw a country fair being set up in its middle, surrounded by groups of men, women and children playing boules in the dust.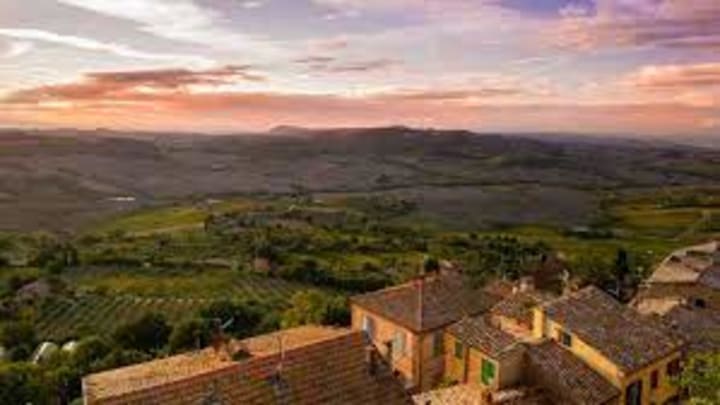 After we arrived at our hosts beautiful stone home, we were immediately offered several glasses of local wine while seated at a table on their terrace, which was covered with a grape arbor. It had a magnificent view stretching all the way to the Alpes de Hautes Provence.
Our meal that night started with snails in a rich, steamy, piquant, herbal sauce. This was followed by a flan of eggplant served with a fresh tomato sauce and a dense and smoky, wine enriched, beef stew that fell apart under our forks. The fish course was tuna grilled under layers of rosemary, anise, onions and tomatoes. Then came a plate of local cheeses served with branches of olive-oil bread shaped like a Celtic cross. For dessert, we savoured popsicles of whipped cream covered in sauce de cassis (blackberries). A dark, aromatic Arabic coffee was served in an antique silver coffee pot, as a luxurious finale to this excellent meal.
Several other French couples who were also friends of our hosts enjoyed this dining experience with us. All of them spoke excellent English and we appreciated the effort they made to speak our language. While we spoke some French, we were certainly not as fluent as they were.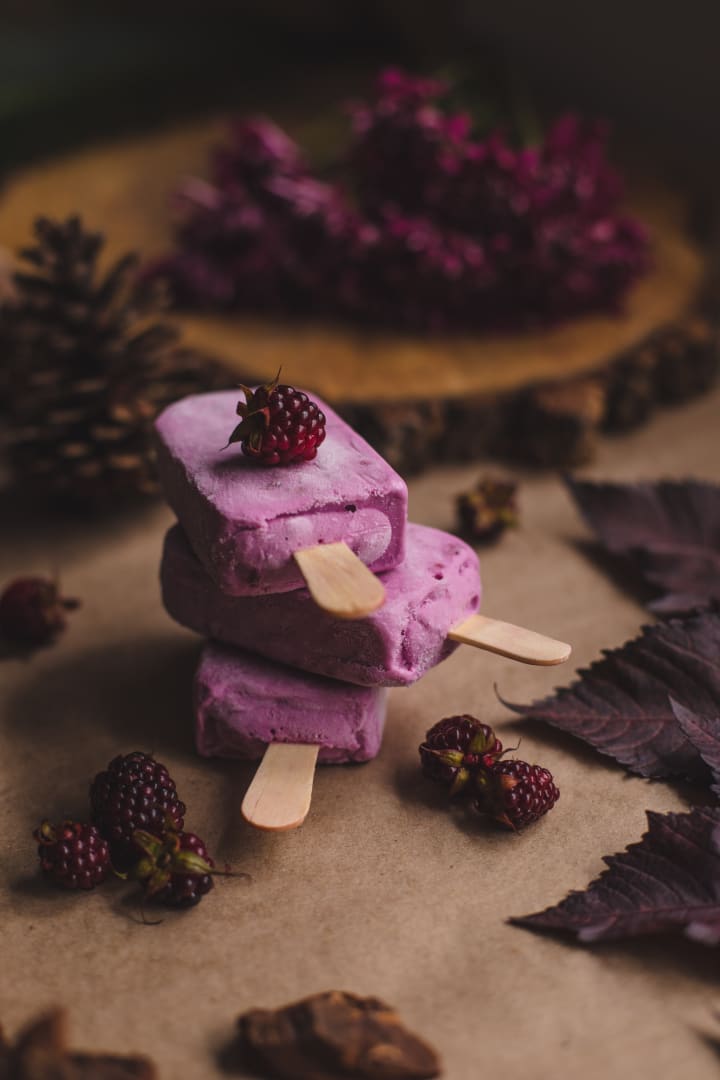 Provence lived up to all my fantasies and expectations - its markets with their cascades of local flowers and fruit, its softly flowing mountain ranges and ancient villages nestled in the Vaucluse, and its charming and friendly residents who were always interested to learn about our lives in far-off America.
Menu for a delightful French summer luncheon for four people.
Tomato and Mustard Tart
Always successful and always delicious.
For the pastry: 80z of flour, 5 oz of butter, a pinch of salt and water.
In a bowl mix with the tips of your finger the butter cut into pieces and the flour until it forms thick crumbs. Now pour a little water over the mixture until the paste becomes homogeneous. Leave it to rest for an hour, but if you are in a hurry you can use it at once.
For the top: some good French mustard, 4 or 5 homegrown or farm tomatoes, 10 oz of gruyere.
After having spread out the pastry on an oven pan, put a thick bed of mustard, then slices of gruyere. Finally add thickly sliced tomatoes, pressed to get rid of the excess juice. Add a few sprigs of thyme and bake in a 375 degree oven for about 40 minutes - check it after 30 minutes.
Hot Goat Cheese Salad
In Provence green salad is eaten at the beginning of each meal. The salad bowl is always wiped with garlic put through a garlic press.
Ingredients you will need: Fresh lettuce from the garden or farm. A package of goat cheese.
Cut the cheese in half and warm both sides on a small piece of bread soaked in olive oil for ten minutes in a 350 degree oven. Make sure the cheese does not melt too much. Add some olive oil and squeezed lemon and salt and pepper, and lighly mix together.
Tapenade
You will need one pound of good black olives, 20 oz of capers, 20 anchovies, 1 or two cloves of garlic, a small glass of rum or cognac, thyme, pepper, salt, olive oil and French mustard.
Choose high quality olives. Capers should be thoroughly dried. Desalt the anchovies by running them under cold water and remove their back bones.
Put chopped capers, pitted olives, anchovies and pressed garlic into a blender and blend on medium speed. Add the thyme, a spoonful of mustard and a small glass of rum or cognac. Bind with the olive oil.
The paste should be either smooth or grainy according to your taste.
This wonderful substance can be served on toast or crackers. It can be used on tomato salad, with pasta or eaten with small goat cheeses.
Cucumber with Tapenade
One long English cucumber. Some Tapenade. Peel the cucumber and let it drain in pieces with the seeds removed. Cut into pieces and fill with Tapenade.
Zucchini with capers
You will need four small zucchinis, two large eggs, a handful of capers, lemon, olive oil salt and pepper.
Blanche the zucchinis for five minutes in boiling water in their skins, Drain and leave to cool. Split them in two and remove the seeds from the centre with a small spoon.
Replace the centre with roughly chopped hard boiled egg sprinkled with olive oil, lemon juice salt and pepper. Lighly cover with chopped capers.
Serve chilled in a flat dish.
As an accompaniment to this meal serve several crusty French baguettes and bottles of Cotes de Provence, a delightfully light but fruity rosé wine.
Dessert
Many people do not believe there are any great desserts from Provence because they do not compare with the cream tarts, meringues and chocolates of other French areas.
However, here is a lovely light desert I found from Mirabeau.
You will need two pints of strawberries, whipping cream, icing sugar, lemon zest and some Chambord liqueur.
To make the syrup you will need basil or mint, 2 oz of sugar, 2 oz of water.
Put all the ingredients into a saucepan, bring to the boil, then simmer for three minutes. Once the sugar has dissolved and you have a nice green liquid, strain and cool.
Mix the cream in a bowl or in a mixer, together with the icing sugar, lemon zest and a teaspoon of Chambord liqueur. Whip until it creates soft peaks (should take around 4-5 minutes), then leave in the fridge.
To prepare the strawberries wash and remove the stalks and cut in half lengthways.
Once the syrup is cool, pour over the strawberries in a bowl, to soften ('macerate') for a few hours, or overnight if you want really soft strawberries
Place strawberries in your chosen dish. Add a dollop of Chambord cream and garnish with finely sliced mint leaves.
Bon Appetit!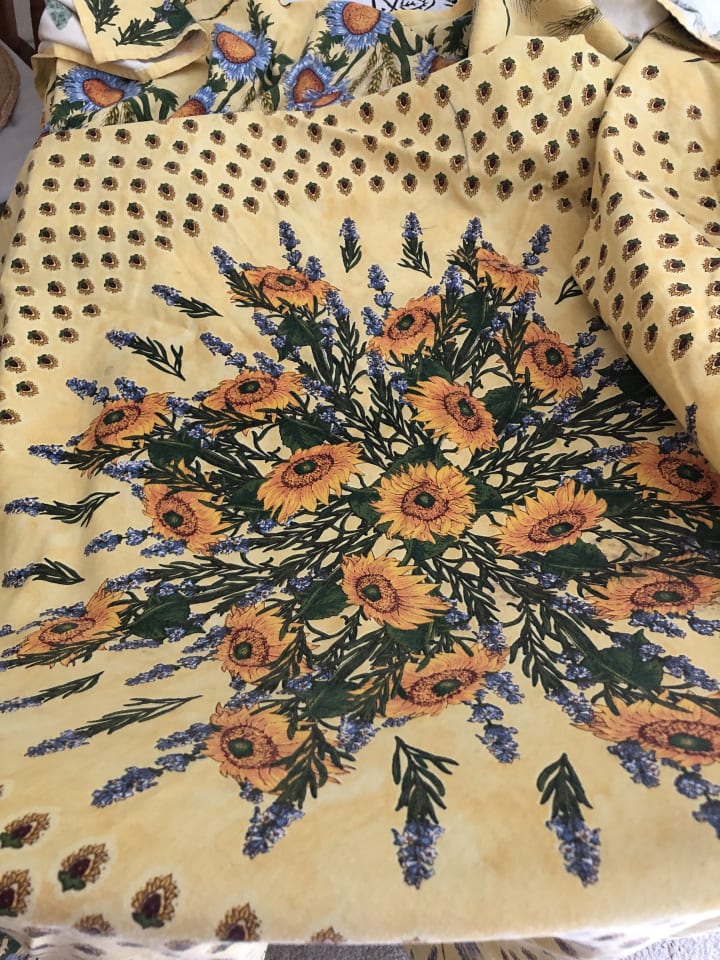 Felicity Harley
Felicity Harley is a polished public speaker, published journalist, and writer. Along with her career as a nonprofit executive, she served for twenty years on the board of Curbstone Press, an internationally recognized publishing house.
See all posts by Felicity Harley →