Champei's Amok
My first taste of Khmer amok was like love in a mouthful.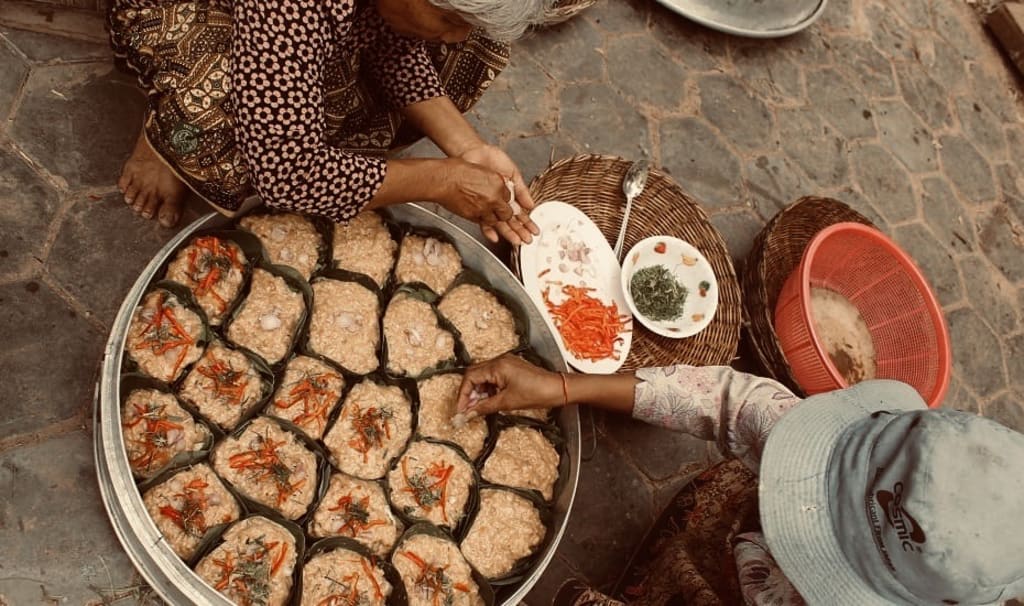 When I was eighteen, I was in the peak of my youth and having just been freed from the clasps of school, I packed a bag and lived solo in Cambodia for six months. The first moments that I spent in Cambodia, from stepping off the plane to sitting on the gutter with a lady who had no teeth but the biggest smile eating amok are the clearest in my memory.
***
The aeroplane vents exhaled air-conditioned mist into the aisles. Sickly sweet and artificial, I could taste it sticking to the back of my throat, like the scent of lavender that sticks to wallpaper. The people around me are alien, their faces are grey under the painful detail of the individual reading lights. I couldn't wait to get off, I was staring at the seatbelt sign willing it to turn off…when it did I was the first one up out of my seat, with nothing but a small backpack and a shoulder bag, I was out of the plane before anyone could thank me for flying with 'Vietnam Airlines'.
My first impression of Cambodia was 'fuck it's hot' and the photo below;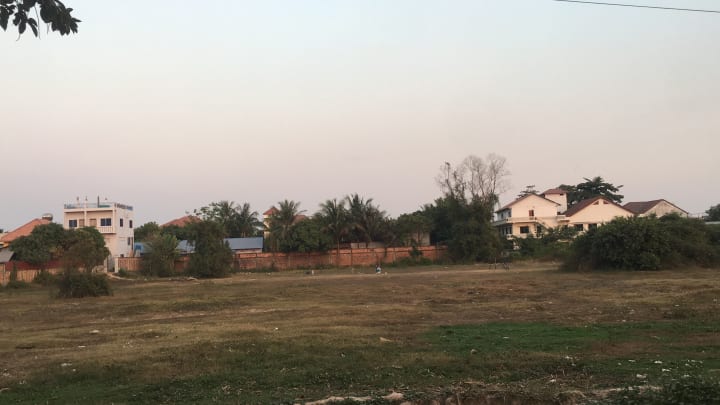 ***
My tuk-tuk driver's bare back glistened with sweat from the humid Cambodian atmosphere. His muscles powered a revolution in his shoulders. It was something in the way he moved that told me me of the weight that his shoulder blades carried. 1975, Platoon, Red, dope, Kampuchea and Angkor. He must have been young, maybe 13 or 15 by the time the Rouge fell. Young enough to not understand, but probably old enough to carry a Soviet Assault Rifle.. He must have lost his parents.
After spending nine hours in the clouds, to be thrust so violently into the convulsions of a heaving city was a shock to the system . If you have ever been to Phnom Penh, you would know that the city is inexhaustible. A constant billowing flame, it is a crystal ball that had trapped lightning, a pocket of chaos in a land of peace. The sudden burst of neon lights and the petrol breath of the city caused my tongue to sour. The inaudible language and senseless blur of the world passing by me as I sat cross-legged and quiet on the dirty, red dust covered leather tuk-tuk seats, and I felt so happily lost in the wide and inexhaustible variety of life that surrounded me. My stomach was growling after sleeping through dinner time on the plane, I hadn't eaten since the day before.
The Boulevard pumped like the labouring lungs of a rice farmer. Like me, the serious travellers had already begun to move on to the next city-chain, the intermediate travellers were wondering where all of their time, money and life had gone, and the tourist hordes were ready to descend on their freshly beaten track to every tourist destination the city held. The polarised image of a traditional sunset glowed in fragmentation between the gaps created by the sky rise buildings. A balcony of Americans with braided hair and dirty T-shirts lent over the guard-rail, enjoying the vibrant scene below. Their music was loud and their accents were very strong. My tuk-tuk driver dropped me off on the corner of one of the busiest roundabouts I had ever seen, it didn't work like a roundabout, it just worked like directionless chaos.
I decided to prioritise finding food over a place to stay, even though the sun was setting. I walked aimlessly down a street that had no name (and that isn't a figure of speech, most streets don't have names in Cambodia, unless that are boulevards of highways), and tried to follow my nose. I smelt it before I saw her, cream, basil, lime, fish, chilli, turmeric, ginger…Sitting on the pavement across the road, an old lady so old that her skin was leather and her back was hunched. Her name was Champei, she was 92 years old and lived around the corner with her son, his wife and children, her widowed granddaughter and her great-grandkids, all of this I learned later on.
She was crouching on her feet, elbows resting on her knees stirring a pot filled to the brim with yellow, bubbling curry. She had made her bowls out of banana leaves, they sat on the edge of her bamboo mat. Her gas cooker spluttered a pathetic flame but the pot was issuing a fragrant steam, strong enough to overcome the smell of petrol and sewerage. I walked through the traffic, fumbling in my bag for some spare riel*, she saw me coming and had already picked up a bowl and started filling it to the brim with this mystery golden curry. I can't even describe the smile she gave me, so I have put a photo of her below…
*Cambodian currency, 1USD = 4000riel.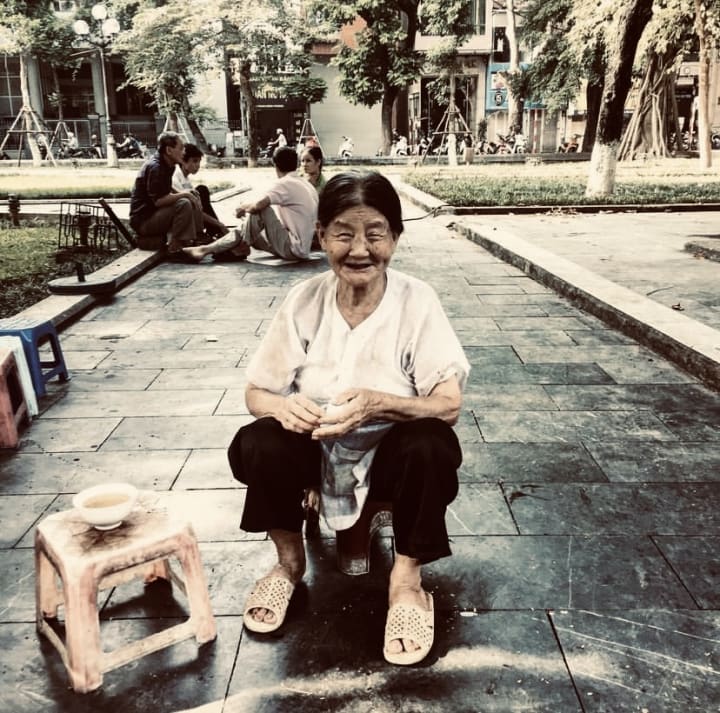 My first taste of Khmer amok was like love in a mouthful. It was creamy, and spicy, fresh and wholesome all at once. It tasted like nothing from home, which filled me with travellers joy. I sat next to her on her bamboo mat, and we ate together and communicated with the little Khmer that I knew. I spent my first few nights in Phnom Penh with Chamepei and her family. Those days were spent making and selling amok on the street, and drawing mandalas with Champei's great-grandchildren in her red-dust front yard. Whenever I make amok at home, I make it to honour Champei and bring a little bit of her love into my home for my family. It reminds me that really, through all of the turmoils of life, all you really need is good food and your family to survive.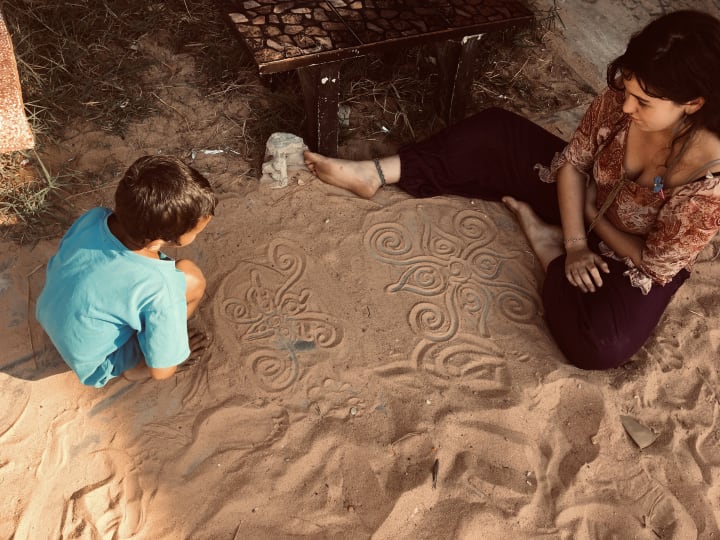 Maybe it was just the emotion and heightened senses of thrusting myself into a new place that made that first bowl forever incompatible, for even over the next six months I never had a bowl of amok that compared to the one that Champei first made, and when I try to recreate it at home of course I come nowhere near bringing justice to the age old recipe like she did.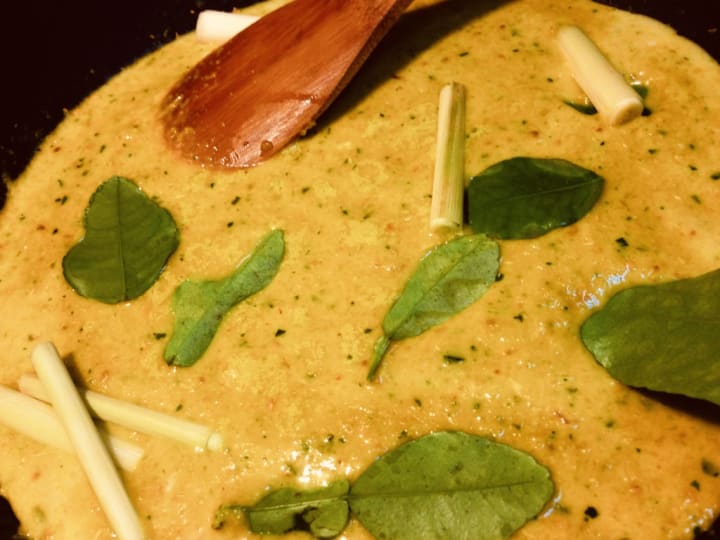 The recipe if written down below, if you think you have nailed it, let me know!
Khmer Amok
Ingredients
- 500 grams of white fish (will depend on the amount of people you are feeding, the fish will need to be skinned, de-boned and cut into slices)
- 3 tbsp yellow kroeung paste (three lemongrass stalks peeled, chopped and outer layers discarded, 1 tbsp ginger peeled and chopped finely, 1 tsp kaffir lime zest, 1 tsp turmeric peeled and chopped finely, 5 cloves of garlic peeled and chopped finely, 2 shallots peeled and chopped finely mixed together to form a curry paste)
- 2 dried red chillies soaked in water until soft, seeded and drained or a tsp of red chilli paste.
- 1 tbsp fish sauce
- 1 tsp shrimp paste
- 2 tsp palm suga or brown sugar
- ½ cup first press coconut milk or tinned coconut cream
- 2 eggs beaten
- 1 pinch of salt
Instructions
Prepare the yellow kroeung and add the red chilli and pound well into the mixture. If you don't have a mortar and pestle you can blend it all in a blender - they both present the same results!
Combine the kroeung, fish and other ingredients. If you want your fish to be chunky, add at the last minute, if you want it to be stringy, add now and mix with a fork or spatula.
Your seasoning should be well balanced and taste a little fishy, a little salty, slightly sweet, a tad spicy, and rich and creamy. Everyone is into different flavours, so this is your chance to add a little bit of YOU to the recipe. Adjust as necessary by adding a pinch of salt or sugar, fish sauce, or even a little chilli.
Add the curry mixture to a shallow bowl/banana leaf basket and fill almost to the top. Use a spoon or spatula to flatten the mixture out, drizzle a teaspoon of coconut cream and sprinkle some finely sliced kaffir lime leaves on top.
Steam for 20-30 minutes then check. The fish amok should be cooked through and firm to touch but still retain a moistness. Dry amok still tastes good, but you miss out on that divine curry-like texture. When it's almost done add the rest of the coconut cream on the top and steam for a few more minutes (this is optional, if you are super hungry you might not want to worry about the garnish!)
Garnish with the remaining kaffir lime leaf slices and finely sliced red chillies or red capsicum if you don't like chilli (again, this is optional!)
Serve immediately with rice if you like!
Enjoy