Campechana for Micheal Jordan
A chilled seafood salsa cocktail, and a terrified cook.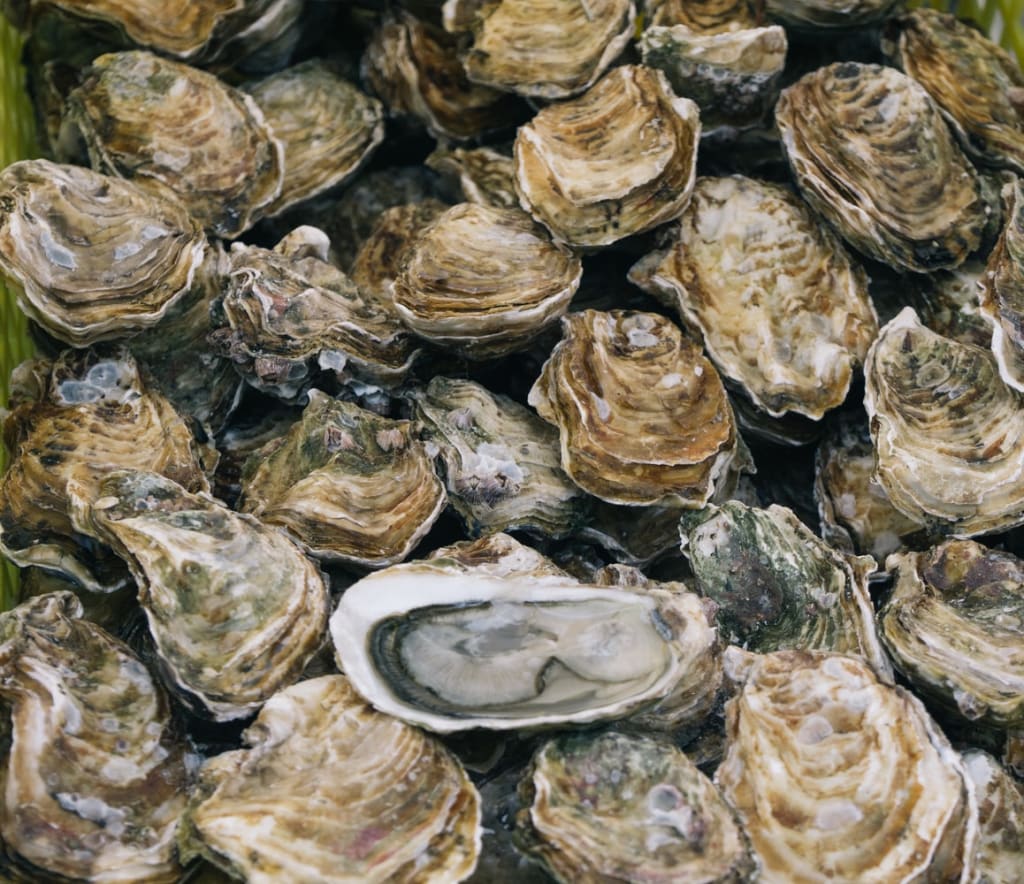 "Micheal Jordan is here, and he wants to try the campechana." The maitre'd quietly hissed at me as he stomped into the open kitchen.
"The basketball player?!" I dimly asked, confused.
I dropped the salad I was making, and craned my neck to survey the huge, darkly lit dining room.
The maitre'd gave me a subtle but sharp kick in the shin with his pointy shoe. "What's wrong with you! Focus, and make it perfect, or your fired!"
How did this happen?
Well...I had come across the country to North Carolina in a 35 year old van several weeks before hand on a whim. Barely hurling the poor thing over the Appalachian Mountains. Then I proceeded to stumble into an "under construction" restaurant that appeared to be dripping with money. I had a bag of $3 knives and not much experience to speak of.
Three weeks after being hired, during our grand opening, this catastrophe starts to unfold.
I had no idea if I was actually making this for Micheal Jordan. It had occurred to me that North Carolina was where he played college basketball, so I considered it possibile. Regardless, I knew there was a great chance I was about to be thrown out the back door.
In those days, I spent hours preparing this single dish fresh for my station, so when it came time for service all I had to do was assemble the ingredients. It would have been a cake walk if my brain hadn't been spiraling.
The Seafood consisted of...
Oysters that had been freshly shucked and slightly poached in a light beer just until there skirts started to slightly curl.
Shrimp that had been rolled in a jalapeño mignonette (a purée with some vinegar) then grilled, cooled and cut into chunks.
Finally, fresh lump crab meat, picked and ready to roll right in.
For the Salsa components...
I would lightly roast tomatoes in a stone pizza oven and then roughly chop.
Over the wood fire grill I would place thick slices of red onion and poblanos. I would medium dice the cooked onions, and after the poblanos were throughly roasted I would clean then mince them.
Easily enough done.
In a small mixing bowl I placed the following prepared ingredients;
Roasted tomatoes, Grilled onions, Minced poblanos, Poached oysters, Grilled spicy shrimp, and the Lump crabmeat.
I gave these a mix and then added the final fresh ingredients;
Lime juice, lemon juice, minced garlic, cocktail sauce, olive oil, coriander, cumin, salt, pepper, fresh picked cilantro, and chunks of diced avocado.
Once combined I would serve in either a martini, or sundae glass. Surround this by many freshly fried corn tortilla chips.
I tasted my concoction. Panicked, adjusted, tasted, seasoned, tasted, panicked and served.
Finally, I patheticlly smooshed a few more cilantro leaves on top. As the waiters were taking the dish away I muttered something to them that was indiscernible to even myself.
I looked back at the 25 tickets I had been ignoring up to this point and started to frantically slap food onto plates.
15 minutes later, I saw his servers, and I asked "What happened?!"
They told me everything was fine, they had been instructed to wait until his mouth was full to refill his water, and return later for the entree order.
Bullet dodged I suppose, I started to breath again. All the while I was hoping for more. Should I wait for a parade, or shall I kick myself out?
I've been left with many questions since that night, but I've choosen to let most of them go. What I hold on to is the lovely feeling of being deep in over my head in unfamiliar waters, and the desire to find a more bizarre situation.
celebrities
Young chef from the Midwest writing recipies and cooking stories. My content's only on Vocal. Please consider supporting by sharing anything you enjoy or by leaving a tip. It's greatly appreciated! Thanks and enjoy!
Receive stories by GrassFedSalmon in

your feed