Black in Business: The Plant-Based Kind
How vegan food influencer, Tabitha Brown, helped me achieve a (mostly) plant-based lifestyle
Making Vegan Mini Pizzas with Tabitha Brown (Goodful)
"Like So, Like That," Tabitha Brown's joyful, uplifting voice brought spirit and sparkle into my quarantine. And, perhaps more importantly, she helped me transition from a pescetarian to a mostly plant-based diet.
A little more than a year ago, I knew that I wanted to take the leap to veganism. My compassion for animals may have begun with my favorite childhood book, Charlotte's Web. I'm a firm believer that avid readers are more emphatic since they see things from a myriad of viewpoints. Or maybe it was just an innate trait, a little something extra that I was born with. Flashback to my inability to pierce a fishing hook through the tender skin of a minnow and my tearful tantrums over whether the crabs we caught were screaming as they were placed in boiling water, their legs flailing. Regardless of the reason, the feeling pervaded. Eating animals, especially factory-farmed ones, just wasn't part of my ethical code.
Most of the people I told about my new adventure were supportive, but many would pepper me with the same old questions about protein and vitamins. Some would just flat out tell me that there was no way they would survive it because cheese was something they couldn't live without.
"Are you crazy? What are you going to do, just eat lettuce like a rabbit?"
I had to admit that cooking and planning meals for my husband and me would entail a lot of creativity. Being raised in a meat, vegetable, and potato world didn't provide me with the culinary skills this adventure required. I mean, at least as a pescetarian, I could still recreate most of my go-to dishes such as cheesy pastas and lasagna, shrimp stir-fry and rice, and omelets and hash browns.
That's when fate put a Vogue article in my social media feed that changed everything. Wearing jewel-toned shades ablaze like fireworks in the summer sky, Tabitha Brown's positive energy radiated from the screen.
"What is jackfruit?" I thought to myself as I watched her prepare Maple BBQ kabobs with other star ingredients like pineapple and peppers. "A meat substitute? Hmmm."
Moments later, I was adding jackfruit to my Instacart, my taste buds ready for a culinary ride. And that night my husband and I sat outside by the grill with a dinner plate filled with colors almost as bright as Tabitha's personality.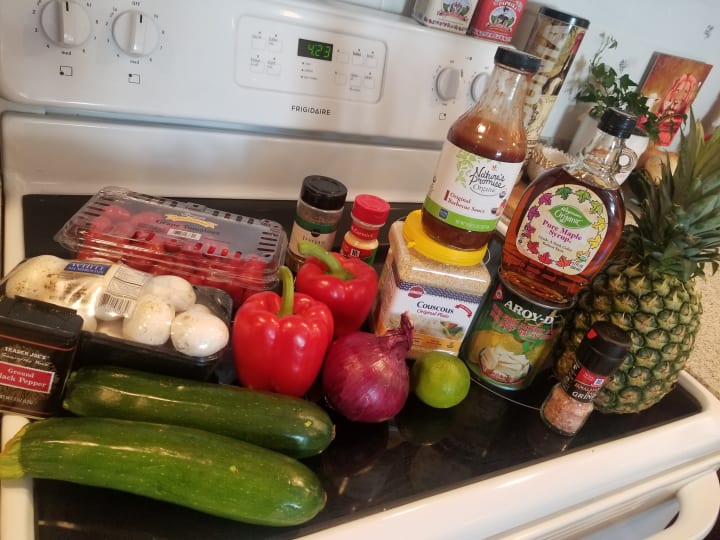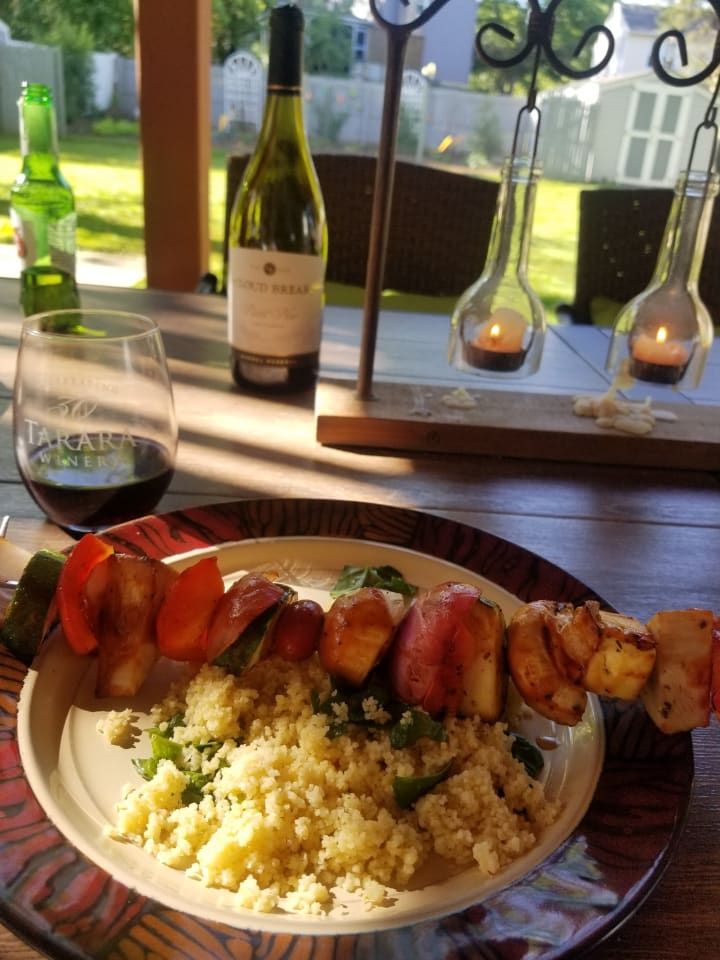 I immediately began to follow Tabitha, letting her words encourage me.
"What is your why? If your why is true to you, if it means something, then stick to it," she said in one of her YouTube videos.
I sought out my why. And with a little time, I found strength in the reasons I wanted to move toward veganism.
"Comfortable is whatever feels good going in, and while it's in, you still feel good…you have a good feeling about yourself," Tabitha went on to say.
Yes, indeed. It is safe to say that I have a good feeling each time I prepare her recipes. I am now a "cool kid, honey!"
Although it may appear that Tabitha, a fellow animal-lover, had overnight success, it was a little bit more complicated than that. Hers was a journey requiring perseverance, flexibility, and self-acceptance. Tabitha, both a devoted mother and daughter, bounced back and forth between her home state of North Carolina and California. An aspiring actress, she also had to help take care of her mother who was suffering from ALS. Tabitha began to feel her own discomfort, chronic pain, and fatigue. Struggling with the ability to continue working, she went on disability. When the funds ran out, she tried different jobs to help support herself and her family, even working as an Uber driver. After watching the documentary What the Health, she tried veganism as a possible cure for her physical ailments. She says the diet, along with other life changes, was a success and brought her back to health. After only ten days on her 30-day vegan challenge, her chronic headaches disappeared. And her approach worked in more ways than one as her new lifestyle helped rise her to stardom.
Her review for a plant-based BLT sandwich went viral in 2017, leading to a brand ambassador position with Whole Foods. In 2020, she began sharing vegan recipes and advice, along with family moments, on the social media platform, Tik-Tok. A couple of months after, she had millions of social media followers. Later in 2020, she was signed on with Creative Artists Agency and got her own show, All Love. People for the Ethical Treatment of Animals (PETA) has even crowned her their person of the year. Soon to be released, she has a two-book deal for a vegan cookbook and a motivational book inspired by her catch-phrases entitled Feeding the Soul (Because It's My Business). She will also appear on the fourth season of the television show, The Chi.
In an interview for USA Today, she said that she was "always trying to be a certain look to fit in to what [she] thought Hollywood wanted [her] to be." She believes that some of her sickness was due to the fact that she was "suffocating the real [her]."
The take-away is to be true to yourself. Let go of who and what we think we should be and reach for self-acceptance. Show the world the authentic spark beneath the camouflage.
For me, one way to do that is to embrace my animal-loving spirit and live to my truth the best I can, even if that isn't accepted in all environments. Very few people are raised vegan, so it requires quite a big transition. And as you try to make better choices, sometimes you feel stuck between traditional-diet people and strict vegans. Even Tabitha has stated that although veganism means a healthier, happier, and cruelty-free life, she is still a little afraid of it. She states, however, that we need to "judge less and love more."
Tabitha has also inspired me to keep working at becoming a better writer, which means breaking through the façade and entering an internal world that few have seen. Exposing the true you, whether on stage, on social media, or through the written word, requires quite a bit of mettle.
Another interesting fact about this talented woman is that she seeks to discover more about herself and her health. Although she believes that veganism is for her, she does not force it on her family or other people. She says veganism is "an adventure" in which she is "still discovering" new things. Her words and recipes have helped me (and I'm sure thousands of others) consider and reconnect with my "why." Have I been perfectly plant-based for the last year? No, I have not. I'll admit that I have slipped up with a bit of seafood. Thank you, Tabitha, for reminding me to "remember my why" and not beat myself up over it. As she says, "Have your moment and get back on track."
In addition to much-needed respite while scrolling through all the bleak news the past year has contained, Tabitha's vibrant videos inspire hope, laughter, and an arsenal of delicious plant-based recipes. And although we had slightly different reasons for eating plant-based, I'm sure we can both agree that with "a little bit of this and little bit of that," you will hardly miss the meat.
Tabitha Brown's Carrot Bacon Recipe
INGREDIENTS
1-2 Carrots (full size) Sliced using a vegetable peeler
2 TBSP Liquid Smoke
2 TBSP Maple Syrup
1/2 Tsp Garlic Powder
1/2 TSP Onion Powder
1/4 TSP Smoked Paprika
1/4 TSP Black Pepper
INSTRUCTIONS
1. Peel carrots, trying to get a fairly thin slice.
2. Mix all ingredients for the marinade.
3. Soak the carrot slices in the marinade for two minutes.
4. Preheat your air fryer to 380 degrees.
5. Place carrot strips on your air fryer tray.
6. You can place on the top shelf in your air fryer.
7. Air fry for 5 minutes, you can cook for an additional minute if needed to make sure you get a nice crispy finish.
celebrities
About the author
Animal advocate, traveler, and bibliophile. Lover of all things dark and romantic.
Reader insights
Outstanding
Excellent work. Looking forward to reading more!
Top insights
Compelling and original writing

Creative use of language & vocab

Easy to read and follow

Well-structured & engaging content

Excellent storytelling

Original narrative & well developed characters
Expert insights and opinions

Arguments were carefully researched and presented

Eye opening

Niche topic & fresh perspectives

Heartfelt and relatable

The story invoked strong personal emotions

On-point and relevant

Writing reflected the title & theme
Add your insights