Best Halloween Treats at Disneyland and California Adventures
What are they? Where do you get them?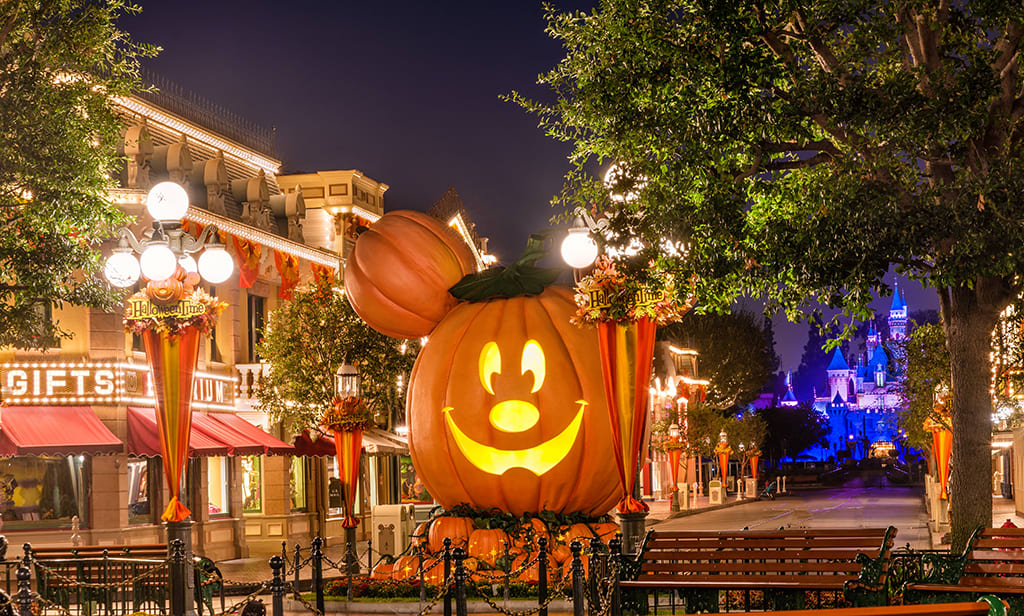 How could you possibly make the most magical place on earth even more magical? You guessed it, incorporate Halloween! One of the greatest qualities about Disneyland and California Adventures, and what makes people enjoy these amusement parks, is the fact that you are surrounded by this childlike fantasy land where none of your "adult" problems even matter—the food included. Along with the spooky additions to the attractions, people are looking forward to devouring these ghoulish treats scattered around the park. Disney has found a way to get us to continuously anticipate the holidays and spending a good amount of money on this enchanting place of happiness. First walking through the entrance, you instantly become overwhelmed with all these holiday themed goodies and you don't want to miss out on any of them. Where do you start? Here's a little guide to what the best treats are and where you can get them.
Disneyland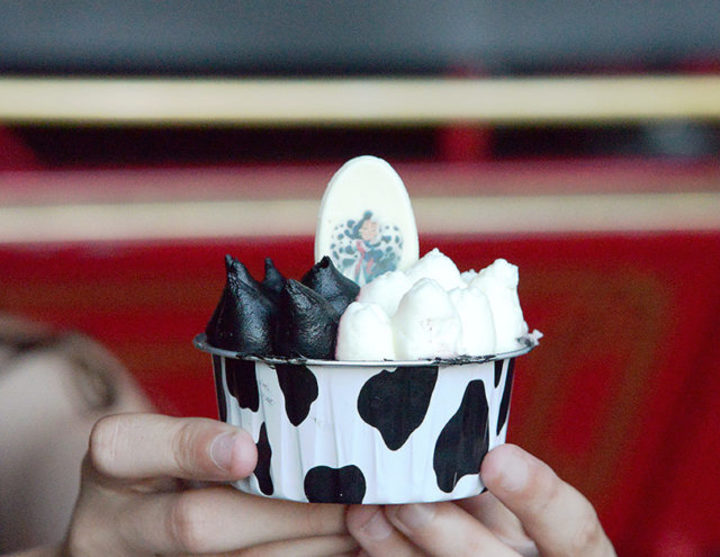 Mint Julep Bar
Pumpkin Spice Mickey Beignets
Jolly Holiday Bakery
Cruella de Vil Brownie—brownie with a spotted cup with black dark chocolate mousse, white chocolate mousse, and a Cruella de Vil logo.
Graveyard Cupcake—chocolate cupcake filled with a cherry filling, dark chocolate mousse, Halloween sprinkles, and a chocolate tombstone.
Mickey Mummy Macaron
Plaza Inn Restaurant
Halloween Minnie Mouse Cake—cinnamon-praline bundt cake with an apple center and finished with an orange glaze and sprinkles.
Galactic Grill
Spider Parfait—chocolate cake, vanilla and chocolate pudding, and a thick layer of ganache.
Refreshment Corner
Halloween Hot Dog—spicy meatballs, cheese sauce, and oven roasted tomatoes.
Halloween Themed Churros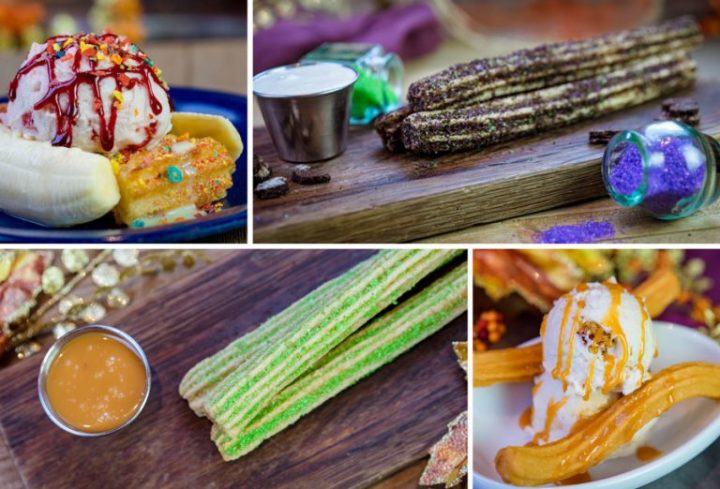 Hungry Bear Restaurant—churro bite cereal sundae with fruit cereal dusted churros, cereal milk anglaise, strawberry ice cream, and raspberry sauce.
Stand Near Sleeping Beauty Castle and Town Square—chocolate cookie crumble and green sugar churro with marshmallow dip.
Stand Near Buzz Light Year Astro Blasters-—sour apple churro with caramel sauce.
Stand Near Big Thunder Mountain—orange sugar churro with caramel sauce.
California Adventures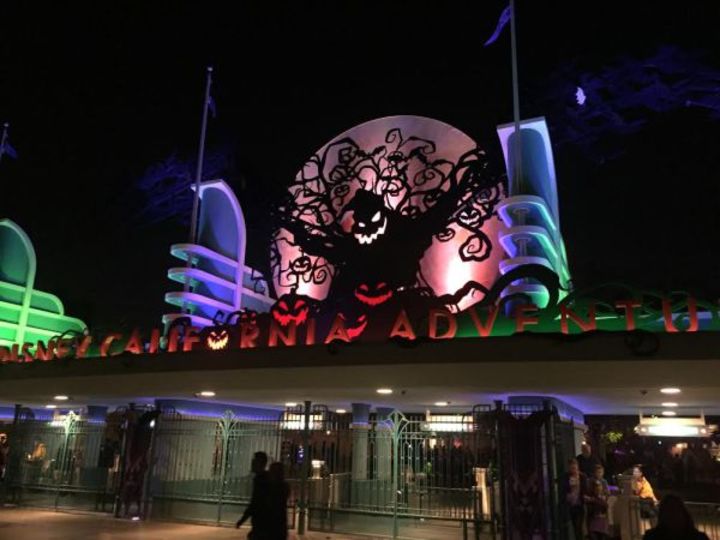 Broadwalk Pizza and Pasta
Anti Vampire Pizza—roasted garlic sauce, marinated chicken, smoked Gouda, mozzarella, roasted bell peppers, and tomato harissa sauce drizzle.
Award Weiners
Pumpkin Spice Funnel Cake Fries—funnel fries dusted with pumpkin spice sugar, pumpkin pie sauce, and pumpkin spice whipped cream.
Ocktoberfest Dog—kielbasa sausage topped with caramelized onions, sauerkraut, Ocktoberfest beer cheese, and green onions.
Flo's V8 Cafe
Candy Cone Pie—cream pie with vanilla, butterscotch, and white chocolate pudding.
Pumpkin Pie Shake
Cozy Cone Motel
"Spokey" Cone Macaron—filled with marshmallow buttercream and candy corn.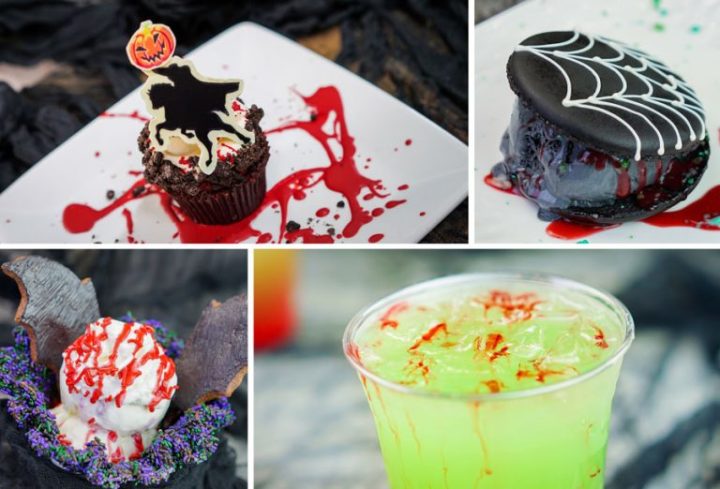 Fiddler, Fifer, and Practical Cafe
Sleepy Hollow Cupcakes—red velvet cupcake with headless horseman chocolate piece.
Clarabelle's Hand Scooped Ice Cream
Spider Silk Macaron Sandwich—black macaron with charcoal-tart cherry spun ice cream topped with popping candy and raspberry sauce.
Bat Wing Raspberry Sundae—white chocolate raspberry swirl ice cream with raspberry splatter, red sprinkles, whipped cream, and bat wing cookies.
Smokejumpers Grill
Green Apple Spell Lemonade—lemonade with sour green apple syrup, cherry popping pearls, and raspberry sauce.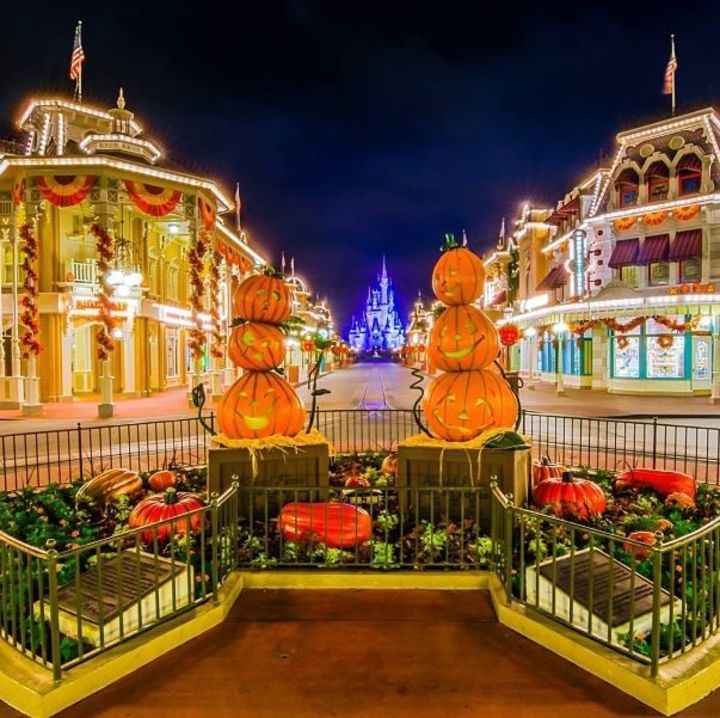 The food possibilities at Disneyland and California Adventures are endless and will only continue to grow. The key to having a successful trip this fall is to plan ahead! Hopefully, this guide helps you see which treats you are dying to try. Make sure you and your family fill your bellies and your hearts this fall season and create ever lasting memories with the amazing attractions and the creepiest of snacks. Whether you're visiting these parks exclusively for the seasonal goodies or wanting to surround yourself with the holiday season, these treats will have you dying to come back for more.