Baking the stress away
crafty in the kitchen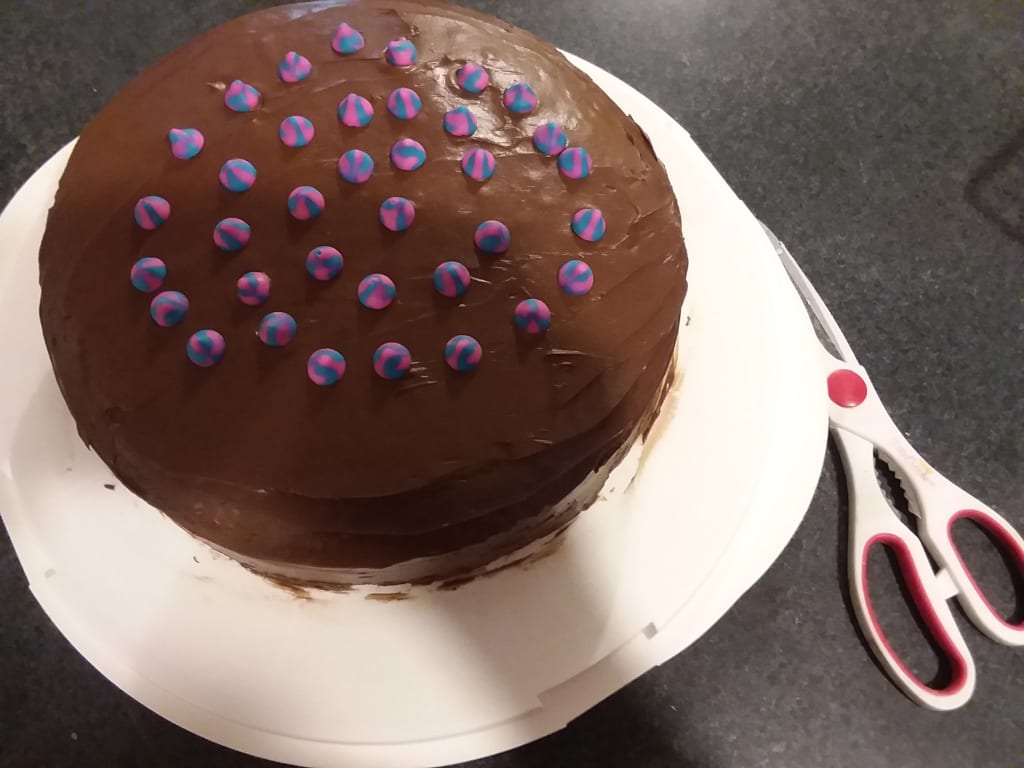 Everyone has hobbies, something they love to do to relieve stress or pass the time. Sometimes those hobbies pay off by becoming a lucrative business, sometimes they do not. Either way having a hobby is good especially if you are having fun and being creative. My sister is very creative and has all kinds of things that she dabbles in; she can paint, sculpt, draw, sew and crochet. My best friend makes jewelry out of flowers and resin and is also a professional photography. Even my child is crafty by drawing, painting and making things out of paper. Most crafting hobbies have something in common, scissors! Scissors help to cut and shape things when crafting. Some don't know or realize it but my hobby includes scissors too.
Baking requires scissors just like other crafts. Now I am no expert or master cake maker but I do love to bake and create tasty treats. There are different types of scissors used in the decoration of cakes and of course regular scissors too. I know most of the time you can just tear open the ingredients but I like to use scissors so it doesn't create such a mess.
The first step to baking is deciding if you want to bake. If you want to make a mess, dirty up dishes and clean up after. Other times I just feel like I have to bake something.
The second step is deciding what to bake whether it is cupcakes, cake, brownies, cookies or pie can't go wrong picking a dessert to create.
The final step is to decide what flavor to make. With so many flavors to choose from that part might be the trickiest. Deciding the decorations is another step but it also depends on what you are creating.
To start making a cake I get all the ingredients ready and lay them out in the order I like to put them in the bowl to mix. I go ahead a measure everything out then pour them in the bowl, sometimes my daughter helps with the pouring and mixing. Once everything is mixed up, I pour the batter into cake pans and set them in the oven. While the cake is baking I decide how or if I want to decorate it then get that stuff ready. I can't decorate the cake until it is cooled so I still have time to get everything I need ready.
If decorating with fondant I use scissors to cut it into strips or shapes since I do not have the regular fondant cutting tools. If using frosting and I am feeling super crafty then I will make flowers out of the frosting and use lifter scissors to place the flowers on the cake. If not I just frost the cake normally and might add some candy pieces on top. Scissors also come in handy when cutting the piping bag for frosting or for cutting things for decorations.
When making cookies and brownies the steps are relatively the same, except the decorating. Sometimes I might add some frosting to them or cut the cookies into shapes other times they are good just as they are.
I do not bake for profit or for a business; I bake because I like to do it. I bake because it's a stress reliever for me and helps me focus on something else. Baking comes natural to me, the decorating not so much. I don't just bake for holidays or special occasions; I bake when I feel like it or when I want a tasty snack. People always ask me for my pumpkin cookies though; they are a favorite among friends and family.