Backyard Blues
TikTok creator and foreign expert Alexis Nikole Nelson is helping Black communities return to their roots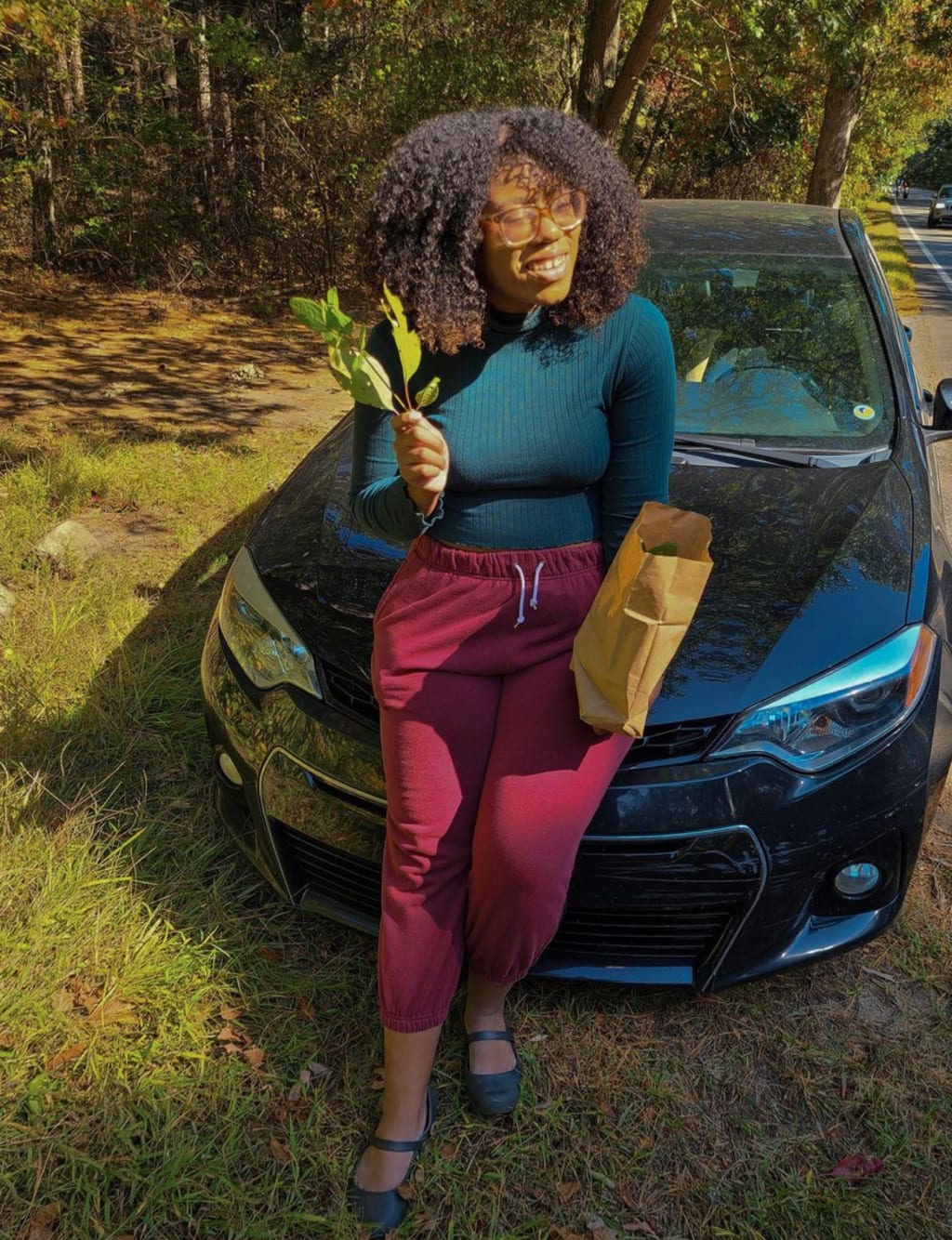 photo from @blackforager on Instagram
Black people have long used nature to heal ourselves when segregated hosptials refused, feed ourselves and communities, and live a sovereighn lifestyle. But with the commercialization of gardening and farming upon us, access to gardening tools, seeds, and even plots of land has become scarcer. That's where foraging comes in. Foraging is the act of searching for wild food sources whether that be in a nearby forest, along the beach, or outside of your apartment complex. Alexis Nikole Nelson's foraging TikToks have gone viral since the pandemic first hit in the United States last spring; her videos chronicling nature walks, plant classification, her segment Poison or Sncacc, and cooking her newly foraged flora have garnered well over 400,000 views on TikTok, some even reaching the one million mark. Nelson's content cleverly mixes in her humor and sunny personality to build on a radical tradition of existing in harmony with the land to nourish ourselves and communities.
Nelson isn't only spotlighting rare, edible herbs and berries (or snaccs) but also illustrates the utlity of common leaves, weeds, and seeds that can be spotted in virtually any neighborhood! With food prices climbing and gaps in economic inequality widening, food insecurity is a very real fight for many Americans, particularly Black Americans. According to the USDA, Black households face food insecrutiy at double the rate of non-white households.
In that same vein, food deserts (areas with very little access to healthy food choices) are more common in Black and non-Black Latino neighborhoods. However, foraging can open up a new world of food choices and put the power of food in the people's hands. That would be true freedom— Black and Brown people nourishing themselves with what's in their backyard, sidewalks, and local parks. Of course, foraging is not the cure all to food insecruity or environmental racism, but re-learning to work with our environment as our Ancestors did can be an essential key.
In interviews, Nelson details how foraging has always been a part of her life. She attended an evnrionemtentally conscious school and spent time with her mother in her garden as a child. I have a similar experience: I went to an unconventional private school as a child where Earth Day was just as festive as Christmas (well...maybe Halloween), and as she reminisces on her mother's gardening to "de-stress", I cant help but reflect on the older Black women in my life who also chose gardening as their refuge. Clearly it's in our blood.
Part of why Nelson's content is so important is because it begs several questions: when did we, as a collective, abandon our relationship to the land? Who has rights to the land we live on? How are we as Black people percieved when we take up space? What conversations about wellness are Black people absent from?
When discussing what it means to be a Black forager, Nelson says "...we do have the right to be reclaiming those spaces... we do have the right to not only be there but to be seen, to be allowed, to be participating in activities on those spaces..." In a recent TikTok video she uploaded, Nelson references navigating the difficult history of slavery, failed recontrusction promises, and anti-foraging laws that have affected Black folks' relationships to nature. Nelson sees herself as a radical, proclaiming in the video, "foraging as a Black woman is an act of rebellion through restoration of knowledge". The restoration of knowledge is a priceless piece to the puzzle of cultural sovereignty and dignity as we continue to seek ways to connect to our roots! Nelson is not only doing a great job of educating, she makes it accessible (what's more accessable than a free social media app?) and fun!
Whether she's aware of it or not, Alexis Nikole Nelson is carrying out one of the prime tenants of the Black Power movement: Each One, Teach One. She exists as a black woman reclaiming her right to exist in this space and nourish herself while teaching others to do the same.
If we all pass on the knowledge we have to our communities, we will have stronger communties.
One wild "snacc" at a time.