Back in November 2019, when the coming COVID crisis was in its infancy and hadn't yet impacted the entire world, I manned a booth at a community festival. Across the makeshift aisle from me, a local artist named Jeremy Smith was carving a turkey as onlookers watched in wonder. They weren't hungry, and the turkey wouldn't have provided much sustenance if they were. That's because it was crafted from a pumpkin.
Northwest of Atlanta, in Rome, Georgia, USA--Jeremy has become a local hero for following his late-blooming passion to turn food, wood and foam into intricate works of art. His skills have also earned him a spot on the Food Network's "Halloween Wars" and on the shows Good Morning Atlanta and Atlanta & Company.
Since sheltering in place, Jeremy has taken the idea of food, art and inspiration to another level via the Facebook group Apocalypse Chow. There, my northwest Georgia neighbors and professional Food Network chefs unite in the act of preparing, and artfully photographing, their pandemic-era meals.
Jeremy celebrates his favorite shots by featuring them on the weekly cover of his faux food magazine, also titled Apocalypse Chow. While the covers are just graphics shared to social media, they nonetheless sparked a friendly competitive spirit within the group, bringing unexpected joy into quarantine life. This inspired Jeremy to launch The Golden Turkey Leg Challenge, through which Apocalypse Chow members actively face-off in a structured competition for a trophy, bragging rights and $50 USD.
My friend Jessie is among the group's fiercest competitors, working with her husband Rob to craft dishes like Wild Berry Mega Pavlova from ingredients harvested from their yard and newly planted apocalypse garden.
Jessie added me to the group, but I am more lurker than active participant. The kitchen wasn't central to my childhood. Eating served a fundamentally practical purpose rather than a fundamentally pleasurable one, and my body has always struggled to digest most things. Having a cancer diagnosis has increased and magnified the limits I face with food. So has having children with sensory differences and autism. So has COVID-19.
When I post to Apocalypse Chow, I look at my contributions as a blend of social commentary and poetry. They document the space where limited diet, limited income and gratitude to consume anything at all meet.
For this Vocal challenge, I'm going to share my personal recipe for surviving the apocalypse on the limited wheat, limited dairy, soy-free, meat-free diet that sustains me these days.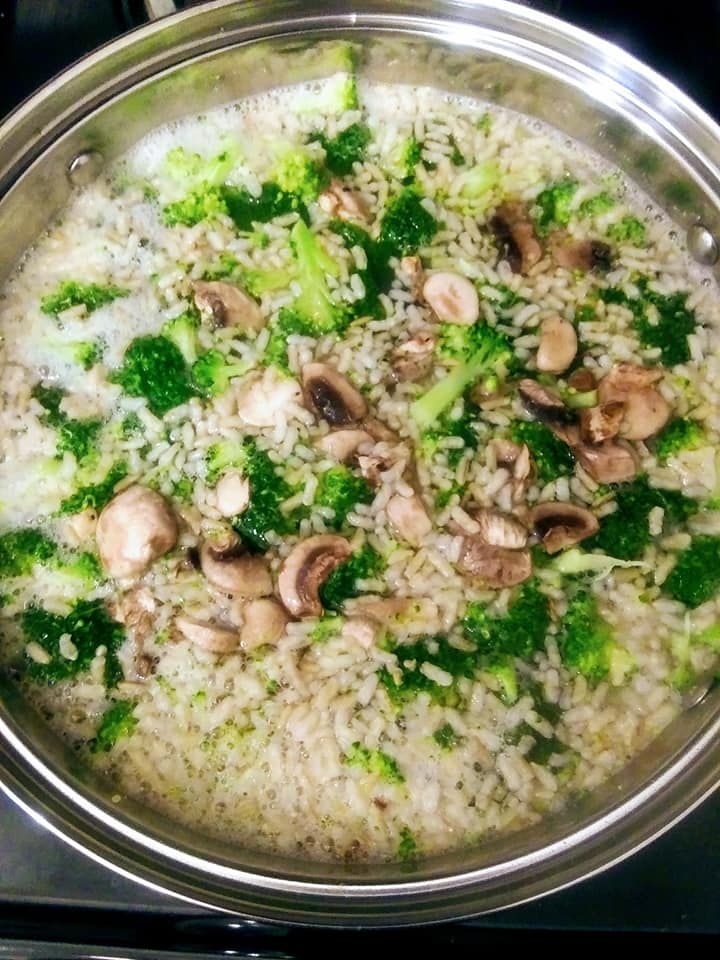 Step One: Secure the bases.
Potatoes. Corn chips. Tomato wraps. Rice. Gluten-free pasta. Cauliflower pizza crusts.
If you can't buy then all at once, just pick a few or try one at a time.
Step Two: Secure the sauces.
Spicy brown mustard. Marinara. Guacamole. Lentil soup.
Again, feel free to pick according to income and availability.
Step Three: Secure the toppings.
Mushrooms. Broccoli. Cheese with no added hormones.
I lean hard on the mushrooms and broccoli because they are estrogen inhibitors, and I need that right now. But feel free to select whatever you like.
Step Four: Mix. Heat. Eat. Repeat.
Choose one of the bases. Cook it if it necessary. Then add your favorite sauce and toppings and enjoy.
The possibilities are plentiful.
A tomato wrap with a guacamole or spicy mustard base, mushrooms, broccoli and cheese heated in the oven at 400 degrees for 5-8 minutes is divine. Lentils over rice with extra mushrooms is classic. A big bowl of marinara mixed with cheese and veggies makes a surprisingly satisfying dip for a plate full of corn chips.
Bonus points if you're able to snag some frozen Brussels sprouts to serve on the side. Lay them on a baking sheet, sprinkle them with salt, then bake for 25 minutes in an oven preheated to 425.
In this time of scarcity and isolation, I've also found that the art of warm drinks in the moonlight is divine. My artistic mugs make me happy. Then I fill them with coffee mixed with cocoa or with lemon echinacea tea. Jessie and other friends from Apocalypse Chow sometimes join me on my back porch for socially distanced socializing when our children are asleep. This gives me hope, peace and the energy I need to post again tomorrow.
Interested in joining Apocalypse Chow? Click here to request entry.
Enjoy what you read? Please show your appreciation by clicking the heart, leaving a tip and sharing with your friends. Donations to my current crowdfunding project SOVEREIGN: Recovery Poems are also always welcome.