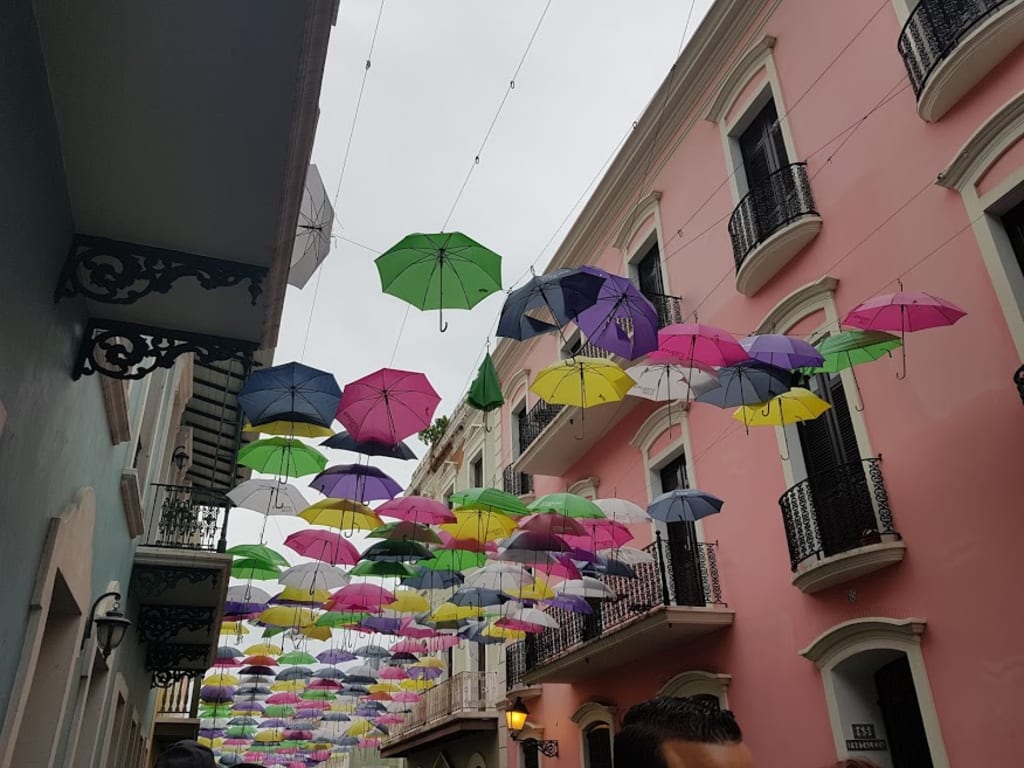 Puerto Rican food has got to be some of the best I have ever tried in my life. My experience during a food tour in Old San Juan changed my life forever, I swear. Even as an extremely picky eater, I found Puerto Rican cuisine to be amazing.
Guavaberry Croissant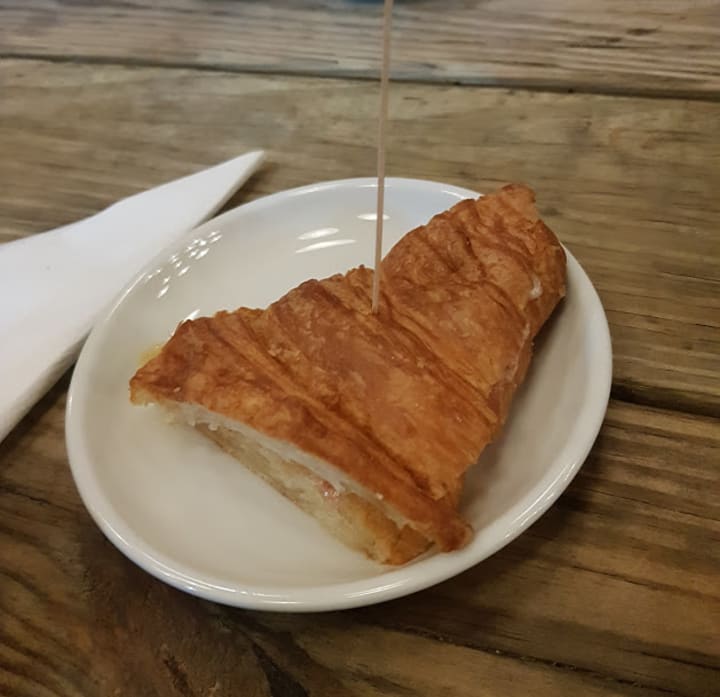 I can't tell you how much I appreciated a breakfast like this. This croissant is originally meant to be filled with swiss cheese, sliced ham and guavaberry jam—except for a vegetarian like me, I skipped the ham.
I'm not too sure how traditional or widespread this meal is, but the special element that truly amped up the whole experience was the guavaberry jam. Guavaberries seem to be a big hit in the Caribbean, apparently; who knew? I understand why though, it tastes like nothing I've ever tried before farther up north.
What improved the meal even more, was the added Puerto Rican coffee, served in the same little cafe.
Coffee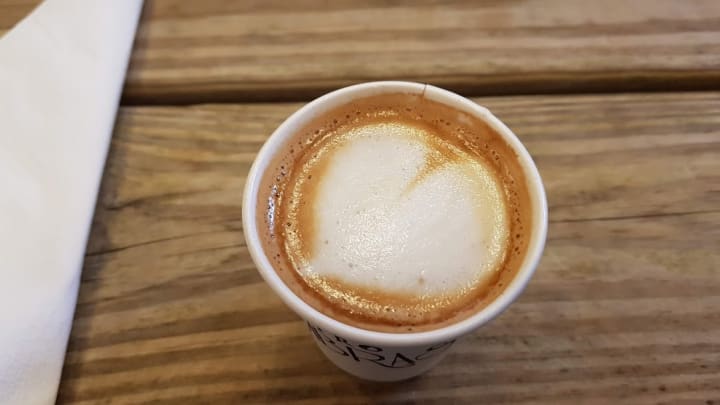 The coffee served during this breakfast meal was even more interesting to me. The cup was as big as any espresso shot, and resembled a little cappuccino. Our guide told us that we should try the coffee straight first, to get a feel for the natural taste. Of course, I'm not stranger to coffee, so I was right in my element. It was especially strong but the flavour was so distinct, that it was nothing like drinking regular homemade coffee.
After trying it once though, I ended up adding a little bit of sugar to it to make it taste a little bit more like home. It worked. Although, I still miss that little baby cup of joe.
Alcapurrias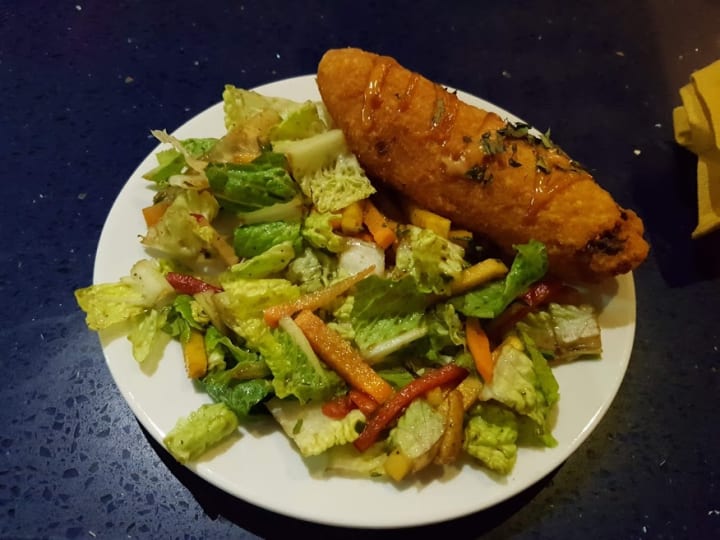 This really stayed in my mind for a while. Being a picky eater, the salad made for the vegetarians in the group wasn't exactly a crowd favourite, but the Alcapurrias (it took me a while to figure out the name from the beautiful accent of my guide) made up for it all.
They are essentially "fritters" made of fried plantains, and usually filled with ground meat, but in my case it was vegetables. The combination of fried things was a thing of art, but it got even better when it was topped with this strange concoction of mayo and ketchup, that they tended to use a lot in Puerto Rico. I was skeptical at first but it truly is a must-try.
Popsicles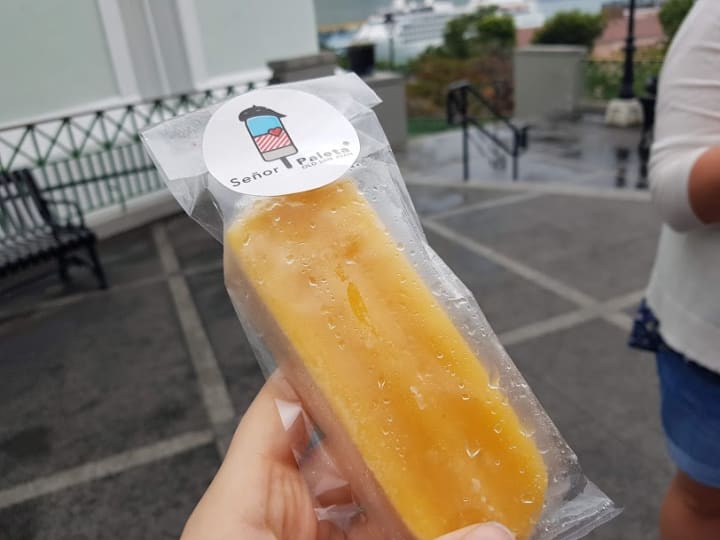 These Señor Paleta popsicles seemed like an odd choice mid-way through the food tour. They came from this tiny shop in San Juan, that I had barely even noticed, yet I learned that it was actually a very well known and popular place. The popsicles are made from fresh fruit, and it really shows. Nothing fake in there. They were genuinely very good. 10/10
The shop is so small that there is barely any room at all for customers, it seems like a grab and go sort of situation, which is actually pretty cool to see especially when there's a swarm of people around. I was even told that some people wear the stickers on their shirt after buying one? I guess I like the enthusiasm; it's definitely justified.
Mofongo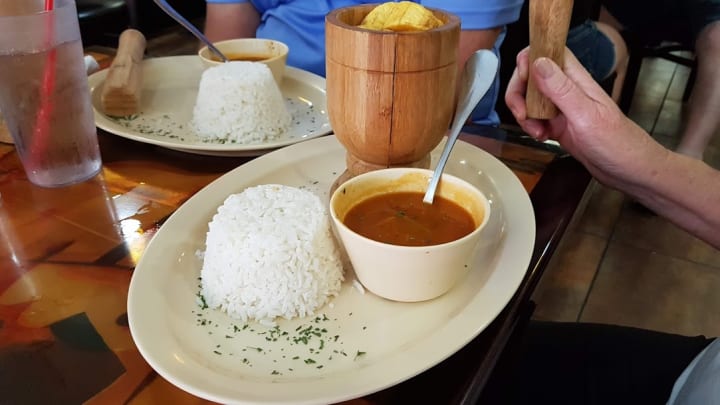 I was probably most nervous to try the famous "Mofongo," that I had heard about so much. The idea of mashed plantains wasn't exactly an appealing thought, yet I was proven wrong, yet again.
Essentially, we were served fried plantains in this weird little mortar and pestle sort of situation, (we got the honour of mashing them ourselves) along with rice and beans. I also realized later that there was added garlic and oil and probably salt that must have added to the beauty of the dish.
There is no reason for anyone to pass on this. There is a reason that it is so iconic, trust me.
Hot Sauces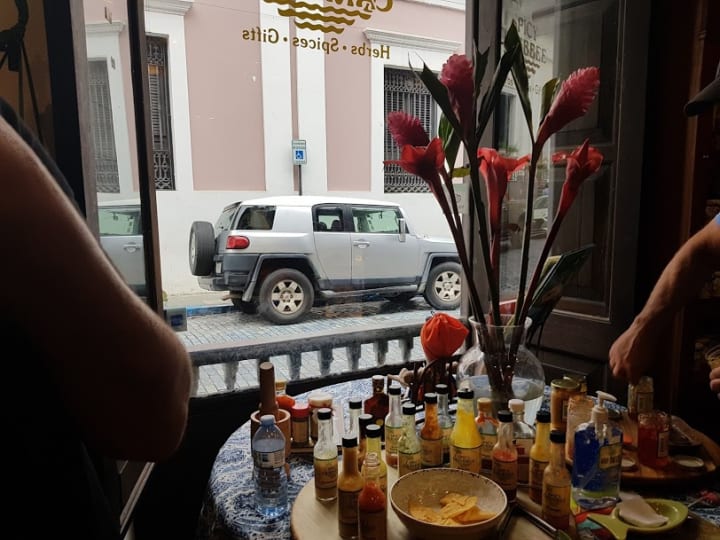 We had a little stop again, in the middle of our tour, to try this large array of hot sauces at the beautiful Spicy Caribbee. The little shop was filled with hot sauces, seasonings, jams, and everything my little heart desired. Despite being a soft Canadian, I found that there were tons of hot sauces that even my caucasian palette could enjoy.
I even bought some of that guavaberry jam, which was probably the decision I have ever made. Maybe make the trip, if you're ever in the mood to burn off your tastebuds.
Mojito (Of Course)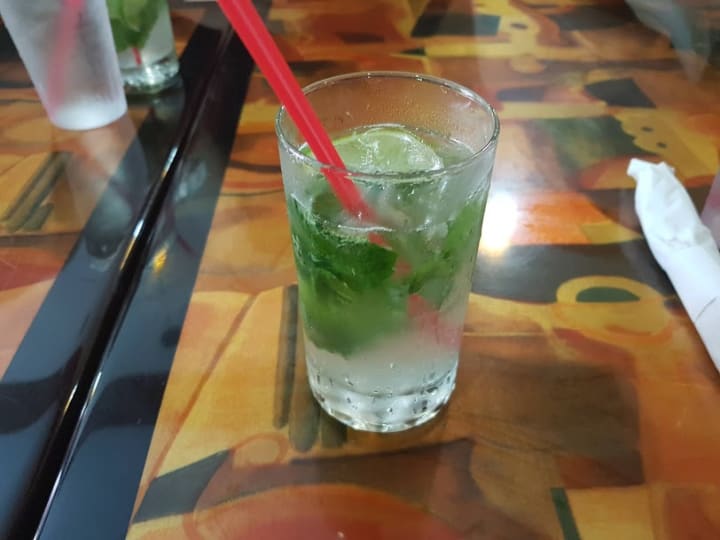 Again, not a food but still a crucial element to this cuisine. I found that rum is also very popular in the Caribbean, which I very much appreciate. Mojitos specifically seemed to be a staple during mealtimes in San Juan, and were actually a great addition to the mofongo.
Anyone with an interest in alcohol (18+) will appreciate this, I assume. I noticed that the drinking culture is a lot more flexible as well. Not saying you should bend the rules, but they probably wouldn't sue you for it. *Wink*
Flan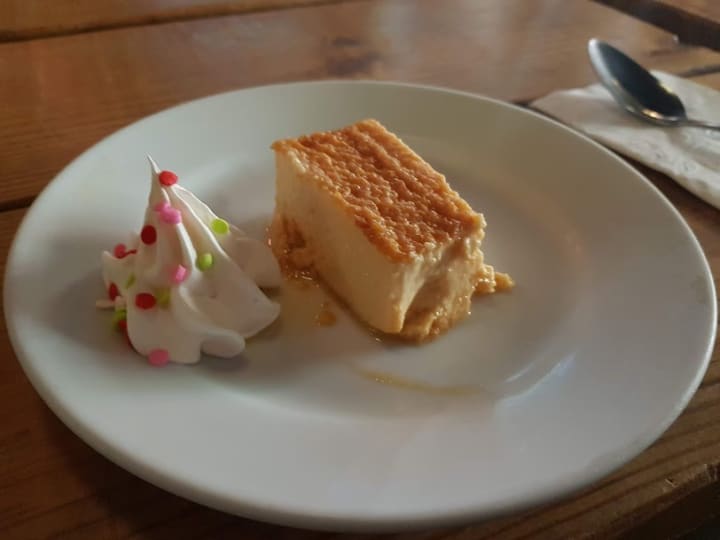 Finally, this masterpiece of a dessert wrapped up the tour nicely. Our guide told us that flan is a very popular dessert in Puerto Rico—which seems like a strange choice—because of a historical surplus of eggs in Latin America. Feel free to fact check me, the woman seemed to know what she was talking about though.
Flan is hard to explain, since it sounds kind of nasty, as a weird jiggly egg thing, but it is genuinely delicious. It's light, it's sweet, it's joyful.
Thankfully, all these traditional dishes aren't nasty. I hope you'll enjoy them too, if you decide to visit Old San Juan. I would really recommend it. Puerto Rico is probably the most beautiful place in the world, in my opinion.
Happy Traveling.