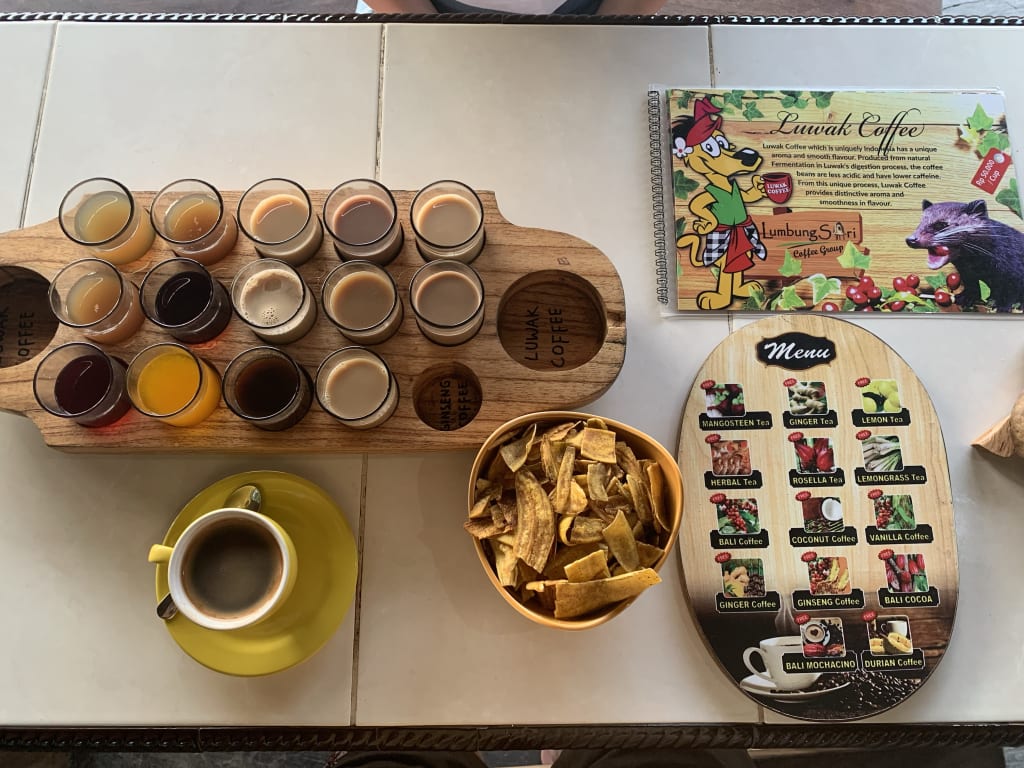 Before I go anywhere I love reading reviews, seeing pictures, hearing people's experiences. Not so I can pre judge however I like to be in the know and prepare myself.
Going to Bali?... hopefully this will help to add to your agenda!
1. Cha's cha's
Firstly when you walk past the restaurant , the outside is set out like a theatre , almost like an orchestra. You walk past the restaurant and everyone is sat staring out into the street like you are the show, if you haven't googled it yet.. do it at the end! So that was first impressions and from that instant it's a draw in, like all restaurants on holiday you had people outside with menus trying to get you in , the menu is 2-4-1 cocktails etc ( standard holiday food ).
So walking in and there's a huge ramp so ladies make sure your heels are too high and it's a lot of stairs and slopes, there's an inside bit with tables, candle lights, live music and then there's the theatre seats looking out onto the strip and they serve you drinks and a dish of crisps and dip.
Now, downstairs is the all you can eat, with chefs cooking your food fresh ( should have started with this but the initial attraction is what gets you in ). The food there is something to do this day I haven't had as good again, so you walk up and it's a pork belly cooked fresh and crispy, crab , carbonara made in this fresh cheese dish. It's all very elegant and served to perfection.
I left and wanted to go back instantly, not because I was hungry ( impossible ) but because it was so yummy. That cake with live music, salad on the side. There we're vegan and vegetarian options, I'm not either however I appreciate when a place can cater.
2. Los Gringos Bali Mexican
Now if you're all for the concept of ' All you can eat and drink for fours hours' then this is the place for you.
I came across the place as it's not hard to miss , you walk past and they are causal showing you the menu, did I mention the girls are in nothing but underwear? This doesn't change when you go inside.
Inside is a sports bar, booths, bar stools and a stopper pole in the middle for some ' light ' evening entertainment.
You can view the menu online, so you can get unlimited alcohol drinks, I stuck to margaritas however there was beer, frozen cocktails and soft drinks. You ordered as much as you want, pizzas, tacos hard or soft, thinly sliced potato's, burgers and of course nachos!
The 4 hours limit seems a lot however I ate for the first hour along with drinks, had a rest and carried in enjoying there unlimited pleasure of frozen tequila and lime and then carried on eating a few things throughout the time.
The atmosphere of the place was couples and groups of people, the staff were really attentive and even asked about our holiday, enjoyments etc.
100% would recommend for pre drinks and to start your night with your pals in Bali.
3. Warung Nia
If you been to Bali or are going to Bali then you'll know or need to know what a warung is if you want to keep in budget and have a lot of food for a small price.
You can google this Warung Nia, the reviews will tell you all sorts however you don't know until you try.
Warung's are known for being cheap, fast and family run. This particular one is owned by a family and the restaurant next door as well, I experienced that and it was the same so I thought as this was the first one tried, it would make it within the top 5.
The food I ordered was three different nets in skewers severed with salad and sauces, the chicken was glazed in a satay sauce and came with the same dip , the dip I wanted to take home the biggest pot I could find and just eat that consistently. There was also beef and lamb, it came out on a minature grill and you could have sides along with refreshments with it.
Now you're either reading this article because you're planing a trip and got intrigued or you have already have the luxury to go to Bali and wanted to know if the restaurants you found nice were on the list.
Let me tell you, there's a thousand different restaurants, all different prices, locations, cuisines. It's personal preference however before I left I enjoyed reading reviews so I thought I would share this one.
4. Brazilian Aussie BBQ
If you don't take anything away from this, atleast you learnt I can't resist as all you can eat.
This is a Brazilian steak house, if you have heard of this gimic it's only what I can describe as a traffic light system. A wood block painted half red and half green, when the green side is upright it means ' please come to my table with all the meat you can offer ' and when red is upright it means ' I'm done, I'm full for now..'. The staff bring out sizzling steaks, sausages, beef, lamb, chicken wings marinated in spicy or BBQ sauce. You help yourself to a wide selection of salads, pastas and anything carb to go with your meat.
The meat always came out piping hot, they cut it off from the skewer and you say stop when it's enough, however to this day I dream of the steak they put on your plate, always cooked to perfection, you can pick your cut and load your plate more times then you can count.
The place itself, incredibly romantic but also there was a group of boys behind us on their lads holiday so it caters for both, you can sit in or outside depending on your preference.
If you want some place you know you're going to be full then this is the place to book
5.Warung Bola
Another warung a dicferent cuisine. This one is an Italian style warung and what makes it authentic is it's right on the beach. While you enjoy your wood fired pizza or extra cheesy carbonara you can watch the sunset and sip on your Bintang.
The menu is different, half Italian and half Asian however they have to stick to their roots. I associate it as a an Italian because both times I ate there I had an Italian dish, it never disappointed. The size of the portions were outstanding , the pizza was bigger than the large plate.
The price was cheaper than a standard pizza place you would get round the corner, after speaking to the owner , he is passionate about pizza and you can tell, the thin crust and perfectly placed toppings.
One you can relax for hours with a beer some food and watch the sun set before you move onto to beach for a bit of night time entertainment
As mentioned throughout the article, you're either intrigued or comparing, going or have gone so I hope either way you enjoy my review and if it helps you on your travels then do let me know!
Lainyyx